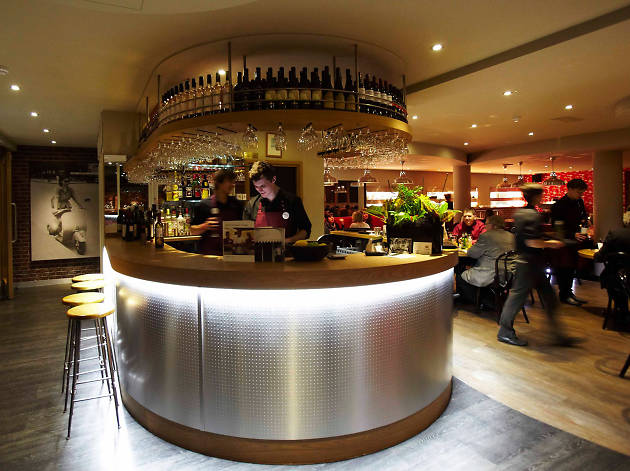 Italian Leeds
Your guide to days and nights out inspired by the new wave of Italian style and creativity
From as long ago as the 1700s, when Italian Horace Cattaneo became a powerful city merchant, Leeds has always had a strong connection to Italy. Today that tradition is as healthy as ever and, if the new independent coffee bars and restaurants popping up all over are anything to go by, is set for something of a renaissance – or rinascimento. So make like the cognoscenti and discover what Leeds has to offer, Italian-style.
One of Leeds's longest-serving Italian restaurants, Salvo's has occupied the same spot in leafy Headingley since 1976. Father and son Salvo (who ran the Blue Gardenia) and Gip Dammone manage the award-winning restaurant and adjacent café and salumeria. They were recently approached by the Leeds Library, the oldest subscription library in the British Isles, to help fund the restoration of some of its impressive collection of classical Italian literature.
111-115 Otley Rd
LS6 3PX
Tel: 01132 755 017
www.salvos.co.uk
Mario Olianas is the only Italian restaurateur in Leeds to make his own pecorino cheese, which he sells at farmers' markets around the city. He also runs a cookery course and, on the second Saturday of every month, a dining club. Held at a secret location (diners learn its whereabouts a couple of days beforehand), Mario cooks a traditional Sardinian meal, which might typically consist of roast suckling pig, home-made semifreddo and Mirto liqueur.
1 Adel Garth
LS16 8JU
Tel: 07717 116 110
www.olianas.co.uk
This restaurant, café, bar and shop in Munro House had a selection of over 300 Italian wines at the last count. Opened by Abruzzan Andrea D'Ercole four months ago, the minimalist decor is set off by bottles of wine and craft beers lining the walls. Keeping things small – there are just four tables – allows Andrea to change the menu daily: venison sausage one day, wild mushroom risotto the next, with charcuterie platters served throughout the week.
Munro House
Duke St
LS9 8AG
Tel: 01132 425 197
www.ipsumvinoteca.com
On a warm day, if the doors are open, you might hear Dean Martin or Italian opera blaring out, while owner and all-round raconteur Gilda Porcelli sings along inside. A Leeds institution, Gilda has been serving hearty Italian cooking to discerning Leodensians for the best part of 50 years, in a setting that could be straight from the streets of Rome or Florence.
26 Albion Place
LS1 6JS
Tel: 0113 245 1569
Michele Saulino, owner of this authentic little café and deli in Horsforth, comes from just outside Naples and his menu consists of goodies reflecting that city's long culinary tradition. Expect to find baccalà alla napoletana (baked cod in a tomato and garlic sauce), crocchè di patate (potato croquettes with herbs and cheese) and a whole host of mouthwatering pastries. If you fancy recreating the dishes at home, Michele sells a range of olives oils, pastas and homemade sauces.
Long Row
LS18 5AA
Tel: 0113 258 4118
Using Venetian beading and lace and silks from Lake Como, Anita Massarella has been designing outlandishly beautiful clothes since 1990. Based in Moortown, she has an international clientele who come to her for individually designed dresses and bridal wear, as well as one-off couture pieces, the cheapest of which will set them back around £4,000. Anita designs all the pieces herself and employs a small team of trusted seamstresses.
490 Harrogate Rd
LS17 6DL
Tel: 01132 687 783
www.anitamassarella.co.uk
Dolce & Gabbana, Giuseppi Zanotti, Moschino, Valentino and Prada are among the Italian labels on sale at Flannels, arguably Leeds's premier men's and women's clothes shop. Rail upon rail of designer togs (there's also an in-house tailor) occupy acreage of blonde wooden flooring over three storeys, topped by a fine-dining restaurant, The Man Behind the Curtain, on the fourth.
68-78 Vicar Lane
LS1 7JH
Tel: 0844 332 5791
www.flannels.com
Vanessa Grasse is a dance and multidisciplinary artist, who moved to Leeds in 2008 after training in Austria and her hometown of Catania in Sicily. 'I'd heard about Leeds's contemporary dance scene,' says Vanessa, a teacher at the Northern School of Contemporary Dance. 'It's vibrant but small enough to be supportive rather than competitive.' She also works with clients such as Yorkshire Dance and the University of Leeds, as well as in the wider community.
Tel: 07925 648 029
vanessagrasse.wordpress.com
This brainchild of Dr Gigliola Sulis, an associate professor at the University of Leeds, was set up to 'bring Italian culture to Yorkshire'. In collaboration with Italian writers, artists and academics, Dr Sulis organises events around the city, open to students and the general public. Typical events include screenings of Antonioni films, live Italian jazz and opera evenings, and performances by singer-songwriters such as Vinicio Capossela.
Cultures and Societies
University of Leeds
LS2 9JT
Tel: 01133 433 6339
www.leeds.ac.uk/arts/livitaly
After Cambridge, the University of Leeds has the most acclaimed Italian department in the UK, so it's no surprise that it has a lively Italian Society. Whether you fancy improving your rusty Italiano or immersing yourself in Italian culture by way of readings, pizza-making lessons and film screenings, the society will be admitting non-students from September 2015.
Leeds University Union
Lifton Place
LS2 9JZ
Tel: 0113 380 1400
www.leedsuniversityunion.org.uk/groups/Italian