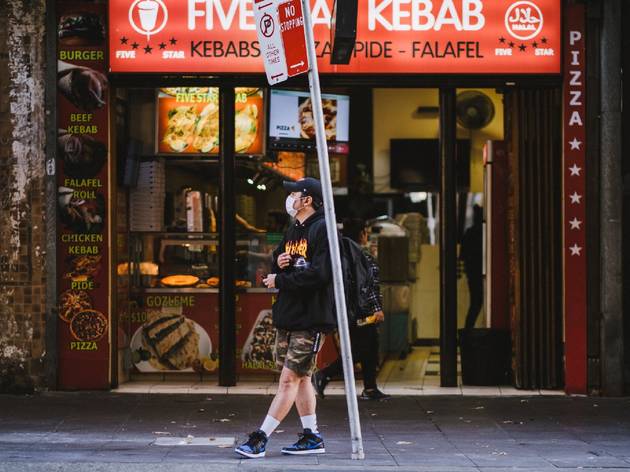 What will life be like after lockdown? Here's what we know so far
There are signs from around the world about how shopping, dining, working and going out might change in the future
Over the past month or so, entire societies have ground to a halt. Schools and businesses have closed. More than 100 countries have told citizens to stay at home or face penalties. Social gatherings have been forbidden the world over. Life in lockdown has become, as people keep saying, 'the new normal'.
But what's the next normal? What will life actually be like once the lockdown is lifted? The world looked on in early April as restrictions were eased in Wuhan, the city in China where the outbreak originated in December, as locals tentatively returned to bars, restaurants and shopping malls.
Yet even in China, social-distancing measures are still in place, and many businesses are shuttered. All over the world, the consensus is that we won't be able to fully 'exit' lockdown and phase out distancing until a vaccine is discovered. In the meantime, countries must strike a fine balance between keeping the population healthy and gradually allowing, if not encouraging, a return to work and public places.
For the moment, we can look at how countries across the world are easing their lockdown restrictions, and get a flavour for how our lives may, step by step, return to normal. In doing so, we can see how shops, workplaces, bars, restaurants, cinemas and theatres may change the way they operate in a post-lockdown world. The gist? Keep your distance from others, and bring a face mask.
What will bars and restaurants be like after lockdown?
In many countries, including the UK, US and Australia, restaurants have remained open through lockdown for takeaway services only. Given that restaurants tend to be enclosed spaces where people sit in close contact for a long duration, it may be some time before they reopen for dining in.
Governments may eventually follow the lead of China, where restaurants have already reopened with new distancing measures in place, including spaced-out seating and bans on large groups. In the UK, a report has suggested coffee shops and restaurants could reopen sooner if they are redesigned to keep customers apart. This could involve installing screens or refitting interiors to ensure there are large gaps between tables.
Restaurants with outside space could open sooner: in India, roadside cafés are set to reopen from April 20. And in Europe, the Czech Republic intends to reopen outdoor garden areas of restaurants by May 25.
The reopening of ten Pret A Manger sandwich shops near UK hospitals offered a glimpse into how takeaway-centric food outlets may adapt: only five or six customers were allowed in at a given time, markings on the floor showed required physical distancing, perspex screens separated staff from customers, and menus were reduced from around 60 items to just 11.
In Germany, the Amrit restaurant chain told the Financial Times it would check staff's temperatures, disinfect payment terminals every 30 minutes, and create 'attendance lists' to help trace customers if an infection breaks out. The UK's Azzurri restaurant group said it was working on using technology to allow customers to pay without having to interact with staff. And as is already the case in cities like Los Angeles, it may also become mandatory for all staff to wear face masks.
What will going shopping be like after lockdown?
Shops will likely lead the way in reopening after lockdown – but not all at once. Smaller and more essential stores will probably come first. On April 14, shops under 500 square metres, DIY stores and garden centres were allowed to reopen in Austria, but with strict rules on social distancing and hygiene: for example, it is now compulsory for Austrians to wear a face mask in public. Larger shops, shopping centres and hairdressers are due to reopen from May 2.
In Italy, where the first serious outbreak in Europe took place, a small number of shops (those selling books, stationery and clothes for babies and young children) were also allowed to reopen from April 14, with strict rules on customer numbers and distancing. In northern regions such as Lombardy, only children's clothes shops were permitted to reopen: an indication that the worst-hit areas may continue to see the strictest regulations.
In Germany, too, non-essential shops of less than 800 square metres were able to reopen from April 19, but must now have social-distancing precautions in place. The government is also recommending that Germans wear face masks while shopping.
Over in Japan, meanwhile, we've reported how certain konbini convenience stores have installed their own plastic sheets to protect staff and customers. In the coming weeks, we're likely to see many other ingenious initiatives being pioneered at a local level.
What will going to work be like after lockdown?
The World Health Organisation has warned that there should be no general return to work any time soon. As with shops, the reopening of workplaces will probably be phased. Certain sectors with higher economic value, such as carmakers and telecommunications, may return first, while businesses that can afford to have employees work from home will continue to do so. One government minister in the UK has suggested remote working could become the new standard in many industries.
In Spain, factories and construction sites have already reopened with social-distancing measures in place. But the Spanish government has recommended that commuters cycle or walk if possible, and are handing out face masks for use on public transport. In Milan, authorities have gone as far as to pedestrianise 35km of the city's streets to encourage walking and cycling to work once lockdown is lifted.
We can also look to India, where the government has allowed agriculture businesses (which employ more than half the population) to reopen, along with some hotels, courier services and e-commerce firms. The Indian government has issued a set a guidelines for employers that provide insight into how workplaces might change after lockdown: all areas in offices will be disinfected thoroughly and regularly; lunch breaks will be staggered; workplaces will have a gap of one hour between shifts to ensure social distancing; work meetings of more than ten people will be discouraged; and employees should sit at least six feet away from each other.
Other countries may follow the lead of Denmark and Norway and reopen schools before workplaces, in a bid to free up parents struggling to balance working from home with childcare.
What will travel and flying be like after lockdown?
The travel industry has suffered particularly badly since lockdown set in. More than 90 countries and territories have completely or partially closed borders to tourists over the past couple of months. Airlines have gone bust. Hotels have laid off staff in their tens of thousands. And with the UK, US and Australian governments still advising against non-essential trips 'indefinitely', it will likely be some time before normal service resumes – if it ever does.
When flights do return, the reopening of routes will be staggered as different countries come out of lockdown at different times. This means there will be less choice when it comes to choosing your destination, and some less popular routes may even be dropped altogether.
One thing we can expect is that domestic travel will recover well before international travel. In France, the government has already announced it will be possible to travel internally – but not overseas – once lockdown restrictions are eased on May 11. Ongoing health concerns will mean road trips and crowd-free, Airbnb-style rentals will become more popular, while isolated destinations may prove more of a draw than city breaks and resort holidays.
Another near-certainty is bigger queues at airports. Some countries will probably introduce temperature checks and other tests at the border (airline Etihad, for example, is already developing kiosks to check passengers' temperature, heart and breathing rates). Other countries where infection rates are still high may ask all those entering, if they're allowed in at all, to isolate for two weeks. There has even been discussion of 'immunity passports' that would prove passengers are in good health.
As for in-flight hygiene, cabin crew will probably be asked to wear masks and gloves. And to maintain social distancing in the skies, US airlines including Delta, Spirit and Alaska have already started blocking middle seats to space out passengers. This will continue for the time being, but if you thought this whole saga might spell the end of airlines cramming as many passengers in as possible, design firm Aviointeriors has proposed a new seating layout that would create distance between passengers without reducing capacity at all. In one blueprint, the middle seat faces backwards, with every passenger surrounded by a protective plastic shield.
What will going to the cinema or theatre be like after lockdown?
When cinemas reopened in China at the end of March, it provided a glimmer of hope that things might return to normal in the not-all-too-distant future. However, within hours, most were ordered to close again. There had been a slight uptick in cases around the country, and the Chinese government backtracked as a precaution.
Cinemas and theatres are crowded, enclosed spaces, and strict measures will have to be introduced before they can even think about reopening. John Fithian, the president of the US National Association of Theater Owners, has said he expects this to include a 50 percent capacity limit. 'We'll return to the very intense cleaning procedures and anything else the health officials recommend,' he added. To space out viewers, US chain Cinemark has suggested it will only sell every other seat in its screens and said it hopes to reopen its cinemas in July. So don't break out the popcorn just yet.
Still at home? Here are the best things to do
Time Out may have changed its name to Time In for now, but our mission to bring you the best culture, entertainment, food and fun from around the world hasn't changed.
Best selling Time Out Offers