The 20 Best Restaurants in Liverpool
Don't make any reservations before checking our guide to the best restaurants in Liverpool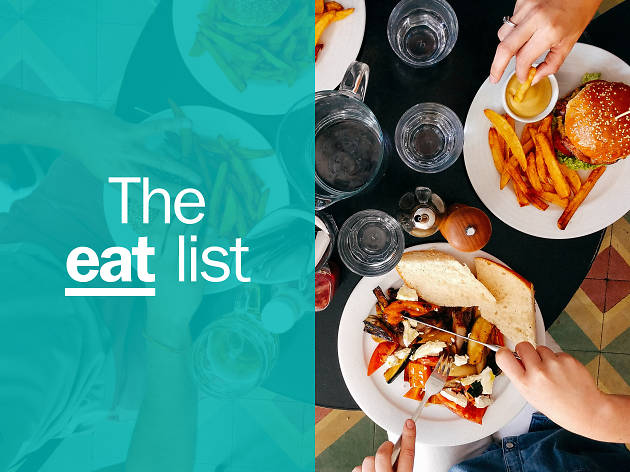 Most cities have a theme to their food scenes. Perhaps they like their steak-and-ale houses, or go snap-happy for lobster and fresh seafood. So what's Liverpool's culinary calling card? Well, a bit of everything really. The beauty of being on the look out for lunch here is that there's so much to choose from. Go fancy by having a meal with a stunning, sky-skimming view (a must thing to do in Liverpool), or get down and dirty with the best of veggie junk food. But don't worry, if you blow all your cash on dinner, you can always save a few pennies by staying at one of the best cheap hotels.
Best restaurants in Liverpool
1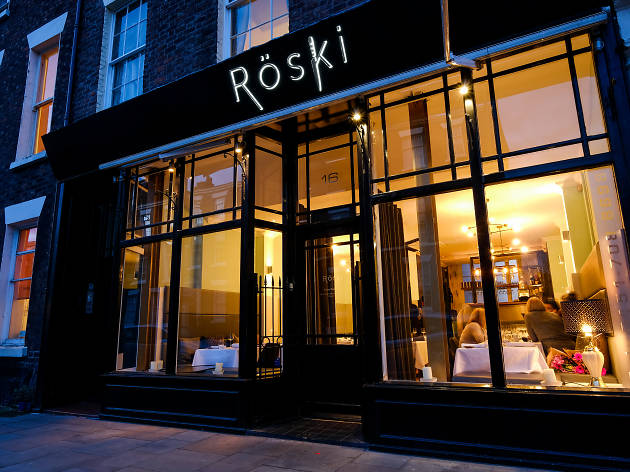 Why go? British produce transformed into photo-me-now dishes at a restaurant run by a Masterchef winner.
Röski is the Liverpool restaurant for diners who like to have tried the 'next big thing' in the food world, but don't want to just be eating a fad. The business is headed by Anton Piotrowski, a former winner of Masterchef: The Professionals, and the menu makes inventive use of ingredients rooted (some quite literally) in the British isles. Oh, and your plate will look as attractive as possible. High-end.
2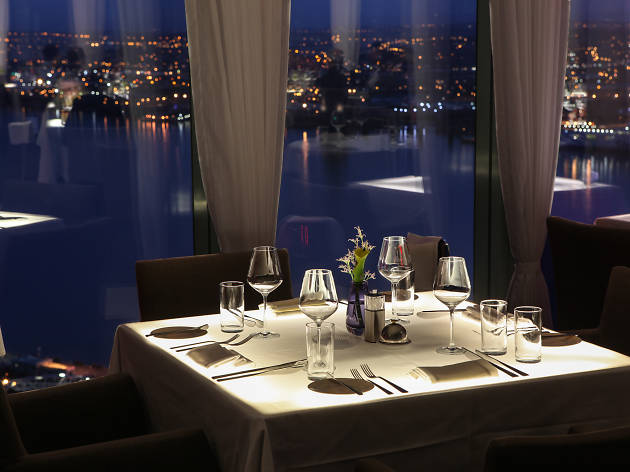 Why go? Get a head for heights having dinner with a view at Liverpool's sky-high restaurant.
This would be the Liverpool restaurant to go to if you're looking for somewhere romantic to gaze into your date's eyes. But the problem is you're likely to get distracted by the view. Panoramic 34 is on the 34th floor of the West Tower. It's fine-dining and it feels like that, giving you the location to match the menu. High-end (and high-up).
3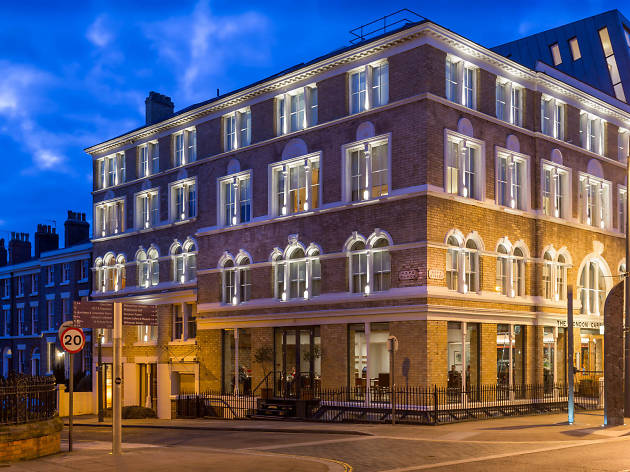 The London Carriage Works
Why go? Consistently popular Liverpool restaurant perfect for a graduation meal or afternoon tea.
The London Carriage Works is a name that comes up repeatedly when the subject of 'best restaurants in Liverpool' is raised. With a focus on North West produce, their menu is European fine-dining done with simplicity and flair. But if you're tooth is sweeter than that, book in for afternoon tea and start ladling on the clotted cream. High-end.
4
Why go? An eatery that focuses on quality over quantity. Oktopus's schtick is serving up a delicious menu that's undoubtedly classy as well as locally and sustainably sourced. Plates of chicken liver parfait and braised beetroot are served up with ease and are followed by bowls of elegant chocolate mousse cake. But the real excitement comes in the form of the wine and beer menu. Expect knowledgeable staff to deliver the best of the local boozy assets to your table and get supping gleefully. High-end.
5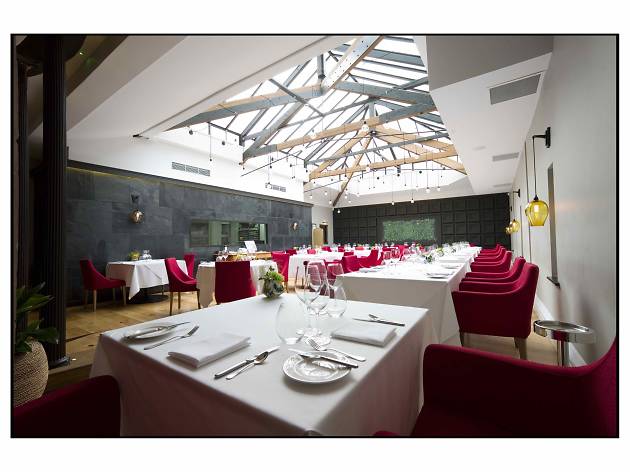 The Art School Restaurant
Why go? Food marvellous food in an historic Victorian building.
The Art School Restaurant is housed in what used to be a 'home for destitute children' in the Victorian times. But you're now more likely to be chomping on a cheeseboard than writing on a chalkboard if you find yourself here. Located super close to both the Liverpool Philharmonic and the Everyman theatre, The Art School Restaurant is beautifully prepared British cooking. Stop yourself from saying, 'please sir, can I have some more sir'. High-end.
6
Why go? Stylish date-night restaurant serving classic French-inspired bistro food.
The exposed brick work and visible piping give this branch of the Malmaison chain a borderline hipster feel. The food, however, is pretty traditional - if you love to reward yourself with a skilfully cooked steak, this brasserie will be right up you boulevard. It's a perfect date location, but don't forget to also consider coming here for a hearty breakfast. High-end
7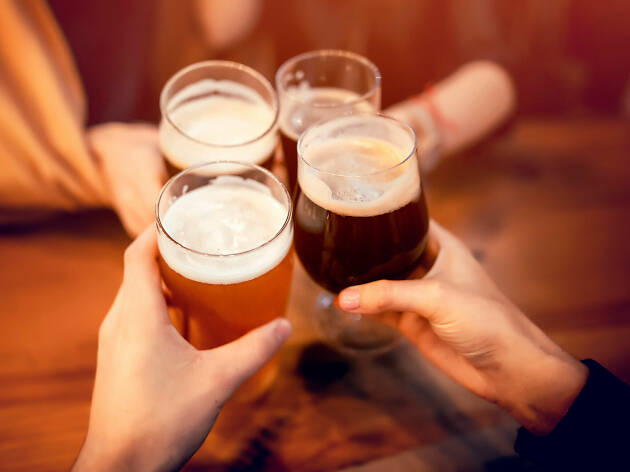 Photograph: Shutterstock
Why go? Bistro and bar that couldn't be better situated for pre-theatre nibbles.
Before opening The Pen Factory, Paddy Byrne and Tom Gill ran the bistro at the Everyman theatre. They've now shifted just next door with this new endeavour, which means you can still use them as your go-to pre-theatre option. The menu leans towards sharing options, and if a bottle of wine will make you a snoring liability during the play, have one of their many craft beers or ales instead. Mid-range.
8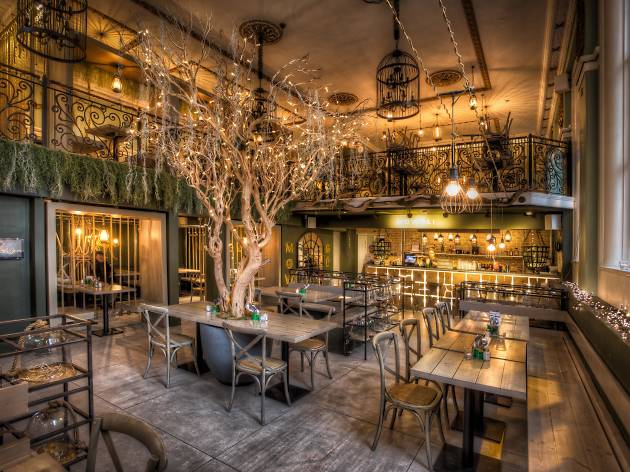 Why go? Bright and bold Indian street food that will zap you full of energy.
Mowgli was set up to challenge the idea that 'Indian food' means the type of high-calorie chicken tikka masala found on hundreds of British high streets. This is Indian food done the traditional way, and it's exactly the right type of healthy and aromatic grub to put a big smile on your face. A hot option for veggies and vegans. Mid-range.
9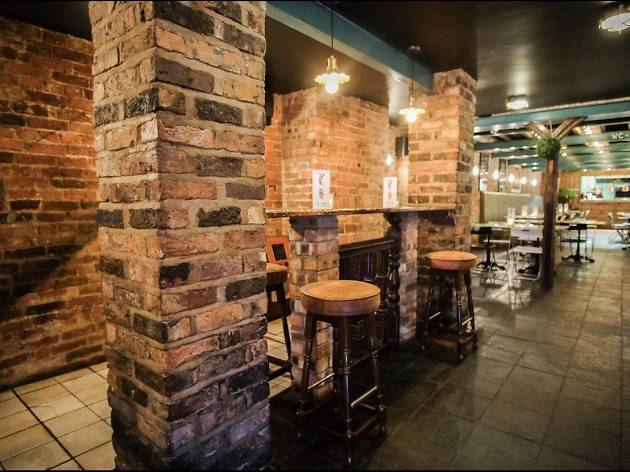 Why go? Veggie junk food for when you want to pig out but not eat an actual pig.
The problem with veggie food is it can all be a bit virtuous. And even the biggest abstainer from animal products knows there are times when you need some indulgence. Down the Hatch does veggie junk with a vengeance. You're heading for a very happy seitan, tofu and halloumi food coma at this place. Mid-range.
10
© Nic Taylor
Why go? The meat-lovers go-to restaurant for big flavours and American BBQ.
So if vegetarians go to Down the Hatch for their deep fired kick, meat-eaters head to Slim's Pork Chop Express. This favourite with the locals has a menu mainly made up of ribs, pork, chicken and other BBQ all-time stars. They also do Sunday roasts and have an adventurous cocktail menu. Mid-range.
11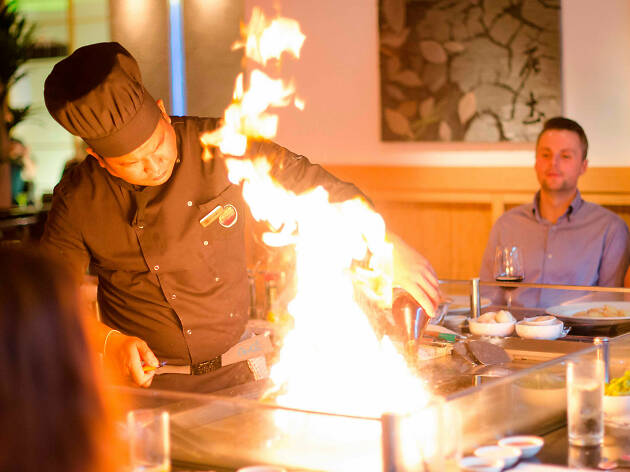 Why go? Japanese restaurant where you can watch your (delicious) dinner get cooked right in front of you.
Sapporo Teppanyaki have three restaurants in England, but their first opened in Liverpool. The restaurant cooks up a sizzling mix of authentic Japanese recipes with a few western additions. Tuck into a steaming pile of yakisoba noodles or go lighter with sushi. Saki or Japanese whiskey is, naturally, a must. Mid-range (on the pricer side, depending on what you order).
12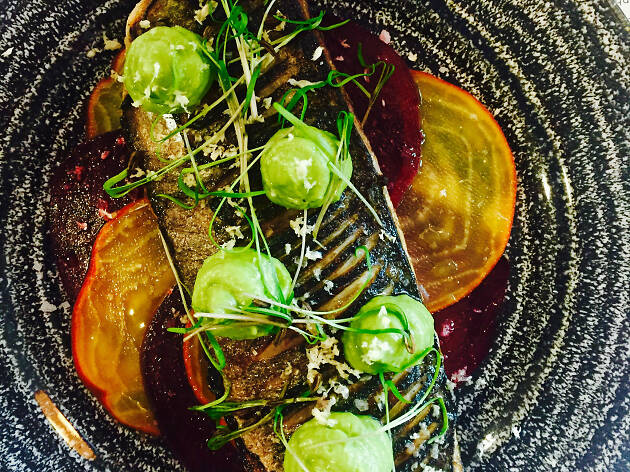 Salt House Charcuteria and Tapas Bar
Why go? For a chilled-out, chatter-filled dinner the Salt House has the tapas to keep you going all night.
Love tapas but a bit bored with patatas bravas? Liverpool's Salt House gives you the option (actually, loads of options) of ordering tapas done a little bit differently. Spanish flavours still rule, but the chefs don't limit themselves to Iberia entirely. Instead, you get a modern mash-up of international influences and ideas. Mid-range.
13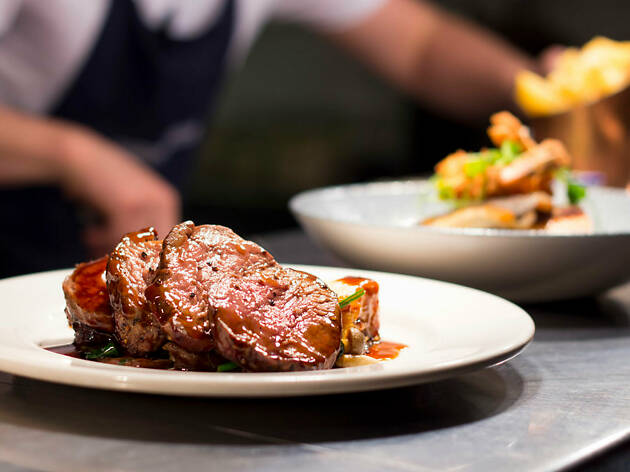 Hanover Street Social Brasserie and Bar
Why go? Quality European food in a restaurant you can relax in.
It's all in the name with the Hanover Street Social Brasserie and Bar. When you want to catch up with a big group of friends – and also have some fancy food – book a table here. You've got the option of all three courses and wine, or a quick lunch, but whichever route you go down you won't feel inhibited by a stuffy atmosphere. Mid-range/high-end.
14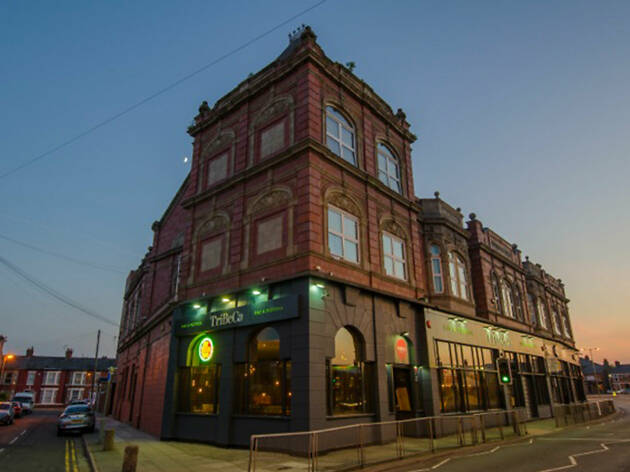 Why go? New York pizzeria for when you need melted cheese and you need it now.
Nothing says a trip to the Big Apple like a big slice of… oh hang on, you're in Liverpool. Never mind, if you head to TriBeCa for pizza you can easily pretend your Stateside and get a fix of garlic bread, olives, calzone and all the other good stuff on this menu (including a fair few veggie options). Mid-range.
15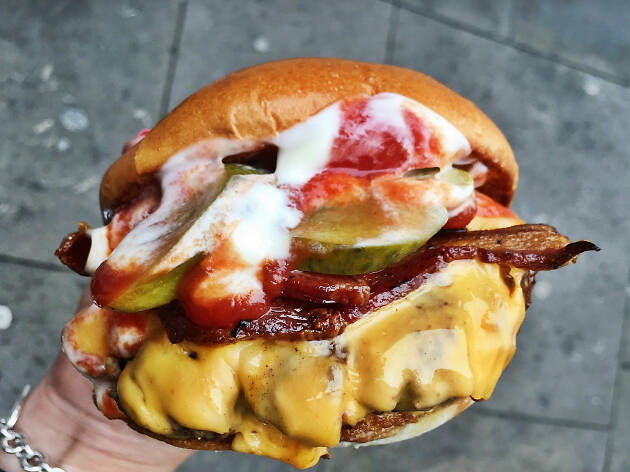 Why go? All-American burgers worth breaking your jaw for.
Well, go careful and don't actually harm yourself, but these tasty, tasty burgers might well make you temporarily lose all memory of table manners as you try, desperately, to cram all that's in these buns into your mouth. It might not be a first-date venue (unless you look your best with bacon ketchup on your chin) but it is burger brilliance. Mid-range.
16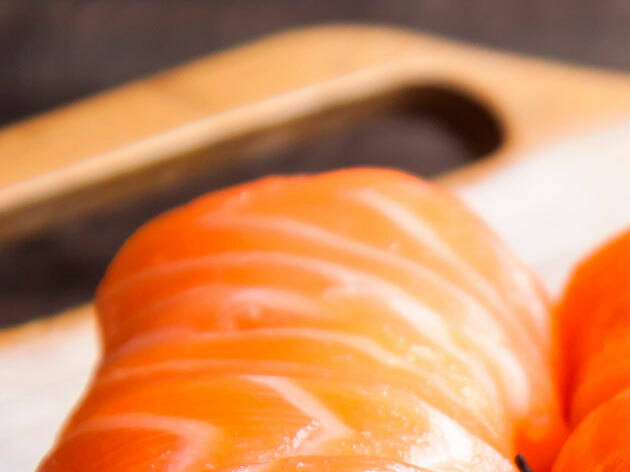 Photograph: Shutterstock
Why go? Intimate Japanese restaurant you should plan ahead to go to.
Etsu's not the biggest of restaurants size-wise, which is partly what makes it a nice place for the type of meal where you really want to be able to hear what the person you're with has to say. Book in advance and secure a table to enjoy authentic Japanese delights including sushi. Wash it down with Sochu. Mid-range (on the more pricey side).
17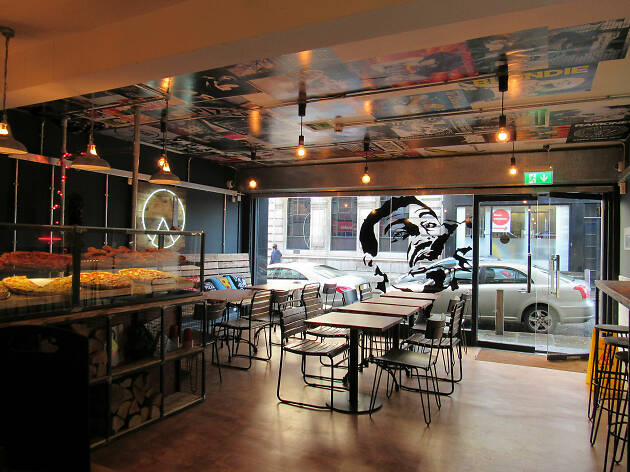 Why go? American-style pizza to eat after a long, boozy afternoon with mates.
You popped out after work to get 'just one drink' with a friend, but somehow that turned into two and two turned into three and three… well somehow you ended up really hungry and there's zero chance you're cooking something healthy at home. So you go to American Pizza Slice and inhale the cheesiest, biggest slices of pizza you can pick up. Satisfied? Yes. Mid-range.
18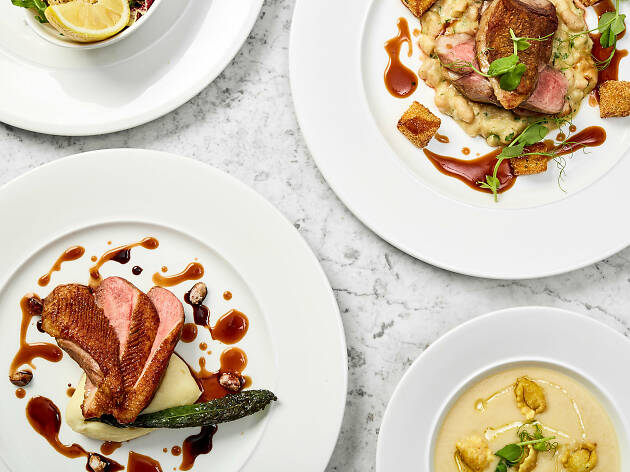 Why go? Classy Italian restaurant to head to after a trip to Tate Liverpool.
Liverpool is a great city for getting your cultural fix in, especially if you're never happier than wandering around an art gallery. But all that self-improvement can be hungry work, making Gusto, which overlooks the Tate, a handy option for quality dining after a gallery visit. There's affordable set-price lunch and dinner menus, and they can take bookings for large tables. Mid-range.
19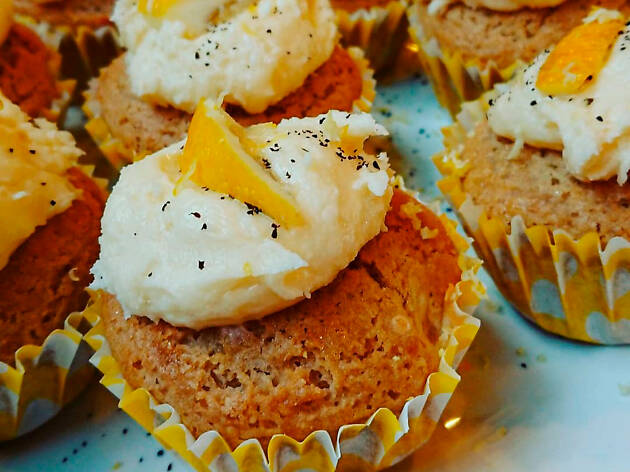 Why go? Enter through the bright purple arch on Newington and you'll be met with the lively atmosphere of The Egg Café. Split over two levels in an old Victorian warehouse, this inviting vegan joint boasts a colourful menu of pasta, pitta pockets, fry-ups and stir-fries to suit the plant-lovers out there. Given its vast, open space, the café also doubles as a gallery, with work by local artists on the walls. Mid-range.
20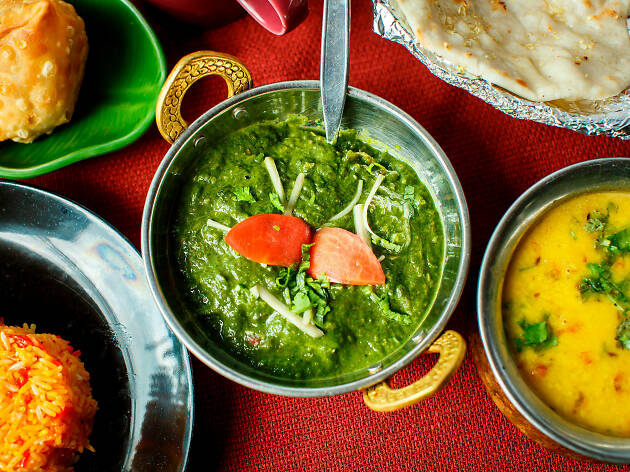 Photograph: Shutterstock
Why go? A lovely, family-friendly restaurant serving Indian and Nepalese food.
More than your bog-standard British Indian restaurant, with lazy kormas and flat flavours, Saffron really put the spice into spicy (and the not-so spicy). Like true curries from the subcontinent, the baltis, bhunas and chef specials come packed with flavour. There's a lot of seafood and vegetarian options, which should easily please every member of the family, and if you can't decide, try the tandoori khajana – a selection of chicken, lamb and king prawns served in a sizzling sauce with naan. Mid-range.
Discover Time Out Market: the best of the city under one roof
Fancy an afternoon pick-me-up?
If the best things supposedly come in small packages, then our favourite treat meal – the hallowed afternoon tea – is doing nothing to disprove the theory. A decadent delight of finger sandwiches and tiny cakes, the only thing that should be bigger than your palm here is the lashings of prosecco served up on the side.