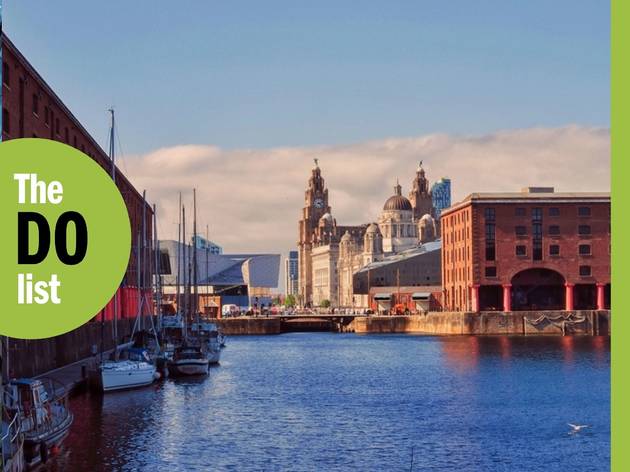 The 17 best things to do in Liverpool
Think 'Pool, think Fab Four? Our pick of the best things to do in Liverpool shows there's so much more to discover in these parts
Museum-hopping and a spot of afternoon tea, or vintage shopping followed by a bar crawl around some of Liverpool's most iconic drinking spots? One day, friends, one day. Hopefully soon! And we can certainly plan, right? How about walking in the Fab Four's footsteps, or cheering your heart out at a high-stakes football match? Whether you're on the hunt for culture, sport, breathtaking architecture, or just somewhere to fill up on top-notch grub after a long day's sightseeing, Liverpool really does have it all.
It may be best known as the home of the Beatles, but this port city has maintained its reputation as one of the UK's most creative thanks to its proliferation of art galleries, listed buildings and national museums – in fact, it has the second-highest number of these, after only London. But with so much choice and so many areas to explore, it can tricky to know where to start. Thankfully, in compiling this list of the best things to do in Liverpool, we've done most of the hard work for you. So, whether you're planning your next visit or just enjoying some vicarious travel while you're stuck inside, these top attractions are very decent indeed.
Travel restrictions are currently in place. Please follow government guidelines at all times.
Done something on this list and loved it? Share it with the hashtag #TimeOutDoList and tag @TimeOutEverywhere. Find out more about how Time Out selects the very best things to do all over the world.
Best things to do in Liverpool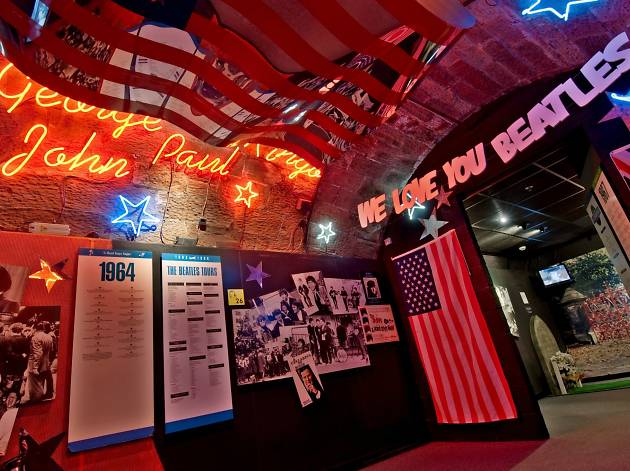 © The Beatles Story
What is it? An immersive walk-through journey into Liverpool's most famous quarter – unmissable for fans and non-fans alike.
Why go? This award-winning homage to the Fab Four isn't just for fans. Not only will you find out more than you'll ever need to know about the band, you'll get a taste of the swinging '60s too, with recreations of The Casbah, Mathew Street and The Cavern, plus exclusive memorabilia and interactive areas. There's also the largest selection of official Beatles merchandise in the world, should you fancy splashing out on a memento.
What is it? The Merseyside outpost of the Tate galleries.
Why go? The cornerstone of Liverpool's contemporary arts scene, this venue was founded by Alan Bowness, who was the Tate's director in the '80s. After deciding he wanted to open a so-called 'Tate of the North', construction began at a defunct warehouse in Albert Dock. Award-winning architect James Stirling was brought in in 1985, leading to the eventual design of Tate Liverpool: a building with the simple elegance of a modern art gallery that also maintains its historic warehouse features. Since opening in 1988, it's become a major player when it comes to hosting major touring exhibitions.
What is it? Liverpool Football Club's home stadium.
Why go? Anfield has been home to the Reds since 1892, but that's not to say other sports personalities haven't graced its hallowed turf. Boxing, tennis and rugby have all been played here since the ground first opened in 1884. A stadium tour will reveal everything there is to know about the club's history – plus you'll get to peek inside the changing rooms, walk up the tunnel (slapping the famous sign, of course) and stand on the pitch itself.
What is it? A hop-on-hop-off ride along the Mersey.
Why go? If Gerry And The Pacemakers thought it was worth singing about, it's probably worth a ride. At the very least you'll get good views of the city. Choose from a standard hop-on-hop-off cruise or a combination ticket that includes entrance to other Liverpool attractions, including the family-friendly interactive Spaceport attraction and the U-Boat Story, where you get to mooch around a genuine German submarine. In 2018 one of the riverboats was 'dazzle painted' by pop artist Sir Peter Blake to commemorate the centenary of the First World War Armistice.
What is it? A green haven in the south of the city.
Why go? Spread over almost 250 acres, this Grade I-listed park offers an abundance of luxuriant green space. Kids will love the huge playground, while those with a hankering for horticulture can explore the Victorian Palm House, home to Liverpool's fab botanical gardens. Caves, waterfalls... it's like being on another continent altogether.
What is it? A bit like Seattle's Space Needle, this pointy landmark has towered above the city since 1969.
Why go? There are few places with better views of Liverpool than the observation deck of Radio City Tower. Officially known but never referred to as St John's Beacon, this structure is 138 metres tall and its 360-degree panoramas are incredible. In case you hadn't figured it out already, Radio City also broadcasts from here.
What is it? A Gothic behemoth at the heart of the city.
Why go? Liverpool Cathedral is the largest religious building in Britain and the fifth-largest cathedral in the world. Constructed between 1904 and 1978, it's now open to the public every day of the year. Here you can admire the world's highest and widest Gothic arches, the UK's largest organ, and an array of stunning stained-glass windows. The cathedral also plays host to art exhibitions and charity dinners throughout the year, so it's worth checking the website before your visit.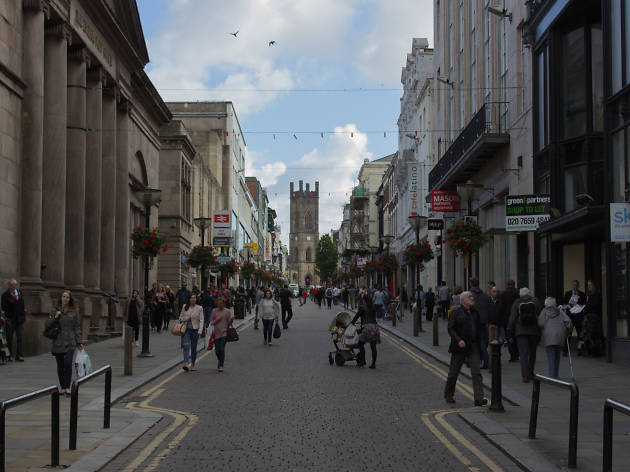 Photograph: Wikimedia Commons / Sam Walton
8. Shopping on Bold Street
What is it? Bold Street is Liverpool's thriving independent shopping quarter.
Why go? Few places embody the creative spirit of Liverpool like Bold Street. This haven of independent businesses has long been held by locals and tourists alike as one of the city's coolest areas. At once bougie and innovative, Bold Street is the place to head for one-off vintage pieces, second-hand books, vinyl or quirky homeware by local designers. Don't forget to stop off at one of the many tempting cafés, bars and restaurants to refuel while you browse.
9. Merseyside Maritime Museum
What is it? A museum dedicated to Liverpool's rich maritime history, appropriately based at Albert Dock.
Why go? No visit to Liverpool would be complete without a trip to this ode to the city's sea-trading legacy – especially since it provides fun for all the family. First, there's a load of model ships and full-sized vessels to examine, as well as eye-catching maritime paintings and posters, films and even a genuine lifejacket worn by a Titanic survivor. You'll also find the rather harrowing International Slavery Museum on the third floor and the National Border Force Museum in the basement.
© Museum of Liverpool
What is it? Well, you can probably guess. This museum is dedicated to Liverpool itself and is perched on the banks of the glistening Mersey.
Why go? From Liverpool's unique geography to its rich history and vibrant culture, the Museum of Liverpool will tell you everything you need to know about this fabulous city. Just a short gallop away from RIBA North, the museum documents the importance of Liverpool in relation to the rest of the UK and the vital role the port has played throughout its history. Once inside, you'll be bombarded with a host of Liverpool-centric things, including archaeological finds, the mythical liver birds, sporting paraphernalia and some (very) iconic tunes.
What is it? The legendary nightclub that has played host to all manner of illustrious figures from Liverpudlian musical history.
Why go? This underground cellar started life in 1957 as a jazz and skiffle joint, before playing an instrumental role in the birth of the Beatles. Lennon and McCartney played here in the Quarrymen before forming the Fab Four and setting up for almost 300 gigs on its stage. Other major acts followed them, including the Hollies, Rolling Stones and the Kinks, before the venue was bulldozed in the early '80s. Thanks to investment from Liverpool FC player Tommy Smith, the Cavern Club reopened in 1984 and is once again a vibrant live music venue. Visit now and you'll either encounter one of the club's resident acts – including a killer Beatles tribute – or an up-and-coming singer-songwriter.
© RIBA North
What is it? RIBA's national architecture centre, based in a gleaming complex on Liverpool's waterfront.
Why go? This is the spiritual home for outstanding British design: through a series of exhibitions, talks and city tours you can learn about world-beating art, architecture and craftsmanship. The building itself is an angular delight, jutting up from Canning Dock and contrasting beautifully with the ornate, early 20th-century architecture of the nearby 'Three Graces' – the Liver, Cunard and Port of Liverpool buildings. If you're still not convinced, RIBA also recently won the 'Best Newcomer to the Visitor Economy' at the Liverpool City Region Tourism Awards. Impressive stuff.
What is it? Start-ups, street food and stunning arts venues – you'll find it all in this trendy area.
Why go? Occupying an industrial area that was heavily bombed during the Second World War, the Baltic Triangle's historic warehouses now overflow with music venues, arts spaces and independent boutiques. Don't miss the Baltic Market, a street food haven inside the striking Cains Brewery building. Expect things like halloumi fries, prosecco ice lollies and artisan pizzas.
14. Beatles and sightseeing walking tour
What is it? A chance to get the skinny on the city from a local guide.
Why go? Your guide will have a wealth of local knowledge – including plenty of titbits on the Beatles. After all, a tour of Liverpool wouldn't be complete without dipping into the story of the Fab Four, right? En route, explore the waterfront, learn about the historic docks and find out how the place has changed since John, Paul, George and Ringo made it big. Then you can take in a Beatles film and see loads of locations only accessible by foot, including the site of Brian Epstein's record shop, NEMS, the Eleanor Rigby and Cilla Black statues, and the Cavern Club – where it all began.
15. The Royal Liver Building
What is it? An office block, but not any old office block.
Why go? Built between 1908 and 1911, the Grade I-listed Royal Liver Building (that's 'liver' to rhyme with 'diver') is one of the sights that earned Liverpool its Unesco World Heritage status. It was designed by Walter Aubrey Thomas for an insurance company and was one of the first constructions in the world to be built using reinforced concrete. Its most notable features are its two clock towers, atop which perch two mythical, cormorant-like liver birds. It's the city's most famous landmark.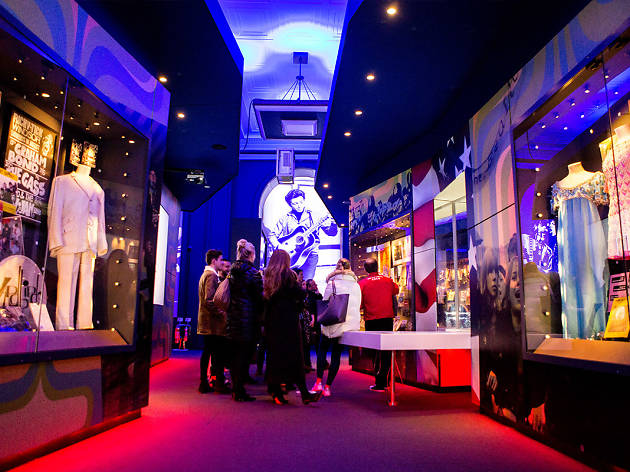 16. British Music Experience
What is it? An exhibition that tells the story of British pop music.
Why go? In this sprawling, vibrant and interactive exhibition, visitors can find out just about everything there is to know about pop music in the UK. Highlights? Genuine outfits worn by stars such as David Bowie, as well as instruments that once belonged to Noel Gallagher and the Sex Pistols. You can also have a go at rock stardom yourself by picking up one of various guitars, drum kits and keyboards, or belting out a tune or two in a vocal booth.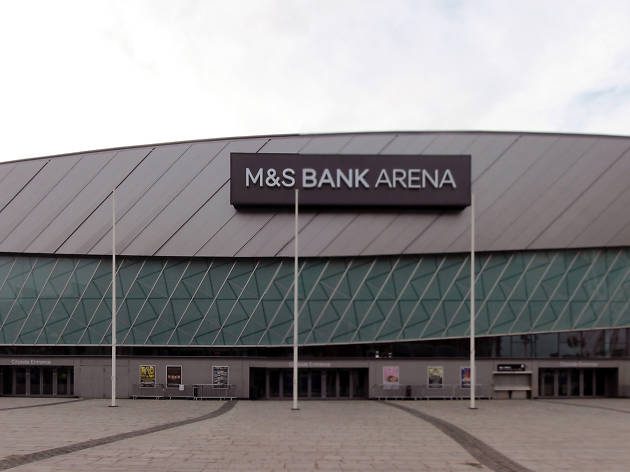 Photograph: Wikimedia Commons / Rodhullandemu
What is it? A 11,000-capacity arts and sports venue that opened in 2008.
Why go? Those seeking an action-packed outing should check out the M&S Bank Arena, which regularly plays host to massive gigs, live sporting events, comedy shows and family-friendly performances. Sir Paul McCartney has graced the arena's stage, and so too have Beyoncé and Iron Maiden. They've also held the Mobo Awards, Davis Cup and the GB Judo World Cup here, as well as telly favourites 'Strictly Come Dancing' and 'The X Factor'. Plenty of strings to its bow, then.
Looking for somewhere amazing to eat?
Whether you're after a high-end dining experience with views of the Merseyside skyline, or want to transport yourself to the bustling souks of Marrakech with some tantalising sharing plates, Liverpool's diverse and fast-expanding dining scene can deliver.
Best selling Time Out Offers