Steven Toast's 'Toast on Toast': read the first chapter
Time Out exclusive: read the entire first chapter of the 'Toast of London' star's book of 'Cautionary Tales and Candid Advice'
'We'd love you to be in the show…'
To begin with, a cautionary tale…
In 1986, I received an invitation to take part in a BBC production called 'It's a Right Royal Knockout'. The offer didn't come through my agent but via a man I met in a pub, who I later found out was one of Jeremy Thorpe's many lovers. (One of Thorpe's favourite pick-up lines was to approach attractive young men who were looking through the windows of Mayfair antique shops and enquire 'See anything you like?' I have long been fascinated by Thorpe, as my father was once offered a peerage by the former Liberal leader in return for a massive donation to the party. He also became involved in a murder plot to kill one of Thorpe's troublesome ex-lovers.)
This fellow I was chatting to in my favourite watering hole in Soho, the Colonial Club (of which more, much more, later) – who cheerfully admitted that he had once attempted to blackmail Thorpe – said he knew a colleague of Prince Edward and that this chap had informed him that the young royal had an idea to base a 'royalty-themed' programme for the BBC on the format of 'It's A Knockout' (a particularly popular – though ludicrous – game show of the time hosted by the notorious sex-pest presenter Stuart Hall).
We were having quite a jolly time in the pub and were soon joined by a TV producer, Mews Frumpty, whom I knew through Ken Dodd's personal skincare assistant. Frumpty was also very aware of Edward's plan (as he was the producer of the show) and in fact broke the news that I was 'in the frame' to appear as one of the contestants.
As he explained, the idea was basically that Edward and other members of the Royal Family would captain four teams consisting of celebrities, politicians and sports people. The teams would play each other in silly and ridiculous games while the gullible general public watched at home and donated money to charity. The cash was initially proposed to go directly, tax free, to the Royal Family, but the Home Secretary at the time, Douglas Hurd, was reluctantly forced to intervene and politely suggest to Edward that it would be a more popular move with the general public to raise money for the homeless, old people, disabled, etc. (Ironically groups of people that somebody close to the Royal Family subsequently told me Princess Margaret absolutely loathed.)
At first the captains were meant to be Stuart Hall, Gary Glitter, Jimmy Savile and Leon Brittan, but at the suggestion of Princess Michael of Kent, it was decided that each team leader should be a royal, so Prince Edward, the Princess Royal (Anne Windsor), the Duke of York (Andrew 'Randy Andy' Windsor) and the Duchess of York (Sarah 'Fergie' Ferguson) were elected to take charge of the celebrities. ('The first time they were elected for anything,' quipped the famously republican and anti-royalist Dennis Skinner.)
The celebs pencilled in to take part were a veritable 'who's who' of British sport, politics and entertainment: Valerie Singleton, Des Lynam, Virginia Wade, Lord Hailsham, George Best, John Lydon, Vivienne Westwood, Eddie the Eagle and Melvin Bragg were all approached but either declined or were unavailable. However, Toyah Wilcox, Barry McGuigan, Christopher Reeve, Steve Cram, Tessa Sanderson, Sarah Hardcastle, John Cleese, Captain Beefheart, Nicholas Lyndhurst, Dame Tiri Te Kanawa, Duncan Goodhew, Debbie Flintoff, Gerry Adams, Cliff Richard, Emlyn Hughes, Jenny Agutter, Kevin Kline, Jackie Stewart, Peter Blake, Walter Payton, Virginia Leng, Sunil Gavankar, Anthony Andrews, Tom Jones, Sheena Easton, Mark E Smith, Judy Simpson, Anneka Rice, Fiona Fullerton, Gary Lineker, Ben Dover, George Lazenby, Michael Palin, Nigel Mansell, John Travolta, Margot Kidder, Steve Podolski, Tamara McKinney, Meat Loaf, Pamela Stephenson, Brian Cooper, Mel Smith, Jane Seymour, Chris De Burgh, Viv Richards, Keith Richards, Gail Greenough, Michael Brandon, Ben Cross and Steve Cauthen agreed to take part. I'm not usually star-struck, but this line-up seemed rather impressive (even though I'd never heard of most of them). I told Frumpty then and there that I was interested.
'When I complained to Mews Frumpty, he told me in no uncertain terms to "Go fuck yourself."'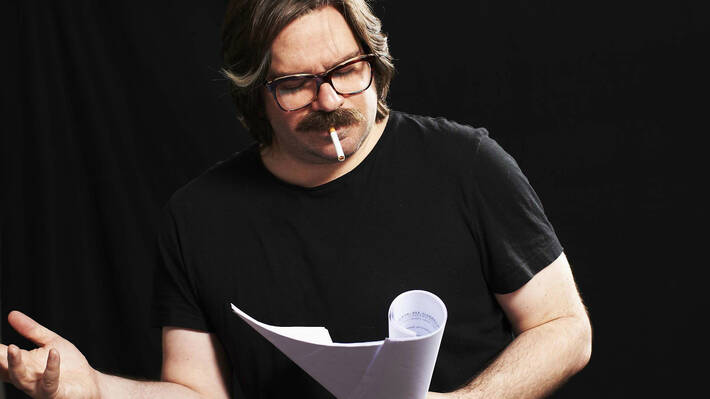 After my participation in the programme had been confirmed, I was collected by car at about 6am on the day of the tournament to take me to the venue at Alton Towers, where a lavish set, based on Windsor Castle and costing several million pounds, had been constructed.
No sooner had I arrived when I was met by my agent, Jane (who, as usual, was keen to 'hobnob' with members of the Royal Family). She told me that the producers (including Frumpty) were in a hastily convened conference, as there were now some doubts about whether George Lazenby would take his place in the star-studded line-up. On seeing Prince Philip, the Australian actor and ex-model had had a nervous reaction and panicked, then taken all his clothes off and locked himself in his car. A flurry of phone calls were now taking place between Prince Edward and Lazenby's agent in Melbourne. Less than twenty years earlier, Lazenby had walked away from the lucrative James Bond role, so how would the fiercely independent and competitive star react if he was on the losing side in a giant cabbage-throwing competition?¹ Finally, a deal was thrashed out where George would receive an extra two hundred and fifty pounds and would not be asked to deal with any flying vegetables or take part in any games which could be deemed disrespectful of Australia.
But then, quite unexpectedly, just as I was changing into my royal costume, I was hit by what can only be described as a whizzbang of a bombshell. Suddenly, from completely out of the blue, word emerged that the Jamaican singer Eddy Grant had expressed an interest in taking part in the show. (Grant was an eighties pop star, like Culture Club or Duran Duran, and by that point had had a string of two hits, 'I Don't Want To Dance' and 'Electric Avenue'.) As a result, I was ruthlessly and unceremoniously dropped to make way.
I was obviously completely stunned. When I complained to Mews Frumpty, he told me in no uncertain terms to 'Go fuck yourself. Eddy Grant has expressed an interest in taking part; there's no room for you now, so sling your hook and fuck off home.' When I asked for a car to take me back to my flat, I was told that none were available and that as the BBC were also unwilling to pay my train or bus fare I had little choice but to walk back to London. (After three miles, I eventually hitched a lift from a gypsy driving a horse and cart.) I was so disgusted by my treatment that I was physically sick and vowed never to get involved in a charity event involving the Royal Family ever again. (A vow I was to break a decade later, with equally disastrous consequences – See Chapter 12.)
It was, then, with a certain schadenfreude that I watched the programme when it eventually aired on television. It was such a shambles and a travesty of everything that Britain and the Royal Family stood for that I began to feel that my last-minute sacking had been a lucky escape. The royals, politicians and celebrities who took part made complete fools of themselves playing those childish and frankly embarrassing games (which were often dangerously teetering on the edge of being sexually humiliating), and very few of them ever appeared on television again.
The reviewer of the Evening Standard called it 'an absolute atrocity – on a moral scale similar to a war crime… The worst thing I have ever seen, anywhere… Everybody involved in the programme should be put up against a wall and shot.'
It was obvious that Prince Edward himself felt it had gone badly. Famously, at a press conference which happened immediately after the show, he asked the assembled journalists what they had made of it. One reporter chirped up with 'A pile of shit, Your Majesty.' At this, Edward lost his cool completely and an unseemly fist fight broke out between him and several of the reporters. He was eventually dragged away, kicking and screaming, by the Duke of York. An ambulance was called to take several reporters, who had been quite badly injured by the irate prince (who had been carrying a concealed flick knife and had used it skilfully and with brute force) away to the local hospital.
'Although largely forgotten now, "Have I Got News for You" was quite a popular show in the early nineties'
My next meeting with Mews Frumpty was when he was producing the BBC quiz programme 'Have I Got News for You'. Although largely forgotten now, this was quite a popular show in the early nineties. Again it featured the winning, although often combustible, combination of stand-up comedians and politicians. Household names such as Bernard Manning and Margaret Thatcher made regular appearances. There is nothing that the public loves more than comedians 'having a go' at politicians, and this was a programme that ticked all the boxes. The unfortunate fuddy-duddy, Eton-educated, out- of-touch, be-suited politico selected was forced to squirm uncomfortably as the hip young comedians (who mostly wore T-shirts with anti-establishment slogans) abused, humiliated and degraded them in front of the cameras to the delight of the viewers at home.
After the original presenter died whilst on a trip to Africa with Comic Relief, actors were sometimes asked to take turns hosting the show, and one evening I received a call from Frumpty asking if I would like to take on the role. I was a little wary, and not just because of my previous calamitous experience with the producer on the Royal Knockout programme. I'm not an expert on politics or current affairs, and I wasn't certain if I was the right man for the job, but I was assured that everything on the show was completely scripted and read off an autocue. Absolutely nothing was allowed to be improvised.
When we met over lunch in Soho2; to discuss the idea further, the pipe-smoking Frumpty was very persuasive and charming (he always wore a bow tie and a blazer with 'BBC' emblazoned on the pocket), and told me I'd be an ideal host. He said that he had long admired my wit and erudition, and had always made sure to avidly watch every TV show or theatrical production I'd appeared in. He told me he had a scrapbook dedicated to my career and, with schoolboy enthusiasm, diligently pasted in every good review and notice he came across in the press.3
Basically, he was a huge fan. He was gushing in his praise almost to the point of embarrassment, and his flattery eventually won me round. He told me, though, that due to cutbacks, the hostility of the Blair government and the resultant failure of the BBC to obtain an increase in the licence fee, the corporation was still unable to afford taxis to take 'talent' to the studio.4
After an uncomfortable Tube trip to Wembley (where the programme was recorded every week), I had a half-hour walk, in pouring rain, to the studio. About an hour or so later, I was about to go into make-up when Frumpty took me aside. He told me that there had been a development. He had bumped into Ned Sherrin and instantly decided that he would be a better host for the show. Sherrin had immediately agreed to take on the role. When I protested, he was blunt to the point of rudeness and said, 'Sherrin's doing it now. There's no place for you – sling your hook and fuck off home.'
Needless to say, I had another half-hour walk to Wembley Park Tube station (it was still pouring with rain). I then discovered that the station had closed due to flooding, and I had to walk fifteen miles home. The humiliation was complete when, still seven or eight miles from my flat, and completely exhausted, I stopped to thumb a lift at the side of the road. Who should pass me but Frumpty driving his Jaguar. He saw me and slowed down. I could see Ian Hislop, Paul Merton and some prostitutes in the back seat, all sharing a bottle of champagne. Frumpty then quickly gave me the Harvey Smith 'v' ('Fuck off') sign, before speeding away, laughing his head off all the time.
If I needed any further indication about what an absolute bunch of cunts the BBC were, this was it. One would think that after two unfortunate experiences like this, I'd be wary of working with such a shithead ever again. But some years later, I bumped into Frumpty at a party to launch the BBC's autumn schedule.
I arrived late,5 and out of the corner of my eye I saw him chatting to Clive Anderson. My immediate instinct was to walk away to a far corner of the room, but the BBC man immediately approached me as if I was a long-lost friend. 'Steven!' he said. 'How lovely to see you!' He was immediately apologetic about the 'Royal Knockout' and 'HIGNFY' fiascos, and asked if I'd be interested in hosting a new ballroom dancing show that was in development.
I know next to nothing about ballroom dancing, and when he told me the concept – celebrities partnering experts in a dancing competition as viewers voted off the most hopeless exponents – I thought it was literally the worst idea I'd ever heard. Having been unceremoniously dumped off the two previous shows produced by Frumpty, I was also obviously very wary of being 'stung' again. However, the Old Etonian was, as usual, very persuasive and charming, and told me, 'I really, really, really, really want you to do this.' So I agreed to meet him for lunch at the Colonial Club the next day to thrash out the details further.
Upon turning up an hour late, he immediately bought the most expensive bottle of wine available and proceeded to tell me how much this new project meant to him and why I was his number-one choice to host the show. 'I swear to you, Steven, the only way this show is going to happen is if you host it. I wouldn't consider anybody else, no matter how famous or popular they are with the public.' He also told me, 'The only reason that this show cannot be called "Steven Toast's Strictly Come Dancing" is due to rights issues. I am desperate to get you involved.' He then spoke in very moving terms about how he'd been abused as a child, his resultant alcoholism and divorce, and why he thought that producing this show, with me hosting it, would finally bring him closure. He also promised to 'break the bank' and to pay me 'top dollar' for my services. He was certainly very convincing, and after talking to Jane about putting in place safeguards to prevent the previous experiences with Frumpty being repeated, I agreed to host.
About a month later, I arrived at the studios (via Tube – the BBC again claiming that they were unable to provide or pay for transport) and was just about to go into the costume department when I saw a helicopter land on the roof. Out stepped Bruce Forsyth, who was immediately greeted by Frumpty as if they were bosom buddies.
After trying on various suits, I returned to my dressing room to find that it was locked. There was a note stuck to the door from Frumpty asking me to see him in the green room. When I arrived, he told me that I was no longer needed to host the show; Bruce Forsyth was taking over. When I protested vehemently, he told me that when our initial conversation over lunch had taken place, the programme was proposed to be broadcast on a BBC channel called 'Dave' (needless to say, I'd never heard of this rather 'folksy'-sounding station). However, the men in suits had subsequently decided that 'Strictly' (as he referred to it throughout our conversation) was now going to air on BBC1 and that they would need a household name to front it.
'Frankly, you don't fit the bill,' he told me in the most arrogant fashion. 'Bruce is doing it now – he is a world-famous star, and absolutely nobody, apart from a handful of elitist toffs who have seen you in shit plays, knows who you are. Sling your hook and fuck off home.'
Yet again pleading penury like a destitute tramp/liar in a novel by Charles Dickens, he said that there was no money to pay for my transport, so I would have to make my own way back to my flat. When I arrived at the Tube station, another lightning strike had been called by the union, and the worst thunderstorm in fifty years had broken over London. I had to walk many miles home in the pouring rain.
'Overall, almost everybody I've met in the theatre, film, radio drama and voice-over spheres has been appalling.'
I swore that I would never be foolish enough to fall for the dubious charm of Mews Frumpty a fourth time, but I've always found my professional experiences useful in some way, even if at the time they felt painful and humiliating. Talking to fellow actors, I found that my treatment at the hands of the BBC was far from untypical – in fact, not just the BBC, but television in general – and, indeed, every area of show business.
Overall, almost everybody I've met in the theatre, film, radio drama and voice-over spheres has been appalling. The moral standing of 99 per cent of people in this business would be on a par with the Einsatzgruppen Nazi extermination squads which operated in Eastern Europe in the period 1941–4. Dishonest, lying, cheating, scheming two-faced fuckers are the absolute norm in my line of work.
So when I meet young actors starting out, I warn them about this – time after time. However, for whatever reason, the lure of the greasepaint is still as strong as when Shakespeare and Noël Coward decided that a job in the local sewage works wasn't for them and that they would dedicate their lives to treading the boards. (Or in Shakespeare's case, I should probably say 'treading the "Bards!"')
Laurence Olivier once said that all the hard work was worth it just to hear that audience applause at the end of an evening. Well, it isn't, but I have a tale to tell and wisdom to impart. So here it is: my story; my advice to young actors; my warts and all…
1 When Lazenby had first seen the Prince, he (Prince Philip) had been carrying two large cabbages. Although not connected with the tournament, the Australian had initially suspected that the vege- tables might be thrown at him as part of the day's events.
2 Frumpty insisted on buying a hugely expensive bottle of champagne and a gigantic portion of caviar.
3 I subsequently discovered that this was a complete lie.
4 This also turned out to be untrue, as I saw Ian Hislop pull up in a chauffeur-driven Rolls Royce.
5 I had been to a doctor for an anti-tetanus jab after being bitten by a wolf in Scotland.
'Toast on Toast: Cautionary Tales and Candid Advice' by Matt Berry and Arthur Mathews is out on Thu Oct 22, published by Canongate.
Want another slice of Toast? Read another exclusive extract from 'Toast on Toast'
RECOMMENDED: Meet Steven Toast
The latest comedy interviews
The 'Vicar of Dibley' star on her first solo show, kissing cats' bums and why she didn't talk to Time Out for years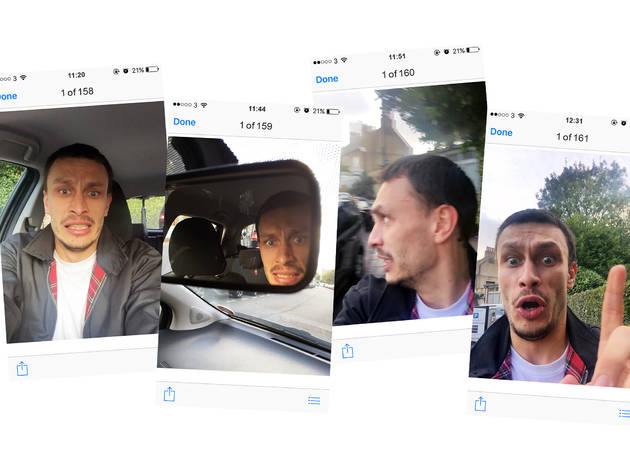 As 'Waiting for Gaddot' heads to London, Richard Gadd speaks to Time Out… nearly
See more comedy interviews
Support Time Out
We see you're using an ad-blocker. Ad revenue is Time Out's main source of income. The content you're reading is made by independent, expert local journalists.
Support Time Out directly today and help us champion the people and places which make the city tick. Cheers!
Donate now