The 50 best World War II movies
From 'Dunkirk' to 'Schindler's List', here are our picks for the best World War II movies of all time
The cinema of World War II is gritty, glorious and seriously extensive. There were so many great war movies made during the war itself, it's a wonder anyone was available to do any actual fighting. Since then, each decade has spun its own take on this epic conflict, mining nuance from what's often depicted as a black-and-white struggle between good and evil. And from Clint Eastwood's 'Letters From Iwo Jima' to Sam Peckinpah's 'Cross of Iron', filmmakers have even crossed the divide to tell stories from the enemy's perspective.
But with so many WWII films out there, which ones are the greatest? From big-budget action epics, subtle romances, tragic dramas and starkly realistic depictions of the conflict, here are 50 of the best World War II films, as chosen by our Time Out writers and the venerable director, Quentin Tarantino.
Recommended: London and UK cinema listings, film reviews and exclusive interviews.
The best World War II movies: 50-41
The best World War II movies: 40-31
The best World War II movies: 30-21
The Normandy conquest
Spielberg, Hanks, all those Academy Awards. It's easy to be a tad sceptical about 'Private Ryan'. A repeat viewing, however, blows away the cobwebs with a furious men-in-combat film that balances comradely bromance with gale-force action. ALD
Quentin Tarantino says: 'I really liked "Saving Private Ryan", in particular the Omaha beach scene. You're watching that sequence and you think, could anything be worth this? Ultimately, I guess the answer is yes. But when you're watching it, it seems unfathomable that anything could be worth that.'
Hot Guinness
William Holden's authority-defying, nurse-goosing square-jawed US Navy Commander Shears may be the supposed hero, but in this grandiose epic set in a Japanese labour camp it's Alec Guinness's hopelessly compromised Colonel Nicholson that we really relate to. A story of the blurred line between enslavement and collaboration, David Lean's film drips with jungle sweat as Nicholson tries to protect his men from Japanese cruelty as they work to build a strategically important railway bridge. The photography, sets and supporting performances are all terrific, but it's all in orbit around Guinness's towering turn as the man torn between duty and a kind of twisted, self-sacrificial honour. TH
28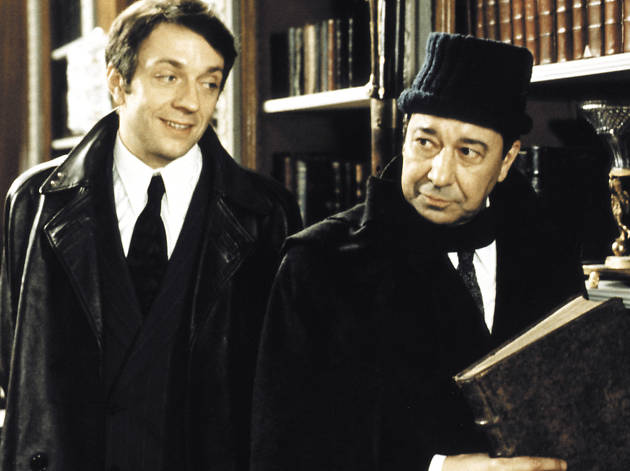 Vive le resistance!
Jean-Pierre Melville's film opens on a shot of the Arc de Triomphe as, slowly, a long line of Nazi soldiers goose-step across the screen. This insidious, softly-softly approach to the traumas suffered by the people of Paris during the occupation sets the tone for a riveting, steely-eyed chronicle of resistance. Prizing restraint, Melville adopts a curt, undemonstrative shooting style to present his 'heroes' as a self-hating cadre who think nothing of risking life and limb in the name of their nation. Prison escapes are brief and unglamorous, espionage is gruelling and perilous and emotions, speeches and friendships remain suppressed at all times. A cold, meticulous drama about the pressures of propping an entire country on your shoulders. DJ
True grit
As cutting as piano wire and cynical to the core, Robert Aldrich's whipsmart drama follows through on the queasy promise of its tagline: 'Rips open the hot hell behind the glory!' Joining up with the daintily named Fragile Fox company for a botched support mission during the Battle of the Bulge, we find ourselves caught between company captain and 'gutless wonder' Eddie Albert, Lee Marvin's manipulative institutional horse-trader and platoon leader Jack Palance, cracking with frustration at the sharp end. A minor landmark which dared to suggest that, in war, 'Not everyone is a hero and not every gun is pointed at the enemy'. ALD
Funny how?
'So, they call me concentration camp Ehrhardt, do they?' It's hard to imagine the shock that must've greeted Ernst Lubitsch's frothy comedy on release in 1942. Here we were, in the grip of the most bloody conflict in Earth's history, and along comes German Jewish émigré Ernst Lubitsch with a broad Hollywood satire lampooning Nazism, spies, the camps, the whole damn shooting match. A story of mistaken identities, backstage hi-jinks and theatrical misunderstandings set in occupied Poland, the film is genuinely funny. But if you actually stop to think about it, you may start screaming. TH
Makes you proud to be British. Or American
Maybe the most flat-out enjoyable WWII film of them all, this bank holiday classic continues to win fans, inform ad campaigns and drown out England football matches every time an impromptu rendition of its impossibly chipper theme tune sounds. Steve McQueen heads a top-notch cast of international talent, all of whom are given plenty to do by the lively script and nimbly wrangled by John Sturges's muscular direction. ALD
Quentin Tarantino says: 'One of my favourite movies of all time, not just war movies. I love that film. It's one of those bunch-of-guys-on-a-mission movies that got me to sit down and write "Inglourious Basterds".'
Up close and personal
The degradation and horror of the Holocaust was never captured with such ferocity as in László Nemes's extraordinary debut. Saul is a member of the Sonderkommando, the Jewish concentration camp prisoners tasked with dealing with the bodies of those murdered in the gas chambers. Nemes's camera stays – literally – right in Saul's face, using as few cuts as possible to immerse the viewer in an all-too-believable vision of hell. If it sounds tough, it is – but, until virtual reality technology improves, this is the closest you're going to come to a bone-deep understanding of what really happened. TH
Only 23? *Angry Hitler gif!*
We've all been there. You haven't slept for days. The place is a wreck. There are empties everywhere and you don't even know who half these people are. Admit it: the Party's over. This claustrophobic account of the last days of Nazi Germany takes place within the dank corridors of Hitler's bunker. The sense of impending doom is palpable and, as much of it is based on the recollections of Hitler's secretary, scenes like a wild champagne party to the backbeat of Russian artillery ring bizarrely true. Sadly for these guests, history was about to gatecrash. PF
Brothers in arms
'[A] highly elaborate, flashy, flabby and costly film, the most disgraceful production that has ever emanated from a British film studio.' That's from a pamphlet entitled 'The Shame and Disgrace of Colonel Blimp', foisted on the ticket-buying public when Powell and Pressburger's heartfelt biopic of a fictional British army officer was first released in 1943. The film's great crime was to depict a German character in a positive light – indeed, to plead for understanding between two countries at war. It still feels like a brave move – and it lends a film that could've been fusty and traditionalist a genuine cutting edge. TH
Scouting for boys
By the early 1960s, the bloom was off the war – WWII movies no longer needed to focus exclusively on square-jawed men nobly battling fascism. Heck, they might even suggest that the conflict took a toll on both sides. In Andrei Tarkovsky's shimmering (and surprisingly short) debut, a boy stumbles into the headquarters of a Russian platoon on the Eastern front, claiming to have important information. It transpires that he's a junior spy used by his own side, who play on his hatred for the German who murdered his family. Dreamlike and devastating, this was a new kind of war movie. TH
The best World War II movies: 20-11
The best World War II movies: the top ten
Snap up exclusive discounts in London
Time Out's handpicked deals — hurry, they won't be around for long...