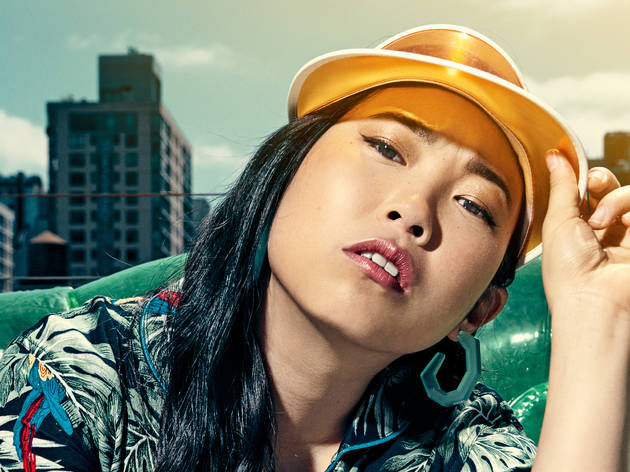 Awkwafina: 'You don't realise the power of representation until you feel it'
From 'My Vag' viral rapper to 'Crazy Rich Asians' superstar, Nora Lum and her famous alter ego are on their way to the top. Ahead of the release of her latest film 'The Farewell', we catch up with her
'"Jokes", "cotching", "Rizlas", "wanker"…' Nora Lum – aka Awkwafina – is listing the British words she finds funny. Her favourite is 'vag'. 'It's very polite,' she says. 'And the people who've said it to me lower their voice four decibels, so it's like, "My [whisper] vag."' The word tickles her so much that back in 2012 she released the music video 'My Vag' on YouTube. Since then she's gone from viral star to legit Hollywood actress. Last year she joined an all-star line-up for 'Ocean's Eight'. Then came 'Crazy Rich Asians', a breakout blockbuster that she sums up as a 'movement' for onscreen representation. The revolution continues with the forthcoming 'The Farewell', where the NYC-born actress headlines an all-Chinese cast in a film about family, grief and immigrant blues. For now, she sits vaping in a loft on a hot day in New York while we talk inclusivity, why London's a 'no-bullshit' city and, er, Old Gregg from 'The Mighty Boosh'.
Can you turn off your Awkwafina persona? Do people call you by your real name Nora?
'My friends do. I think I channel her to gain confidence in situations where I'm insecure. Awkwafina is what I present to the world, and Nora is who I go home to.'
Is she a defence tactic?
'Literally, yes: in my first video, I wanted to be anonymous. It was stupid because I got fired from my job because of it anyway. Awkwafina came into existence when I was 15, 16 years old. So she is a part of me. You want to appear strong and set a good example about loving yourself. But the truth is, sometimes you don't.'
Was it weird for you to start seeing your stage name on billboards?
'The first time that name was really put on something crazy was "Ocean's Eight". You're reading all these credits, and then you come across mine: what the hell was that? People were incensed about it on Reddit. It stuck out like a sore thumb. But without the Awkwafina, I felt like something would be lost. I'm not ready to lose her yet.'
Did you get any London tips from Helena Bonham Carter?
'I had never been there until last year. It was really cool. I don't often go to cities and walk around and say, "I could live here." I really don't do that. I probably have only done that with London. Being a New Yorker grounds you in every way. You can dress in the nicest clothes and be whoever you think you are, but when you're on those streets, you're just in a school of fish. I walked around London and I felt New York there. It's a no-bullshit city.'
You rap about authenticity, right?
'For sure. I rap about what I know, always. I bet you're referring to "NYC Bitche$", which I wrote in 20 minutes. The New York around me was changing. I was going from being a teenager who took the train to [arts school] LaGuardia High School every morning to being a young adult who wanted to live a life but felt like the city wasn't hers. I don't want to be one of those 85-year-old New Yorkers on her stoop, wearing a muumuu, talking about how much it's changed. But it's good to be aware of it.'
Are you a fan of any British comedians?
'Yeah, I love Jack Whitehall. I love the "Absolutely Fabulous" girls. [Laughs] Ricky Gervais is great. I love "The League of Gentlemen", "The Mighty Boosh". It's where Old Gregg came from. I love old British shit.'
How about British rappers?
'Skepta! I like UK grime. I like the sample box – I like the production of UK grime.'
What were you like at school?
'I was the best trumpet player in my junior high. But when I got to LaGuardia, I was eightieth in the city. So for music, I really had to find my own way. What LaGuardia did for me was allow me to travel into the city every day. To get out of town and explore different neighbourhoods.'
So that was your awakening. But your grades suffered?
'I was such a bad student. My dad had a parent-teacher conference and my teacher told him, "For some people, the best thing that will ever happen to them is getting into LaGuardia." And I remember it resonated with me. What happens after this? Am I just in the orchestra pit for "The Lion King"? Where do I go? That road led me here.'
'Crazy Rich Asians' was definitely about reclaiming territory.
'When "Crazy Rich Asians" came along, I told my team: "I know this is going to be important. I don't care if they cast me in it – the fact that it's happening at all is important." I made it a point to tell them that. And I got the part because of that.'
Did you have a hunch about its huge success?
'We had a gut feeling. I would see these kids crying, coming out of screenings. You don't realise the power of representation until you feel it and you know you've been missing it.'
Growing up, do you wish you'd had a film like that?
'I do. And I want the kids of the future to be spoiled with representation and to wonder why "Crazy Rich Asians" was such a big deal. I want them to have that representation everywhere.'
Instead of having that representation for yourself, you had NYC's dearly departed Evergreen Video, a trove of foreign cinema, where you worked as a clerk.
'I did. I watched the entire Criterion Collection. It was film school, man. That's how I discovered Asian-American indies – we had a whole section for them.'
Did you always think you'd move to dramatic indies like 'The Farewell'?
'It wasn't that I wanted a foray into drama. It was this script – I'd never seen something like it, both as an actress and as an Asian-American.'
Your character, Billi, is a mixed-up New Yorker who jumps at the chance to reconnect with her dying grandmother. Your own grandmother helped to raise you after your mother died. Did you feel connected to her story?
'I only saw strong women around me because my grandma was so strong. She told me that all the things I came home crying about – like being bullied or my voice – were the things that were going to make me special. She loved my spunkiness.'
Both 'Crazy Rich Asians' and 'The Farewell' have some deep ideas about Asian families, characteristics that make them universally relatable. What do you think about the stories?
'These movies are about families in crisis and everyone has been around their family in a crisis. But more so than that, there's a deep reverence. There's a term – "filial piety" – that you'll almost never hear outside of the context of East Asian studies. It has to do with the relationship between the younger generations, their elders and their ancestors. It's an undying respect. There are certain tropes that are very true to Asian culture. You can't call them stereotypes. They're just aspects of our culture.'
'The Farewell' requires a lot from you, dramatically. Were you ever worried about delivering?
'I didn't know if I could cry. I was worried about my Mandarin. I was worried about doing drama for the first time. But you have to choose the projects that speak to you. All those insecurities vanished because it was so real. It was a real connection I had with Billi, as if I were living it. And maybe that's the key to dramatic acting.'
How will Awkwafina handle the awards buzz?
'If people say I've arrived in a serious way, I'll have to use my platform to give others a chance. Because that's what I want. I need there to be representation behind the camera and in front of the camera. I need that for me.'
'The Farewell' is out on Fri Sep 20.
Read our review of 'The Farewell'
Lulu Wang's much-praised Chinese-American family comedy is given a nifty biographical flavour with the ace Awkwafina ('Crazy Rich Asians') playing Billi, a version of Wang's younger self.
Support Time Out
We see you're using an ad-blocker. Ad revenue is Time Out's main source of income. The content you're reading is made by independent, expert local journalists.
Support Time Out directly today and help us champion the people and places which make the city tick. Cheers!
Donate now