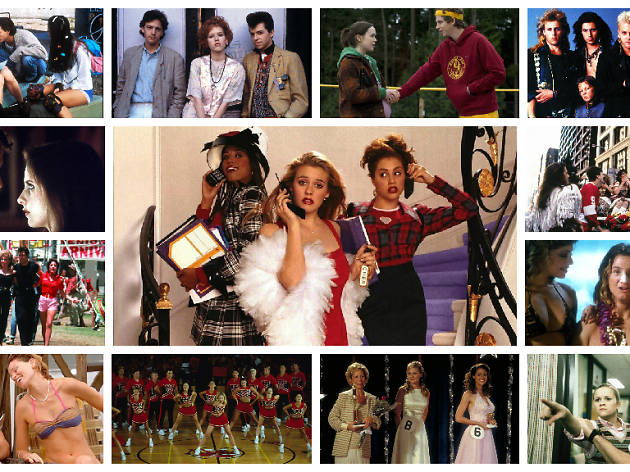 The 100 best teen movies
We rank and rave about the best teen movies depicting those hormonal high school years
It's possible that no other genre of film hits home for people the way teen movies do. There's a sense of nostalgia for these movies, even if they don't mirror our particular adolescent experience. They're reminders of what it was like to be young, and of the growing pains and first loves and friendships that defined us then and helped shape who we are now.
Whether you suffered or sailed through your teenage years, there's a film on this list of the 100 best teen movies you'll relate to. There are comedies, love stories, even a horror flick (and let's be real, at least a few of all our school experiences were truly horrifying).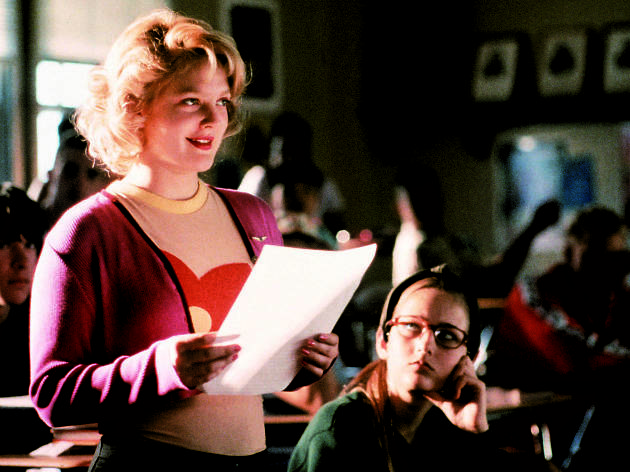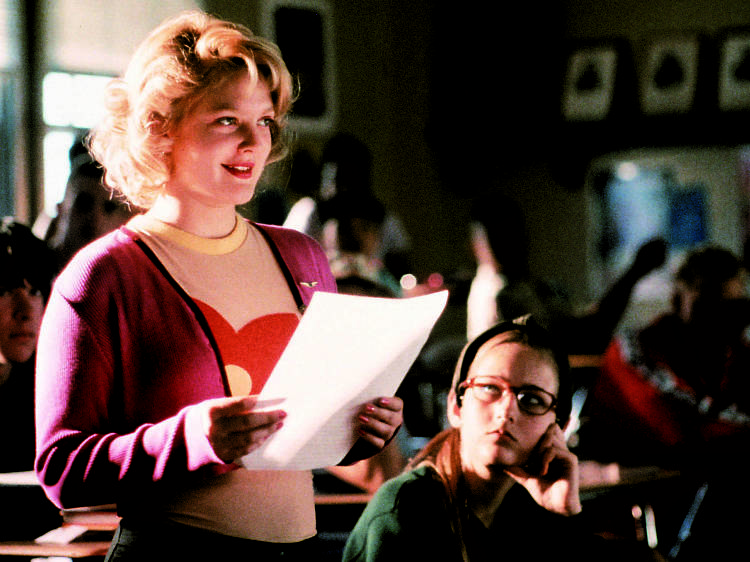 Director: Raja Gosnell
Cast: Drew Barrymore, Leelee Sobieski, David Arquette
Best quote: 'I'm not Josie Grossie anymore!'
Quintessential teen moment: When Sam finds out that Josie loves him and runs to the baseball field, where she is waiting on the pitcher's mound for her first kiss.
Yearbook superlative: Best first kiss with a stadium audience
When undercover reporter Josie Geller (Barrymore) is assigned to research teenage culture, she enrolls as a student at her former high school and finds herself reliving her high school insecurities as though she'd never left. But with the help of her brother Rob (Arquette), who enrolls to help her out, she befriends the cool kids, putting herself in a different social hierarchy this time around.
Josie is given a second chance at high school and finally falls in love along the way – the twist being that it's with her English teacher, Sam Coulson (Michael Vartan), who thinks she's a real high school student. Josie uses her false persona to try to fit in, only to later explain her real story through the article she publishes. Ramona Saviss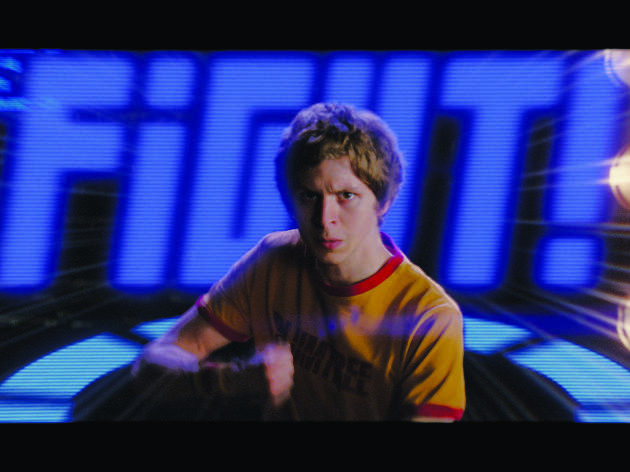 Director: Edgar Wright
Cast: Michael Cera, Mary Elizabeth Winstead, Anna Kendrick
Best quote: 'I'm in lesbians with you.'
Quintessential teen moment: In a kinetic final battle fuelled by his newfound 'power of self respect' Scott makes up with his friends, kicks his foes' backsides into the middle of next week and delivers rapid-fire quips without breaking stride.
Yearbook superlative: Most likely to still be obsessed with video games in their 30s
Required reading: 'Scott Pilgrim vs the World' by Bryan Lee O'Malley
Cult British director Edgar Wright's first foray into big-budget Hollywood filmmaking may not have broken any box office records, but its unique blend of comic book visuals, computer game structure and stoner rock soundtrack combine to form a teenage dream.
Based on Bryan Lee O'Malley's series of six graphic novels, the film follows hapless, perpetual teenager Scott (he's 23 but has no job, still plays in a struggling band and dates a high schooler – we're claiming him as a teen) as he battles the seven evil exes of mysterious stranger Ramona Flowers (Winstead) in order to win her hand. Progressing through the levels Scott (Cera) must finally leave his infantile ways behind – the journey we all face before we achieve the dubious honour of calling ourselves grown-ups. Roman Tagoe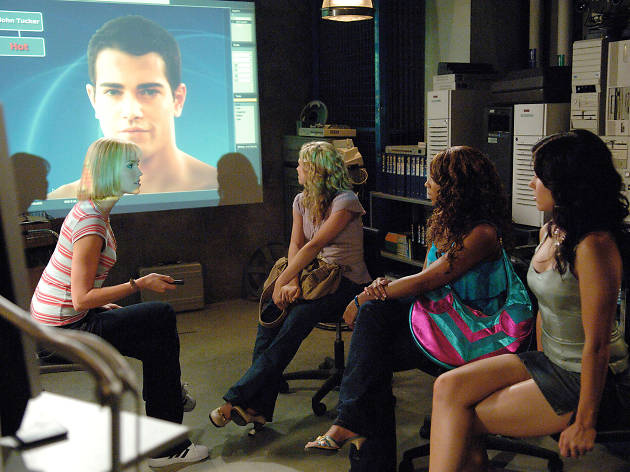 Director: Betty Thomas
Cast: Jesse Metcalfe, Brittany Snow, Penn Badgley
Best quote: 'John Tucker, you know there's only one guy out there for me... and you are NOT HIM.'
Quintessential teen moment: When Kate tricks John into donning a frilly thong and climbing into his teacher's hotel room.
Yearbook superlative: Least believable 'teenage' cast
It's the amped-up ridiculousness of 'John Tucker Must Die' that makes it so watchable. Think the revenge scenes from 'Mean Girls' meets Spice Girls' girl-power meets reality show 'Cheaters'. Three queen bees from opposing cliques team up with new-kid Kate (Snow) to take down sleazeball jock John Tucker (Metcalfe). The plan? Max-strength public humiliation.
Add a series of throwback references to classic teen films – from a 'Bring It On' one-liner to the iconic '10 Things I Hate About You' tune 'I Want You To Want Me' – and you have a very fun watch. Kate Lloyd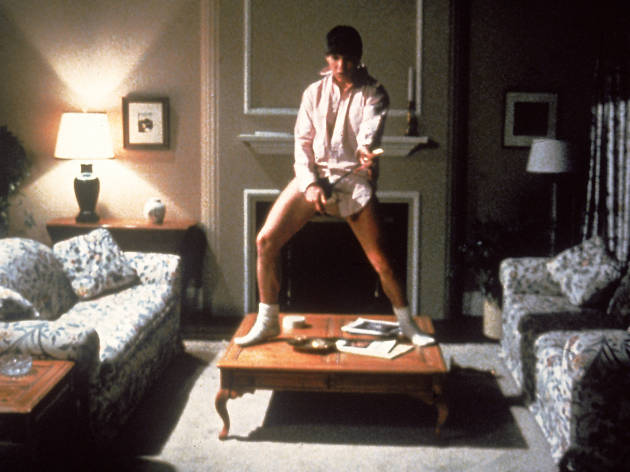 Director: Paul Brickman
Cast: Tom Cruise, Rebecca De Mornay, Joe Pantoliano
Best quote: 'Sometimes you gotta say, "What the fuck".'
Quintessential teen moment: Cruise slides across his hardwood floors in his underwear, lip synching to Bob Seger.
Yearbook superlative: Mostly likely to make VP at Goldman Sachs
Or, How I Got Into Princeton by Being a Pimp. No other teen flick of the 1980s devilishly skewers the yuppie consumerism and vainglorious drive of the era while also basking in it.
Joel (Cruise) does arm curls and stresses over business school. He bangs a hooker with a heart of gold (De Mornay), which leads to the theft of his parents' valuables. They stage the Best Little Whorehouse in Chicagoland to get the loot back. Throughout it all, crystal eggs and Porsches are laid to waste as Joel realises his life may not be worth as much. But he also gets to have sex on an inexplicably empty public train. Ew. Brent DiCrescenzo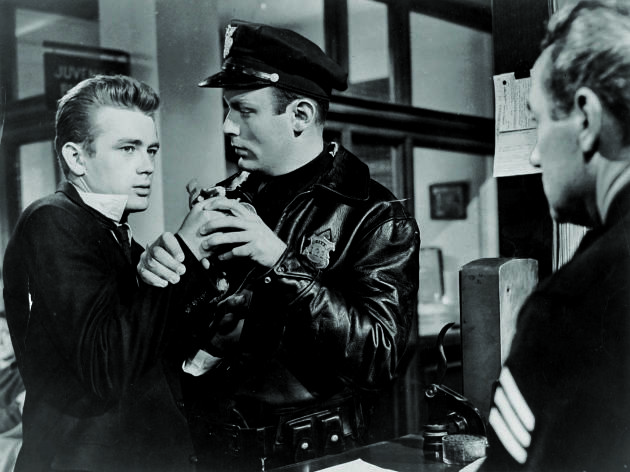 Director: Nicholas Ray
Cast: James Dean, Natalie Wood, Sal Mineo
Best quote: 'You're tearing me apart!'
Quintessential teen moment: Down at the police station, two confused parents confront a seething, drunken mess.
Yearbook superlative: Most likely to get in a knife fight
Dean's iconic turn remains the key portrait of adolescent dissatisfaction: the upturned collar, the soulful squint, the hands thrust in pockets, the whole package a bundle of nerves. You can see Dean's influence in countless parodies (like Charlie Sheen's magnetic juvie in 'Ferris Bueller's Day Off'), but also in virtually every teen movie since.
Released only a month after Dean's death, Nicholas Ray's 1955 sensation deserves another viewing for everything swirling around its star as well: While the drag races and awkward parental lunges feel a touch dated, they still get at a truth that hasn't dimmed. Joshua Rothkopf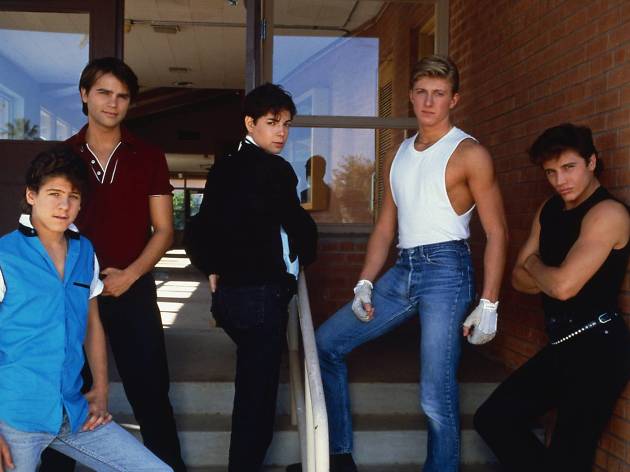 95. Just One of the Guys (1985)
Director: Lisa Gottlieb
Cast: Joyce Hyser, Clayton Rohner, Billy Jacoby
Best quote: 'Where do you get off having tits?!'
Quintessential teen moment: Terry must fend off the advances of precocious sexpot Sandy (Sherilyn Fenn).
Yearbook superlative: Most likely to inspire a Katy Perry video
Required reading: 'Twelfth Night' by William Shakespeare
From an era of body swap comedies, this folly holds up better than its peers. Even the three-decade-old gender politics are not as dated as one might expect. Sure, we're not exactly talking Simone de Beauvoir here, but one could conceivably juice a feminist theory paper out of this '80s pulp.
Aspiring journalist (how quaint!) Terry Griffith (Hyser) goes undercover as an eerily Macchio-esque boy for a story. Deviating from the cheap Shakespeare plot for a bit of Austen, Terry makes over a nerd into a hunk (Rohner), falling for him, natch. Sadly, the best character in this flick – Buddy (Jacoby), the horndog little brother living in a den of porno – never got his spin-off. Brent DiCrescenzo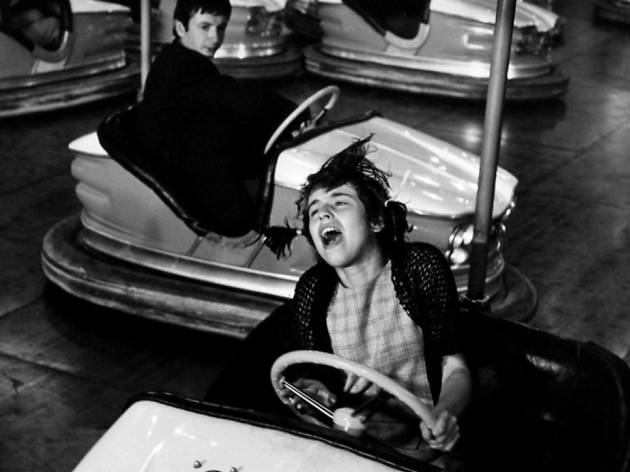 Director: Robert Bresson
Cast: Nadine Nortier, Jean-Claude Guilbert, Marie Cardinal
Best quote: 'You can count on me. I hate them. I will stand up to all of them.'
Quintessential teen moment: Riding the bumper cars and flirting with a cute boy, a brief moment of bliss.
Yearbook superlative: Least likely to make chorus
There has to be room on our list for tragedy – for the sheer hell of being a misunderstood, lonely young person sliding into unfixable trouble. This devastating drama by France's celebrated Robert Bresson is one such tale, about a country girl (Nortier) who sings off-key (heartbreakingly), gets teased by her classmates, squats in the mud and wobbles her way to brutal slaps and sexual exploitation.
It's a tough movie but a towering one, a foundational brick in the edifice of compassionate cinema. We are with Mouchette, even if she will never know that. Joshua Rothkopf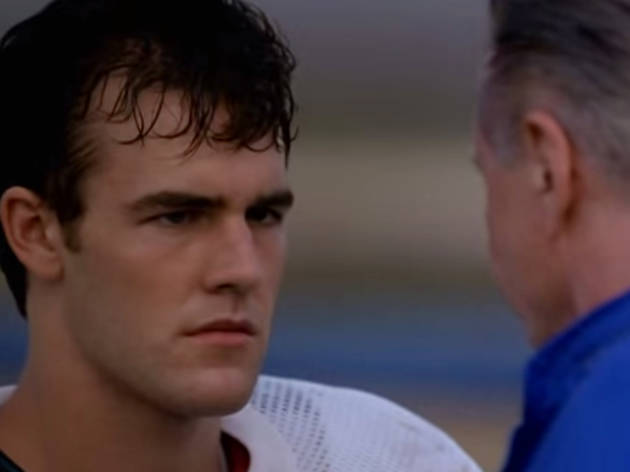 Director: Brian Robbins
Cast: James Van Der Beek, Jon Voight, Paul Walker
Best quote: 'Playing football at West Canaan may have been the opportunity of your lifetime, but I don't want your life!'
Quintessential teen moment: A whipped cream bikini, meant to seduce the new star quarterback, embarrasses everybody involved.
Yearbook superlative: Most likely to tell its grandchildren about high school literally every time they visit
Nobody wants to peak in high school, but in the football-crazed town of West Canaan, Texas, the local kids know that their teenage years are their best shot at immortality. Taking Dawson out of his Creek and recasting him as the backup quarterback who's thrust into glory when the starter blows a knee, 'Varsity Blues' is far more sophisticated than the hormonal romp it appears to be.
Striking a seriocomic balance somewhere between 'Porky's' and 'Friday Night Lights', director Brian Robbins dives into a 'Twilight Zone' world where the parents live vicariously through their sons, where every kindness is transactional and a whipped cream bikini is never just a whipped cream bikini. David Ehrlich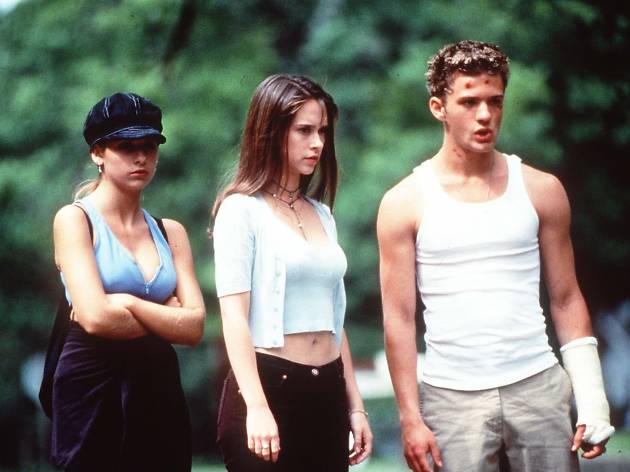 Director: Jim Gillespie
Cast: Jennifer Love Hewitt, Sarah Michelle Gellar, Ryan Phillippe
Best quote: 'What are you waiting for, huh? What are you waiting fooooorrr!?'
Quintessential teen moment: A teen beauty queen wakes up to find that some sick bastard cut her hair while she was sleeping.
Yearbook superlative: Most likely to be murdered while wearing a crop top
There comes a time in every teen's life when they realise that they're not invincible after all. This epiphany arrives on a different schedule for different people, but 'I Know What You Did Last Summer' convincingly makes the case that running over a hook-wielding maniac is a reliable way of expediting the process.
Jim Gillespie's 1997 horror sensation may have been fast-tracked in order to capitalise on the post-'Scream' zeitgeist, but it remains iconic because of how palpably it captures that moment when pretty young things begin to learn that actions have consequences. Slasher movies have always relied on such bloodthirsty schadenfreude, but few have ever been so satisfyingly well cast. David Ehrlich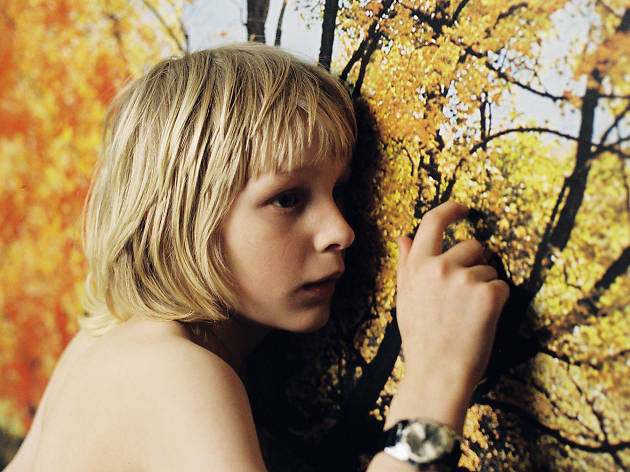 Director: Tomas Alfredson
Cast: Kåre Hedebrant, Lina Leandersson
Best quote: 'I'm 12. But I've been 12 for a long time.'
Quintessential teen moment: Eli saves Oskar from the bullies in the swimming pool – vampire style.
Yearbook superlative: Most likely to go steady forever
That me-and-you-against-the-world feeling of first love is captured beautifully in Tomas Alfredson's gorgeously sinister Scandinavian romance. This is a boy-meets-vampire love story: Oskar (Hedebrant) is a kid in early 1980s Stockholm who sleeps with a hunting knife under his mattress. Picked on at school, he makes friends with the little girl, Eli (Leandersson), who's moved in next door. She doesn't feel the icy cold temperature outside – Eli, it turns out, is a vampire.
Is 'Let the Right One In' a teen love story? A horror film? Either way, it perfectly captures that ache in your stomach when you met your soulmate at age 13. Cath Clarke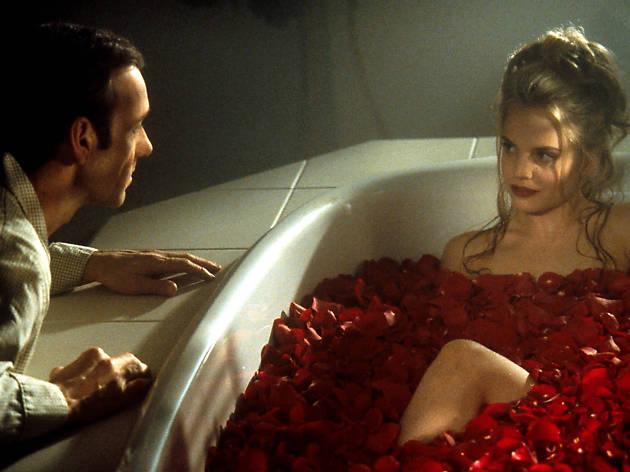 Director: Sam Mendes
Cast: Kevin Spacey, Thora Birch, Wes Bentley
Best quote: 'Sometimes there's so much beauty in the world, I feel like I can't take it, and my heart is just going to cave in.'
Quintessential teen moment: A browbeaten teen shares his deep thoughts about a drifting plastic bag.
Yearbook superlative: Most likely to dominate the AV department
Frankly, this film's reputation has fallen off a bit since its panting initial reception; the plot seems painfully obvious and cynical, especially when viewed through the prism of Spacey's this-close-to-pedophilic Lester Burnham.
But the kids are all right: Future 'Ghost World' star Birch steps tentatively into a shy relationship with Bentley, a camcorder-obsessed mess who can barely stand his ex-Marine dad. Their tragic bond is the best thing about the movie, tinged with euphoria, compassion and a mutual need to escape. Even with that damn plastic bag, these scenes feel real. Joshua Rothkopf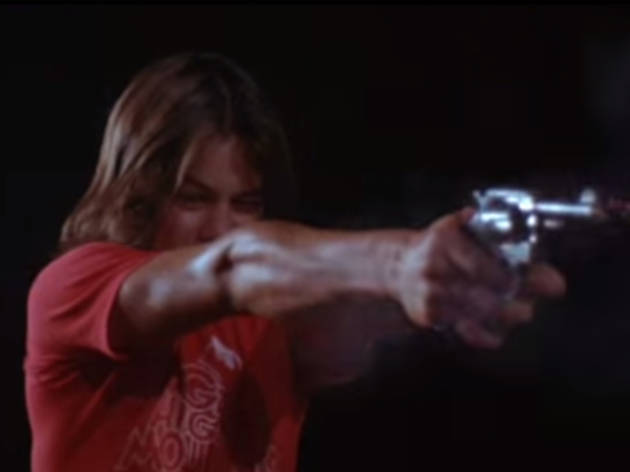 Director: Jonathan Kaplan
Cast: Matt Dillon, Michael Eric Kramer
Best quote: 'I only got one law. A kid who tells on another kid is a dead kid.'
Quintessential teen moment: The pistol picnic, at once frightening and wistful.
Yearbook superlative: Most likely to inspire the video for 'Smells Like Teen Spirit'
This bitter turn-of-the-80s kids-on-the-rampage movie deserves to be far better known. Dillon is a surly ball of heavy metal frustration as Richie, one of a gang of teenage tearaways stranded in the new American suburbia – a remote prefab housing project where the adults struggle to maintain a semblance of '50s normality while their kids run wild.
The climax, as Richie and his friends tear through their high school during an emergency meeting of the Parent-Teacher Association, strikes a perfect balance between stark social commentary and gleefully destructive rebellion. Tom Huddleston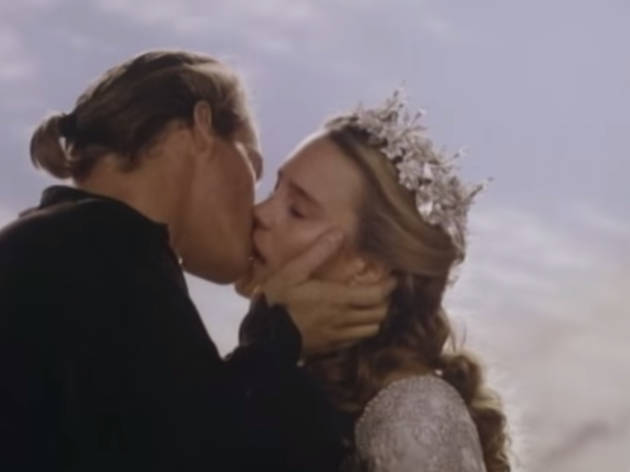 Director: Rob Reiner
Cast: Cary Elwes, Robin Wright, André the Giant
Best quote: 'My name is Inigo Montoya. You killed my father. Prepare to die.'
Quintessential teen moment: The Man in Black challenges Vizzini to 'a battle of wits' for the prize of Princess Buttercup, and Vizzini outsmarts himself to death.
Yearbook superlative: Most likely to end up as you wish
To think of this enchanting comic fantasy as a teen movie requires considering its charming framing device, in which a kindly grandfather (Peter Falk) reads to his sick preteen grandson (a pre–'Wonder Years' Fred Savage). Looking at it this way, the inventive, endlessly quotable adventure tale of Westley (Elwes) reuniting with his childhood love Buttercup (Wright), packed with great gags and terrific cameos from the likes of Billy Crystal, Carol Kane and Peter Cook, becomes an instructive, if aspirational, text about the endurance of true love and the power of storytelling. Kris Vire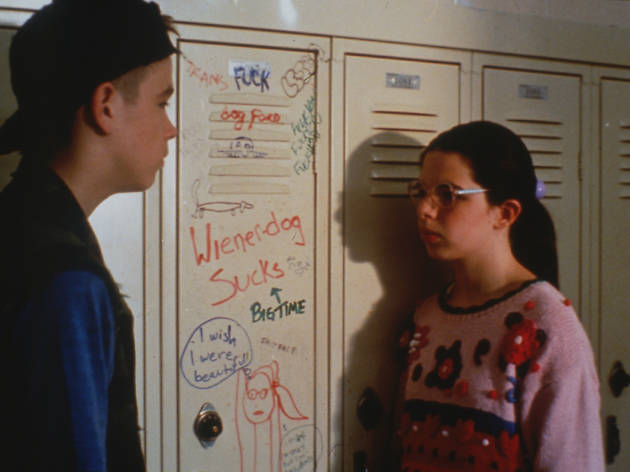 Director: Todd Solondz
Cast: Heather Matarazzo, Brendan Sexton III
Best quote: 'You think you're hot shit, but you're really just cold diarrhoea.'
Quintessential teen moment: When a boy at Dawn's school threatens to rape her at a specifically appointed hour of the day.
Yearbook superlative: Most likely to make you feel guilty about being nasty to the weird kid at school
Dawn Wiener (Matarazzo) was a sly creation by Todd Solondz – a cringeworthy schoolgirl (actually a pre-teen at 11-and-a-half when we first meet her, but she still deserves to be here as her awkwardness is pure teen) who urges you to thump her on the arm one minute and feel terribly guilty the next. Dawn is a victim, but she can also be a nightmare – so where should our sympathies lie?
Solondz very briefly brought her back for a second film, 2004's 'Palindromes', and there's talk now of a third, full screen outing for her (perhaps played by Greta Gerwig) two decades on. Which is strange, considering 'Palindromes' started with her funeral. Dave Calhoun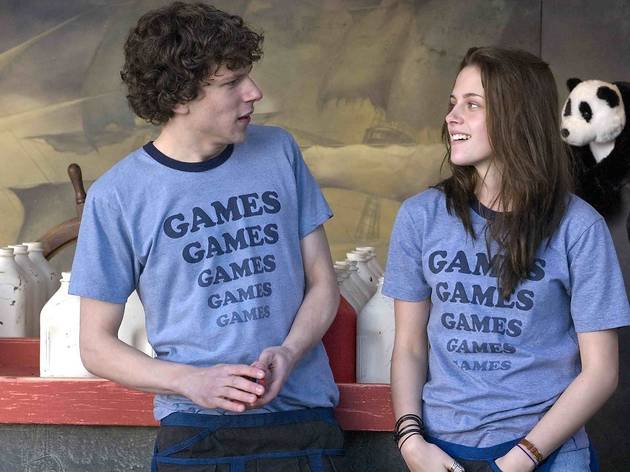 Director: Greg Mottola
Cast: Jesse Eisenberg, Kristen Stewart, Ryan Reynolds
Best quote: 'I am amazed at how tiny my paycheque is.' 'We are doing the work of lazy, pathetic morons.'
Quintessential teen moment: During a house party, James and Em flirt in the pool. As they get out, someone points out how, um, excited James is, and he jumps back in for cover.
Yearbook superlative: Most likely to make you (more) weary of corn dogs
Summer jobs suck. James (Eisenberg, technically fresh out of college, not high school, making this a teen movie more in spirit than in age requirement) gets one at local amusement park Adventureland, where his bosses are idiots, his coworkers are as bored as he is and his paycheque is less than laughable. Meeting fellow employee Em (Stewart) makes things almost bearable, until James finds out she's screwing the park's skeezy technician.
The hidden realities of the job (selling corn dogs that may or may not have gone bad, rigged games) are a nice parallel to the harsh truths of growing up (absentee parents, cheaters, liars, bullies) – but it's a stellar cast playing the silver lining moments – a joke with a friend, a kiss in a pool – that make this movie stand out as a touching study of life during summertime. Kate Wertheimer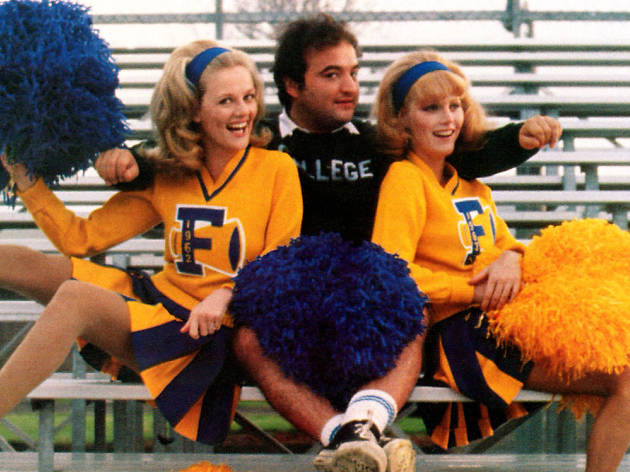 Director: John Landis
Cast: John Belushi, Karen Allen, Tom Hulce
Best quote: 'Toga! Toga! Toga!'
Quintessential teen moment: Bluto demonstrates some gross hygiene in the cafeteria: 'I'm a zit! Get it?'
Yearbook superlative: Most likely to get left back
It might not be strictly about teens – fine, some of them are freshmen – but there's no denying the movie's classic embrace of childishness: 'Animal House' is a film that has inspired more rowdy behavior than any picture before or since.
John Landis' surprise blockbuster singlehandedly launched the gross-out comedy and its DNA is still with us in every partycentric 'Superbad' and 'Project X'. John Belushi, already a fan favourite on 'Saturday Night Live', became a box-office fixture (at least for a brief, wonderful while). And the film's unhinged atmosphere is still the one that college-bound rascals hope to encounter. Joshua Rothkopf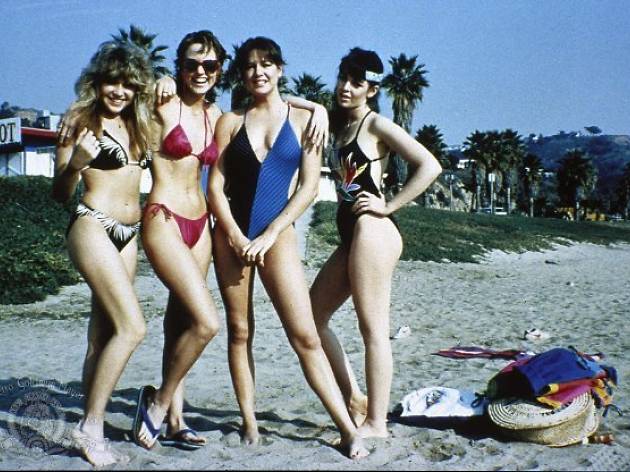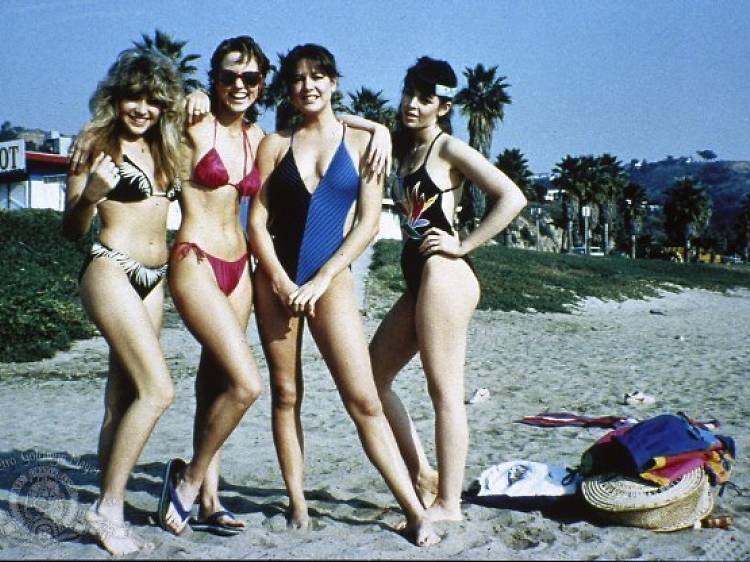 Director: Martha Coolidge
Cast: Nicolas Cage, Deborah Foreman, Elizabeth Daily
Best quote: 'Well fuck you, for sure, like totally!'
Quintessential teen moment: When prom king and queen are announced and the curtain pulls back to reveal punk Randy kicking preppie Tommy's ass.
Yearbook superlative: Least likely to stay local
Before there was 'Clueless', there was 'Valley Girl'. The original 'as if' came from Julie Richman (Foreman), a popular prep who finds herself taken with punk ne'er-do-well Randy (Cage). Her friends are like, so totally horrified when Julie dares to leave the Valley (and her popped-collar boyfriend) and live a little, driving down Hollywood Boulevard, going to rock shows and, ahem, sucking face.
The inevitable fight between punkers and preps ensues, Julie's 'friends' all act predictably shitty and the happy ending comes with the new couple's escape from prom in a stolen limousine. It may not be the most original script, but Cage is at his most charming here as a bad boy who falls hard. Kate Wertheimer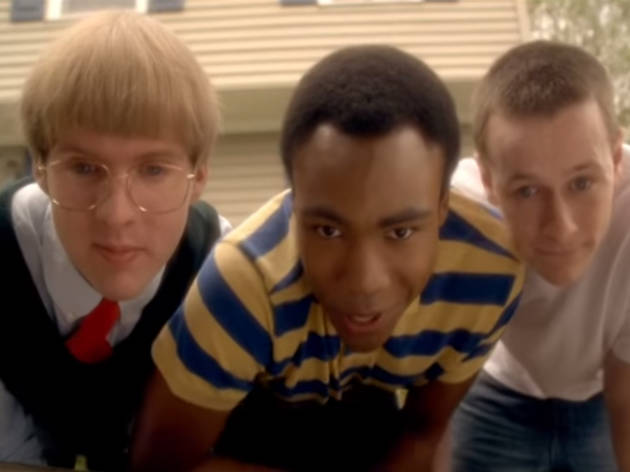 Director: Dan Eckman
Cast: Donald Glover, DC Pierson, Dominic Dierkes
Best quote: 'Fuck! Yeah, that's right. I've been saying "fuck." Going in the backyard and trying it out.'
Quintessential teen moment: When the three of them talk their way into a 'gentlemen's club' by pretending to be, well, gentlemen.
Yearbook superlative: Best attempt at extending a sketch into a feature length film
Three 18-year-old inept-yet-enthusiastic Encyclopedia Browns get the opportunity of a lifetime – to redeem their adolescent infatuation with solving mysteries – when they're given the tall order to solve a double homicide.
Donald Glover, DC Pierson and Dominic Dierkes star as a trio of exaggerated archetypical kid detectives who've remained as wide-eyed, wholesome and utterly clueless as ever in their teenage years. Completely over their heads, the Mystery Team use absurd disguises, insane cover stories and plain old dumb luck to get to the bottom of the crime, and eventually to the realisation that maybe they better just grow the fudge up. Sarah Mulligan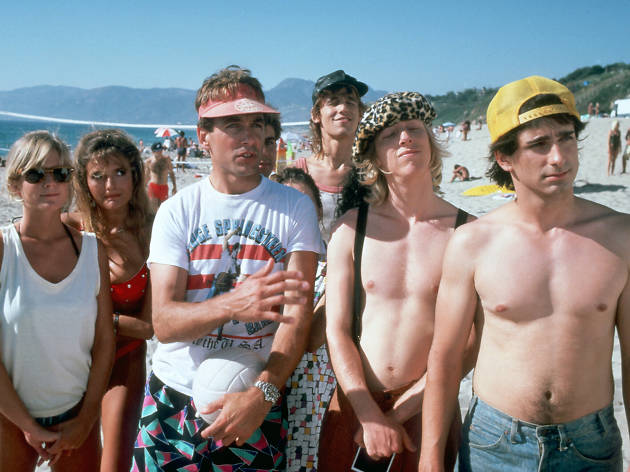 Director: Carl Reiner
Cast: Mark Harmon, Kirstie Alley
Best quote: 'Alcohol kills brain cells. You lose one more and you're a talking monkey.'
Quintessential teen moment: The gushily sentimental up-with-teacher ending: imagine 'Dead Poets Society' in Bermuda shorts.
Yearbook superlative: Most likely to breeze through life without making much of an impact, but having a pretty good time anyway
Like its shades-sporting, Hawaiian-shirt-rocking beach bum sports coach hero Shoop (Harmon), 'Summer School' is moderately intelligent and likeably laidback. Neither are likely to win any prizes for originality or excellence, but if all you're looking for is a no-strings good time, they'll do the trick.
You can pretty much extrapolate the plot from the title: Harmon is hoodwinked into teaching remedial English over the summer vacation, the kids are a multi-ethnic bunch of tearaways, in roughly 90 minutes everyone learns to love to learn and they all live happily ever after. Tom Huddleston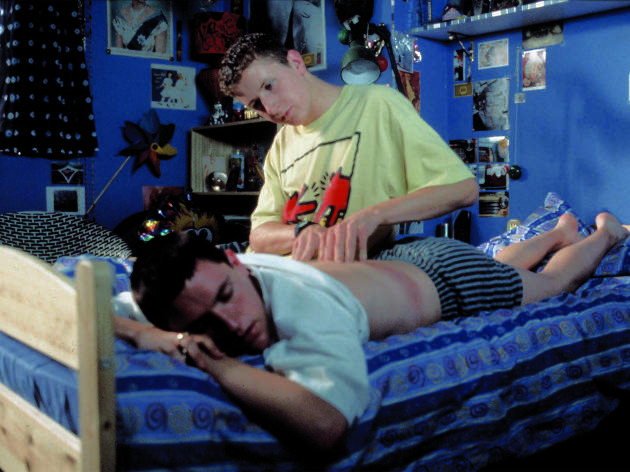 Director: Hettie Macdonald
Cast: Glen Berry, Linda Henry, Meera Syal
Best quote: 'There's an island in the Mediterranean called Lesbian, and all its inhabitants are dykes.'
Quintessential teen moment: When Jamie and Ste finally get together when Ste stays over at Jamie's mom's flat.
Yearbook superlative: Most likely to make you befriend your neighbour
This adaptation of Jonathan Harvey's play is a joyful and funny celebration of emerging sexualities set among the rough and tumble of a South London housing estate. It's striking because the love affair at its heart is between two white working-class teenage boys, Jamie and Ste, who discover each other amid the comic chaos of their respective families and friends. It's a touching and inspiring story, and the abundance of Mama Cass songs gives it a special edge. Dave Calhoun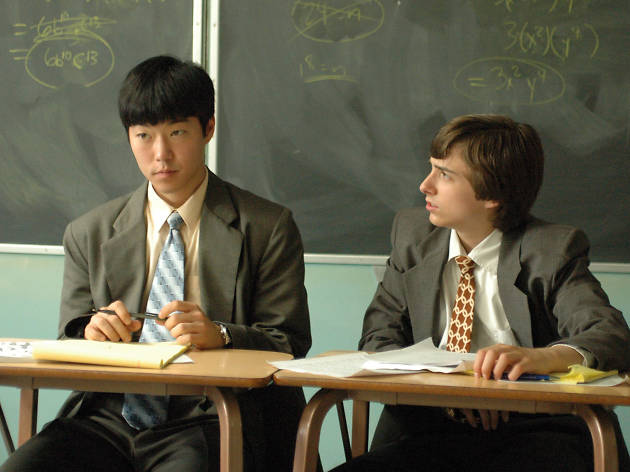 Director: Jeffrey Blitz
Cast: Reece Thompson, Anna Kendrick, Nicholas D'Agosto
Best quote: 'The fights you fight today are the fights you fight until you die.'
Quintessential teen moment: Hal throws a cello through Ginny's window.
Yearbook superlative: Most words per minute
Long before she stole our hearts with song in 'Pitch Perfect', Kendrick's breakout role cast her as the calculating and callous Ginny Ryerson. The debate team star manipulates bashful stutterer Hal Hefner (Thompson) into becoming her partner, only to abandon him for a competing school's team shortly after a janitor's closet make-out session. Ginny's betrayal forces Hal to discover a new side of himself as he goes on the offensive to try to steal away her precious first-place trophy. With a healthy helping of dry wit, 'Rocket Science' explores the defining nature of young heartbreak. Jessica Johnson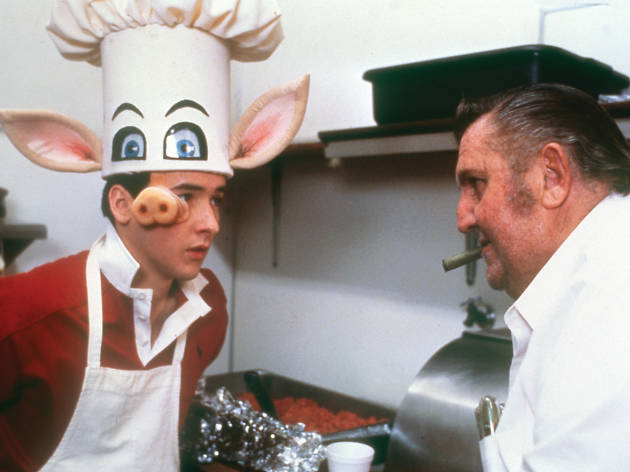 69. Better Off Dead (1985)
Director: 'Savage' Steve Holland
Cast: John Cusack, Diane Franklin, Curtis Armstrong
Best quote: 'Gee, I'm real sorry your mom blew up, Ricky.'
Quintessential teen moment: Doodling in the cafeteria, Lane imagines his drawing of ex-girlfriend Beth coming to cartoonish life and has a heated conversation with her.
Yearbook superlative: Most animated
Despondent after being dumped by his girlfriend for the douchetastic captain of the ski team, Lane Meyer (Cusack) considers multiple methods of killing himself while at the same time dealing with his bizarre family (not to mention a psychotic paperboy). Luckily he regains his confidence with the help of a pixieish French exchange student and then beats the ski jerk in a climactic race.
This deliberately, delightfully weird '80s entry, packed with over-the-top fantasy sequences, was the first of two projects to pair Cusack's boyish charms with the off-kilter ideas of animator, first-time feature director and future kiddie-TV auteur 'Savage' Steve Holland ('One Crazy Summer' followed in '86). 'Better Off Dead' took all the tropes of teen movies to their absurdist extremes. Kris Vire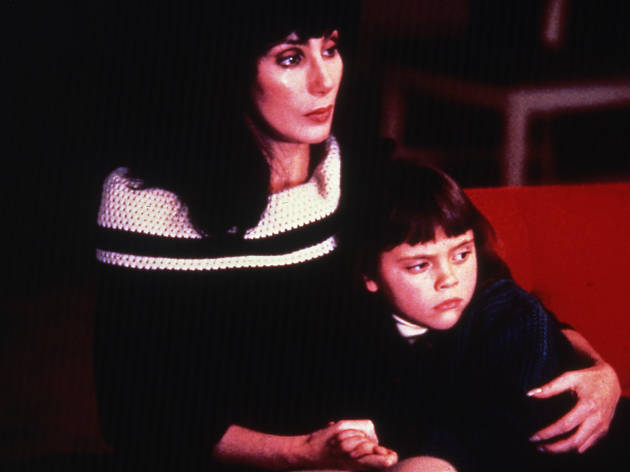 Director: Richard Benjamin
Cast: Cher, Bob Hoskins, Winona Ryder
Best quote: 'Oh god. I think I might be pregnant with the next Jewish Italian Messiah.'
Quintessential teen moment: Charlotte makes sandwiches 'a man can sink his teeth into' for her fishing trip with Joe, which Rachel quickly cuts into star shapes with a cookie cutter as soon as Charlotte's not looking.
Yearbook superlative: Most likely to move to a convent
Man-obsessed Roberta Flax (Cher) moves her daughters – teenage, Catholicism-obsessed Charlotte (Ryder) and adorable, water-obsessed Kate (Christina Ricci) – to a new town, where local shoe shop owner Lou (played with bottomless charm by Bob Hoskins) falls for their curious family dynamics. Charlotte is so desperate not to turn into her mother that she ends up getting drunk before releasing her inner wild child, and one irresponsible night incorporating a tight dress, a boy and a bell tower ends in the sort of disaster which only a mother-daughter bond, no matter how frayed, can withstand. Ashleigh Arnott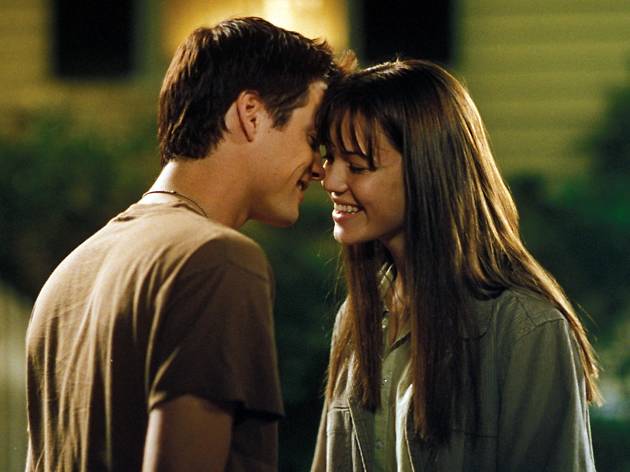 Director: Adam Shankman
Cast: Mandy Moore, Shane West, Peter Coyote
Best quote: 'You have to promise you won't fall in love with me.'
Quintessential teen moment: When Landan helps Jamie complete her bucket list on their first date.
Yearbook superlative: Most likely to cry softly in a corner
Required reading: 'A Walk to Remember' by Nicholas Sparks
Before 'The Fault in Our Stars', there was 'A Walk To Remember'. Rebellious Landan (West) starts talking to religious bookworm Jamie (Moore) after he's forced to take on heaps of extracurricular activities by his headmaster. At first he thinks she's a weird loser, then he falls head-over-heels. So far, so standard high school movie. Things take a turn for the tragic though, when Jamie reveals she has terminal leukemia.
The 'better to have loved and lost' storyline combined with Landan's transformation into A Good Person make for a deeply moving final 30 minutes. Kate Lloyd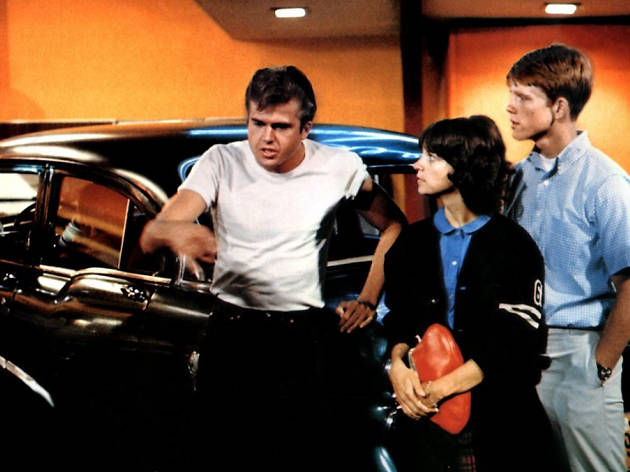 Director: George Lucas
Cast: Ron Howard, Richard Dreyfus, Charles Martin Smith
Best quote: 'If brains were dynamite you couldn't blow your nose.'
Quintessential teen moment: Paul LeMat finds babysitting a bigger job than he signed on for.
Yearbook superlative: Most likely to lead to a realisation that George Lucas was actually a filmmaker once
In its day the biggest cost-to-profit success in American movie history, George Lucas' wistful evocation of his own California childhood (barely a decade after the fact) may have kickstarted the wasn't-it-great-before-sex-drugs-and-politics nostalgia boom which culminated in the film's loose TV spinoff, 'Happy Days'. But there's so much more to 'American Graffiti' than simple adolescent yearning: insightfully scripted, lovingly shot and featuring arguably the most well-sourced soundtrack in film history, it's a wiser, sadder, sharper film than you remember. Tom Huddleston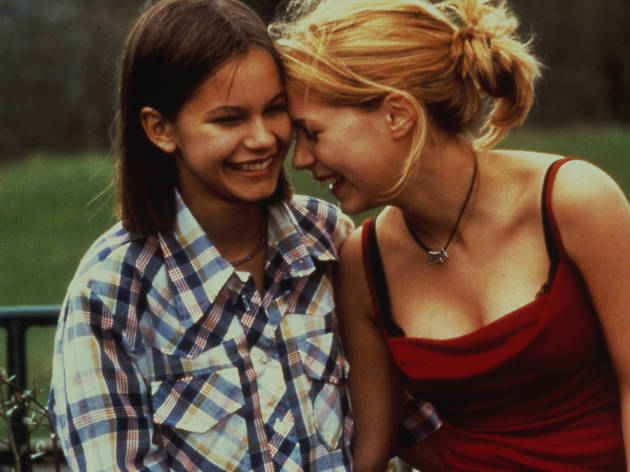 Director: Lukas Moodysson
Cast: Alexandra Dahlström, Rebecka Liljeberg, Erica Carlson
Best quote: 'Is it true you're a lesbian? If you are I understand, 'cause guys are so gross. I'm also going to be one, I think.'
Quintessential teen moment: When the two girls hide in a school cupboard.
Yearbook superlative: Most likely to make you look at your BFF a little differently
This lovely Swedish film explores the passionate more-than-friendship of two teen schoolgirls, Agnes (Liljeberg), and Elin (Dahlström), who first kiss when another friend dares them to do so. Agnes hates her small town (the film's original title was 'Fucking Amål', the name of said town) and Elin is bored of everything, including her good looks.
This is less a story of burgeoning lesbian love and more an us-against-world romantic drama that has viewers willing on these two young girls to stick two fingers up to the rest of their town and the world. Dave Calhoun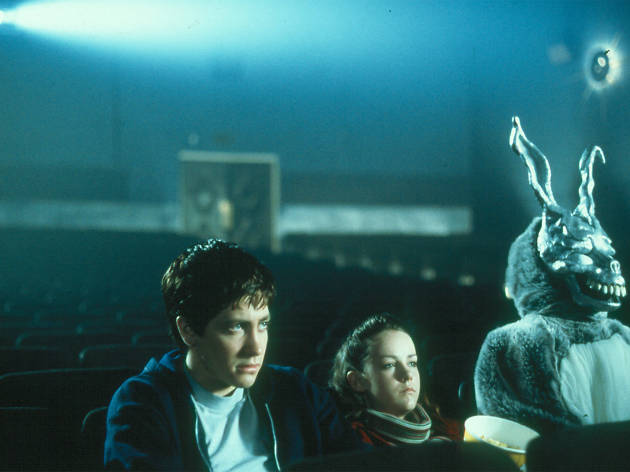 Director: Richard Kelly
Cast: Jake Gyllenhaal, Jena Malone, Patrick Swayze
Best quote: 'That's what's so illogical, you know, about being a Smurf. What's the point of living if you don't have a dick?'
Quintessential teen moment: Donnie Darko's Halloween bash turns into a twisted dream when he hallucinates a wormhole winding through the party and ending at Gretchen's stomach.
Yearbook superlative: Most likely to become the next conspiracy theorist
Brooding, pensive and, well, dark, 'Donnie Darko' delves into the most emo side of being a suburban teenager (the perpetually morose Gyllenhaal). But the movie doesn't just fixate on the existential questions of a gloomy high-school student – it's also a film about parallel universes, bullying and mental illness, with an absolutely killer '80s soundtrack.
Donnie's hallucinations make him appear almost prophet-like, and when his girlfriend Gretchen Ross (Malone) is killed, the steps he takes to turn back time and save the people he loves leave us with the sense that he was either the chosen one or simply doomed from the start. Erin Kuschner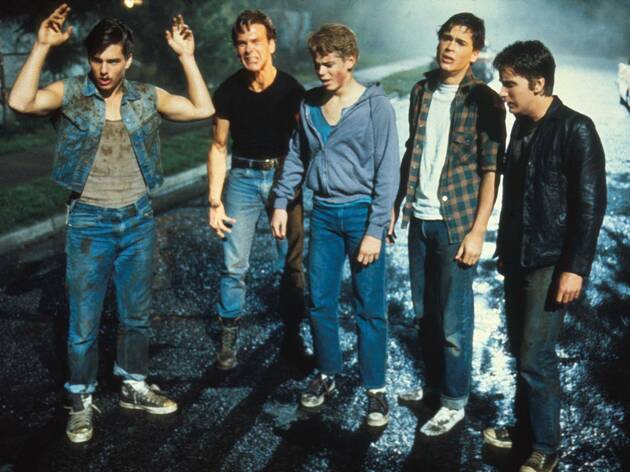 Director: Francis Ford Coppola
Cast: Matt Dillon, Patrick Swayze, Rob Lowe
Best quote: 'Stay gold, Ponyboy. Stay gold.'
Quintessential teen moment: The Socs confront the Greasers late at night at the park, holding Ponyboy underwater until his friend Johnny defends him with a switchblade.
Yearbook superlative: Most likely to be from the wrong side of town
Required reading: 'The Outsiders' by SE Hinton
SE Hinton's story is a classic teen drama of rich kids and poor kids from the other side of the tracks fighting over babes and territory, with small-town heroism and tragedy mixed in. On the big screen, some of the biggest teen actors of the '80s (and we're not talking Molly Ringwald) bring this classic book – which was required eighth grade reading for pretty much everyone – to life. The cast is filled with the bright, shiny, youthful faces of Ralph Macchio, Lowe, Swayze and others who grew up to be total teen heartthrobs. Sara Fay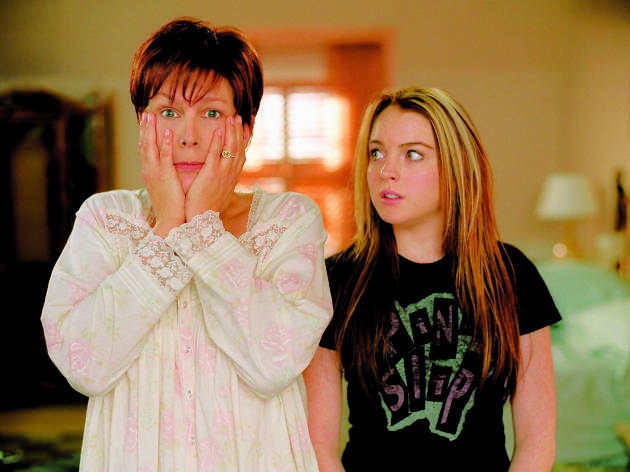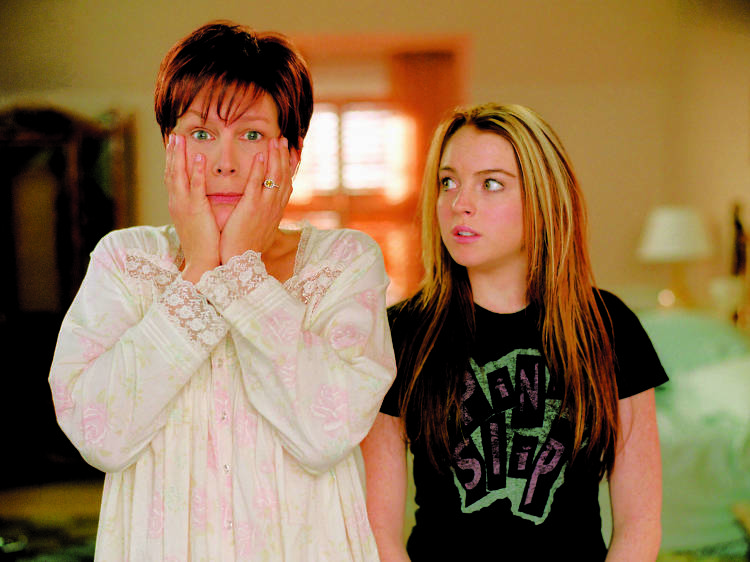 Director: Mark Waters
Cast: Lindsay Lohan, Jamie Lee Curtis, Chad Michael Murray
Best quote: 'I'm like the crypt-keeper!'
Quintessential teen moment: When teenage Jake serenades mom Tess with a terrible cover of '…Baby One More Time.'
Yearbook superlative: Best (read: weirdest) mother-daughter bonding experience
With a sasstastic pop punk soundtrack from the likes of Simple Plan, Bowling For Soup and Joey Ramone, Mark Waters' 'Freaky Friday' remake was always going to be a power-punch of a movie. But it's Curtis and Lohan's angst-ridden chemistry as mother and daughter that really gives the film its spice.
The duo switch bodies after a row in a Chinese restaurant and have to live life as each other – shudder. Lohan is convincing as both a touchy, self-conscious teenager and an impatient adult trapped in her daughter's body. Meanwhile, Curtis is just as flawless as a teenager running riot in an adult body. Hello, mom's credit card. Kate Lloyd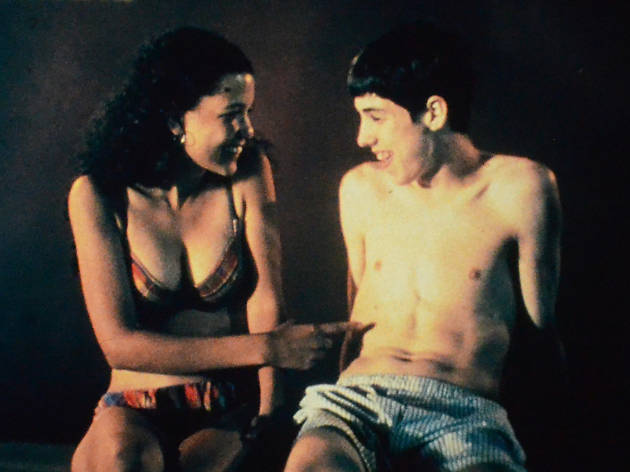 Director: Larry Clark
Cast: Leo Fitzpatrick, Justin Pierce, Chloe Sevigny
Best quote: 'Fucking is what I love. Take that away from me and I really got nothing.'
Quintessential teen moment: The kids roll through Manhattan at sunset.
Yearbook superlative: Most likely to make you want to get tested
Few films walk as treacherous a line as Larry Clark's 'Kids', and no other film has ever done so as successfully. It's the line between outrage ('Our teenagers are so messed up, look at all the drugs they take and the sex they have!') and a kind of envious nostalgic affection ('Our teenagers are so cool, look at all the drugs they take and the sex they have!').
Yes, this story of wild youth running riot in New York City is disturbing, particularly the closing scene. But thanks to 19-year-old first-time screenwriter Harmony Korine it's also savagely insightful and strangely, counterintuitively uplifting. The kids are alright. Tom Huddleston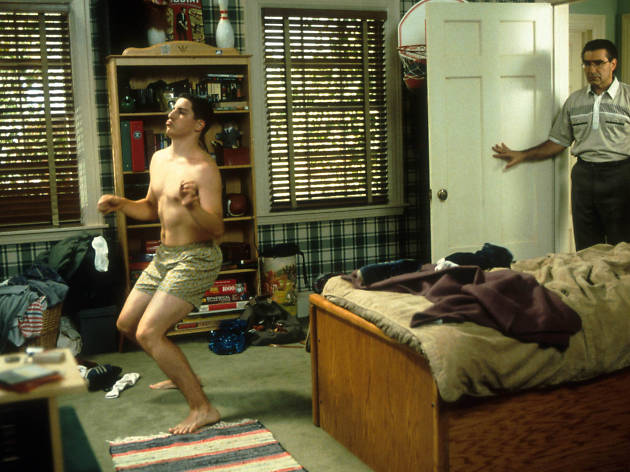 Directors: Paul and Chris Weitz
Cast: Jason Biggs, Chris Klein, Alyson Hannigan
Best quote: 'This one time, at band camp...'
Quintessential t een moment: After being told that third-base feels like warm apple pie, Jim comes home to find a freshly baked pie that his mother made for him and starts masturbating with it on top of the kitchen counter, only until his father (Eugene Levy) walks in on him.
Yearbook superlative: Most embarrassing to watch as a teenager with your parents
Four teenage seniors make a pact to lose their virginity before they graduate, and what ensues is a raunchy comedy of adolescence. All four friends are at different places in their lives, but still have the V-card in common. Jim (Biggs) is the most inexperienced and awkward, so when he meets foreign exchange student Nadia (Shannon Elizabeth), we're rooting for him to finally get laid.
Jim accidentally sends a tape of his embarrassing sexual encounter with Nadia to the entire school, only to get her sent back home and leaving him, still, a virgin. He finally loses it to his classmate (Hannigan) who surprisingly teaches him (and us) a thing or two about sex – the humourous lessons throughout the film, including what the word MILF means, are what makes this a top teen movie that spurred several sequels. Ramona Saviss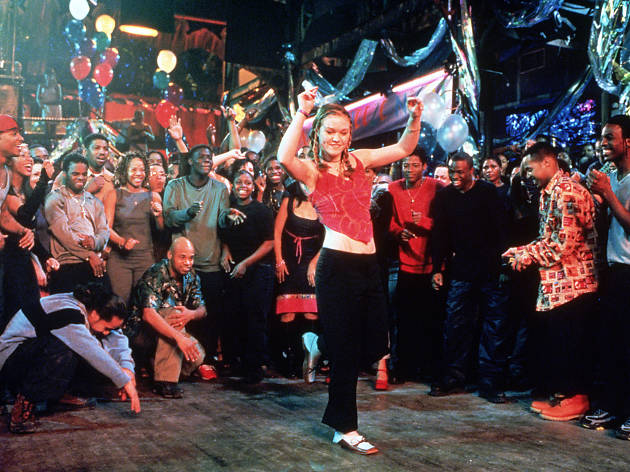 Director: Thomas Carter
Cast: Julia Stiles, Sean Patrick Thomas, Kerry Washington
Best quote: 'We spend more time defending our relationship than actually having one.'
Quintessential teen moment: Derek teaching Sara how to dance to hip hop. It's the coolest 'boy teaches girls something new' scene out there.
Yearbook superlative: Best looking couple on the dance floor
A classic tale of rich-white-girl-meets-poor-black-boy, this flick centres around aspiring ballet dancer Sara (Stiles) falling in love with gang-dodging Derek (Thomas). But the story doesn't unfold into as big of a load of improbable mush as you'd expect.
Having caught each others' eyes on the dance floor of a local club, Sara and Derek face relentless taunts from disapproving family members and public attacks from jealous peers. But despite the adversity and the obligatory pre-finale misunderstanding, the pair prove the world wrong and walk off into the sunset (okay, off down a dark Chicago backstreet) with their dreams of a long-distance dance school/medical school relationship firmly intact. We give it a year, tops. Elizabeth Darke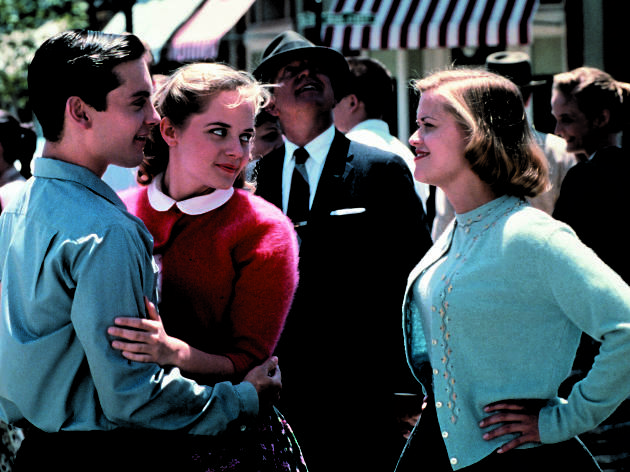 Director: Gary Ross
Cast: Tobey Maguire, Reese Witherspoon, Jeff Daniels
Best quote: 'What's outside of Pleasantville?'
Quintessential teen moment: While each major character's 'colourful' epiphany is notable, Betty Parker's first experience with self pleasure – which leads to a tree outside spontaneously catching fire – is certainly the most memorable.
Yearbook superlative: Most colour-coordinated
Nothing sends you back to the days of high school English class like a big helping of in-your-face symbolism. Long before he took on the violence of 'The Hunger Games', writer/director Gary Ross gave us this magical tale of twin siblings transported into the painfully wholesome, black and white world of a 1950s sitcom.
Their presence and knowledge of the outside world ignites a wave of long-delayed adolescence that ripples through the Pleasantville population as objects and people go from monochrome to technicolor. A bit heavy-handed? Sure, but it's also beautiful to behold. Jessica Johnson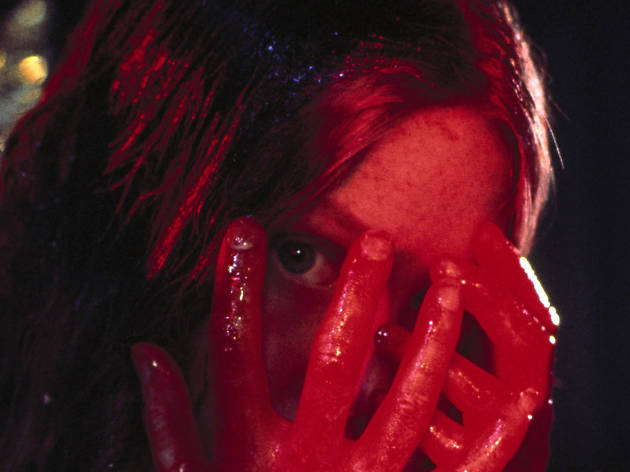 Director: Brian De Palma
Cast: Sissy Spacek, Piper Laurie, John Travolta
Best quote: 'They're all gonna laugh at you!'
Quintessential teen moment: The dance of the prom king and queen, a swirling moment of euphoria that turns into a bloody nightmare
Yearbook superlative: Least likely to be the life of the party
Required reading: 'Carrie' by Stephen King
Stephen King's 1974 novel (his first to be published) had a tricky birth, rescued from the trash can by a supportive wife and second-guessed by its author until the last minute. As it turns out, the book tapped into something thick and primal: not just adolescent anxiety but the profound disorientation of becoming a woman.
Young Carrie (Spacek), of course, develops other attributes as well, and director Brian De Palma (at the peak of his stylishness) makes a meal of her telekinesis. But he never loses sight of the performances, nor King's secret conviction that, despite our main character's strangeness, the real monsters lurk in every high-school hall, laughing and scheming. Joshua Rothkopf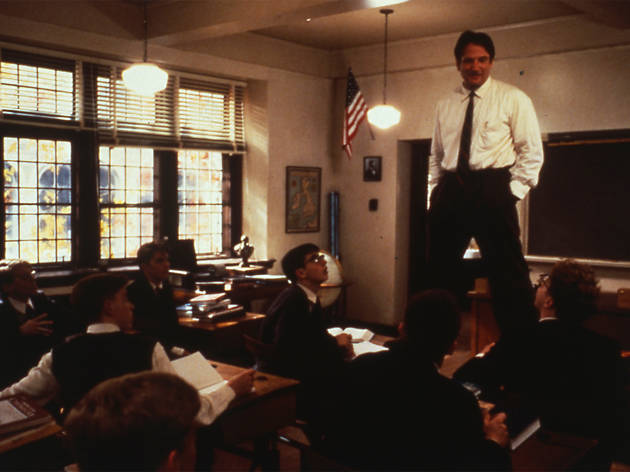 Director: Peter Weir
Cast: Robin Williams, Robert Sean Leonard, Ethan Hawke
Best quote: 'Oh captain, my captain.'
Quintessential teen moment: When all of Keating's pupils stand on their desks in support of him.
Yearbook superlative: Best use of expensive school fees
This was always a joyous and sad film, but doubly so since the death of Robin Williams. He plays John Keating, an inspirational teacher at ultra-traditional private school Welton Academy in the late 1950s. Keating inspires free thinking in the minds of his all-male pupils, most of whom are already half-programmed to follow in the footsteps of their powerful fathers. The sloganeering – 'Carpe diem!' – couldn't be more old-school, but it's hard not to get excited by Keating's energy. Dave Calhoun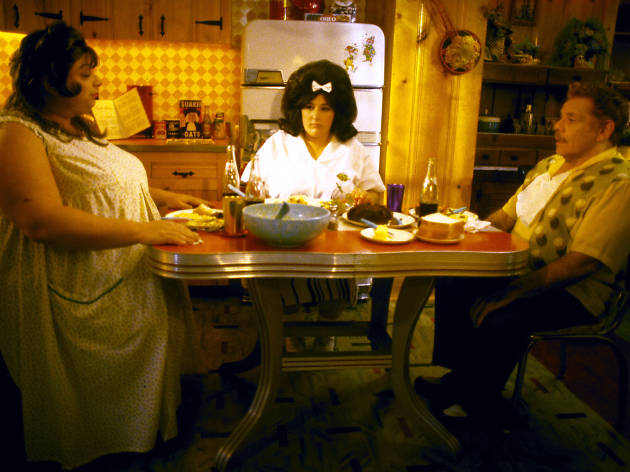 Director: John Waters
Cast: Divine, Ricki Lake, Deborah Harry
Best quote: 'Tracy, I have told you about that hair. All ratted up like a teenage Jezebel!'
Quintessential teen moment: Tracy and her mom leave the Hefty Hideaway store for ample women after a makeover dressed to the nines.
Yearbook superlative: Best hair (duh)
It's 1962 and 'pleasantly plump' teen Tracy Turnblad (Lake) becomes a star on the Corny Collins dance show, making sworn enemies with its little-miss-perfect star Amber von Tussle (Colleen Fitzpatrick). Along the way, Tracy kickstarts a civil rights campaign.
Cult director John Waters' only mainstream hit, 'Hairspray' also happens to be a near-perfect teen movie – sunny, sincere and bouncing with energy. Watch it for a gorgeous performance by Waters' drag queen muse Divine (in his last acting role) playing Tracy's mom in a frumpy polyester housecoat. Cath Clarke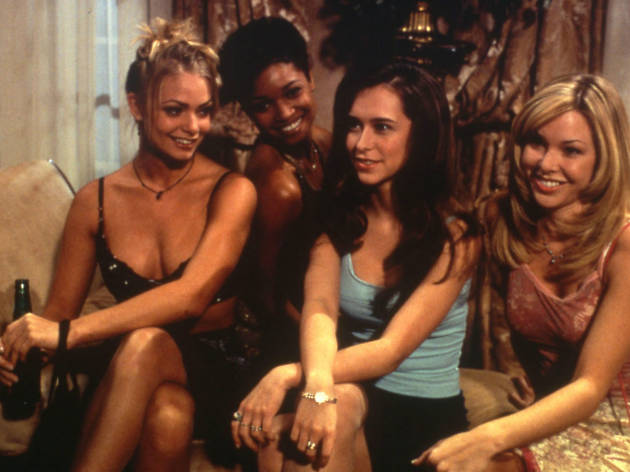 34. Can't Hardly Wait (1998)
Directors: Harry Elfont and Deborah Kaplan
Cast: Jennifer Love Hewitt, Ethan Embry, Charlie Korsmo
Best quote: 'I do think there's such a thing as fate. It just works in really fucked up ways sometimes.'
Quintessential teen moment: Our hearts melt when popular jock Mike takes the blame for the previous evening's drunken antics, keeping geek William out of trouble. (Though we're not surprised when Mike spurns William in front of his friends the very next morning.)
Yearbook superlative: Most likely to wear shirts... sometimes
From the opening scene chock-full of gossip ('Mike Dexter broke up with Amanda Beckett!') this film rings incredibly true to teenage life. Some characters feel overplayed at first, but let's be real, that's kind of what we were like back in high school.
Lovestruck, pre-hipster Preston (an adorably young Embry) finally has the chance to confess his feelings to Amanda (an inexplicably big-haired Hewitt) at the last big party after graduation. Meanwhile, her jock-bro ex Mike tries to convince his friends to dump their girlfriends, while the school nerd plots revenge that goes hilariously awry after one too many beers.
Also, we get to see Seth Green lose his virginity in Jncos and rave goggles and Jenna Elfman espouse the film's central message in an angel stripper outfit. So '90s. Tom Huddleston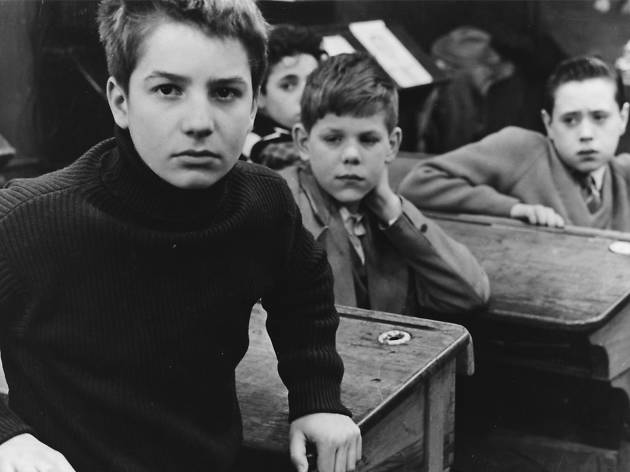 Director: François Truffaut
Cast: Jean-Pierre Léaud, Albert Rémy, Claire Maurier
Best quote: 'Oh, I lie now and then, I suppose. Sometimes I'd tell them the truth and they still wouldn't believe me, so I prefer to lie.'
Quintessential teen moment: The famous final scene, as Antoine makes a break for it, running away from reform school. Zoom to a freeze-frame on a beach.
Yearbook superlative: Most likely to become a world famous director
François Truffaut picked a winner when he cast 14-year-old Jean-Pierre Léaud in the role of a delinquent teenager neglected by his parents in his intense and beautiful autobiographical debut. Watching Léaud audition, cocky and charismatic, you can see exactly why Truffaut went for him.
'The 400 Blows' is a great film about what it feels like to be a teenager – at war with your parents, misunderstood by your teachers and the rest of the world. Léaud went on to star in three more films about the same character as he aged. Cath Clarke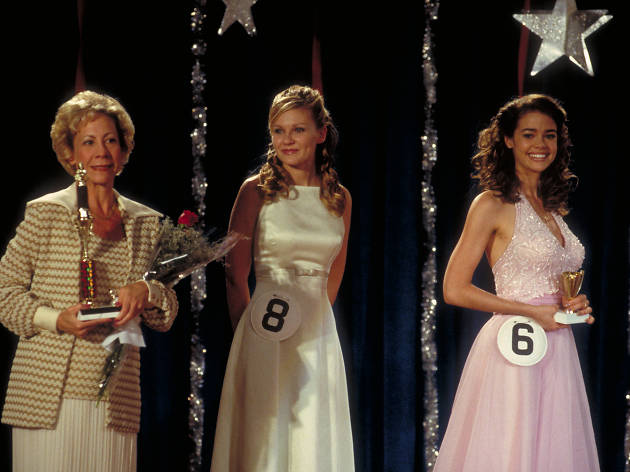 Director: Michael Patrick Jann
Cast: Kirsten Dunst, Denise Richards, Ellen Barkin
Best quote: 'I'd have good strong roots in a town like Mt Rose, a solid Christian trunk, and long, leafy branches to provide shade for handicapped kids on a hot summer day.'
Quintessential teen moment: In a routine that depicts each girl as a national monument, the freshly painted stepstools used as props leave the girls covered in blue paint as they twirl and high kick in a cringe-inducing, choreographed dance.
Yearbook superlative: Most likely to wind up living in a trailer park
'Drop Dead Gorgeous' may have been universally panned after its 1999 release, but this mockumentary about a group of Minnesota high-schoolers competing in the Mount Rose American Teen Princess Pageant has achieved cult-classic status since. The reason: its deliciously black humour, small-town antics and Allison Janney's brilliant portrayal of the chain-smoking Loretta, who guides her friend's daughter, Amber Atkins (Dunst), throughout the rigged pageant process.
Sure, the macabre events that pick off contestants one by one are pretty ridiculous – exploding tractors, falling stage lights, seafood poisoning – but it's the underlying naiveté of Atkins and the 'you betchas' and 'doncha knows' peppering the Minnesota folks' cheery dialect that make this film at once sobering and hilarious. Erin Kuschner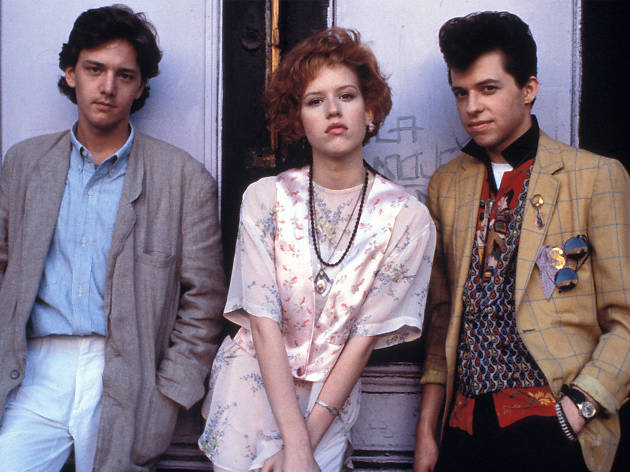 Director: Howard Deutch
Cast: Molly Ringwald, Jon Cryer, Harry Dean Stanton
Best quote: 'I just want them to know that they didn't break me.'
Quintessential teen moment: Rocking his spasmodic dance moves and Memphis 'tude, Duckie lip-synchs to Otis Redding's 'Try a Little Tenderness.'
Yearbook superlative: Most likely to make their own clothes
It's a mark of John Hughes's massive influence that this most 'Hughesian' of teen movies wasn't even directed by him. It did, however, come from his pen and starred Ringwald, the auteur's muse from 'Sixteen Candles' and 'The Breakfast Club'.
Moreover, 'Pretty in Pink' remains one of the most intimately bruising efforts to emerge from the Brat Pack movement, solidifying such essential components as the wacky best friend (Cryer), the douchebag boyfriend (Andrew McCarthy) and the sweetly supportive dad (Stanton) who helps out with the prom dress. Oh, and it features the best soundtrack in movie history, turning an angsty generation on to the Psychedelic Furs and Orchestral Manoeuvres in the Dark. Joshua Rothkopf