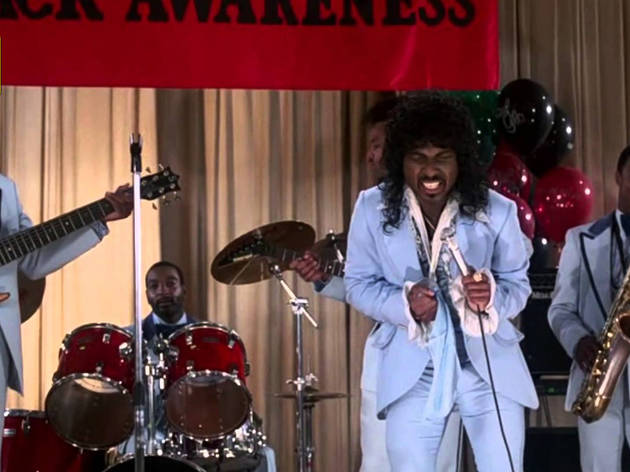 1/10
Eddie Murphy in 'Coming to America' The bandSexual Chocolate LineupA pastel-suited, fleshy-cheeked Eddie Murphy, plus assorted ruffle-shirted sidemen. Influences James Brown, Al Green, Barry White… Hang on, there's a theme emerging. The CV In a slight contravention of our rules, Eddie Murphy had previously released a musical album (not to mention several comedy albums) before appearing in 1988's 'Coming to America'. But his early albums were a lot like his later movies: functional, self-involved and inexplicably popular. As a result, Murphy's work with lounge-sleaze heroes Sexual Chocolate remains arguably his high point as a vocalist, with the notable exception of the James Brown Hot Tub sketch on Saturday Night Live. Our music critic Oliver Keens says 'Hell no, this is awful. If I wanted to hear Whitney Houston's "Greatest Love Of All" murdered by some asshat, I'd just turn on "American Idol".' Chances of superstardom It won't make your soul glow, that's for sure. Read review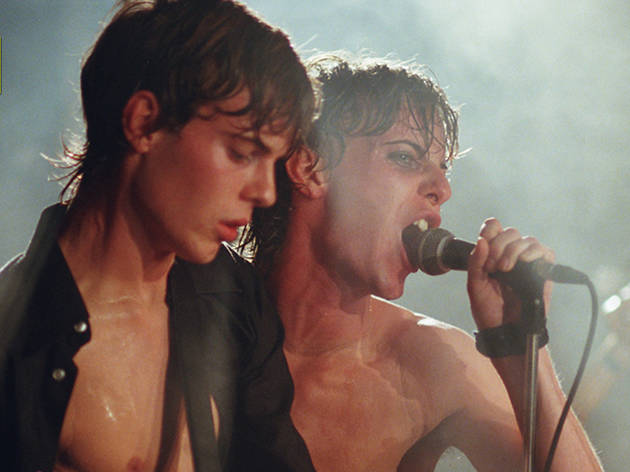 2/10
Harry and Luke Treadaway in 'Brothers of the Head' The bandThe Bang Bang LineupIdentical-twin up-and-comers Harry and Luke Treadaway in their debut film performance. Influences The Libertines, Menswear, David Bowie: think skinny young men with a touch of androgyne. The CV Set in the mid-'70s and released in 2005, 'Brothers of the Head' is a very loose mockumentary adaptation of Brian Aldiss's novel about a pair of conjoined twins on the road to stardom. The Treadaway brothers performed all their own vocals, which must have been tricky considering they were stapled together the entire time. Our critic Jonny Ensall says 'Sweaty nonsense. Though, if The Bang Bang had been real, The Libertines would have probably modelled themselves on them. Lyrically, it's reminiscent of Rye Spangle's 1973 hit "Playground Bang-a-round" – aka the glam-rock song that featured in the paedophile episode of "Brass Eye".' Chances of superstardomIn the '70s, minimal. In the 2010's, the NME would be all over them. Read review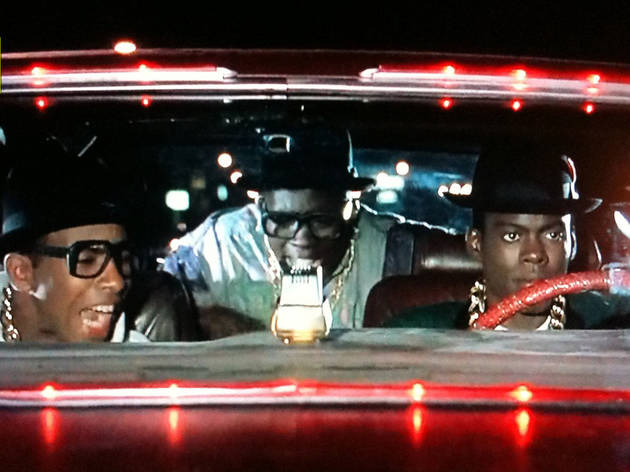 3/10
Chris Rock in 'CB4' The bandCB4 LineupScrawny comedy legend Chris Rock, plus real-life rappers Daddy-O and Hi-C. InfluencesNWA, 2-Live Crew, Public Enemy (only without all that heavy political nonsense). The CV Tamra Davis's 1993 hip-hop parody 'CB4' sees MC Gusto and his posse Dead Mike and Stabmaster Arson try to shake white America to the roots with their unashamedly provocative rappery. The film is largely forgotten now (along with its inferior sibling 'Fear of a Black Hat'), but for those who long for the days when rap was more about booty than bling, it's a daft, fun nostalgia trip. Our critic Oliver Keens says 'For centuries, men have compared their anatomy to various cuts of meat. Never before have I heard someone describe their part as a 'human shish kebab', and for that alone, I love it. Definitely one for fans of Kool Keith or Black Sheep.' Chances of superstardomHigh, but only among 13-year-old boys. Read review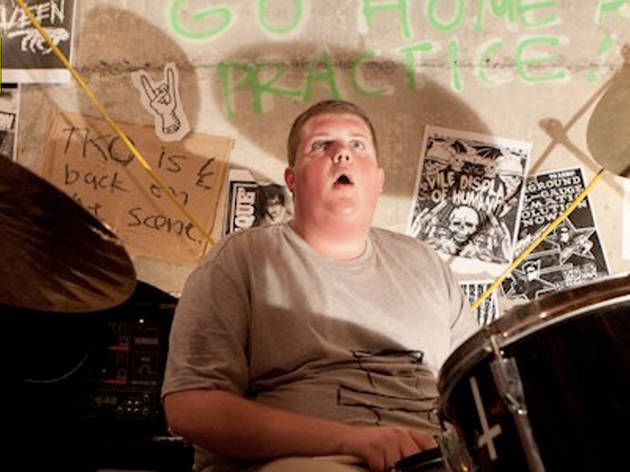 4/10
Jacob Wysocki and Matt O'Leary in 'Fat Kid Rules the World' The bandTectonics LineupSpherically challenged sticksman Jacob Wysocki, slovenly axe legend Matt O'Leary. InfluencesSuperchunk, Truman's Water, Pavement (again) – think lo-fi screechin' and mayhem with added pop sensibilities. The CV In actor Matthew Lillard's microbudget 2012 directorial debut – still unreleased in the UK outrageously – Wysocki plays the titular big guy, a suicidal teen whose life is saved when he's forced to join a band by a complete stranger. Their fuzzbucket sound soon reverberates throughout the neighbourhood and beyond. Our critic Jonny Ensall says 'It sounds like a decent demo, with a sound soaked in American teenage ennui. But it's hardly Pavement.' Chances of superstardom Perfect for the garage, not so much the stadium. Read review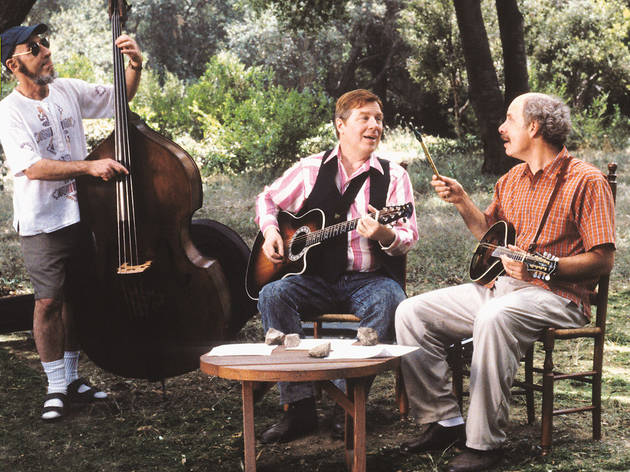 5/10
Christopher Guest and co in 'A Mighty Wind' The bandThe Folksmen LineupDirector Christopher Guest, comic Michael McKean and Mr Burns himself, Harry Shearer. Influences Peter, Paul and Mary; Rod, Jane and Freddie; a little outfit called Spinal Tap. The CV The family-friendly flipside of satanic hard-rockers Spinal Tap, The Folksmen first appeared on Saturday Night Live back in 1984 before scoring their big break in 2003's 'A Mighty Wind' performing their homely hit 'Old Joe's Place'. The pastiche was so spot-on that at one outdoor event PP&M frontman Paul Stookey was overheard whispering 'Too close, too close…' Our critic Oliver Keens says'Not bad. Once you get past the nostalgic hokeyness of it all, this ode to an olde world eatery has deft lyrical flourishes worthy of Leiber and Stoller. In the style of Alan Partridge: this might be the best song I've heard about a restaurant since Suzanne Vega's "Tom's Diner".' Chances of superstardomIn a post-Mumford world, they'd fit right in. Read review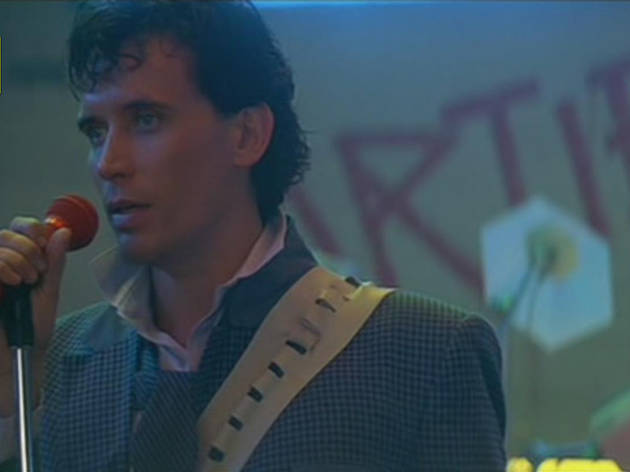 6/10
Peter Weller and co in 'The Adventures of Buckaroo Banzai Across the 8th Dimension' The bandThe Hong Kong Cavaliers LineupLead guitarist and singer Peter (not Paul) Weller, plus backing band of miming actors including Jeff Goldblum and Clancy Brown. Influences Prince, Giorgio Moroder, Kenny Loggins: think big hair, sequined keytars, wailing fenders and eye-frazzling spandex outfits. The CV Buckaroo Banzai is a neurosurgeon, a test pilot, a lover, a fighter, and the lead singer and guitarist in the hottest band around, the Hong Kong Cavaliers. It's a bit of a shame that, in this 1984 movie, Buckaroo's musical ambitions are sidelined by an alien invasion, cos we'd have loved more hot synth-tickling action. Our critic Jonny Ensall says 'I like the way there's no real purpose to this song. It's just a face-melting guitar solo. Followed by a face-melting bugle solo (or whatever that tiny trumpet is). Followed by some Waitsian piano melancholy. It's quite avant-garde in that respect. I'd probably play this at an east London DJ gig.' Chances of superstardomThey'd leave Lady Gaga choking on her cornflakes. Read review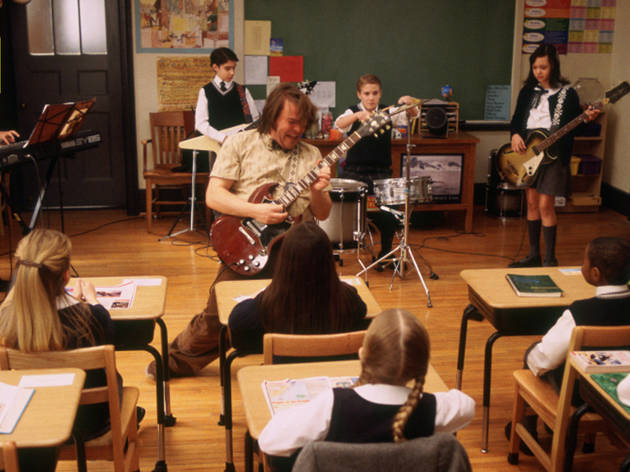 7/10
Jack Black and kids in 'The School of Rock' The bandThe School of Rock LineupFrontman Jack Black, plus assorted junior metalheads all playing their own instruments. Influences AC/DC, Led Zeppelin, Wyld Stallyns. The CV For his 2003 film director Richard Linklater scoured America for kids who could both act and play, and the result is pretty phenomenal. We're not entirely convinced that's actually Jack Black soloing, but his vocals do rock it out pretty hard (see also: Tenacious D). Our critic Jonny Ensall says 'A classic. Hints of erotic romance combined with classroom jargon – it's what hard rock's all about. Seriously though, this is catchy as hell. In a different universe it could have been AC/DC's biggest hit.' Chances of superstardomIt's a long way to the top if you wanna rock 'n' roll – but these guys would go the distance. Read review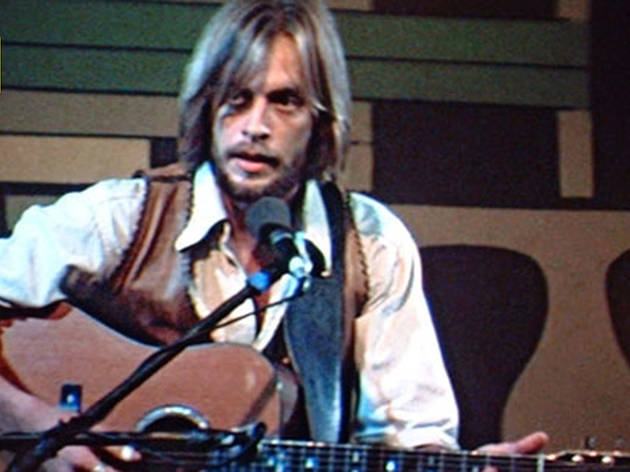 8/10
Keith Carradine in 'Nashville' The bandTom Frank LineupKeith Carradine, playing and singing his own composition 'I'm Easy'. Influences Arlo Guthrie, Gordon Lightfoot, John Denver – gentle dudes with acoustic guitars and tales of woe… The CV In Robert Altman's 1975 film 'Nashville', Frank is a singer-songwriter trying to get his solo career on track following the breakup of a popular singing trio (and so a clear precursor to the main character in 'Inside Llewyn Davis'). Carradine won an Oscar for 'I'm Easy', put out a pair of decent LPs on the Asylum label, and appeared in Madonna's Material Girl video. Rock star! Our critic Jonny Ensall says 'Finger-pluckin' good. This is a lovely little song, rich in country wistfulness. You can almost smell the Chevy fumes as the man you love drives off into the sunset, never to be seen again.' Chances of superstardomGood looks, wry lyrics, sugary melodies... what's not to love? Read review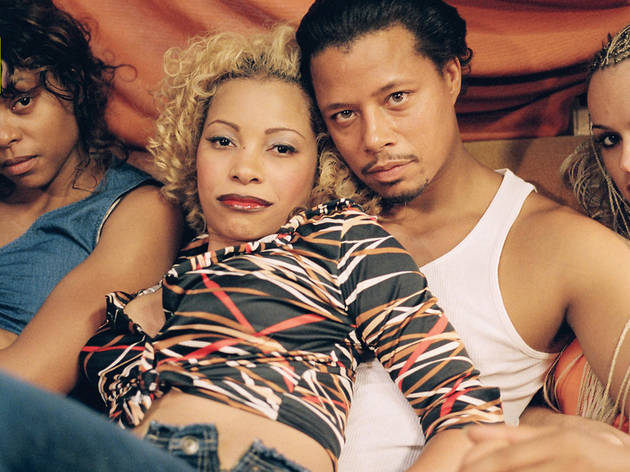 9/10
Terrence Howard and Taraji P Henson in 'Hustle and Flow' The bandDJay LineupActors Terrence Howard and Taraji P Henson, with instrumental backing from Three 6 Mafia. Influences Southern hip-hop of the crunky variety. Think Outkast or Ludacris. The CV It is, as the song says, hard out here for a pimp, even one with lucrative sidelines in drug dealing and rap. Howard performs all his own vocals in Craig Brewer's moody street-level slice-of-life 'Hustle and Flow' (2005) – he and Henson even tackled the song at the 2006 Oscar ceremony, and came away with the gold. Howard turned his back on rap for a more acoustic, Lighthouse Family-ish sound on his debut LP, 'Shine Through It'. Needless to say, it ain't great. Our critic Olly Keens says 'Wait, this won an Academy Award? Did somebody kidnap John Williams on Oscar night? Anything featuring the pioneering Three 6 Mafia gets thumbs-up from us, and Henson's sung chorus in particular sounds bonafide.' Chances of superstardomMuch better than anyone from the BBC series 'Hustle'. Read review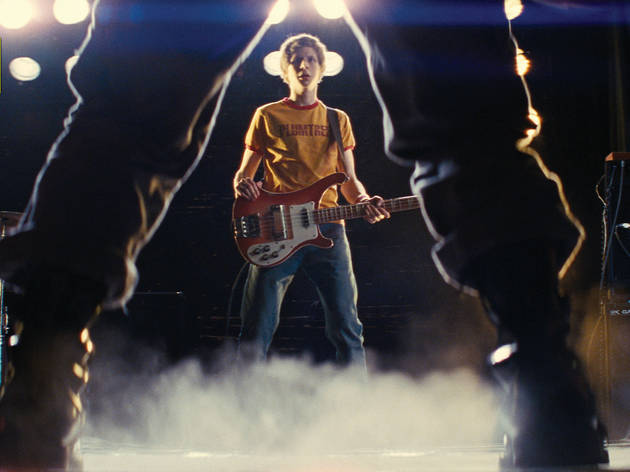 10/10
Michael Cera and co in 'Scott Pilgrim vs the World' The bandSex Bob Omb LineupNerdy bassman Michael Cera, singer Mark Webber and drummer Alison Pill. InfluencesPavement, Guided by Voices, Beck (who actually wrote the songs) – think slacker dudes with fuzzy pedals and a lumberjack look. The CV Edgar Wright's 2010 adaptation of hipster graphic novel 'Scott Pilgrim' has so many moving parts, if any one of them was out of whack the entire edifice might have fallen to bits. Luckily the movie is pretty damn near perfect, and one of its strongest suits is the music, from high-glam pioneers The Clash at Demonhead to ice-cold Asian synthmasters The Katayangi Twins. But the film's thumping heart has to be goonish scuzz-rock combo Sex Bob Omb, whose enduring heroism redefines the term 'support act'. Our critic Olly Keens says'So fuzzy and so fun. Its lo-fi credentials may be a tad affected, but there's a doe-eyed breeziness that makes it sound sunny without being drenched in saccharine.' Chances of superstardomGeneration X-cellent. Read review
The top ten movie pop stars
Jack Black, Chris Rock, Eddie Murphy… They've all sung or rapped or played instruments for real in the movies. But do they actually cut it as musos?
In the Coen brothers' new film, '
Inside Llewyn Davis
', newcomer Oscar Isaac plays a down-on-his-luck folkie in 1960s New York. There was no lip-synching allowed: the Coens hunted high and low for an actor who could strum a tune, sing a harmony part and emote convincingly (preferably at the same time). And this isn't the first time an actor has stepped up to the mic...
We present the ten best examples of thespians turned musicians, and ask Jonny Ensall and Oliver Keens, our eagle-eared music writers, to pass judgement on their talents. Our rules were strict: this wasn't about musicians acting, but the other way around. If you came up singing, you were out. Please feel free to argue to your heart's content in
the comments below
.