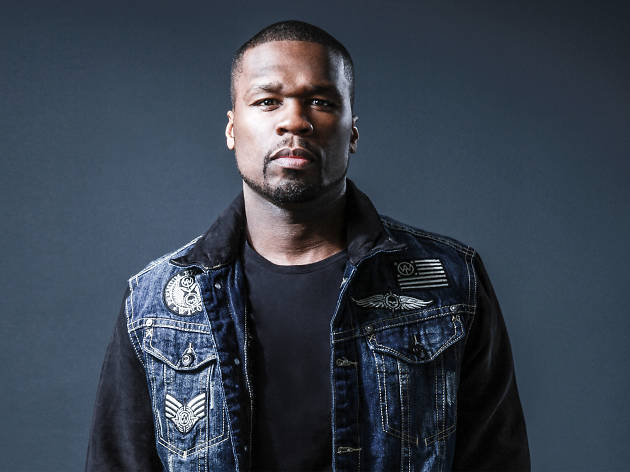 50 Cent talks emotions, condoms and sauna selfies
Curtis 'Fiddy' Jackson opens up about opening up, and tells us why his magic stick is a serious business asset
The hold music at G-Unit HQ in New York plays, of course, hit songs by the G-Unit General himself: 50 Cent. But cute touches such as these make it easy to forget the shocking adversity Curtis Jackson III has overcome – from his mother being murdered when he was eight, to surviving a nine-bullet assassination attempt in 2000 just as he was trying to go straight.
At the heart of the 50 Cent legend is that of the underdog emerging victorious: pop culture's very own Napoleon. Yet somehow, around the release of his third album, hip hop's zeitgeist passed him by. The culture went through an introspective, almost metrosexual phase with the emergence of Drake and Kanye. One thing that has never passed him by, though, is money. A series of canny business deals involving Vitamin Water, a hit TV show, and even a self-help book has seen him amass a fortune of $155 million. With a new album, 'Street King Immortal', in the works and a huge O2 show coming up, 50 Cent is in a thoughtful, expansive and light-hearted mood.
What's the craziest business deal someone's ever put in front of you?
'I had a hit song called "Magic Stick", so to encourage safe sex and to get guys to wrap it up we had a line of Magic Stick condoms. Also, there was someone who wanted to put out a bath sponge made in the shape of 50. And also a waterproof version of me that you could put next to the soap.'
You've just done a massive vodka deal with Effen. Are you a big drinker?
'I drink occasionally, I try not to overdo it because I'm more of a workaholic. I work out so I look good when I drink. Ha!'
Who can drink the most in the G-Unit? It's got to be Tony Yayo.
'I don't know where you got that. But, you know, that's why I hardly drink at all, because he and Lloyd Banks drink at almost every available opportunity. I kind of got to make sure they don't drink too much. Yayo has to be watched. Somebody got to babysit him.'
You took a sauna selfie recently which was in all the papers over here. Who took that photo – was it Yayo?
'Haha, no. There's a three-second delay on the iPhone and there's different levels in the sauna, so I just balanced it and took the picture myself. It was to promote my new underwear line Frigo. Often women make an effort with their lingerie, so this is for the guys to step their game up.'
50 Cent's steamy sauna selfie. Phwoar.
What do you think of London?
'London is the first stop when they send you on an international tour. It's culturally different to the US, especially the nightlife. People get dressed up for real. There's things that you would see in the US, like red carpet attire, that people get dressed up in just to party in London.'
Do you keep up with London music, like grime?
'Yeah, I think it's dope. I have to go to places unannounced so that I can see what they're doing. A lot of the time, they'll shift the music to 50 Cent. I'd rather hear what they were playing prior to that, though.'
What's the new album all about?
'This album is really personal to me. I like to say it's the things that I missed on "Get Rich or Die Tryin'". It has emotions that I didn't put on that record. I'm trying to provoke a feeling. To entertain is to provoke emotions.'
Do you feel that when you try to express a different side to 50 Cent – perhaps a more emotional or vulnerable side – people are less receptive?
'Some of it puts me in a box a little bit. Some of the aggressive material I created does mirror the environment; it mirrors some of the activities that go on. It's my true experiences. Most artists don't use the actual situations they've been in. When I fell in love with hip hop culture, it was so important to have your own style, an original vibe or energy to your music. Now I feel like we're making the same song over and over.'
What are your thoughts on police brutality in America?
'We've been here before with the police – it's just that now people have devices. It's being caught on tape. But I also think that when you fight crime, good people can become criminals. Someone might have two felonies on them and just think: I'll blow you away. That aggression will alter anyone. But the problem is when the police don't get punished. That makes it seem like they get a free pass to do what they want.'
If you had to start all over again today, do you think you could get it back?
'I'd win all over again, no doubt.'