Cassetteboy on the art of making David Cameron say 'pig'
They're the internet's favourite anonymous chop-and-paste anarchists. What's their next target? Smashing up the dancefloor, naturally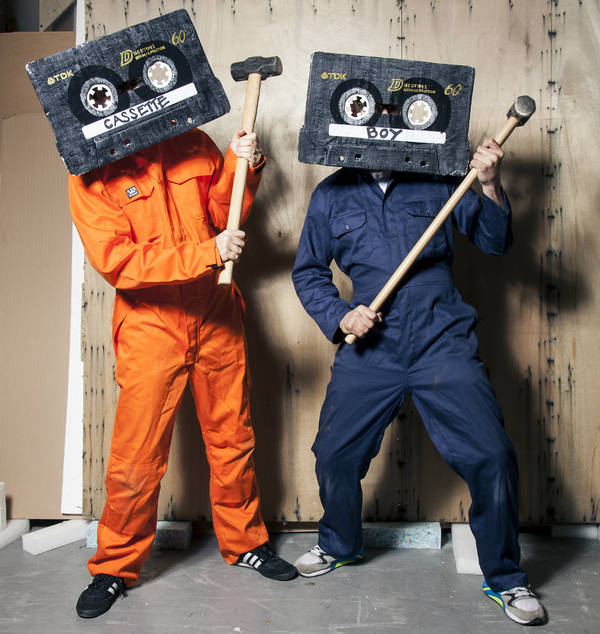 Cassetteboy by Andy Parsons
Cassetteboy, London's finest audio anarchist duo, have been fiddling with people's speech for 20 years, cutting up well-meaning wordage and turning it into filth. Having started off as hobbyists crafting intricately constructed mixtapes in the '90s, the pair progressed to making YouTube mini-masterpieces such as 'The Bloody Apprentice' (6.2m views and counting) in which quotes from Alan Sugar are reworked into a boast that his penis stretches from Tower Bridge to Westminster. More recently, they dropped 'Gettin' Piggy With It', which saw our Prime Minister rap about his swine scandal on the same day the story broke. On the eve of their live 'comedy disco' at audiovisual festival Splice, we met the satirist pairing – Mike and Si – in their secret operations centre (well, a warehouse) to talk pigs and politics.
Let's talk about 'Gettin' Piggy With It'. How did it come together so quickly?
Mike: 'I had something I was supposed to do that day, and then I got up and saw on Twitter that David Cameron had allegedly stuck his cock in a dead pig's mouth. And I thought, "Well, I'm gonna have to cancel those plans…" We already had a big bank of Cameron material from doing "Cameron's Conference Rap". I got the instrumental to "Getting Jiggy With It" then thought, "I bet he doesn't actually say pig in any of those speeches." And he didn't – but he did say "big". So I wondered if we could get a "p" sound from somewhere else and make a serviceable pig out of it. And we could.'
Si: 'I love that. Just the line: "I'm gonna stick my dick in a pig."'
Did you stay up all night working on it?
Mike: 'No, we got up and saw it at 8am and ours was online at 3pm.'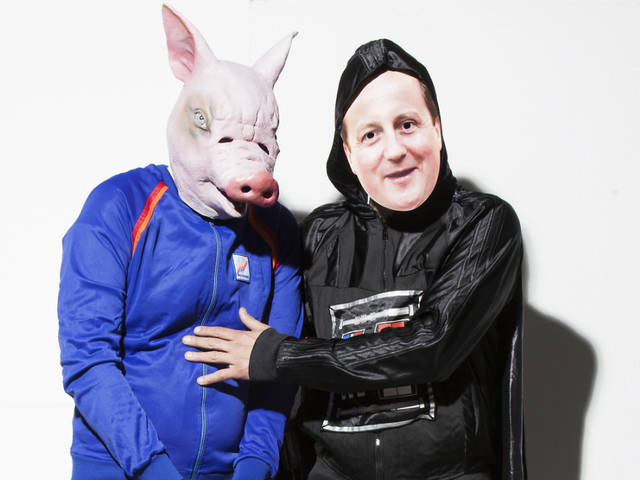 Cassetteboy by Andy Parsons
Your work has been steadily getting more political. Does that come with getting older and more socially conscious?
Si: 'The political stuff tends to get more attention, but that's not the reason we do it.'
Mike: 'Art just reflects what its creators are thinking about at the time. And what we're thinking about is politics, because there's a lot of hate in politics at the moment and because the government is doing some truly horrible things. If they weren't, then we'd probably be thinking about other stuff.'
Si: 'We'd probably have time to cut up "Robson Green's Extreme Fishing". We've been wanting to do that for years.'
'Cameron's Conference Rap' has been viewed 6.4 million times, while Cameron's official speech stalled at 150,000. What does that tell us about society?
Mike: 'I'd be terrified if his actual speech had been watched as many times as ours. Only in North Korea do the speeches of party leaders get that kind of traction. Our video had more jokes in it.'
Entertainment aside, what are you trying to get across to people? Do you want to affect something?
Mike: 'I'm a bit tired of satirists having to be even-handed. I think it's much better if people pick a side. You don't expect your funny mate down the pub to make some jokes about Cameron and say, "but we should also joke about Jeremy Corbyn". And I don't see why professional comedians should do the same. During the election, people on the BBC made very angry points about David Cameron, then for balance they mocked Ed Miliband for looking funny eating a bacon sandwich. And that's what stuck. We are unashamedly biased. I don't understand why we expect anything different from satirists.'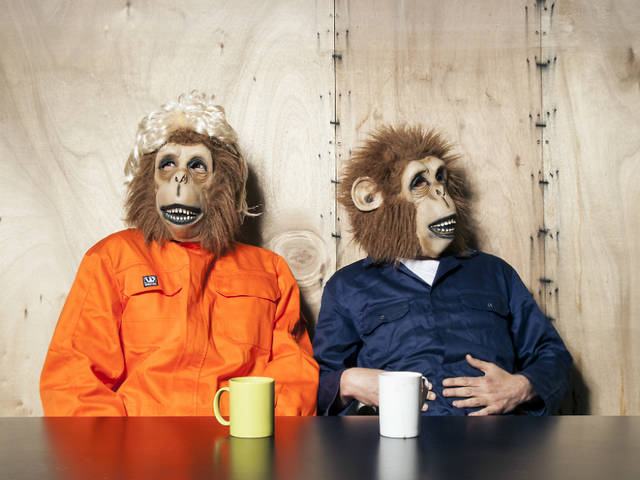 Cassetteboy by Andy Parsons
'You'll get Justin Bieber duetting with Dot Cotton'
Why is there such a lack of satire at the moment?
Mike: 'I think the BBC is terrified of the government at the moment, and probably rightly so. There isn't a lot of mainstream satire – it's all turned into panel shows because they have to be cheap and sellable on Dave afterwards, so they're a bit cosy. The joy of satire on the internet is that it allows you to react quickly. There's an immediacy to making a video about Jeremy Hunt and putting it online on the day of the junior doctors' strike. And people can share it much more quickly. That's always gonna have more impact than jokes on "Have I Got News For You".'
Si: 'That's why we haven't had a TV show.'
You've done this on your own, rather than come up through any traditional system like BBC Radio or stand-up. Where do you sit in Britain's satirical landscape?
Mike: 'We've just done it by mistake, basically. I think it's helped us that our work was technically illegal for the first 20 years, as we were never gonna make a living out of it. We just did whatever seemed the most fun idea at the time. Which is how our live show is so silly and involves dressing up in silly costumes.'
What are your live shows like?
Si: 'A comedy disco. We play pop songs and we use the lyrics of pop songs as questions and answer those questions with bits of TV.'
Mike: 'So you'll get Justin Bieber duetting with Dot Cotton.'
Si: 'It's good! Although it depends where you're playing. It's often a challenge for us to keep people dancing. It's easier if it's more of a theatre audience. We often get booked in nightclubs… [laughs]'
Does it get like 'The Blues Brothers', with bottles thrown at you?
Si: 'We have had that! In Leeds, the bastards! Supporting Squarepusher. It was a load of people on pills wanting to rave. It's worst when people book us in an unsuitable place, like a sports bar in Cardiff on a Friday night. Where our changing room was the fire escape. It was terrifying, that gig. Jesus.'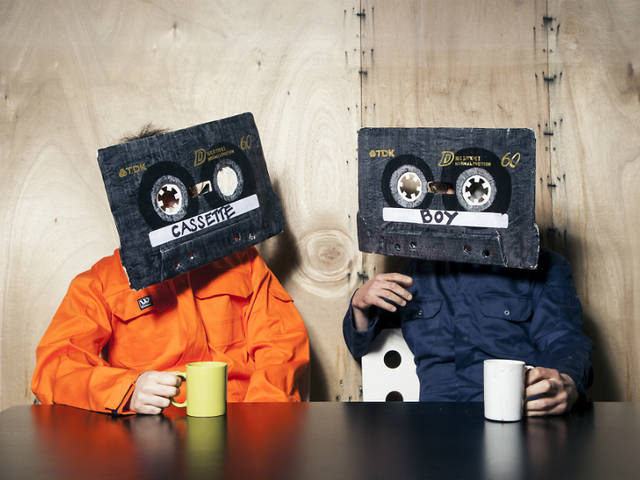 Cassetteboy by Andy Parsons
Where are you going with all of this?
Mike: 'We would like to do a video album.'
Like Beyoncé?
Mike: 'Yes. Everything on the internet has to be a hit single. We did a Donald Trump video this year that didn't do very well, because it's about six minutes long. If we'd taken the best minute out of it, it would have done much better. But I'm proud of it. We'd like to stretch ourselves over a longer time period.'
Your 'Apprentice' one was a big hit and that's six minutes long.
Mike: 'Yes, but I think the world has moved on since then.'
Since 2009? In terms of attention spans?
Mike: 'Yeah. Absolutely. If we released that "Apprentice" one now, it wouldn't have been the hit it was. It's too long.'
Si: 'We want to make a film.'
Mike: 'Yes. But who's gonna pay us to make a film?'
London's most popular comedy shows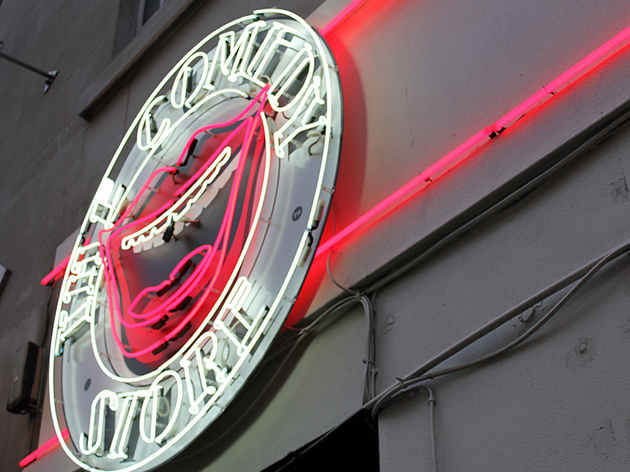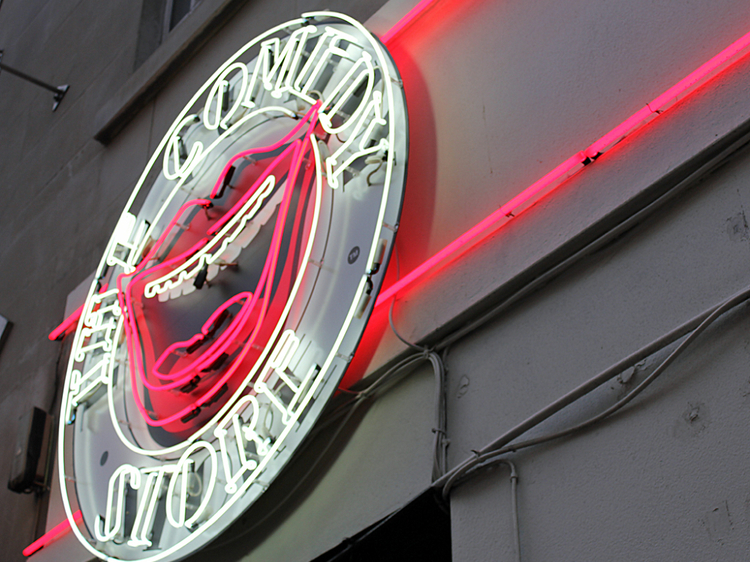 This city has the biggest and best comedy scene in the world. But where to start? Here's Time Out's round-up of the top 20 comedy clubs and comedy nights in London that'll keep you laughing throughout the year. From the funniest local gigs, north and south, to Soho comedy nights and central hangouts, the capital has plenty of comedy to satisfy your laughter needs. RECOMMENDED: our complete guide to the best comedy in LondonThink we've missed a great comedy club or comedy night in London? Let us know in the comment box below.
Support Time Out
We see you're using an ad-blocker. Ad revenue is Time Out's main source of income. The content you're reading is made by independent, expert local journalists.
Support Time Out directly today and help us champion the people and places which make the city tick. Cheers!
Donate now