The most thrilling thing about a chat with Courtney Barnett is that you have no idea what's going on in her mind. On her brilliant debut album 'Sometimes I Sit and Think, and Sometimes I Just Sit' the 27-year-old Australian singer-songwriter manages to turn all kinds of everyday events into material for her insightful songs. But at our first meeting, at Glastonbury back in June, there wasn't any spark of inspiration. 'Does your arse hurt?' asked Barnett, wondering if it was just her body falling apart after 40-odd gigs (everybody had lost count) in 43 days.
A few months later, the words 'Nobody Really Cares if You Don't Go to the Party' started mysteriously cropping up on massive billboards in London, New York and LA. Then, last Monday, Barnett took to the street outside Camden Town tube to perform her new single of that name to a crowd of fans and confused passers-by. On the phone the next day she explains.
Did your mini-gig pull a crowd?
'Heaps of people stopped by. There was a guy playing harmonica trying to join in, and kids dancing along.'
The police tried to shut it down three times. Were you aware?
'I was blissfully unaware. We were being pretty loud but we weren't doing anything too dangerous!'
What's 'Nobody Really Cares if You Don't Go to the Party' about?
'It's kinda like that John Lennon quote: "Life's what happens when you're busy making other plans."'
Do you still feel pressure to go to 'the party'?
'Yeah, it's a part of human nature, though some people are more at one with themselves than others. I don't wanna miss out on what's going on. I try not to live life with regrets, though. Who fucking cares?'
Are you writing on the road?
'Yeah I've been writing heaps. I bought a little guitar in LA the other week. I can't believe I didn't think of doing that before! It's hard to whip out the electric guitar and play it unplugged.'
'I don't wanna preach but I don't wanna be a pussy either'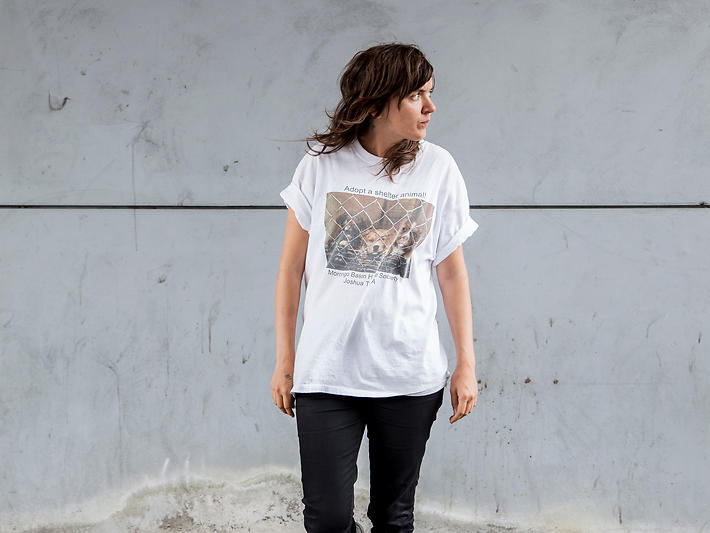 Courtney Barnett © Rob Greig
I've heard you base some songs on the illustrations you draw.
'I have a book and draw it all down, yeah. I try and do a daily journal but at the moment it's just headlines of the day. Like: "Atlanta!", then blank. I'll get back to it. I write down my dreams as well.'
What kind of dreams?
'I had an anxiety dream where I couldn't find the stage. It became this "Lord of the Rings"-style journey to find it, and I picked up all these people along the way. Three minutes before I'm due on I got to this raging river. It was scary. I had to draw that so I remember what it looked like!'
Do your fans open up to you as much as you do to them?
'Yeah, and it can be overwhelming. In my head I'm like: "What? Nobody's listening to my music." I like hearing people's stories but sometimes it's like: "Whoa! So many emotions coming back at me".'
When you write lyrics, who are you writing them for?
'It's a mixture. I remember when I was 19 or 20 I'd go: "What if Peaches heard this song? What if John Lennon heard this song? Would they like it?". But there's a billion, trillion people around. It's mental to try and cater to anyone.'
Do you think there's an expectation for you to be political in song?
'Yeah. I'm not the type of person who's didactic. I don't wanna preach but I don't wanna be a pussy either. I saw this beautiful saying the other day: "To be neutral in an oppressed world is to take the side of the oppressor." I just don't wanna associate with fuckheads.'
Who's a 'fuckhead'?
'Homophobic, racist, sexist… People who don't follow the same morals as I do. Every now and then I see a comment on Facebook and I don't understand why those people are listening to my music. They're obviously on a separate path.'
When people describe you as 'slacker rock' it suggests you're not ambitious. But you are, right?
'I don't know! I don't wanna be a famous rock star. I wanna write better songs. That's my ambition: to write a better song this year than I did last year.'
Courtney Barnett releases 'Nobody Really Cares if You Don't Go to the Party' on September 11.
Read the ten best Courtney Barnett lyrics