It's been 16 years since Craig David set his seven-day copulation schedule to smooth R&B and garage, then topped the nation's singles and album charts. In the intervening time, he moved to Miami, bought a sports car and wasted hours aimlessly driving around the city. He became so obsessed with bodybuilding that he developed a nigh-on alien physique. He got so into a self-help manual's lesson to live in the present that he ended up wearing a watch that didn't tell the time, but featured just one word: 'Now'. Then he ended up accidentally reinventing himself when the DJ sets from the TS5 pool parties he was throwing at his swanky pad became a hit on SoundCloud, leading to a Capital FM radio show. He moved back to the UK, inadvertently became a viral sensation after an impromptu Radio 1Xtra freestyle of 'Fill Me In' over the Skrillex and Diplo-produced beat of Justin Bieber's 'Where Are U Now' was viewed millions of times. Hence us meeting in Soho House and him pulling out a two-litre bottle of water ('I don't play when it comes to hydration'). Because, in a couple of weeks, he'll release 'Following My Intuition' – his first album in six years.
When you're working with younger artists, do you ever feel like a grandad?
'Yeah, when I went into the studio with some of these guys they'd talk to me in the past tense about my music. It'd be like: "We loved 'Rewind' man! It was wicked what you used to do!" At the time, I'm 33 years old, thinking: I'm still here!'
How come you're suddenly everywhere?
'I got my passion back. I had a meeting at my management company in London and this junior stood up and went "I've got to speak honestly as a fan of yours: when you go to Miami you're just messing about. You say you're making records, but you're just driving your sports car around for no reason." He could've lost his job for that. '
And that helped how, exactly?
'I realised that, actually, it did resonate with me. I had to go: "You know what? You're right. That is what's going on! You called me out!" I ended up cancelling my ticket back to Miami. That was a year ago and from that day, he was like: "You should get in and work with some of the young guys!" Now I've worked with Katy B, Sigala, Blonde.'
You've stopped filling your Instagram with topless photos of you looking like a bodybuilder. Why?
'I worked out so much I started to lose the fat from my face, which makes you look older. People were starting to say "You're looking a bit old in the face" but I couldn't see it. I was like: "The abs are popping, though!" Eventually I realised. I thought: I've got to stop this nonsense. I've got to get back to eating pizza with my mates.'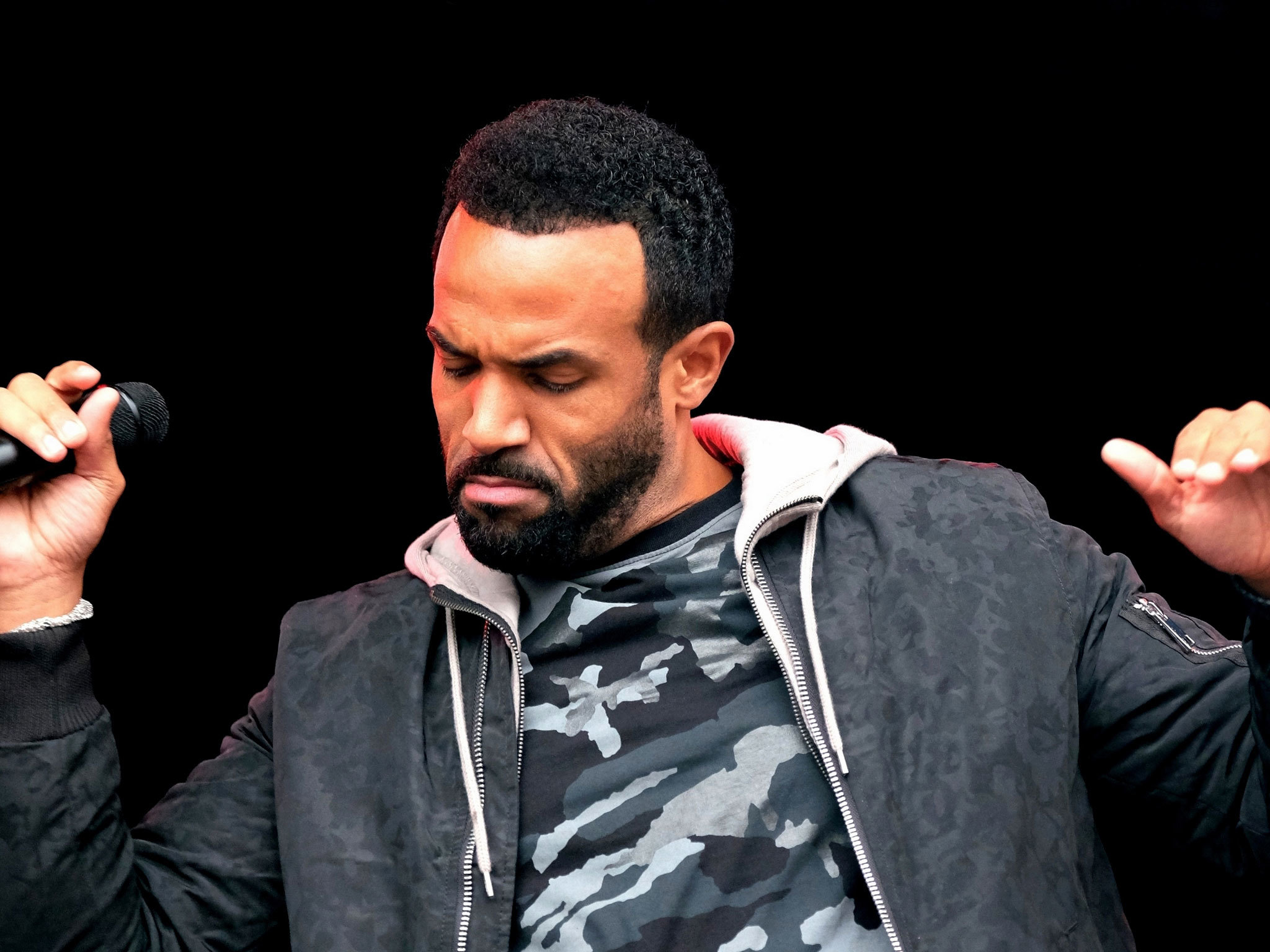 Craig David at Bestival earlier this year
Back in the day, how did you feel when you first saw 'Bo' Selecta!'?
'Genuinely, I didn't really care. I just wanted to make tunes. The problem was that it left my PR team all over the place. One minute it was like: "Why don't you have the guy come on stage at the Royal Albert Hall and do a number?" And then it was like: "Oh no, now you hate the guy!" I was doing interviews saying totally different things. I realise now that I should have been more vocal and said that I didn't care. But that's hindsight.'
So you didn't hate it?
'No. The weird thing is that normally caricatures pick defects in someone, but his version of me was just so off. Like, the kestrel – where did that come from? And yeah, I could be like: "Oh man! It was hard!" But if it didn't happen would I be sitting here hungry and passionate, feeling like a 16-year old kid again? It's been an amazing journey. I did Glastonbury for the first time this year, bro!'
Ever feel like it's still a fight to be taken seriously?
'Nah, because I've just seen overwhelming love since I came back. Anyway, a lot of long-term career artists get this [wilderness years]. Elton John had a while where he wasn't at the peak of his career. Frank Sinatra was written off heavily until "New York, New York" put him back into it. I always knew that if I stayed diligent and stayed passionate about writing, I could change everything.'
Craig David's new album, 'Following My Intuition', is out on Sep 30. He will be playing The O2 on Mar 25 2017.