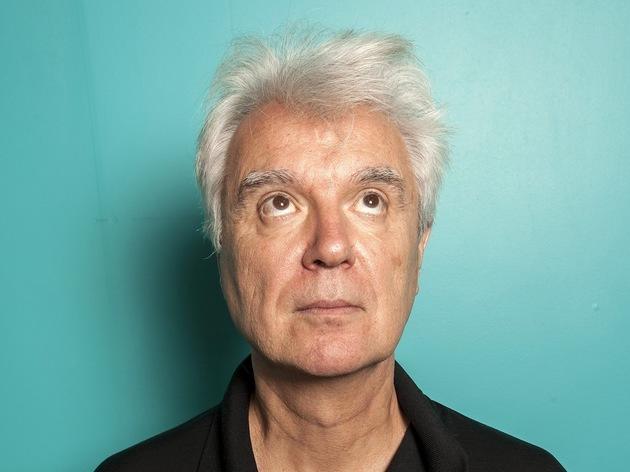 David Byrne: how I wrote 'Here Lies Love'
The smartest man in music tells us how he created his glitterball musical about Imelda Marcos
I wrestle a white-haired 62-year-old man to the floor of a poky National Theatre breakout space. Among potplant-tending paraphernalia, I bang his head against a filing cabinet shouting 'Will I ever hear "Crosseyed and Painless" live? Just tell me!' He smiles politely. I think that means no.
This doesn't happen. Despite having a thousand Talking Heads questions, I'm asking David Byrne – born in Dumbarton – about Scottish independence on referendum day. 
'My heart says yes,' he replies, about the once-in-a-lifetime opportunity. 'But I'm not sure it's the right time for them financially.' It's good to know that pop's greatest alien still conducts pretty thorough research.
Byrne is in town with a typically oblique take on pop and history, 'Here Lies Love': a disco-themed, audience-participatory musical about Imelda Marcos, wife of Philippine dictator Ferdinand Marcos and the world's most notorious footwear acquirer. It started as a collaborative concept album with Fatboy Slim, on which a series of female singers, including Florence Welch, Cyndi Lauper and soul queen Sharon Jones, take on the parts of Imelda and Estrella Cumpas, the peasant woman who raised her. Now it's been staged. And influenced by disco?
'When the Marcoses were elected, they fulfilled their campaign promises. People loved them'
'To me it made sense,' says Byrne. 'It was that era: that's the music Imelda had around her all the time. There's videotape of her dancing with a well-known arms dealer under the disco ball in her apartment.' 'Here Lies Love' is what Imelda wanted carved on her gravestone. She's still alive. A lot of the Marcoses' political opponents are not.
Under martial law, the regime murdered and imprisoned, denied free speech and sequestered assets which Ferdinand and Imelda spent flamboyantly. Especially Imelda. 'She does bring a lot of outrageousness,' says Byrne. 'Sometimes amusing, sometimes horrifying, sometimes both at the same time.'
His greatest worry, he says, is that the piece might be 'too campy'. But it's also important to the story that 'she's not a monster from the beginning': 'When the Marcoses were elected, they did do a lot of the things they promised in their campaigns,' he says. 'They built schools and hospitals and roads and clinics. They were glamorous and getting featured in the world's press, and they were fulfilling their campaign promises: people loved them!'
In a sense, 'Here Lies Love' is classic Byrne, because it's about ambiguity. Ambiguity of voice, of intention, of reliability, set to music. It's 'Psycho Killer' over an hour and a half. With more shoes. Imelda – the beauty queen, the First Lady, the monster – reinvents herself, as Byrne has done so many times. In his 2012 book 'How Music Works', he describes his extreme shyness as a child, except when he was performing.
Byrne was always the outsider: the kid from Scotland dropped into Middle America, whose parents were arty and political when no one else's were. In Talking Heads, Byrne played with the conventions around being a rockstar right from the start. Their second album was called 'More Songs about Buildings and Food'; their carefully curated mid-career retrospective 'The Name of This Band Is Talking Heads': Byrne was both the author and his own subject.
'It made me think of "Stop Making Sense" – there's a kind of psychological narrative'
When I ask which of his previous stage works 'Here Lies Love' has most in common with, he makes a rare direct reference to Talking Heads: 'It made me think of "Stop Making Sense", the concert film we did ages ago. There's a kind of psychological narrative in that concert,' he says, 'of me, the lead character, becoming more comfortable with himself: this very nervous, anxious guy in the beginning, and at the end he's dancing with complete abandon.'
Byrne hopes audiences will find the same abandon at 'Here Lies Love': for one thing, there are no seats. 'As a musician I know that when an audience is standing they become more physically receptive to the music,' he says. 'Their reaction is more visceral.' The National was up for that. It was a tougher sell in the States, he says, although the show has since had rave reviews. 'I was the problem in some ways: it was too arty or unusual for a completely popular entertainment; but with me attached, the music was too popular for a highbrow audience.'
Meanwhile, Byrne's fascination with oddball USA continues. He's co-ordinating a live stadium pageant of the uniquely American phenomenon of the high-school 'color guard', a strange elaboration of cheerleading. 'They have flags and sabres, and they toss rifles,' says Byrne. I must look mystified. He explains further: 'They usually do it to some pre-recorded music that's a bit like ice-skating music. I thought: What if you had that with cool bands, and it was all done live? I think it will be a lot of fun.'
Essentially, Byrne has now pulled apart into separate strands what he once synthesised in Talking Heads. Black funk, weird white Middle America, storytelling. Rhetorically speaking, I'd pay good money for them not to reform. Byrne always moves forward, like a shark. A personable shark in Vanish-white jeans and Converse and a black polo shirt (on special days he wears all white, apparently), talking politely about power, corruption, shopping and disco. Not a million miles from Talking Heads.
So, no assault happens on Mr Byrne's person. Anyway, with all that dancing and his total self-belief, I'm sure he could take me, no problem.
Read about David Byrne's Meltdown