Disclosure interview
We talk beaches, bass and Bach with the Lawrences, the two young brothers who are bringing quality dance music back to the charts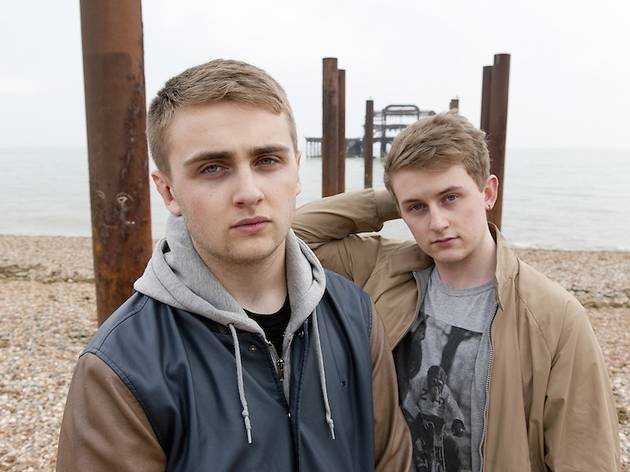 Here's what you need to know about Disclosure: they're the sound of 2013 and they're scarily young. Guy (right) is 21 while Howard (left) is just 18.'I actually got kicked out of sixth-form college for doing this', the latter says of the group. They're fiercely talented and their fizzy mix of garage, house and infectious, tell-your-mates pop is bringing UK dance music back into the mainstream again. Remember the late '90s? Prepare to feel old: 'We missed garage the first time round. Guy was three and I was one,' says Howard, without any cockiness. Looking cool but inconspicuous as they lob their stones, they're still recognised twice in five minutes. It all bodes well for the release of their frankly incredible debut LP,
'Settle'
, which contains Number Two single 'White Noise'. It's destined to be the sound of the summer. Need more proof? They've been booked to play a staggering 39 festivals this year. I ask Guy, who still lives at home with his parents, if he's prepared: 'I'm going to be a changed man by the end of the year,' he says, eyes open wide. 'We both are.'
Though they're on the decks tonight, Disclosure's live show involves the pair variously playing guitars, keyboards and drums alongside kick-ass visuals. It puts them on a par with other dance acts with a flair for stagecraft like SBTRKT and Totally Enormous Extinct Dinosaurs. While they'll be making festival tents buckle and heave, the music itself was born in more sober surroundings – at their studio near home in Redhill, Surrey. 'It's quiet, it's safe, nothing goes on there' is Guy's dry summary of their hood.
Redhill is, however, 45 minutes from clubs like Digital, which Guy would escape to, sometimes three or four times a week.'Brighton was the first place where I started hearing electronic music other than dubstep,' he says. 'I used to go home and tell Howard that we had to make this stuff ourselves.' One song in particular made Guy want to feed his younger brother's head – Joy Orbison's wildly influential single 'Hyph Mngo' from 2009: 'I was like "Listen to this. It's dubstep, but with chords and amazing samples, and it doesn't have a big wubwub bass, but it still goes off!"' Disclosure's 'You & Me' British producers like Orbison have been quietly reinventing music in the shadows for a while now. They've taken the soul of 2-step garage, the deep grooves of '90s house and the bass of early dubstep and made something totally vibrant and new. What makes Disclosure significant is that they're the first to take this uniquely British and underground sound to the masses, with bags of integrity still in hand.
Asked what gives them the edge, their answer is unequivocal: songwriting. 'There are so many people whose productions I respect, but they don't make full songs out of them, y'know?' says Howard. 'I think we both realised that if we wanted to connect with people, we had to be about writing songs with meaning behind them, not just production.'
Having a stellar cast of guest vocalists helps too. Among the scores of singers on 'Settle' are Aluna (of AlunaGeorge), Jessie Ware and Friendly Fires' Ed MacFarlane. The last name still makes Guy glow: 'It was weird, 'cos Friendly Fires are a huge, huge deal for me.' He's trumped by his more fanboy sibling: 'I went to a Friendly Fires signing session once. I got there at, like, seven in the morning.'
During the conversation, another fantasy vocalist emerges. 'The first show I ever went to was Seal at the Brighton Dome,' Howard tells me, 'and it blew my motherfucking mind. It was full of middle-aged women who held me up at the front, cos I was six, and I shook his hand. I was like "YEAH! SEAL".' The penny soon drops: 'We need to get Seal on a track,' says Guy animatedly, and Howard practically explodes: 'That would be sick – why haven't we thought of that before?'
The only man who gets the boys more excited than Seal, remarkably, is Debussy. Out of nowhere, the pair reveal a deep, genuine love of classical music, developed from A-level music classes. We talk for ages about augmented-7th chords, arabesques and why Bach has his limitations: 'It's all very to the book,' says Guy. It's a high point of an afternoon spent by the beach, but it also brings up one small note of regret – that Howard never finished his A-levels: 'I was really pissed off. I loved the course. I was learning so much. If this winds down one day,' he continues, 'I'll definitely go to university and study classical music.' Luckily his brother sweetly suggests an alternative: 'You could just pay for a tutor? Get a Steinway piano in your lounge and just play all day.' Howard thinks for a second: 'That'd be sick!'
Want more? Here are four more classic UK dance debuts
Snap up exclusive discounts in London
Time Out's handpicked deals — hurry, they won't be around for long...