Eminem – 'The Marshall Mathers LP 2' album review
Shady's not back, but Em's on good form as he digs up the past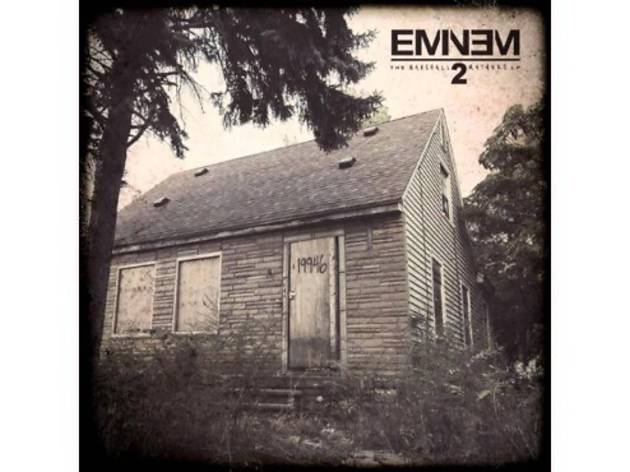 As a general rule, rap sequels aren't sequels at all – they're lazily conceived marketing ploys that fall into one of two categories: pathetic attempts to relive past glories or successful attempts to relive past glories. Full credit to Eminem, then, for crafting a sequel that relates to its predecessor in more than just name.
More than 13 years after the release of the diamond-selling 'The Marshall Mathers LP', this follow-up takes old songs in new directions and new songs in old ones. 'Bad Guy' is a prime example of the former, adding a Dido-less chapter to 'Stan' in which Matthew, Stan's little brother, seeks revenge. Elsewhere, Em edits past rhymes – 'went to Burger King, they spit on my onion rings, I think my karma's coming back to me' – and steers old skits into ever-darker territory. For fans old enough to cherish the original 'MMLP', anachronisms like these are guaranteed highlights, possessed of all the nostalgic, millennial charm of early 'Big Brother'. But then there's that latter category: new songs taken in old directions.

With the notable exception of Slim Shady, 'The Marshall Mathers LP 2' sees Em's whole crew of incorrigible split-personas pile into the booth: cynically homophobic Eminem; adolescently angsty Eminem; bleating-on-the-hook-like-a-sheep-in-heat Eminem; angry, possibly mid-poo Eminem. These are the Ems behind Mathers's mid-career slide into wackness, and they sound worse than ever in the context of a purported return to peak form.

But there are flashes of brilliance here, too. On 'Rap God', the 41-year-old cycles through styles – classic Eminem, Houston-inflected, faster-than-Fu-Schnickens – like a one-man playlist. And Kendrick Lamar's verse on 'Love Game', elatedly rapped in the key of Em, forces Mathers to dig deep to play the role of master.

'MMLP2' is a legitimate sequel – there are no gimmicks here. But like most sequels, it encounters another problem: it's just not as good as the first one.
Buy this album here
What are your thoughts? Let us know in the comments box below or tweet us at @TimeOutMusic.
Missing Time Out magazine?
You can still read our latest issue from the comfort of your couch
Read online