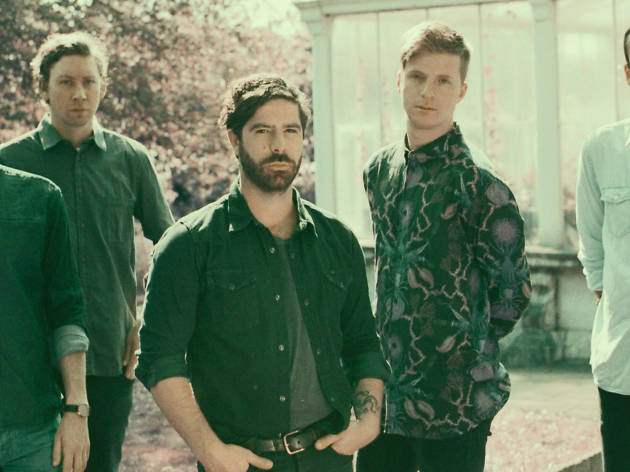 Foals' Yannis Philippakis on the road to Wembley Arena
His band's about to play the gig of a lifetime, but Foals frontman Yannis Philippakis still has time to talk gardening tips, shit jobs and on-stage injuries
The only time I'd spoken to Foals frontman Yannis Philippakis was at the urinals in Islington's Screen on the Green, where I asked him, midflow, about a recent show. I'm not, it transpires, the only weird fan he's ever encountered, which is hardly surprising, given the extraordinary rise of his five-piece from humble Oxford roots in 2005 to playing Wembley Arena this week. Thankfully Philippakis is open to questions about anything, from crap jobs to our close encounter in the gents.
Congratulations on Wembley, that's huge! How does it feel to be playing such a big show?
'It's going to be a landmark for us. We've been playing bigger and bigger venues and this is just the next exciting step. When you play a show there, it's something that can't be taken away from you.'
Is your more recent music suited to a bigger stage?
'I think that a lot of the older songs work in these bigger spaces as well, it's just to do with the performance and the conviction. And a lot of it's to do with the crowd too. If you have a crowd that knows all the songs, it can work anywhere.'
You're well known for being raw and physical when you play. Do you ever get injured?
'Yeah, I broke my toe, I bust my ankle. I've got bruises at the moment – I cut my shin yesterday. I definitely have the scars to prove it.'
Is it worth getting all messed up for?
'Consideration for yourself shouldn't be at the forefront of your mind if you're the singer in a rock band. I don't think it should be preening or overly polite. All the people I admired when growing up – Jesus Lizard or Fugazi or Iggy Pop – you could tell that there's an extreme in [their live performance], and there's a violence in it, a passion that becomes self-destructive.'
Have you ever had any properly embarrassing injuries?
'There was one in LA where I just kept slipping over on my arse, like, slapstick banana skin stuff.'
'Life isn't all just fucking spiralizers and fancy olive oil'
Speaking of embarrassment, I spoke to you in a public toilet once. Do you have a lot of weird fan encounters?
'Yeah, there are enough. I wouldn't want more! The majority these days are just people coming up and saying nice things about what the music means to them. It's really gratifying to hear, particularly when you're in some far-flung location. To realise that a song you made in the privacy of your own bedroom in Oxford, in the rain, at 19, has migrated around [the world], that's cool.'
Has your audience changed since the early days?
'It's just got a lot broader. In the early days, the crowds were very young, very hip. And now there are 65-year-olds at the shows. I like the fact that we can write songs that appeal to different types of people. I'm not really interested in just writing for the kids that shop at Urban Outfitters.'
If you could play a party at anyone's house, whose house would it be?
'Probably Leonardo DiCaprio's. I think it would get pretty debauched. And I want to know what he gets up to.'
You used to work in an ice cream parlour – what other jobs have you had?
'I had a series of shitty jobs, like café jobs. I got fired from every job I had except one, which was at a bar where I met Edwin [Congreave, fellow Foals member]. I did some manual labour for a summer for an agency called Man Power. I did removals and construction site stuff – grunt labour. It's important to do stuff like that, it's good for the soul. And it's good to be reminded that life isn't all just fucking spiralizers and fancy olive oil.'
You're passionate about gardening. Got any tips for anyone looking to get started?
'Get a book called "The House Plant Expert" – it is an absolute gem. It's a classic. I think it was first published in the '70s and it's just the bomb. With roses, the key is the pruning, and making sure that the angle is right when you cut it so that the water doesn't sit on top of the stem – that's crucial. Morning sun is better than afternoon sun, as well.'
You live in Peckham. Where's your favourite place to hang out?
'I really like Frank's when it's open. Obviously Peckham Springs and Bar Story. I like a place in Nunhead called The Old Nun's Head. I like the Amersham Arms. All the predictable places.'
Do you think Foals will break up?
'I don't think it'll go on forever. I don't think it can. I'm not thinking about it right now because we all just get on really well and we're having a blast. But it's already been going on far longer than I expected it to.'
I'm getting married this year. Do Foals play weddings?
'It depends how much we get paid.'
I can pay you in beer.
'Okay, we can talk about it.'
Foals co-headline the Reading and Leeds festivals in August.
Find a music festival in London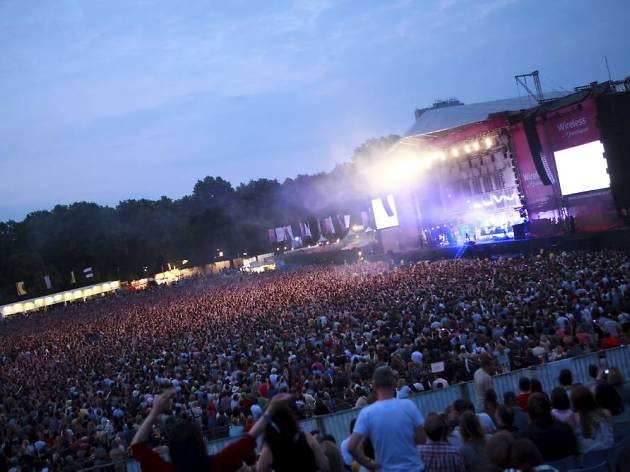 You lucky Londoner: you don't need a tent or even a pair of wellies to get the full festival experience this summer. You've got some of the world's biggest acts and a whole world of fun a tube ride away, thanks to these incredible festivals in London.