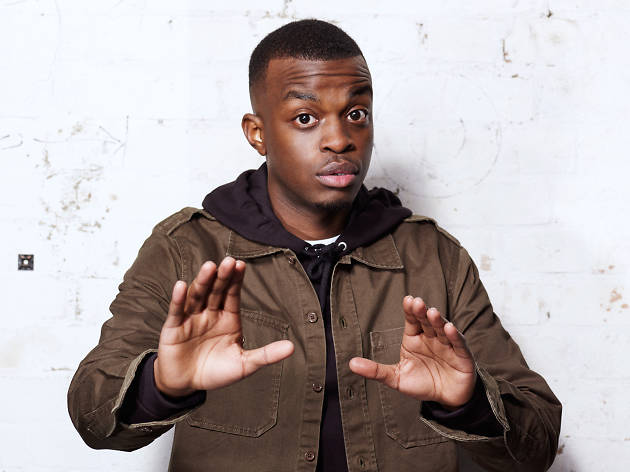 George The Poet wants to change the system
If the General Election has left you cold, perhaps you should listen to a poet not a politician. Young Londoner George Mpanga is telling it how it is
'I'm from Raph's/Home of guns and staffs/Shooters running up on dons in caffs.' Raph's is St Raphael's Estate near Neasden, where George Mpanga grew up. Google it, and you're presented with three suggested searches: 'gangs', 'shooting' and 'crime'. But none of these says much about one of its former residents.
At 23, George The Poet has been shortlisted for a Brit Award, supported rap greats like Nas, graduated with a degree in politics from Cambridge University, and in February this year, published a collection of poems entitled 'Search Party'. Turns out dreams are still made in London, after all.
Mpanga's debut album – which he's been working on before we chat – looks set to build on the hyper-literate, attention-grabbing hip hop of songs like 'Grinding', which uses a prosaic iPhone ringtone as its melody. But in a way, the tunes are only half the appeal.
Delve into his work and you'll hear passion and politics united, around themes such as the cost of London living, hostility towards immigrants and the injustice suffered by Stephen Lawrence and his family. He'll be appearing at a Time Out event this week with Guardian columnist and author Owen Jones – enter our Owen Jones and George The Poet ticket competition for your chance to get in to this sold-out event.
'Those who need the most help are the most disempowered'
It's a basic question, but are you a poet or a rapper?
'I am a spoken-word artist who uses music to get social messages across. But I don't feel there should be any distinctions. Rap is just a specialist form of poetry.'
Your rhymes are overtly political. Why go into poetry and not politics?
'I'd have to be part of the party system, which I'd find restrictive. There would be a limit on what I'd be able to say! I love music and poetry, and because people love them more than party politics, they will listen to me.'
How important is music to you?
'We didn't have a TV when I was a child, so music was my escape. It's always been my favourite form of imagination. I write rhymes as a way to document my self-discovery.'
You're doing an event this week with Owen Jones, author of 'The Establishment'. Doesn't going to Cambridge make you part of 'the establishment'?
'I have to credit Cambridge – the things I studied there, what it gave me access to. But I don't see Cambridge as part of the problem. Just saying.'
What's the event with Owen Jones going to be like?
'It's going to be a political discussion. Unlike politicians, we speak clearly. We're on the same mission.'
What do you think are the main challenges facing young Londoners?
'The biggest challenge is representation. It plagues us all, because we want things for ourselves, and we're separated from the means of achieving them. Those who need the most help are the most disempowered and the least able to do anything about it. There's going to be 5.6 million young people voting this year. More needs to be done to include us in conversation.'
Who are you going to vote for?
'I can't say at this moment, but I think the only way to change this broken system is through voting and education.'
How are you enjoying your new star status?
'It's a dream come true. I need the biggest platform I can get to share my ideas. I think we can all be agents of change. I intend to use my opportunity to do just that.'