The window of Hoxton Square Bar & Kitchen is splattered with rain. I'm nursing a cold cup of tea and everything is grey – hardly the right conditions for interviewing sister-act Haim. The trio of Este, Alana and Danielle Haim (their surname is also their band name), mix retro guitar-pop hooks and ultra-modern R&B beats in a way that's sunny, catchy and sincere. Their debut album 'Days Are Gone' is out next week – read the Time Out review here.

My stomach feels wibbly beforehand, but I've no need to be nervous. 'We're easy, we're breezy,' says singer Danielle, eating a Percy Pig. They are a mass of wavy hair and sweat pants – like mermaids on a duvet day. Baby Haim, Alana, requests a wardrobe adjustment ('I just need some underwear. Excuse me, don't wanna pulla Britney.') Then we're off.

Farhana: Do you know the setup here? Time Out are doing a readers' issue – the readers do the interviews and all that jazz. I asked a stupid question on Twitter and landed this.

Alana: Sick! What did you ask?

F: Well, now I'm going to ask you.

Alana: Oh, rad. That's cool.

F: They said 'so if you could meet Haim, what would you ask them?' So I said, 'Collectively, you guys have a lot of hair. How clogged is your shower plughole?'

Danielle: That's really good.

Alana: My dad can answer that question, because once a week he has to clean it out.

F: That's a horrible job.

Alana: It is.

Este: Snaking it.

Alana: Snaking it out… it's just really awful. It's true, though, we do. It's a bummer. He gets bummed about how much hair is clogged.

F: Do you moult?

Alana: What does that mean? Like, shed?

F: Yeah.

Haim: (in unison) Yes.

Alana: It gets in the carpet… the bed… Ah! Do you like Percy Pigs?

F: I love Percy Pigs.

Alana: Ah, it's all good. Get into it. Do you guys want Percy Pigs? There you go.

F: Thank you.

Alana: I'm obsessed with Percy Pigs.

F: Do you have them in America?

Alana: No.

Danielle: It's just like how you guys don't have Sour Patch Kids.

F: What's that?

Danielle: Exactly.

Alana: It's like Percy Pigs but…

Danielle: Sour. I love sour stuff.

Alana: It's like the Percy Pig tails but way more sour.

F: I don't even know what that is, do we have that here?

Alana: It's like the sour version of Percy Pig. Get into it.

F: Yeah! Right, I think we're going to get down to the nitty-gritty, if that's alright. Your album's going to drop soon, right? 13 days. I counted that on the way over.

Este: You did? Ah, less than two weeks.

F: Is that scary?

Danielle: Yeah but I think it's more exciting. I think it's hitting us now more than ever that it's actually coming out.

Alana: It hasn't even hit me yet. It'll hit me the day before, like at midnight. I'll be like, 'Oh, shit.' I think I'm just super stoked, because I like to say it's the first chapter of Haim in a record, because there are songs from six years ago and there are songs from a couple of months ago. It's kind of a nice chapter that we can close and then move on to record two.

F: What song are you most excited about getting out there?

Alana: I think I'm most excited to play the last song on the record, 'Running if You Call My Name'. It's going to be really cool figuring out how to play that live.

F: I saw you last year, I think it was at the Shacklewell Arms.

Alana: Oh, shit!

Este: Yeah!

Alana: That was like, one of our first shows. That was crazy.

F: It was packed!

Alana: How did they find out about it? I mean we had just gotten to the UK at that point, and we were confused how people even knew to go there. We thought we were going to perform to four people. It was a really amazing crowd. And that venue is so cool – it's crazy, it's like a little box.

F: Are you doing a few more shows in the UK now?

Alana: We're playing The Forum!

Danielle: In December.

F: Are you going to spend Christmas here?

Alana: I'm thinking about it. I'm actually pretty much sure I'm going to spend my birthday in London.

F: When's your birthday?

Alana: December 15th.The tour ends on the 14th so as a celebration I'll probably have my birthday in London. I love London. We're kind of trying really hard to become Londoners. The thing I love about it most is that people just don't take the sun for granted. We're from LA, and it's sunny all the time. I just wake up and it's sunny. Maybe a few days in the winter it might be cloudy. There might be one week in LA when it rains and you're like really bummed – like, 'Goddammit!' – and then the next week it's like 100 degrees. But when it's sunny here, everyone goes out.

Este: Everyone's at the pub.

Alana: Everyone gets naked, everyone's at the pub, everyone's at the park, everyone's just stoked because the sun's out, and I think that's super-cool. I just want to be a part of that. I want to party when the sun's out.

Este: It's newsworthy.

Alana: It's sunny! Get out of the house! Extra extra! Read all about it! It's sunny!

Este: Straight up.


Watch the Haim's 'The Wire' video



F: Este, one of my other questions was about your bass face.

Este: Lay it on me.

F: Well, everyone, myself included, loves your bass face.

Este: Thank you.

F: It's all the Internet is ever talking about.

Este: It's one of those things where it can't be tamed. It's not going anywhere. It's kind of just part of who I am. That's the thing: I've seen pictures of myself, obviously and I'm like, 'Oh right, Este, maybe you should be a little more conscious,' and I'll be like, 'Okay, I'm just going to concentrate on not making faces and I'm just going to be super-stoic' – and the performance isn't as fun, my playing is shit, I'm fumbling all over the place. It's just not enjoyable. So to me, it's part of who I am – it's not going anywhere. It's just me enjoying the performance.'

F: I also wanted to know, apart from your own, whose unmoderated facial expressions do you rate the most?

Este: Oh, I love Dave Grohl's face.

Alana: He's got a good music face. He doesn't have a bass face. He has a guitar/drum face.

Este: Yeah, he gets really into it. He has a really good face. Who else? John Mayer has a crazy one. He has a multi-face. When he does it, it looks like his face is melting from the middle out. I don't know how he does that.

Alana: I think it's something to do with the neck motions.

Este: Yeah, it's almost like his neck is a wave. I haven't mastered that yet. That's on my to-do list: master the John Mayer neck wave.

F: When I last saw you, you all did the whole drumming together thing, which was amazing. How good is the bicep/tricep area of your arms?

Este: Do I have guns?

Alana: Oh my god, I actually… no, I do have a heart vein though. This one.

Este: It looks like a tattoo. It's a heart. Weird, right?

F: And my final question… I really really love it when you get all Tina Knowles, and you match outfits – it's my favourite thing. Is there ever a 'Poor Michelle' moment when someone gets the dud outfit?

Alana: Honestly, I love Michelle. Leave Michelle alone! We did love Destiny's Child, and we grew up being like, 'One day we'll meet Tina Knowles, and hopefully she'll want to make us an outfit. Or we'll all wear the run-offs of what Destiny's Child didn't want to wear. There's got to be some of those outfits around somewhere. But, no we got to do that for this charity show called Chime For Change.

F: I was there! I saw Beyoncé and I almost cried.

Alana: Oh, I cried.

Danielle: I cried. I didn't almost cry, I cried. I couldn't hold my tears.

Este: 'Halo'? That song. I can't deal with it.

Alana: But we got to pick out clothes, and we saw that there were two dresses and a suit and it was like pierced weird snakeskin. I don't think it was real snakeskin, it was a print, but we were like, 'We gotta do it.'

Danielle: It was almost like Halloween for us.

Alana: I think it goes back to childhood when our mom would dress us all in the same dress at once, like when we would go to a wedding or something we would all have the same dress.

Danielle: We would have to.

Alana: Which is weird because it's only cute for the outside people. It's not cute for you.

Danielle: And we had our hair braided, we had our hair down to our knees. So we all had our hair in braids, we literally looked like 'Little House on the Prairie'.

F: Your mum should make your dresses now.

Este: Oh my god, she would. She would. If she didn't have a day job. We should wear Canadian tuxedos.

Danielle: I'm all about the Canadian tuxedo.

Este: Jean-on-jean-on-jean.

F: You should totally do it. Then you can be the new Destiny's Child.

Alana: No one can be the new Destiny's Child.

F: You can!

Alana: Don't you say that! Every time you say that, an angel dies!

F: I've just noticed: someone is offering cock.

Alana[reading graffiti]: 'Call Adam for cock.'

Danielle: That's a very American thing. He's totally pulling an Este, that guy.

Este: I did that at the iTunes Festival [the bassist gave out her mobile number when Haim supported Ellie Goulding last year]. I wasn't expecting anyone to watch our performance. Then slowly but surely I was getting more and more text messages and I was like, "No! It's on YouTube!" Now I get 200 texts a day.

Danielle: But it's the best thing ever, because now everywhere we play, we have people we can meet and hang out with, which is really cool.

F: So you didn't change your number, then?

Este: No, I've had the same number since high school. I'm not going to change my number.

F: What's the weirdest thing you've had sent to you?

Este: Nothing weird. The only thing that I've gotten is one guy asking whether I could sing their girlfriend a song at a show, but he didn't get back to me on what song he wanted me to sing. I texted back, like, 'Okay', but he didn't tell me what song. I don't think he expected anyone to text back. I was like, 'What song?' and he never got back to me. I totally would have serenaded your girlfriend, bro!

F: You're playing the iTunes Festival again this year, aren't you?

Este: Yeah, it's on Saturday.

Danielle: Yeah, we're headlining it this year – it's scary! Lady Gaga, Justin Timberlake, Arctic Monkeys…

F: Well, you're on that level now apparently!

Danielle: We're definitely not, that's what's funny. It's kind of weird that we're doing this thing. I feel like the new kid in high school that goes up to the cool kid table, like 'Hey guyth! My locker's next to yourth! Can we be friends?' Then the cool kids will look at me like, 'Who the fuck are you?'

F: Well, you've already had Arctic Monkeys ask you to do backing, and stuff like that.

Este: That was a flukey thing. I think that came more from the James [Ford] connection. I think James was just like, 'You need some girls? I know some girls. I know some girls in LA that will sing on the song.' They were like, 'Okay, bring them in,' but the timing just didn't work out.

Danielle: We really really wanted to be able to do it but we had to focus on our own record.

F: Are you happy with your record now?

Danielle: Love it. So excited for it to be out. We just want it to be out. We just want it to be released and go on tour.

Este: And now we're writing record two.

F: Already?

Este: Already. Always keeping it creative.

F: What are you doing for the rest of the day?

Haim: (in unison) Sleeping!

F: Are you jetlagged?

Danielle: Yeah, we were in LA for a couple of days, then New York, then Philly and Boston. Germany.

F: You've been everywhere. Is it hard? Is it fun?

Danielle: It's all good, it's just quite…

Alana: Today I woke up and I was like, 'I think I need to sleep more.' There comes a point when you realise that your body can only do so much.

F: Yeah, and your heart starts beating fast, and you're like, 'I'm going to die.'

Alana: Yeah, like, 'Why do I have vertigo? I'm 21, why do I have vertigo?' I'm like a 75-year- old grandma.

Danielle: I think we're going to maybe take a rest. Go shopping.

Alana: Retail therapy.

Danielle: I think my eyes aren't working.

Alana: I can pick out some stuff for you.

Haim's album, 'Days Are Gone', is out on Monday September 2013. Read our review, and buy it here.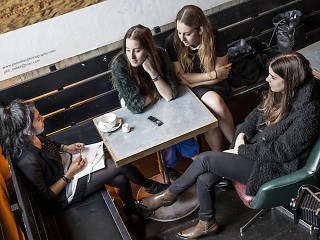 Farhana Begum (@f_begum), 23, is a cultural heritage trainee at Historic Royal Palaces and a full-time cat botherer. She was selected to interview Haim as part of the Time Out Takeover – a special edition of the magazine written entirely by our readers.