Hip in Red Square
Party under Putin? Our Music Editor gives his ten-point guide to Muscovite cool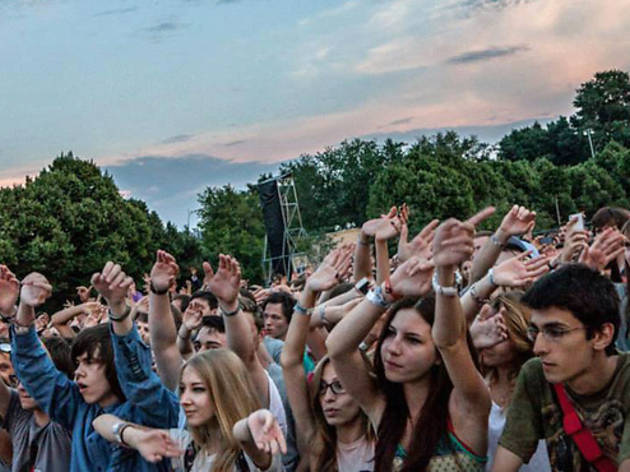 In particular, Russia has its fair share of hipsters. That word might have become a bit of a dirty word of late – synonymous with 'fashion victim' in some parts of the world – but the hipster backlash barely seems to have begun in Moscow, with the city's young people relishing the chance to emulate their New York, Berlin and London counterparts through their fashion, art, magazines and music.
And it's not just a one-way street. Russia has been sending some of its own cultural touchstones back across Europe. At the Manchester International Festival in July 2013, Bristol trip hoppers Massive Attack incorporated a song by '90s Russian punk band Grazhdanskaya Oborona (Civil Defence) into their performance. Also, earlier the same year, US rockers
The National
paid homage to another '90s band, Zvuki Mu, by copying the post-punk group's 'Rude Sunset' video for their single, 'Sea of Love'. There's a rich seam of musical history in Russia that musicians in other countries are only just beginning to tap.
Looking beyond the worrying newspaper headlines, and the grey Soviet architecture, and there's plenty of bubbling optimism and creativity in Moscow. In particular, it's a place where those ideas of louche chic that have soured elsewhere in the world have been preserved.
So, if you fancy a hip holiday in the east, then brush up beforehand on these ten central tenets of Moscow cool. '"Afisha" didn't invent hipsterdom, it just gave it a name,' says Alexander Gorbachev, editor of Russia's most influential youth culture magazine. Moscow has its own edition of global hipster bible 'Vice', but 'Afisha' is the title that shapes trends in the capital. Each issue tackles a particular theme, including – unusually for Russian media – homosexuality. However, politics is not high on the 'Afisha' agenda, and not just because involvement with the government is never a good thing. 'We live this life like Europeans, here,' says Gorbachev. 'Young people, they don't want to be engaged in politics… They despise what's happening politically, but they also despise pathos.'
See also:
Afisha Picnic – the magazine's annual music festival, headlined by Blur in 2013. Joy Division, The Smiths, Gang of Four – the legacy of these bands is being carried on by Russian acts like Motorama. This wonderful five-piece's take on driving, minor key rhythms has been heavily influenced by the artists they read about in 'NME', yet still sounds distinctly Russian – telling tales of forest sanctuaries, and not just of urban decay.
See also:
Trud – the first Russian band to play at hipster music festival Primavera Sound. 'We have a big problem in that people are copying a lot of sounds, and they've forgotten that they're Russian.' So says Mikhail Rezvan, one of the founders of Moscow-based internet radio station Follow Me. 'Only Russians can make Russian music,' he affirms. However, in the electronic sphere, there is a truly original movement stirring. Russian synth-pop sounds different simply by virtue of the fact that Soviet-made synthesisers – usually Alisa or Polybox models – have their own sonic quirks for vintage-loving musos to geek out to. Tvorozhnoe Ozero, in particular, makes haunting, grainy pop, inspired more by old Tarkovsky sci-fi films that any western influences.
See also:
The Museum of Soviet Synthesisers
. This online resource is a treasure trove of information, photos and sounds. In Moscow, Solyanka (Solyanka Street, 11) is where you dine, drink and dance. This out-of-the-way hang-out – housed on the first floor of an inauspicious apartment block – covers breakfast (an excellent full English) cocktails, and cutting-edge electronica. The music blasts out of the sleek venue's incongruously massive Funktion One sound system until the very early hours. Solyanka's music programmer is Sasha Rozet, who used to promote events in Stoke Newington basement venue, The Waiting Room. 'The last few years in London I was quite bored already,' he admits. Now firmly embedded in the Moscow party scene, he specialises in flying across emerging UK talent to make their Russian debuts at the club.
See also:
Swan Lake – Solyanka's sister venue in Gorky Park, for good Thai food and partying until 5am. Strelka institute for media, architecture and design (14, building 5A, Bersenevskaya Embankment) is the Moscow equivalent of the ICA. It's a cultural hub that also incorporates a plush bar, and has a courtyard where cutting edge music events take place throughout the summer. The number of media agencies in and around the venue on Red October Island means there are usually a few high-stakes meetings happening over Strelka lunches. Come back at night for dancing until late with Moscow's beautiful people.
See also:
Gypsy – this club along the road from Strelka is where to go if you're among the really, really beautiful people. Or the really rich… Gorky Park has undergone significant regeneration over the last decade, and is now awash with bright young things enjoying the gardens, strolling past the Soviet space shuttle that's kept as an exhibit and enjoying the area's innumerable restaurants and bars. Gorky Park is home to the excellent Subbotnik festival (see below) as well as The Garage – the contemporary art gallery owned by Roman Abramovich's wife Dasha Zhukova.
See also:
La Boule. A twee-as-you-like Gorky Park bar, outside which you can play that most French of pastimes, boule (aka petanque). In 2013 the first instalment of this Gorky Park festival featured a thick slice of the Glastonbury line-up from the same year. Sheffield smoothies Arctic Monkeys headlined, with soul queen Jessie Ware, jittery indie-poppers Foals and angsty post-punk radicals Savages also on the bill. Cleaner and more fashionable than many UK festivals-in-fields, Subbotnik is nostalgic in the sense that it celebrates Russian communality ('subbotniks' were days of unpaid labour, often for mass spring cleaning sessions), but also strikingly contemporary in its choice of bands. It's a festival done properly, with an admirable ethos: great music, minimal fuss and Muscovites coming together.
See also:
NME's review of the 2013 event
. In London, you'd expect a 'warehouse party' to be a pretty grubby affair. In Moscow, however, the city's old industrial spaces are also its most charming arts centres. Creatives have sanded off the rough edges and installed public art, decent facilities and swanky bars. Case in point: Flacon (Bolshaya Novodmitrovskaya St, 36), a painfully cool complex with a swimming pool, and a summer series of music festivals touting new bands.
See also:
Winzavod (4th Syromyatnicheskiy Lane, 1) – another repurposed factory complex dedicated to contemporary art. It's notable for the sculpture of a furry crocodile riding a furry horse that sits on a plinth in its courtyard. Forget Facebook, Vkontakte is the social network in Russia, and the best place for researching music. The company hit the headlines in 2013 when they offered Edward Snowden a job. Pavel Durov, the founder and chief executive of Vkontakte, proposed that the whistleblower come work for the company. 'We invite Edward to St. Petersburg, and we will be happy if he decides to join Vkontakte's star-studded programming team,' Durov posted. 'I think Edward might be interested in working on protecting the personal data of millions of our users.'
See also:
Motherland
– a VKontatke group for lovers of Russian music.
Time Out Moscow
is, obviously, the best place for finding out what's going on in the city, but the magazine has also gone a step beyond by laying on their own entertainment – specifically a cocktail bar at the summit of a skyscraper. Head to Bolshaya Sadovaya, 5, and ride the lift to the top, then enjoy drinks and food inspired by different Time Out franchises around the world. Recommended is the T Elliot cocktail – a thoroughly British drink inspired by Time Out's founder, Tony.
See also:
Mayak (Bolshaya Nikitskaya, 19) – a journalists' drinking den, with cheap wine and dancing on tables when it gets late enough.