Herbie Hancock interview
The jazz legend talks Miles Davis, keytars and the US election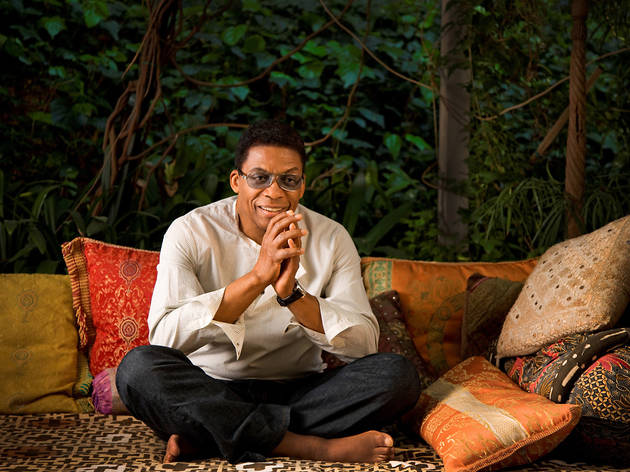 How would you define jazz today?
'Well, jazz has been defined in a lot of different ways. One thing that sticks in my mind is that jazz means freedom and openness. It's a music that, although it developed out of the African American experience, speaks more about the human experience than the experience of a particular people. You know, like it's ability to take sometimes the worst of circumstances and challenges of life and turning them into something of beauty and creativity. So it has continued to evolve over the years.'

You've been playing for more than fifty years so will know better than most… were there really any 'good old days of jazz' back in the day?
'Back in the day for me was a great time in my life - I was in my 20s. Most people refer to their experiences in their twenties as being a highlight in their life. It's a period of time where you often develop your own way, your own sound, your own identity, and that happened with me, when I was with a great teacher – Miles Davis. But these are great times too. I mean I could point to any of the five decades I've been playing in as having fine experiences; many of them have been transformational.'
Talking of transformations, you have been through many in your career, taking risks to explore new projects. Do you think you have to take risks to become successful?
'Yeah. I think risk-taking is a great adventure. And life should be full of adventures. If you wanna go through life skating along when everything is just nice and just pleasant it's gonna be a very dull life – and that's not the kind of life I want to have. How can you learn courage if you haven't taken chances? If you haven't put yourself out on a limb. That's what makes things exciting, when you try things you haven't tried before and do things that you believe in, even if nobody else does. Figure out a way to make it work - that's how you become a winner.'
Your gig in London this week has been billed as your first ever solo gig, why has it taken you so long to perform solo?
'I've never really been interested in doing a solo piano tour. Even this isn't just acoustic piano. It's acoustic piano and synthesizers, two computers, four or five iPads and I'm using a vocoder on some songs and also using what some people are calling a 'keytar' - a strap on keyboard. For me its very exciting because technology has evolved so much over the years that things you can do with the technology that I couldn't even dream of back in the '60s or '70s. So its very exciting.'
Will you be taking songs from your back catalogue and just reworking them for that technology?
'Yeah, there are some things I will be playing that my fans will be familiar with, but with maybe a slightly different treatment. I'll also be able to create some things just on the spot. So they can watch improvisation on various instruments with various sounds and various ways to manipulate that sound, in a fresh way every night.'
How are you using the iPads – instrument apps?
'Some of them are like that, but, for example, one is called Omnisphere and that is an instrument app. But also I'm using the iPads to control some of the instruments that are in the computers. Because I am bringing two computers, an iMac, a Mac mini and two screens for those. But I have had some people design some interfaces on the iPads that can make it a lot easier for me to know where I am and know what the possibilities are at any given moment.'
When you are in London have you got favourite places you like to go or things you like to do?
'I hadn't even thought about that. Right now we're still putting the final touches on some of the new designs in the software. I hired a guy to write these programmes and we are still developing things. I only have a few days before they snatch the equipment away and prepare it to send to Europe. But we're still putting the final touches on some of the stuff. So I really haven't had any time to think about anything else except for playing the concert when I get to London.'
You performed at President Obama's inauguration in 2009 – what are your thoughts on the upcoming election?

'Well I hope and pray that he will be re-elected again. I think Obama did not only the best that he could, but I don't think anybody could have done any better with what he had to work with. Much of what he did, the repercussions will be felt within the next four years, so if we elect somebody else like Romney, then all of the work that Obama did will be almost wiped away. I don't wanna see that happen because I think we're in an as good a situation as we could possibly be for getting ourselves further out of this mess.'

You are a UNESCO Goodwill Ambassador – how do you think music, jazz, culture can affect change and make a real impact on the endless mission for world peace?

'I'll give you an example. On April 30 of this year, we had three celebrations for International Jazz day, one was at Paris at the UNESCO headquarters, one was in New Orleans in the morning of April 30 and there was a sunset concert at the United Nations General Assembly in New York. The feeling at the United Nations was a sense of being elevated. It was such an amazing concert, it really worked and it really brought people together, you got a sense of global harmony in that building. It really was great because we worked with people from various cultures. We had musicians from India, some from Hungary and various other places throughout the planet and it was an amazing event. So, it was very obvious that music affected the hearts of the people. So that's one concrete example. Musicians have travelled the world bringing people together in a very harmonious fashion. One of music's functions can be entertainment, but that isn't the only function that it can have. It can also affect the human heart and it can encourage people and it can heal people. There's data that can attest to that. This concept of being a goodwill ambassador in my particular case fortunately doesn't require that I confine myself in the position to music either. I also wanna have symposiums about conflict and misunderstanding and about how we very often demonise cultures and ideas outside of that which comes from our own and that is what can create problems. Anything that I can do to encourage the elevation of the concept of desiring to become a global citizen is kind of the goal and vision that I have in this capacity as goodwill ambassador to UNESCO. It's a great organisation and what I like about it is that it really is about science and education and culture.'

It must be incredible to be involved.

'Yeah. I feel very honoured that I was given this position and I really take it seriously. I look forward to more ways to bring people together and work toward the development of a culture of peace.'