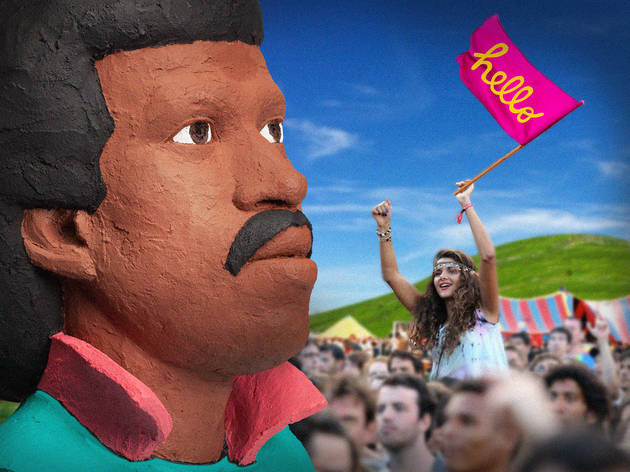 Lionel Richie interview
A team of artists are aiming to create a giant model of Lionel Richie's head. While fans wait for its arrival, we get an insight into the real thing from the man himself
Last month Time Out got behind a truly worthy cause – a Kickstarter campaign to raise £5,000 in order to build a three-metre-tall version of Lionel Richie's head (above). Sure, we said, we can get down with that. Especially as, once finished, members of the public would be able to go inside, pick up a phone at its centre and hear Lionel's song 'Hello' played down the line. The inflatable head – devised by art collective Hungry Castle – is due to make its first appearance at Bestival in September. But what about the real thing? We got in touch with Lionel himself and asked him for a tour…

Hello Lionel. We're excited to see the model of your head, but could you show us around your actual mind first?
'Oh, that could be dangerous.'

How so?
'There's a great toast someone made about me: Here's to Lionel Richie, a great group of guys! I'm a Gemini, so who I am depends on what day it is.'

Okay… So who's in there at the moment?
'Wherever I travel, I like being in that particular culture. So there's the Californian. There's the East Coast New Yorker. There's the Asian version of the brother. And then there's the Brit trapped in a black man's body. It's really an interesting mix of folks.'

You're missing something about Britain there Rich, but hey, we'll join the party. What's on the stereo?
'"Easy" would be the soundtrack. I love relaxing, but I also love the pressure of having 365 days a year booked with something to do. It makes no sense at all… I want to be out of it, but I want to be in it. I have a problem enjoying what's now, because I'm worrying about what's next. Being a Gemini I get bored very easily. If one day I woke up and I thought: I can't think of anything else to do, that would be dark.'

What else makes you nervous?
'If I walk into a place and someone says, "Oh my God we have Lionel Richie here tonight. Come on up and sing 'Hello'!" Hey, wait a minute! It takes me out of my comfort zone, for sure.'


Have you tried boozing?
'Normally if I do perform I don't drink. It's not the ideal thing to keep the instrument happy. But four glasses of champagne in, and I can talk Swahili to you babes. And I have a vicious, VICIOUS butt dance that I do after three or four glasses of tequila.'

Interesting. When are we heading to the club, then?
'What people don't get is that, if you're in the music business, and you want to [relax], you don't put on drums and bass. The answer is, no I don't want to go to a club. Because I live in a club! It's like asking a doctor: "Do you want to go hang out at the hospital for your day off?" No!'

Sorry we asked! If there really was a phone inside your head (as there is in the model) who'd be on the other end of the line?
'Probably my mother. You don't really realise the value of having people around every day until you don't have them any more. So it would just be one of those relaxing conversations with someone who represents your comfort zone and who knows you better than anyone. My mother and father passed away, and afterwards you just miss the simplicity of "How are you son? Are you okay?"'

What about your own mortality? Would you have your head cryogenically frozen, for example, to return in the future?
'The Lionel Richie head being toured around the world? No! I don't want to be the only shrivelled-up guy in a world where they've probably all taken a pill to keep them clean and fresh. I would be the forever head that's not looking very well. I think when it's time to go it's time to go.'

After Time Out alerted Richie to the cranial construction project, the star asked for the head to be at his British Summer Time performance in Hyde Park, but, sadly, it won't be ready in time. The good news is that the campaign's surpassed its target, meaning the big bonce will be definitely be on UK soil this summer. If you see it, say 'Hello' from us.

Support Time Out
We see you're using an ad-blocker. Ad revenue is Time Out's main source of income. The content you're reading is made by independent, expert local journalists.
Support Time Out directly today and help us champion the people and places which make the city tick. Cheers!
Donate now