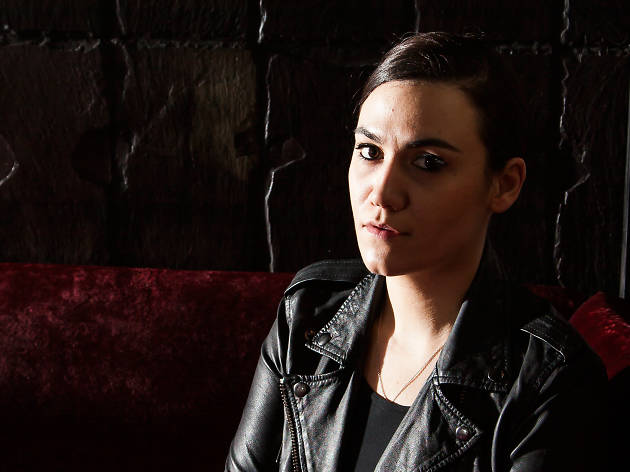 Nadine Shah on 'Fast Food', sexism and London's housing crisis
Her seductive second album could soon make Nadine Shah a household name – as long as she isn't priced out of London first. We meet the outspoken Tynesider
'What do you mean, I'm not famous? I've got a fucking blue tick on Twitter!'
Tall, dark and dressed from head to toe in black, Nadine Shah looks every inch a rock star as we sit down at the suitably gothic bar/curiosity shop The Last Tuesday Society in Hackney. She's a hypnotic presence on stage, too, singing dark and sweepingly beautiful songs backed by clamorous alt rock. She's attracted endless comparisons to PJ Harvey and Nick Cave, and now she's about to release her second album 'Fast Food': a bold and gorgeous record which deserves to win her hordes of new fans.
So things have changed since her parents (one Pakistani, one Anglo-Norwegian) used to drive her around the country from her home in Whitburn to take part in tacky teen talent contests. Back then she was 'obsessed with fame' and in love with Whitney and Mariah. Then she discovered Nina Simone and moved to London to become a jazz singer. After a spell at Camberwell College of Art, she teamed up with producer Ben Hillier (famous for work with Blur and Depeche Mode) to write her debut album 'Love Your Dum and Mad'. Now she's a rising star – though she doesn't talk like one.
'I have verbal diarrhoea and a mouth like a fishwife,' Shah warns me, and in the next 40 minutes she does an uncanny impression of Tim Westwood, calls one of the UK's biggest festivals 'shit' three times, and confesses to getting plastered in Ikea. Ladies and gentlemen, Nadine Shah!
You've spoken before about the influence of the Urdu music your father listens to. Have you always loved that sound?
'No, I used to hate that bloody music because my dad would play it in the car! I don't speak the language and I hated being Pakistani when I was younger: I was the closest thing to the foreign kid in my year and there was a bit of racism, so I rejected every part of my dad's culture. But I love that music now. I feel lucky to have been privy to two cultures.'
'I've been insanely paranoid, insanely jealous and fucking mean'
Tell me about the new album.
'"Fast Food" is a collection of portraits, essentially, of people I've loved or do love. I'm nearing the end of my twenties, and I'm so much more relaxed in relationships now – whereas previously I've been insanely paranoid, insanely jealous and mean: fucking mean to people.'
So these songs are all autobiographical?
'Yeah. My lyrics aren't laced in metaphor; they're in plain speak. So when I'm asked to describe songs, I'm like: "Really? Have you heard it?" It's called "Divided" – "your city and my city" – it's about a long-distance relationship, and I'm a bit upset about it. Like, do I really need to go into more detail?'
Is it uncomfortable, exposing yourself like that?
'It's so weird, because the first album is about the death of two very close friends – but I found that easier to talk about. Now it feels like you're hanging out your dirty laundry, and these people that I've written these songs about all know it's about them. One of my ex-boyfriends rang me straight away.'
It'd be easy for an album about your exes to be an emotional wallow.
'I didn't want it to be. There's one recent album which describes perfectly what I didn't want to do: there's a wonderful female artist that I think is a brilliant talent, but she made this album and every single song is so defeatist! She's a really strong, cool girl, but on this album it's just so pathetic.'
So why 'Fast Food'?
'Because the album is about short-lived, intense love affairs, which are really wonderful but really bloody bad for you. And because of how the album was made: the first album took so long, partly because we had no record label so I had to steal time in between Ben Hillier's other projects, but this time I spent a really intensive period of being a total hermit at home, writing songs and drinking loads of gin. Then we made the album within about two months.'
What was that like?
'It was exhilarating. I think a lot of records sound far too polished, and I don't bother wasting time labouring over little flaws. I'm not purposefully trying to make it sound raw, but if we've got a particular sound and there's the odd bit of distortion, I'm all for it.'
'People expect a girl in a pretty little dress playing a ukulele'
And what's Ben Hillier's role?
'Well, Ben and I: it's 50/50, if I'm going to be completely honest. The melodies and the lyrics are all me, but Ben adds this character to the song that nobody else would have. It's a complete collaboration. He's like a partner in crime.'
So will you work with him for the foreseeable?
'I'm going to work with Ben until one of us croaks it. There are so many producers that I've met who, as soon as they hear my voice, they want to do the Adele thing. They don't get that the vocal isn't the be-all-and-end-all.'
Is that just part of the shitty deal that women get in the music industry?
'I'm quite lucky, because I only work with really fucking cool people and I've never been exposed to sexism in music that I know of. But one thing that irritates me is that because my band name is my name, people assume that it's going to be a girl in a pretty little dress playing a ukulele. We're a band, we make a big sound, but I think sometimes the nature of my name has held me back. "Female solo artist" has now become a genre, which is mental. It's pretty appalling, considering the plethora of amazing women musicians out there.'
You've lived in London for over a decade now. Will it be your home for ever?
'I've got this real frustration with London. I was paying a huge amount of money for this flat like a smack den in Stoke Newington, so I went to Tottenham. But you feel at a certain point that London's taking the mick out of you. It's the first time ever that you've got young creatives leaving a capital city. I've made it my home, so it's quite sad.'
Tottenham's still affordable though, right?
'Gentrification hasn't set in yet. The closest thing I've got to a zhushy café is Ikea. Alcohol is really cheap too. Me and my housemate have gotten drunk in there a few times, and we bought loads of stuff – two trollies full – and forgot one. So don't get pissed in Ikea.'

'Fast Food' is out on Monday April 6.
Support Time Out
We see you're using an ad-blocker. Ad revenue is Time Out's main source of income. The content you're reading is made by independent, expert local journalists.
Support Time Out directly today and help us champion the people and places which make the city tick. Cheers!
Donate now