Phoenix interview
The French Grammy-winners talk about Jägerbombs, nudity and why R Kelly can't actually fly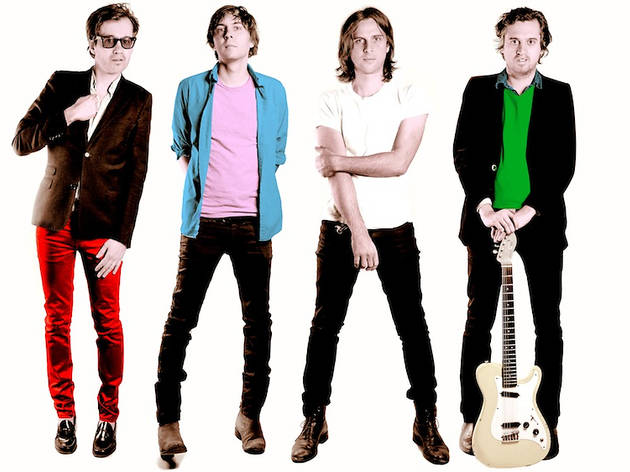 When Phoenix's frontman Thomas Mars and guitarist Christian Mazzalai went to La Route du Rock in Brittany together aged 14, it was to be their first and last festival. Well, as punters at any rate. 'That's the only time we went and we've never been back,' laughs Mars backstage at the
Shepherd's Bush Empire
, where the French foursome are due to play out their fifth studio album,
'Bankrupt!'
. 'We stayed two days and then we came back home. We didn't like camping,' agrees Mazzalai. 'Now it's different – we're on the other side of things.'
These Versailles boys have 17 festivals lined up for the rest of the year – a lot for a band who aren't that into them. But when you're this in demand, it must be hard to say no. As well as winning them Grammys, Phoenix's electro-rocking pop sound has provided soundtrack music for both the effortlessly cool 'Lost in Translation', and the effortlessly uncool 'Shallow Hal'. They even had their song '1901' featured during Super Bowl XLV. They're able to make their own demands, of course, including asking R Kelly to travel 2,000 miles to perform on stage with them. 'It will be hard to get stranger than that,' Mars says, still a little dumbstruck over Phoenix's headline show with the R&B star at California's Coachella festival in April. 'R Kelly sums up a lot – it was the weirdest, strangest, most stressful and best experience. It was best of all because he doesn't fly.' The man who spent the majority of 1996 persuading people he believed he could fly refuses to step foot on a plane? 'He only drives his bus,' a smiling Mars assures us. 'He doesn't like crowds.'

Phoenix have found ways to keep things exciting as they traipse the world. 'We are lucky enough to live in a bubble at festivals. It's very luxurious,' Mars says, while Mazzalai adds, 'We have our own little camp in our tour bus.' A haven on wheels where they don't necessarily have things they would miss – 'because it's nice to miss them' – but everything they want. 'Stuff that represents the opposite of a festival,' Mars puts it plainly. 'Like the opposite to a Jägerbomb – a dry martini.' According to Mazzalai, they don't even have shots. 'No,' a puzzled Mars interjects. 'I don't know how you call, er, these pants without legs.' Oh, shorts? 'Yes,' laughs Mars, 'but we never have shots either.'

So, it's pantalons all the way for the stylish Frenchmen, who frankly find other people's festival attire rather gauche. 'We are spying,' jokes Mazzalai. 'This is very French – we have cafés made just for people-watching,' explains Mars. Specifically, it's revellers' barely-there outfits that bother the singer. 'When we grew up in Versailles, people dressed very severely. At festivals [the norm] is worse than nudity. If the person was just to be naked, you'd be less shocked.' We'll take that as meaning: sometimes it's better to just let it all hang out.
See Phoenix live
Much-loved club night HDIF has returned home to The Phoenix in the West End after a couple of years' wandering. The dancefloor at this London indie institution is still packed with dapper crowds who dig grooving to the wonderfully nostalgic soundtracks on offer. Founder Ian Watson and guest DJs from bands spin the tunes. Get free membership by emailing membership@howdoesitfeel.co.uk, and dance as if your vintage vinyl collection depended on it.
Read more
This Phoenix, Arizona-born singer-songwriter brings her indie-pop and folk numbers across the Atlantic to the UK's stages.
Read more
See all Phoenix events
Sponsored listing
Thousand Island
Thousand Island is a new self-contained music venue and late, late night club, in what used to be Upstairs at The Garage on Highbury Corner. Following a recent refurb, The Garage – a live music venue that's been hosting major gigs since 1993 – is now hosting up-and-coming artists, as well as club nights in its intimate, upstairs space (with added mirrorballs on the ceiling). And it's within easy reach of Highbury & Islington station for when you need to stagger home on the night tube.
Venue says: "Miranda Lee Richards at Thousand Island on June 23. Get your tickets now!"