Prince: legend, icon, Time Out cover star
Bid farewell to one of music's coolest motherfuckers with a look through the Time Out archive
1986: Purple Reign, Take One
In August 1986, Prince arrived in London to play three nights at Wembley Arena with his band The Revolution. It was the singer's first show here in five years, and we marked the royal visit with his first Time Out cover. Inside the magazine we went for the headline 'Purple Reign' – which probably wasn't even that original 30 years ago.
As our writer Geoff Brown – later the author of the book 'The Complete Guide to the Music of Prince' – explained, he had history with the diminuitive star. Brown had interviewed Prince on the occasion of the singer's first UK show, when he stripped to a bikini and humped his guitar at the Lyceum in June 1981. Time Out staff were on strike that summer, which meant (d'oh!) that we'd missed Prince's British debut. But Brown vividly remembered meeting the singer: 'The handshake was like having someone place a glass flower in your fingers… He totally avoided eye contact and spoke in a voice which barely rose above a whisper. He did not like being interviewed.'
Another thing: 'He does not strike one as a person who'd be content to be a mere cult figure.' In 1981 Prince had been 'relatively unknown both sides of the pond', but by 1986 he was a major star and had practically stopped giving interviews. Not that that prevented us from slapping him on the cover, but it did mean we could call him a 'hyper-active quasi-dictator', dismiss his album 'Around the World in a Day' as 'deeply uninvolving, flimsy music' and refer to his role in the 'Purple Rain' film as 'more than a little preposterous' – without risking the cold purple shoulder.
And if Prince wouldn't talk to us, there was always Steven Berkoff. The director, writer and Hollywood villain wrote a piece for Time Out about his time shooting the film 'Under the Cherry Moon' with Prince. 'He was prettier than I had imagined,' Berkoff recalled, 'with an immensely high forehead broken down with cascades of little curls… He appeared to trot, since he wears platform shoes… If Prince doesn't like [a shot] I can always tell. I hear the clattering of high heels on the marble floors, followed by this perfectly formed figure clutching the script.'
1988: Prince of Hearts
Two years later, Prince was back on the cover and Geoff Brown was (affectionately) laying into him again. The singer had just released 'Lovesexy', his fifth album in as many years. Our verdict? 'Prepare to be profoundly disappointed.' On the other hand, Brown said, the 'Sign O' the Times' concert film was a winner and confirmed Prince in 'the most prolific and potent career in popular music in the late '80s'. Still no interview, though.
1990: Nude Awakening
Prince was back at Wembley, playing an astonishing 14 dates between June and August 1990, and Geoff Brown was back in Time Out bigging him up. Prince was 'the single most gifted popular music-maker of his generation – far more influential than pop icons like Madonna and Michael Jackson'. And still no interview was forthcoming. Never mind: his new stripped-back live show would deliver the goods, wouldn't it?
1993: Purple Reign, Take Two
Oh dear. 'One of the most sterile, perfunctory shows in living memory' was how we described the 1990 Wembley residency in retrospect. Not only that but, as Richard Guilliatt reported from the singer's live shows at the Harlem Apollo, by 1993 Prince was dismally failing to keep up with the hip hop kids.
'The Minneapolis midget seems anxious to prove that he still has a place in the pop firmament that's commensurate with his enormous ego,' wrote Guilliatt under the headline 'Purple reign' (again). But his new show had fallen flat. Maybe it was the ludicrous plot including 'Arab goons who appear at one point from the audience wielding handguns'. Or maybe it was the 'club-footed choreography'. Either way, it seemed that Prince was past it. It seemed we'd missed our chance ever to interview him.
1995: Slave to the rhythm
Finally – a Time Out interview with Prince! Or should that be an interview with… Ƭ̵̬̊? Prince had changed his name to a symbol as part of a dispute with Warner Brothers over the ownership of his songs, giving Time Out's design team a major headache as they tried to figure out how to lay out our first chat with The Artist Formerly Known As Prince.
Peter Paphides met the singer backstage at Wembley as part of his press offensive against Warner Brothers. 'I've been summoned here for a reason,' Paphides wrote. 'Ƭ̵̬̊ is using Time Out to tell everyone how oppressive his record company is.' And part of that was navigating the whole name issue. Why had Prince suddenly started doing interviews? 'You'd have to ask Prince,' the singer snapped. 'You're not talking to Prince now. You're talking to me.' And how as the new name pronounced? 'It isn't pronounced. It just is.'
The whole name thing might have seemed a bit ridiculous – major papers had started calling the singer 'Squiggle Man', and (d'oh! again) we still called him 'Prince' on the cover. But the rebirth had a serious dimension that not many writers picked up on. 'If he's making you question the ownership of intangibles like music (and the political implications thereof),' Paphides wrote, 'then Ƭ̵̬̊ deserves much respect.'
From guitar-humping stage antics to thought-provoking political statements in 14 years: Prince/Ƭ̵̬̊ had come a long way. We never managed to pin him down for another interview, but we followed him right through to his last London shows in 2014. In our final Prince review we called him 'one of the most accomplished, intriguing and impactful musicians currently on this planet'. And then the inevitable, time-honoured sign-off: 'Long may the purple reign.'
Read our farewell to another music icon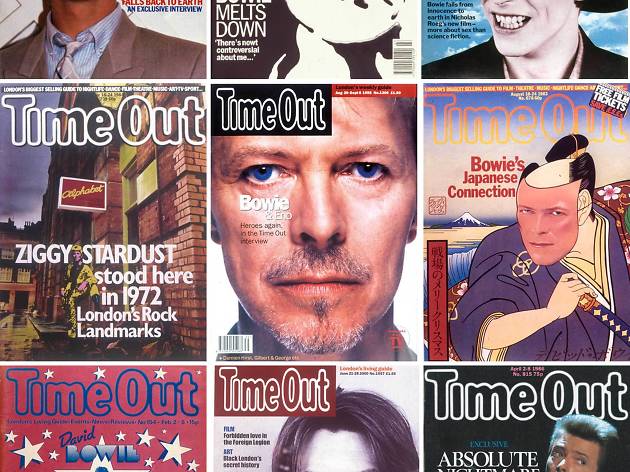 Ever changing, eclectic, irreverent and always one step ahead: in so many ways, David Bowie was the quintessential Londoner. His death this week sparked sorrow and tributes across the world but it was especially poignant for London. We pay homage to one of our most treasured Londoners.
Support Time Out
We see you're using an ad-blocker. Ad revenue is Time Out's main source of income. The content you're reading is made by independent, expert local journalists.
Support Time Out directly today and help us champion the people and places which make the city tick. Cheers!
Donate now