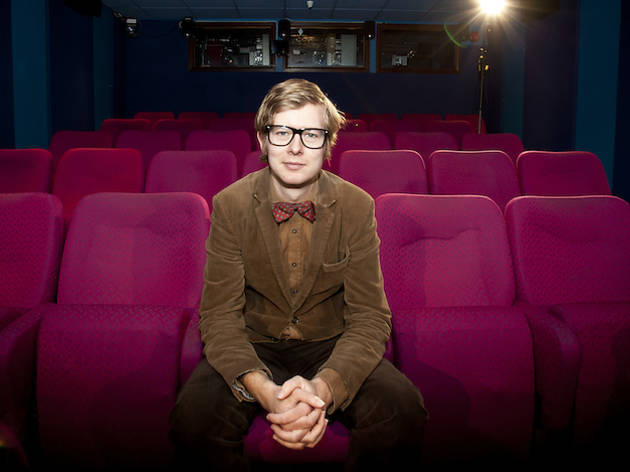 Public Service Broadcasting interview
This London duo are taking retro music to new and exciting extremes. We enter their world of film clips and corduroy...
Here are two things you might not know about the sound of the future. One: it's being made right now, in London, by a corduroy-wearing geek and his drummer mate. And two: a lot of it is actually the sound of the past.
Intrigued? So are many others who've already picked up on the appeal of Public Service Broadcasting – a band, history project, and live cinema show all rolled into one. The duo, J Willgoose Esq and Wrigglesworth (who only has one name, 'like Pele'), take audio samples from old documentaries and public information films, and layer them over their own zeitgeisty post-rock and electronica. It could have been just the sort of 'cool' academic project that results in something worthy but terrible, but the sound of PSB has blitzed the current London music scene with its energy and originality. YouTube hits for their single 'Spitfire' have topped six figures, while the band has had to add a second London date to their upcoming tour due to demand.
What's the next step? The Roundhouse? Brixton Academy? No – a tour of primary schools.
'I thought it'd be a good idea to do five or six primary schools up and down the country…' says Willgoose, when I meet him in a screening room at the BFI's Fitzrovia archive… 'because boy bands do that quite cynically for secondary schools. Primary schools are better – not such a critical audience.'
It makes sense that the project's mastermind might prefer classrooms to decadent backstage parties, given how much of his own time he devotes to his homework. Willgoose trawls archives such as the BFI's, looking for quirky slices of the past, turning up wartime propaganda reels, crackly radio broadcasts and hyperbolic public safety films. Still, the tone of his gigs is 'rock out', rather than 'geek out': 'The weighting is definitely on entertainment,' he says. 'I don't want people coming along to the gigs with notepads. There won't be a quiz afterwards or anything.'
The pressure's off, then, and fans are free to enjoy the music which has been inspired by the archaic footage. Especially archaic, says Willgoose, in the case of 'Signal 30', a track based on the 1959 US road safety film of the same name: 'It's not a film you should ever watch. It's real-life car crashes, with victims still dangling out of doors or welded to dashboards. But it was so notorious, and over-the-top, that I thought it could start the song.' Equally, the brilliant 'Spitfire' uses lines from 1942 pro-British war movie 'The First of the Few'. But it's not about the RAF smashing Jerry out of the sky: musically it's inspired by '70s German bands Neu! and Kraftwerk.
'I used a krautrock beat to undercut any rampant nationalism that might be inferred,' says Willgoose. 'It's really not that kind of stuff. We're not suddenly going to inherit a skinhead crowd. And if we did, we'd stop playing.'
Aside from the EDL, there's one other person not welcome at Public Service Broadcasting gigs – Matt Smith. Willgoose claims that the current Doctor Who stole his bow tie look: 'I've been doing this since 2009. I beat him to it – I can prove it.'
It might seem strange that anyone would want to dress like a geography teacher, but the style suits Public Service Broadcasting's geek chic aesthetic perfectly. 'Cotton corduroy: the fabric of the now generation' goes one song on the band's debut album. It's advice Willgoose has clearly taken to heart.
'Yes, of course. Why would a man not dress himself in the finest cotton cloth money can buy?' he argues. Given how quickly he's updating our idea of cool, we can all expect to be wearing brown soon. And we might save a bit of money…
'These trousers were a bargain,' he boasts. 'Twelve quid from M&S. You can't go wrong!'
'Inform Educate Entertain' by Public Service Broadcasting is out Mon May 6. Buy the album here.
Support Time Out
We see you're using an ad-blocker. Ad revenue is Time Out's main source of income. The content you're reading is made by independent, expert local journalists.
Support Time Out directly today and help us champion the people and places which make the city tick. Cheers!
Donate now