Suede speak about going up against Kanye and writing like Whitney Houston
Brett Anderson and Mat Osman from influential '90s indie outfit Suede are back with a new album and a new film to match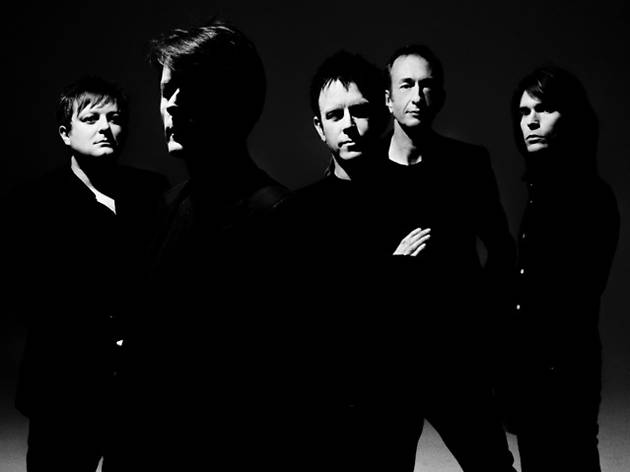 It's one of the defining images of the '90s British music scene: Suede's Brett Anderson swinging his mic and slapping his arse as he tore through unifying glam-rock hits like 'Animal Nitrate' and 'Trash'. Along with his old school friend Mat Osman, Anderson founded Suede as a London student in the late '80s. When Britpop exploded, the four-piece became the smarter, darker, more ambiguous face of the scene. Five albums later, they called it a day in 2003. But Suede have been back since 2010, touring and lately recording. 'Night Thoughts' follows 'Bloodsports' as the second album of Suede 2.0. A brooding, expansive and playfully eccentric record, it nods to the experimentation and orchestral sound of their 1994 album 'Dog Man Star', the last to feature guitarist Bernard Butler.
Suede will be performing the album over two nights in London at the Roundhouse, also premiering a new film made to accompany the album. We met Brett and Mat, both 48, near their homes in west London.

You were up against Kanye West as Saturday night headliners at Glastonbury earlier this year. How was that?
Mat: 'We loved it. We were only there for about three hours.'
Brett: 'It's a bit hit and miss for us, Glastonbury. We've done some crap ones. We did the main stage below REM about 15 years ago, in daylight, and it was terrible. I think we're a much better live band now than we were even back in our heyday. We're on a different level.'
Mat: 'We're also a bit less precious about not playing to our own audience. In the early days we spent a lot of time playing to people who were rabidly obsessive. So it could be strange to go to a festival and it not immediately go off.'
Brett: 'We've got some resilience to that now. We were so used to adoring crowds in smaller venues, it became this little cult. I love playing live now. When we first started I used to be all about writing stuff and the studio, but bizarrely enough as I've got older, I actually enjoy the physicality of playing live.'

But anyone who's seen you play live, especially in the early days, always remembers you going for it hell for leather, swinging the mic lead, slapping your arse…
Brett: 'That wasn't what it was about for me. It was about coming up with the magic in the studio.'
Mat: 'I still think that's the measure of the band for me, the albums you leave behind.'
Brett: 'Of course it is. The live performance is transitory, isn't it? It's a beautiful thing. It's life-affirming – and all that nonsense.'
Mat: 'It's the sex to a record's love, you know what I mean? It's the brief moment as opposed to a lifetime.'
'London is this poisonous, brutal place, but there's so much love here as well'
Last year a 'Mastermind' contestant picked Suede as their specialist subject. Were you watching?
Mat: 'I was. I think he did better than all of us in the band.'
Brett: 'What? I got them all right.'
Mat: 'There was that hard question about who shot the photo of the two people kissing on our first album cover.'
Brett: 'I knew that one.'

Your lyrics are full of images of the city. Does London still inspire you?
Brett: 'I wrote a line about 25 years ago in a song called "He's Dead", and it's "all the love and poison of London" and it's one of my favourite lines. It still resonates with me. London is this poisonous, brutal place, but there's so much love here as well. There's so much inspiration, you can feel the power pulsing through its veins and I love that.'

Did the city feel brutal when you were fighting to get noticed as a student band in the late '80s and early '90s?
Brett: 'We spent three years playing in the toilets of London, in places like the Amersham Arms and the Camden Falcon. Regularly there'd be more people on stage than in the audience. It was a very brutal way to start out. For some reason we stuck at it. Seriously, it wouldn't have happened if we'd been less arrogant, or more sensible…'
Mat: 'Or less talented, that's the other possibility!'

Brett, you've said you always believed you were writing big Whitney Houston-style pop belters when you were writing early songs like 'Animal Nitrate' and 'The Wild Ones'. Do you still feel like that?
Brett: 'Yes. Less so with this new album. But I've always thought Suede's music was quite poppy. The whole indie ghetto thing, especially in the '90s, I thought it was limiting. Pop music is incredibly powerful, even in its most crass form. If you sit in the back of a cab and listen to Magic FM and all those sloppy, sentimental songs, they're beautiful songs. Because they're performed by cheesy artists, they're considered naff. But they still have emotional resonance.'
'We're high art kitchen sink!
Your new album 'Night Thoughts' is more experimental than your last, your comeback album 'Bloodsports' (2013). Did you have less to prove?
Brett: 'We definitely felt like we could do things that we wouldn't have done with "Bloodsports". That was very much about re-establishing the brand of the band, horrible as it sounds. There are echoes of "Dog Man Star", which is our most loved record. But it's a different record to "Dog Man Star", it's a lot harder to pin down.'

The filmmaker Roger Sargent has made a full-length film to accompany the album. How did that come about?
Brett: 'We wanted to make one long film instead of making videos. Partly to reinforce the idea that the album was designed to be listened to as an album rather than a collection of songs. I sent Roger vague ideas about the themes of the album. Lots of it is about family stuff. Kids and parenthood.'

Do you have kids?
Brett: 'I do.'

Are they old enough to listen to your music?
Brett: 'Yeah, I've got a stepson who's 11 and a little boy who's three and has started to play the drums. We often play "Anarchy in the UK" together.'

So you don't buy that line about the pram in the hallway killing creativity?
Brett: 'I just don't believe that. I find there's friction within the most comfortable relationship, and good writing is about documenting friction, documenting tension, for me. Or good Suede writing. And there's always friction to find.'

Are you film fans?
Mat: 'I think Brett's probably the biggest film lover in the band. When we were planning the film for "Night Thoughts", we all went to Roger with lists of films we liked.'
Brett: 'Lots of arty stuff. Lots of Bergman. Things like that.'
Mat: 'Lots of kitchen-sink drama.'
Brett: 'Yeah, '60s stuff. I think the combination of the two is where we meet. We're high art kitchen sink!'
More to explore
Snap up exclusive discounts in London
Time Out's handpicked deals — hurry, they won't be around for long...