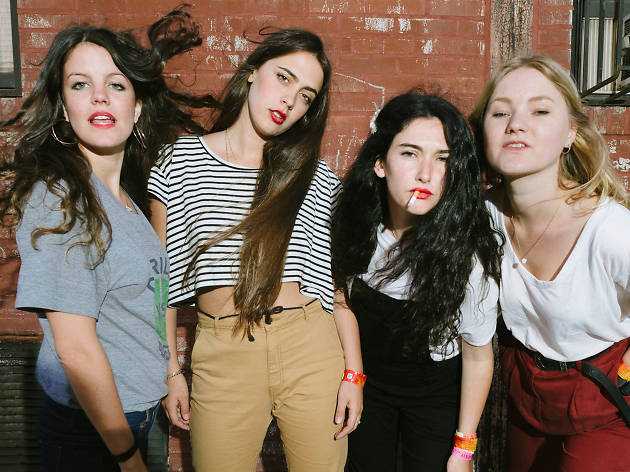 Tell us a story, with your eyes
Ace Spanish indie band Hinds take our weekly examination of the self via a selfie
Hinds' infectious indie rock became a major draw at last year's music festivals, and now the Spanish four-piece (originally known as Deers) have made a debut album, 'Leave Me Alone', that fully captures their sunny DIY charm. Ana Perrote – one of the group's founding singer-guitarists, alongside Carlotta Cosials – tackled our Q&A on the band's behalf.
Hi Hinds. Where do we know you from?
'Rock and roooooooooooooolll!'
What's your idea of hell?
'Last night, on a ferry for 20 hours from Spain to the UK. I puked twice and our bass player once.'
Who or what is the love of your life?
'Donald Cumming, who used to play in The Virgins [the underrated pretty-boy NYC indie band who gave us still-sounds-good-today hit 'Rich Girls' in 2008].'
Who or what is criminally underrated?
'Los Nastys, a band from Madrid.'
What is the all-time greatest thing on the entire internet?
'Google Translate.'
If your computer could talk, what would it say about you?
'I guess it would be happy, because when we write songs we always record ourselves so we don't forget any good parts. So I have tons of videos of Carlotta and me, drunk in her room jamming to weird chords.'
What is your secret talent?
'I'm half french… That's not a talent but it's cool, haha.'
Which emoji sums up your personality, and why?
'We like using the little trumpet with the worm afterwards so it looks like a worm is playing the trumpet.'
What's the best thing you can you cook?
'Pasta.'
God asks you to DJ at the apocalypse. What's your last song?
'Julian Casablancas – "Four Chords of the Apocalypse".'
What are you most excited about right now?
'We just put out our first ever record, and we are on our way to celebrate it in London. We did this two days ago in NYC, and we did karaoke where fans could sing our songs while we played. We love putting on parties!'
What do your parents do for a living?
'They're both doctors.'
What's your favourite place in London?
'A bar called Joe's, around Camden.'
If you had to take a one-way trip in a time machine, where would you go?
'To the moment Carlotta and I wrote our first song.'
Anything else we should know?
'We play Koko on February 18 – come to our party!'
Finally… pull out your phone and tell us a story with your eyes:
Whoa. Deep. Thanks Hinds!
Hinds' debut album 'Leave Me Alone' is out now.