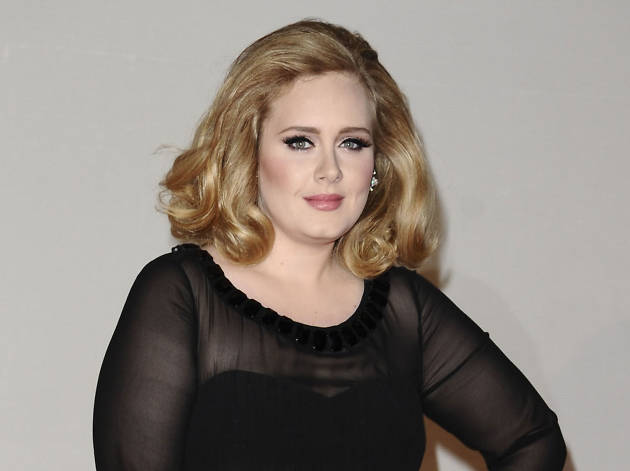 The ten best Brit Award moments of all time
As the music world prepares to celebrate another year of music, we remember our ten favourite moments from the history of the Brit Awards
1. Adele stays classy
In a performance more awash with tears than a back-to-back showing of 'Black Beauty' and 'Watership Down', north London superstar Adele stole the show at the 2011 BRITs. Her spellbinding, stripped-bare version of 'Someone Like You' heralded great things. Sure enough, in 2012 she came back, cleaned up (winning six awards in total) then showed the world her middle finger when her acceptance speech was rudely interrupted by Blur's reunion.
2. George and Elton freak out a Tory
There have been a number of exciting guests invited to The BRIT Awards over the years. The Right Honourable Norman Tebbit is not one of them. But in 1986 it was the then-secretary of state for employment who said, 'I don't know anything about pop music,' while handing statuettes to George Michael and Elton John. They looked as fabulous as Tebbit looked baffled. Theresa May take note, this is what a political car crash looks like.
3. The KLF bow out
Apart from setting fire to a million quid and getting to Number One with a song about Doctor Who, anarcho-pop eggheads The KLF are best known for their antics at the '92 BRITs. They opened the show with a version of their song '3am Eternal' while raking the audience with a machine gun loaded with blanks and announcing: 'Ladies and gentlemen, The KLF have now left the music business.' They were kind enough to leave a memento, however: a dead sheep, dumped outside The BRITs afterparty.
4. Belle & Sebastian tread on Steps
What links 5ive, Steps and Billie Piper? Yes, they're all naffer than a 'Keep Calm and Carry On' iPhone case. But they were also all losers in the race to be voted the Best British Newcomer at the 1999 BRITs. The winners were twee Glaswegians Belle & Sebastian, whose legion of duffle coat-wearing fans had tipped the vote in their favour. When pop mogul Pete Waterman demanded a recount, it was revealed that his boot-scootin' band Steps had lost by just 71 votes. Tragedy!
5. Jarvis and Jacko
One of The BRITs' most famous showdowns pitted the King of Pulp against the King of Pop. MJ was in his 'floating giant statues down the Thames' imperial phase, 1996, and was regaling The BRITs with an overblown rendition of 'Earth Song' when Cocker took to the stage to make wafting motions in the general area of his bum. Jackson said that he was 'sickened, saddened, shocked, upset, cheated and angry'. Cocker said: 'I was just feeling a bit ill because he was doing his Jesus act.' Let's hope Jarv never witnesses a Kanye gig…
6. Brandon Block-age
It takes some doing to get so wasted you think you composed the soundtrack to 'Notting Hill'. This, however, was London DJ Brandon Block's achievement in 2000. He staggered on to the stage hoping to swap a pair of chopsticks for the Best Soundtrack BRIT Award, and ended up having a water fight with Ronnie Wood. 'I wasted my drink on you, you bastard,' said the wrinkled axeman as the unwelcome guest was hauled offstage. Block's career never quite recovered… and he's still waiting for Richard Curtis's call.
7. Geri spreads the love
The Spice Girls are enshrined in the BRITs pantheon thanks to that minuscule Union Jack dress, worn by Geri Halliwell in 1997. But in 2000 Ginger Spice showed her true colours. Instead of collecting an Outstanding Contribution trophy with the four remaining Spices, Halliwell appeared between a pair of huge thighs to perform her single 'Bag It Up' while pole-dancing on top of a giant Union Jack-patterned vagina, helped by a gang of greasy men in bucket hats. Way to upstage the biggest girl group in history!
8. The Prince's speech
Prince was having a weird year in 1995, having changed his name to a symbol and putting out several substandard albums to try and escape his recording contract. (We've all been there.) Then he appeared at The BRITs with the word 'SLAVE' written on his face and delivered the shortest, oddest acceptance speech ever: 'In concert free. On record slave. Get wild. Peace.' How could he forget to thank his mum?
9. Justin and Kylie get acquainted
Anxious to prove that he was no longer a marshmallow-faced child star, Justin Timberlake completed his transformation into Bustin' Trousersnake at the 2003 BRIT Awards, using a raunchy duet with Kylie Minogue to cop a feel of what was, at that point, the world's most famous arse.
10. Arctic drunk-ies
You can't blame the Arctic Monkeys for celebrating when they won MasterCard Album of the Year in 2008. Hammered and inexplicably dressed as posho rural landowners, the Arctics launched into an incoherent thank-you speech mixed with a surreal rant about the Brit School. Today they're one of the UK's slickest bands but we'll always remember them fondly as they were in '08: clad in tweed and shitfaced.
The Brit Awards 2017 take place on February 22.
Everything you need to know about the Brit Awards 2017
The nominations, the hosts, how to watch it and where to buy tickets: here's all the essential info about the Brit Awards 2017
Support Time Out
We see you're using an ad-blocker. Ad revenue is Time Out's main source of income. The content you're reading is made by independent, expert local journalists.
Support Time Out directly today and help us champion the people and places which make the city tick. Cheers!
Donate now