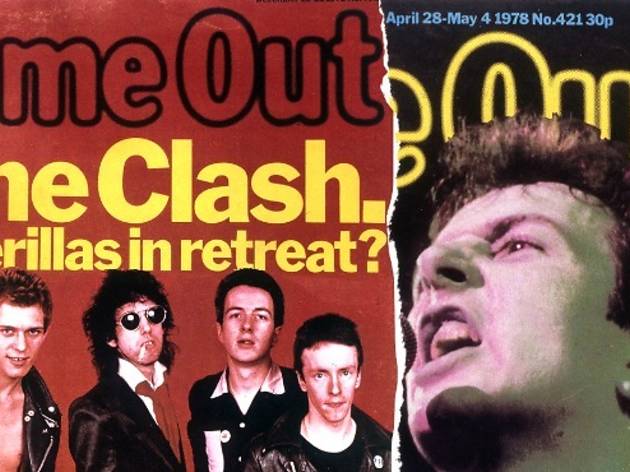 The Clash: a history in Time Out reviews
As the seminal London punk band curate a pop-up exhibition, we dig out our reviews of their classic releases
Nowadays The Clash are hailed as one of the most important British bands of their era, but it wasn't always that way. To coincide with pop-up shop and exhibition of Clash memorabilia (Black Market Clash, open in Soho next week), we decided to go on a punk rock nostalgia kick too.
We trawled the Time Out archives to find out how their records went down at the time – and the results aren't always as you'd expect. From a snarky write-up of their debut single 'White Riot' in 1977's summer of punk to an unusually upbeat review of the band's poorly-received final album, here's how Time Out tackled The Clash…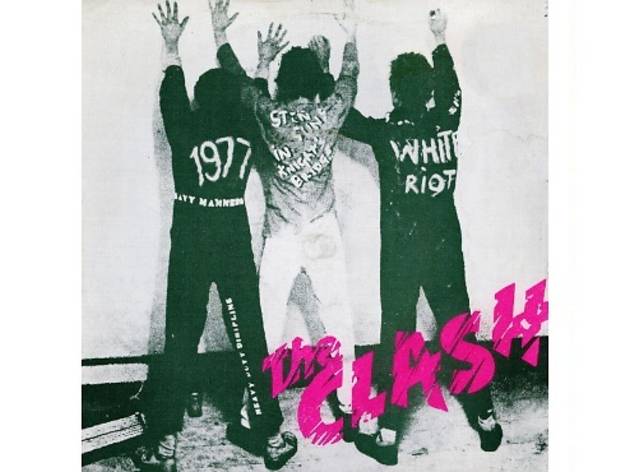 Time Out, April 1 1977
'The Clash make the requisite noises for pogo dancing down the Roxy on their first single for CBS, 'White Riot'. Judging by the advance proferred, the record company feels strongly that this mercifully-brief platter will lead to more remunerative things. Question: is it amusing or depressing to see a succession of record companies so comprehensively taken to the cleaners over punk rock?' John Collis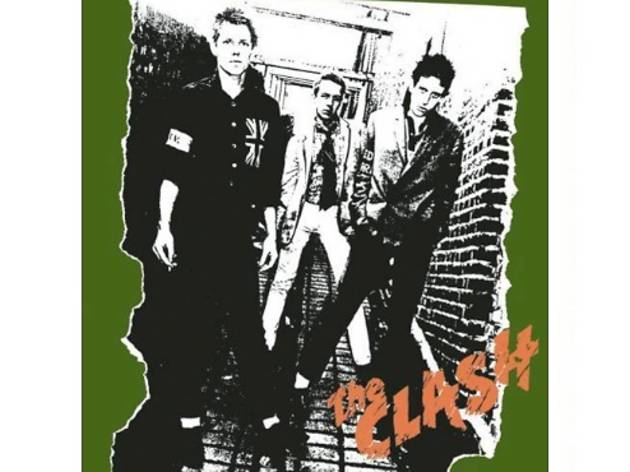 Time Out, May 27 1977
'If the Rastas are right and this is Babylon then 'The Clash' has few rivals for its soundtrack. Loud, abrasive and proudly British ('I'm So Bored With The USA') The Clash are perhaps the only 'New Wave' group who are able to supplant to come-on of the latest line in revolutionary chic with real rock 'n' roll meat.
'You don't have to listen hard, that is, to discover a lineage which includes The Kinks, Who and Mott The Hoople. And while their lyrics ultimately have little more to offer than a terrible confusion, these angry musicians do seem to have a genuine – if baffled – optimism at core. But the LP's primary success lies in its wealth of pure rock 'n' roll, exactly the kind of sounds a re-incarnated Eddie Cochran would make in The Clash's shoes.
'That's sufficient to make this an excellent album; what makes it special is its ability to provoke while it excites, attempting to take in harsh reality where most rock 'n' roll is content to merely act as an all-purpose soporific. It's good to be reminded that maybe there's just not time for dancing any more.' Giovanni Dadomo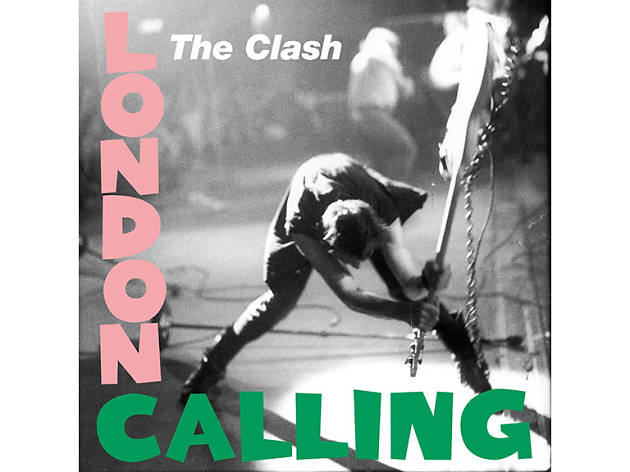 Time Out, January 11 1980
'Punk politicos systematically mellowing into run-of-the-mill liberals, The Clash at last wise up with a £5 double which further witnesses their Americanisation and evinces their all-purpose, street-level philosophy to be as irresistible as CBS' cut-price sales-pitch.
'Consolidating his position as the most impressive of the punk Dylans, Joe Strummer sprays out his vitriolic diatribes with cleft palatefuls of ebullience, variously speculating on the decline of Montgomery Clift, recalling how it was at Niagara, and proving his CSE bilinguality on the affecting 'Spanish Bombs', while elsewhere a couple of blatant fillers and conspicuously few overtly politic themes contrast sharply with juvenile drug references, as Joe tells us he's so 'pilled up' and heroin is 'Hateful' (but he 'needs it so badly').
'Frankly, it's two-faced poseurs like these who give punk a bad name (!), but for their sins, The Clash have made one of the best albums of last year. Composed, sensible, even mature, the music of 'London Calling' represents their finest hour to date. They've 'sold out', but who cares? Strummerology starts here.' Nigel Burnham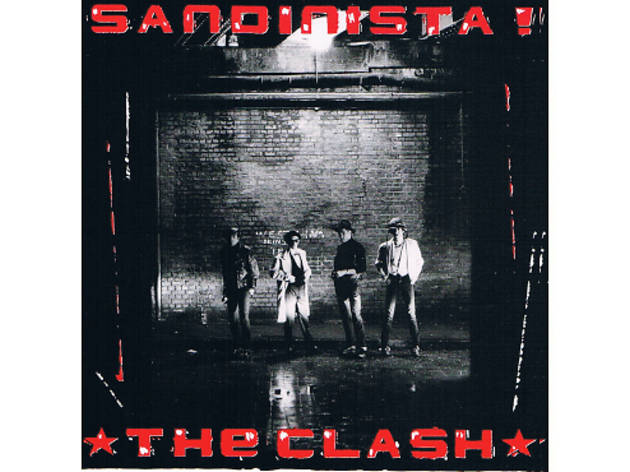 Time Out, January 2 1981
'Any record that has children singing on it can't be all good, and this new triple is no exception. Indeed, the high incidence of padding gives a lot of credence to the theory that the set's size (all for an RRP of £4.99) isn't so much down to the band's philanthropism as an eagerness to unburden themselves of their record company commitments.
'As with the latest Springsteen, the argument that quantity and quality aren't the best of bedfellows is tediously reiterated. The Catholicism of style demonstrated on the last Clash LP is even more in evidence here, to an even desperate degree, as the band bellyflop at reggae, happy hour jazz and even the dreaded disco. A rugger team of friends fail to camouflage lack of inspiration, and in one case, Tymon Dogg's delivery of his own violin-wrapped 'Lose This Skin' ironically results in one of the most re-playable moments.
'Side 4, with its vintage sounding 'Police On My Back' starter (one of the few occasion when Mick Jones plays his guitar with anything resembling passion) is perhaps the best of a bad lot. Elsewhere it's all re-hashed '60s clichés – unfunny links, radio tuner doodlings etc. – and good songs marred by half-hearted or just plain messy delivery/productions. There is no truth in the rumour that 'Sandinista' is Latin-American guerrilla slang for 'turkey'. But in a way it is.' Giovanni Dadomo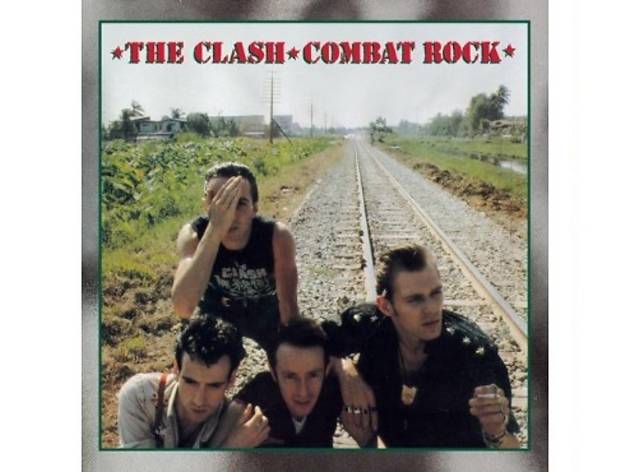 Time Out, May 14 1982
'The Clash are stuck with that age-old problem of trying to develop when people don't want them to and, to an extent, when they helped build the nostalgic rebel image their fans so cherish. Parts of 'Combat Rock' could pass unnoticed on American rock radio, while the likes of 'Know Your Rights' (seemingly not so successful as a single) hark back to earlier charged anthems.
'Their funk inventions, 'Rock The Casbah' and (echoes of the Heads here) 'Overpowered' are as effective as their reggae, although the light skank 'Red Angel Dragnet' is strangely ineffective. The use on 'Dragnet' of Travis's 'Flood' rap from 'Taxi Driver' highlights a questionable battleground-New York romance, part of a Down These Mean Streets (sorry) lyrical context, reaching its peak with a paean to Sean Flynn, the daredevil Vietnam lensman (probably met via their pal and other 'star' of 'Despatches' Tim Page).
'It's with pieces like 'Sean Flynn', however, that the real news lies. 'Flynn' is like them doing a Weather Report, a lush, gaudy electronic jungle bop. Other excursions appear on the Burundi-tinged 'Car Jamming', and the arch, B-movie beat poem-with-a-tea-dance-accompaniment 'Death Is A Star', kinda like Randy Newman playing the Roseland Ballroom.
'But is it a Clash album? The traditional thrashes will probably give the reactionary new punks a small snack between Oi bands, and they bring their customary soul to the mainstream tracks. The eclectic pieces, executed without a hint of tourism, are more than welcome, but will undoubtedly bring down the wrath of ageing bin-liner bores. But if we allowed Lydon to go on to plunder the avante-garde, The Clash should be allowed equal leeway. My only worry is the creeping tone of AORism.' John Gill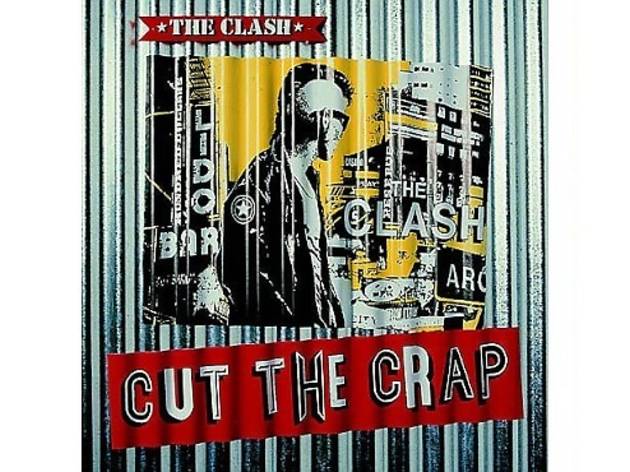 Time Out, November 21 1985
'Talking about themselves again, eh? Actually, barring the naff packaging, this isn't the disappointment we might have expected. True, the likes of 'We Are The Clash' are embarrassing skinhead stomps straight from out of Jimmy Pursey's Sham 69 closet, and titles such as 'Dirty Punk', 'Fingerpoppin'' and, er, 'Life is Wilde', don't bode well for Joe Strummer's mental health.
'But the distinctive Clash style is there, led by Uncle Joe's raw voice, and the eclecticism they displayed to pleasing effect on later, original-line-up, albums, is still there: the Cabs-style teevee cut-up dropped into the back of the opening 'Dictator', the sizzling electro knitted into 'Are You Ready', the dub of 'Three Card Trick', the jazz tinge of 'Play To Win' and others. Some pointless '76 ramalama, a few tacky rockisms, and things have moved on from the streetisms they persist in penning, but it doesn't deserve the inevitable backlash. I like it.' John Gill
Support Time Out
We see you're using an ad-blocker. Ad revenue is Time Out's main source of income. The content you're reading is made by independent, expert local journalists.
Support Time Out directly today and help us champion the people and places which make the city tick. Cheers!
Donate now