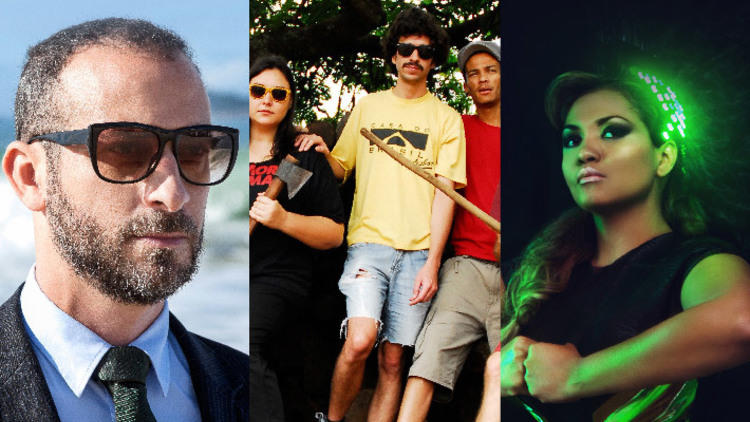 The Time Out guide to Brazilian music
Five things you need to know about the new Amazonian sounds
Mais Um Discos
, a group of innovative Brazilian producers who run a record label and live events dedicated to Brazil's unique musical spirit.
Mais Um Discos booked acts including Gaby Amarantos: a big name in the carnival country right now, who was recently asked to record the Coca Cola theme song for next year's World Cup. She also picked up gongs for Best Female Act and Artist of the Year at the Brazilian MTV Music Video Awards in 2012. Lucas Santtana, meanwhile, specialises in mixing '50s sounds with contemporary hip hop. Then there's rising band Graveola – the latest Mais Um Discos signings – who started out on the indie circuit but now experiment with rock, folk, funk and blues.
Want to get to grips with the new, funky musical genres that are sweeping South America? Want to know why the Radio 1 Sunday chart show wouldn't be much cop in Brazil? And if Carmen Miranda is your only reference point, how about discovering some of the current Brasileiros who are taking the music scene by storm? We asked Robinson to list the five things everyone ought to know about the sounds of the South American country.
'The thing with Brazilian music is that it's dominated by Rio and São Paulo, so people don't realise how vast the country is. You've got 27 different states, all with their own musical styles.
Tecnobrega
is a type of Amazonian rave music that Gaby Amarantos has been playing in her town for around ten years. On the north coast, some artists are inspired by
manguebeat
music of the '90s – similar to the grunge scene of Seattle. People see samba and bossa nova all the time, and we're trying to give them a flavour of something different.' 'Brazil doesn't really have a Top 40 like we have, it's much more regional. Certain bands would break out nationally, but there's no charts culture. There's MTV Brazil, which is kind of popular, and national radio, but it's said that they're led by "payola", a system that requires you to pay to get your music on there. Getting your music in a
novela
– a Brazilian soap opera – is better than having a Number One in Brazil, or even a hit album. It's being beamed into a hundred million homes across Brazil, which is really powerful.' 'Brazilian music has got this infectious kind of swing to it. The swing of it just makes you want to groove, and you don't really get that in English music. DJs have incredible set-ups too when they play out in Brazil. They're on hydraulics that look like spaceships and go up and down throughout the night.' 'They say that anyone can be Brazilian due to the mix of ethnicities. It's really refreshing to switch onto MTV Brazil and see how so many different cultures can influence the music. The sounds of the Amazon might be really isolated and relatively untouched but you'll go to Belém [a northern river city] and you'll end up at this warehouse to find ten thousand kids dancing to that type of music.' '
Siba
is a new and extremely interesting folk artist and street poet from the north-east, and his new work is influenced by Congolese guitar music. There's also this really great singer called
Dona Onete
who is 73 and has just made her first album. She's a racy 73-year-old with lyrics as saucy as those of Grace Jones, and yet she is totally respected.'