The top 10 Brit Awards showdowns
Three decades of rivalries, confrontations and weird encounters at the nation's biggest music awards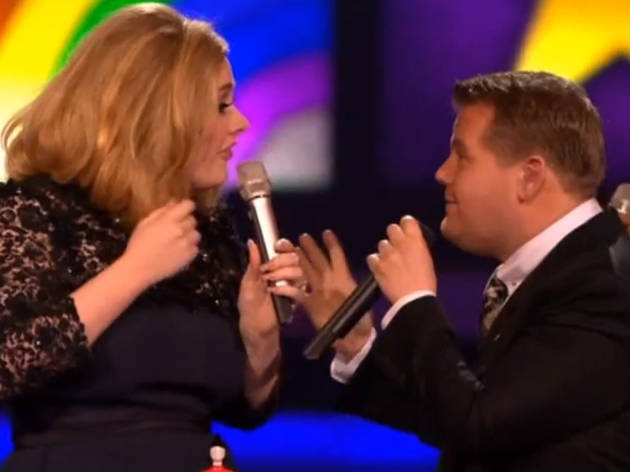 A year after stunning The O2 with a spellbinding performance of 'Someone Like You' at the Brit Awards 2011, Tottenham-born vocal superstar Adele returned to sweep the boards, winning every category in which she was nominated and picking up six Brits. But that wasn't enough to save her emotional acceptance speech for Album of the Year being cut off after 30 seconds so that the recently reunited Blur could perform live. As the Mockney heroes started playing and host James Corden ushered her off the stage, Adele raised an eloquent middle finger. You can take the girl out of Tottenham…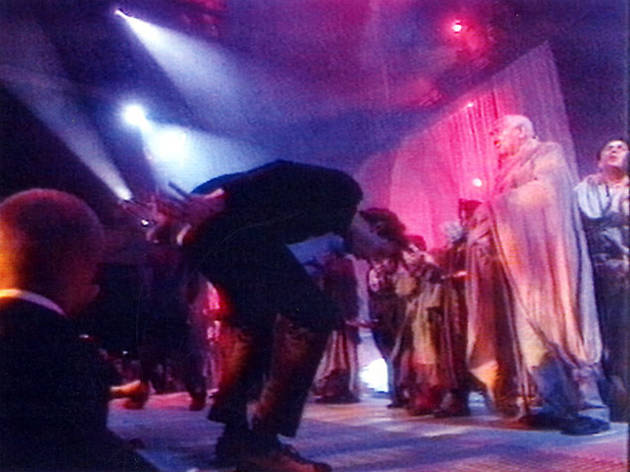 2. 1996: Cocker v Jackson
One of the most famous moments in Brits history pitted the gangly Pulp frontman against Jacko, then in his 'floating giant statues down the Thames' decadent phase. Jackson was writhing about on a platform performing 'Earth Song' when Cocker took to the stage, bent over double and made wafting motions in the general area of his bum. For this act of treason against the King of Pop he was quickly ushered off, but not before he managed to flash the nearest camera with his skinny torso.
Jackson later stated that he was 'sickened, saddened, shocked, upset, cheated and angry'. Cocker's take: 'I was just standing there watching it, feeling a bit ill because he was doing his Jesus act.' Let's just hope Jarvis never ends up at a Kanye West gig.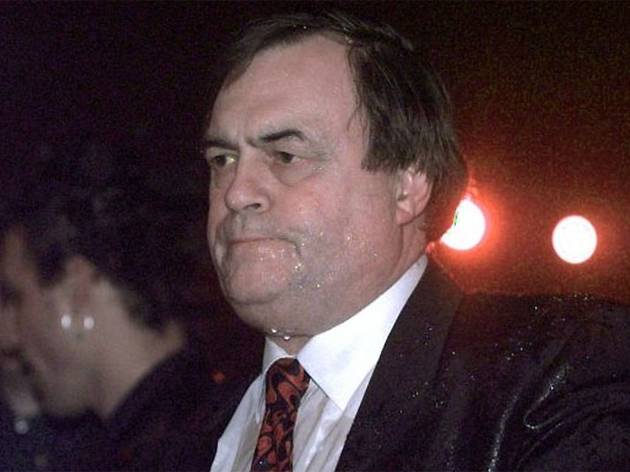 3. 1998: Chumbawumba v Prescott
Shortly after performing 'Tubthumping' at the Brits in '98, Danbert Nobacon of Burnley anarcho-pop act Chumbawumba decided to take 'Cool Britannia' literally and threw a bucket of iced water over Deputy Prime Minister John Prescott. Wisely, Nobacon quickly got out of Prescott's way. When the the MP and former amateur boxer took a swing at an egg-throwing protestor a couple of years later, Nobacon must have been glad he hadn't been forced to act out that 'Tubthumping' chorus: 'I get knocked down, but I get up again…'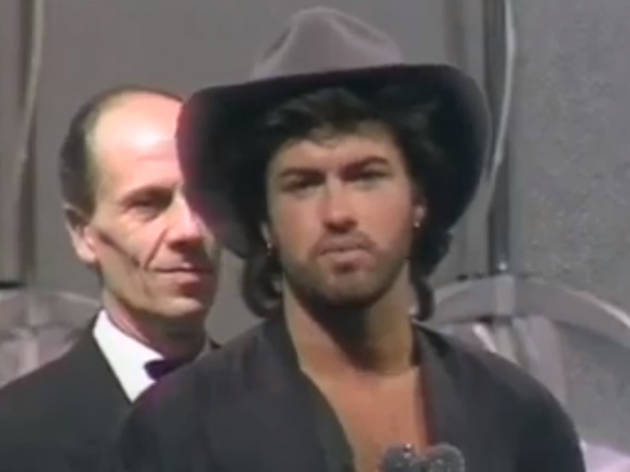 Maybe Prescott would have learned a valuable lesson about politicians at the Brits if he'd rewatched the '86 ceremony before buttoning up his dinner jacket. In one of the most unlikely pairings in pop history, Wham! were presented with their Outstanding Contribution award by none other than the Right Honourable Norman Tebbit, then Secretary of State for Employment.
'I don't know anything about pop music,' Tebbit said in his presentation speech, 'I don't understand it.' The stunned look on the minister's face when he was confronted with George Michael's mostly bare chest confirmed that – and the way he lurked in the background while Michael gave his acceptance speech made him look like a Tory Dracula about to feed on a particularly flamboyant Van Helsing.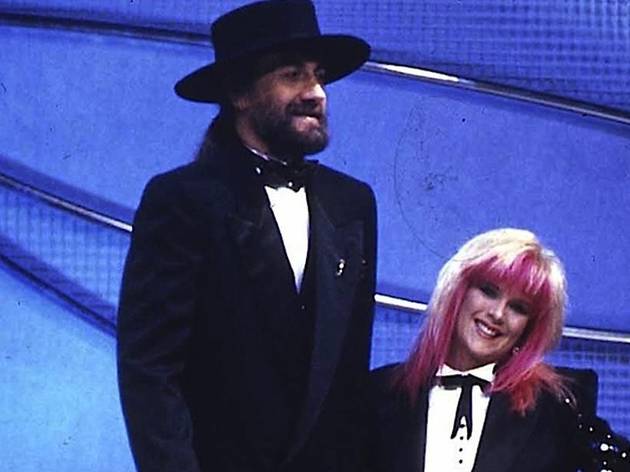 5. 1989: Fox and Fleetwood v live television
Since the first ceremony in 1977, the Brit Awards had always been broadcast live – until a rock drummer, a Page 3 girl and a malfunctioning Autocue came together in a perfect storm of great TV. The height difference between glamour model Samantha Fox (5'1") and Fleetwood Mac founder Mick Fleetwood (6'5½") was a visual nightmare to begin with, but that wasn't the only problem. Fox later complained that she'd been handed the wrong cards to announce the acts, that the prompter was deaf, and that the entire front row was filled with the Bros fan club, who spent the whole show screaming. Neither of the pair had any presenting experience, and their performance was so hilariously bad that the Brits were pre-taped for the next 17 years.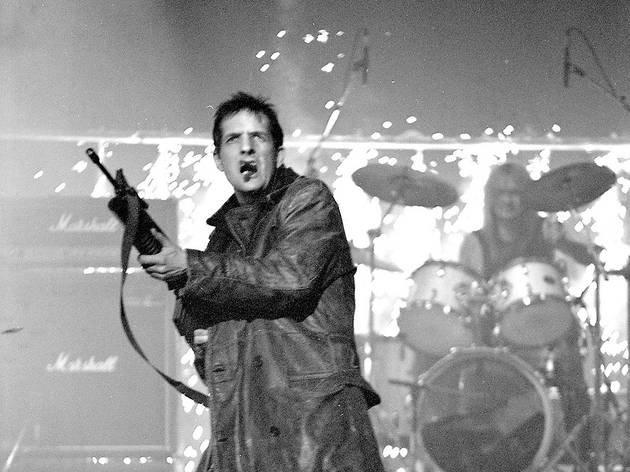 John Marshall
6. 1992: The KLF v the music industry
Pre-taping didn't stop anarchic avant-garde dance collective The KLF from making an impact at The Brit Awards 1992. They were chosen as Best British Group (bizarrely sharing the award with Simply Red), and opened the show by playing a version of their song '3am Eternal' with the grindcore band Extreme Noise Terror. The song ended with the group's Bill Drummond firing blanks from a machine gun into the audience, while their publicist Scott Piering announced, 'Ladies and gentlemen, The KLF have now left the music business.' Later in the evening, the band finished strong by sending a motorcycle courier to collect their award and then dumping a dead sheep outside the show's after party.
Photo: John Marshall JME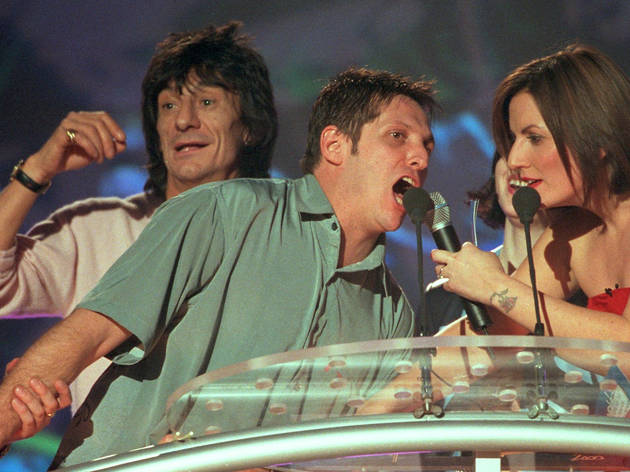 Have you ever been so wasted that you were convinced you'd won a Brit Award for Best Soundtrack Album? London-born DJ Brandon Block has. During the ceremony in 2000, Block's friends told him he'd won and that he should go onto the stage to collect his award. He staggered up, holding a pair of chopsticks, and ended up in a swearing match with award presenter Ronnie Wood. In hindsight, Block actually doesn't come out of the encounter as badly as the leather-trousered, leather-faced Wood, who spent most of his time on stage doing his best 'creepy uncle' act with his young co-presenter Thora Birch.
Photo: John Marshall JME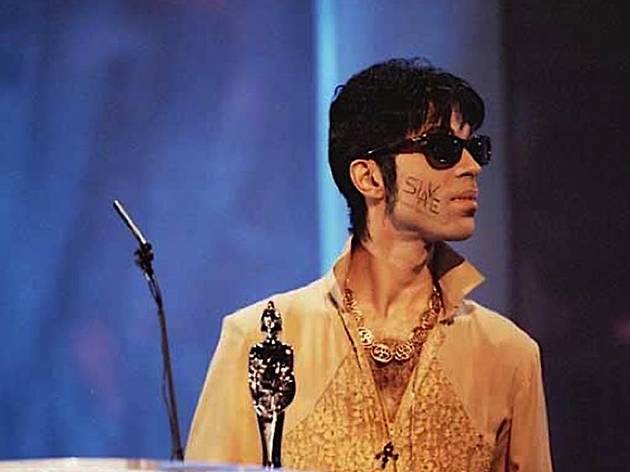 8. 1995: The artist formerly known as Prince v Warner Bros
The freaky-deaky purple pop sensation born Prince Rogers Nelson was acting even more strangely than usual in '95. He'd fallen out with his record label Warner Bros two years earlier, changed his name to an unpronounceable symbol and started putting out substandard albums to try and escape his contract. He won a Brit Award for Best International Male Solo, and appeared at the ceremony with the word 'SLAVE' written on his face to deliver the weirdest acceptance speech in Brits history: 'Prince best, 'Gold Experience' better. In concert free. On record slave. Get wild. Peace.'

When Blur won the Best British Group award later that evening, drummer Dave Rowntree played copycat and appeared on stage with 'DAVE' written on his cheek. When he was asked about it the next day, Rowntree commented, 'We have a lot in common. EMI won't release my solo album either.'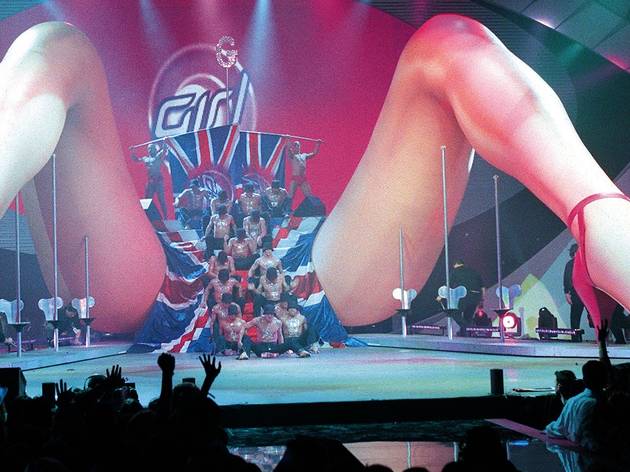 9. 2000: The Spice Girls v Halliwell
The Spice Girls are enshrined in Brit Awards history thanks to the minuscule Union Jack dress that Ginger Spice wore to perform with the group in 1997. Three years later, though, Ginger (now calling herself 'Geri Halliwell') was a Spice Girl no longer – she'd launched a solo career, and had been booked to play live at the Brits, where the Spice Girls were due to pick up an Outstanding Contribution trophy.
The four remaining Spices accepted the award without Halliwell, who instead decided to totally upstage them by performing her new single 'Bag It Up' while pole dancing on top of a giant Union Jack-patterned vagina and a pile of greasy men in bucket hats. It took another seven years before Sporty, Baby, Posh and Scary could bring themselves to sing with her again.
Photo: John Marshall JME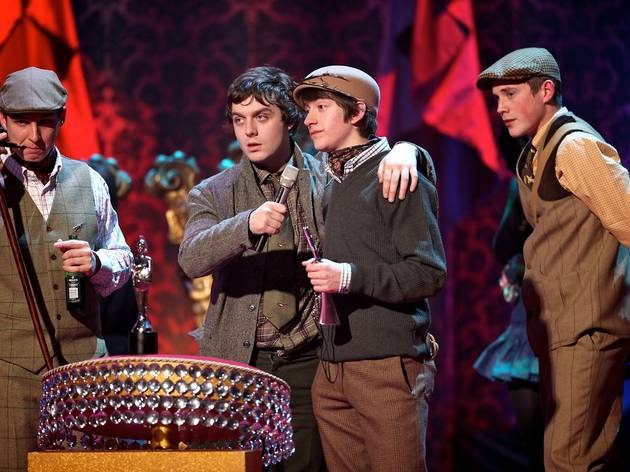 10. 2008: Arctic Monkeys v sobriety
The Arctics' second album 'Favourite Worst Nightmare' was picked as the Brits' Album of the Year in 2008: the second time in as many albums that the band had won the prize. Dressed bizarrely in tweed and clutching their drinks, the fresh-faced Arctics walked onto the stage and launched into an incoherent 'thank you' speech, mixed with a surreal rant about the Brit School.
Nowadays the Monkeys are one of the world's most dapper bands, all slicked-back hair, leather and perfectly cut shirts. As of 2016 they've won seven Brits: more than Oasis or Michael Jackson. But we'll always have a special place in our hearts for the wasted, tweed-clad scamps they were on that special evening back in '08.
Photo: John Marshall JME
Read more about The Brit Awards
The nominations, the hosts, how to watch it and where to buy tickets: here's all the essential info about the Brit Awards 2016.