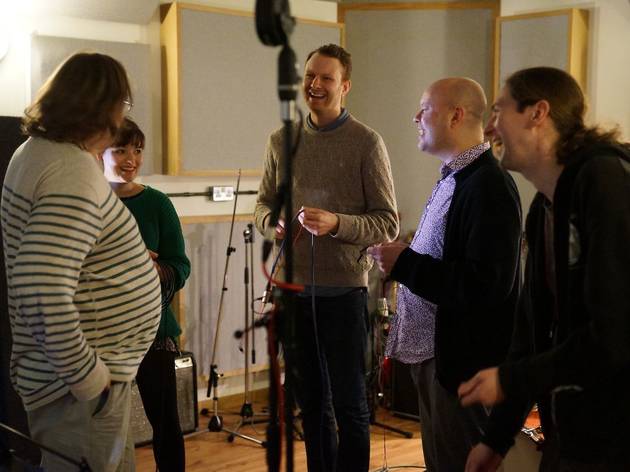 Time Out's day at a recording studio
Our Music & Clubs editor has written some harsh things about records in the past, but how would he feel after seeing the recording process in action?


The place I'd been invited to was called Press Play, in South Bermondsey – a short train ride from London Bridge station. I'd never been to South Bermondsey before, and unless I get a hankering for Greggs, or want to be shouted at by someone out of the back of a hatchback, I'd say it's unlikely I will go again. The industrial estate I walked through to get there was south London at its most grim and anonymous – a mini-metropolis of white vans and crumbling brickwork. However, one of the unmarked black doors I passed (and then doubled back to re-find when I realised I'd gone too far) was the entrance to the studio. And once I'd been let inside it was a different, much cosier story. In the compact space there were racks of vintage synthesisers; some battered old Fender guitars and amps; a dusty zither and cups of tea for myself and the other half-dozen journalists who'd arrived. For the first part of the afternoon – which was set up so that HTC could launch their new Windows Phone 8x model, with built-in amplifier for Beats Audio – we were due to observe singer-songwriter Grace Lindsey record three takes of her track 'Never Die'. So we huddled round the mixing desk to watch her producer, Jack, drive the desk while she was in the booth. Jack wore a Kangol-esque flat cap backwards, and said things like, 'Damn, you're just rocking like fuck!'. After each take we politely nodded and made approving noises. Then we got the opportunity to 'contribute' ourselves, and we piled into the booth to add hand claps 'on the two and four', as Jack instructed. We clapped our hearts out. We clapped like seasoned session clappers. But, despite Grace's excellent voice, it wasn't enough to lift the song any higher than being just half-decent R&B filler. 'Let's never play it ever again,' said someone at the end of the process.

After we broke for beers, it became clear that Kangol-hat-Jack wasn't a regular user of Press Play's facilities. Rather it was the studio owner Andy Ramsay who engineered the sounds, worked the desk, and generally coaxed artists through the tricky process of realising what they wanted to sound like on record. Progressive bass music duo Mount Kimbie had been in the studio the day before, working on their drum tracks. Ghostpoet, Wire and Wilco were other Press Play users. Andy used to be the drummer in incredibly influential '90s experimental pop band Stereolab, and he knew his musical onions. After the fuss had died down he talked me through his guitar collection: a beautiful Martin D18 acoustic guitar; a 12-string Japanese Takamine acoustic ('From back in the day when when they were ripping off Martin'); a worse-for-wear-looking '68 Fender Jaguar that sounded great. There were rare amps as well, and Moog pedals that Bob Moog himself had fixed personally with a soldering iron when Stereolab had bumped into the instrument maker on tour. Then there was the rack full of vintage synthesisers, including a temperamental EMS Synthi (an instrument that used a pin-based circuit system, and thus felt a bit like playing Battleships) which Andy demonstrated how to play with aplomb – cranking out mesmerising, oscillating squeaks, blips and bloops.

Andy explained that he was in the studio six days a week, usually from ten in the morning to ten at night. He said that the process had had some artists in floods of tears. It started to became obvious that graft and geekery were the main ingredients in making a record. Andy went a step further, 'You get loads of guys in here looking for love,' he commented, about the more wistful musicians he's worked with. 'I say, go join eHarmony.' By seven (when Andy was allowed to take his bike on the train) it was time to pack up and leave. What had been most enlightening was seeing music production from a technological perspective. I now know, for example, what sort of compressor I ought to use if I'm recording vocals and which one for bass. I've seen first-hand how much knowledge has to go into making a song sound smooth and fluid in your headphones. I can imagine wide-eyed, novice musicians entering the studio, full of ideas, and then how complex the process would be of rendering that enthusiasm into something that sounds as good in reality as it does in their heads. But, Andy tells me, that's the best way to do it: being unafraid to try anything.

Will it make me think differently about how I write reviews? Probably not – after all a review's for a listener, not for the music's creator. But the day has made me think differently about artists. At a point when the music industry is suffering so much, to step into a studio and make something happen is an incredibly brave move, and it's hats off to anyone that tries it.