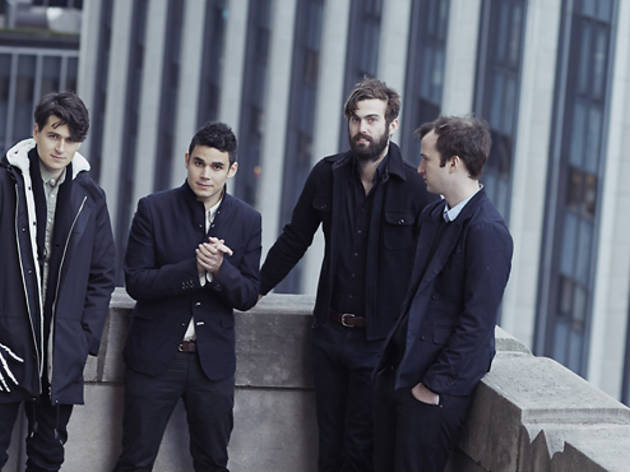 Vampire Weekend interview
They've done Afro-tinged pop but can Vampire Weekend now master rock 'n' roll? We ask frontman Ezra Koenig why they're looking backwards on their new album
It's been seven years since the preppy, button-down-shirt-wearing members of Vampire Weekend graduated from New York's Columbia University. Since then the four-piece have released 11 jangly and upbeat singles, received a Grammy nomination for second album 'Contra', bought lots more nice shirts and have even made a buddy in Barack Obama – last year, the US president included them on his wish-list of celebrity endorsers.

Now they're back with their third album, 'Modern Vampires of the City', and a new retro rock 'n' roll approach. 'We've never tried to hide our influences,' says frontman Ezra Koenig at the Covent Garden Hotel. 'But if we ever made a song that could be mistaken for a cover, we'd be heading down the wrong track.'

The group went back to basics – recording drum parts on analogue tape during their LA sessions, for example – but have retained the chirpy and intellectual essence of their pop sound. There may be some curiously manipulated vocals involved, as on latest single 'Diane Young', but the trademark synths, urgent beats and summery steelpan effects also remain. We got Koenig to talk us through it:

Tape is old hat. Why record on it – surely it sounds rubbish?

'That's crazy. So many of the greatest recordings were made on tape – in the '60s, '70s and '80s. Even since then they've been made on tape, so I don't think it's a quality issue, it's about taste. This album has a distinctive blend of different sounds and that's a big part of it.'

Is the track 'Ya Hey' an ode to Outkast's 'Hey Ya!'?

'I was driving the first time I heard "Hey Ya!" and it was like that story about Brian Wilson – how when he first heard "The Lion Sleeps Tonight" by The Tokens, he was driving and had to pull over because he was so moved by it. For me, hearing "Hey Ya!" for the first time was my biggest musical driving experience. But there's no connection between that and our song other than the name.'

Speaking of names, who are the 'Modern Vampires of the City'?

'The title represents the greedy, self-serving impulses that everybody has. Some people take those to the next level, but to me those impulses exist in everybody.'

Were there other title ideas that didn't make the cut?

'"Modern Vampires of the City" is what I always wanted to call it. For "Contra" I thought of "Paperchase" and "Young Money". I'm really glad we didn't go with "Young Money" because that might have started some beef.'

You don't want beef with Lil Wayne (who owns Young Money records). Have you ever had a terrifying encounter?

'Once somebody fired a bullet through my bedroom window. I was sleeping at the time so it was pretty scary. There was a hole in the window and ceiling because it went straight up. Then the police came and apparently it was someone shooting in the air in frustration. People have to remember, when you shoot a gun in the air the bullet goes somewhere. You can't just go popping off rounds!'

Vampire Weekend's new album 'Modern Vampires of the City' is out on Mon May 13. Buy the album here.


Watch Vampire Weekend's 'Step' video