What's the deal with… Childhood?
Everything you need to know about the young London pop-shoegaze band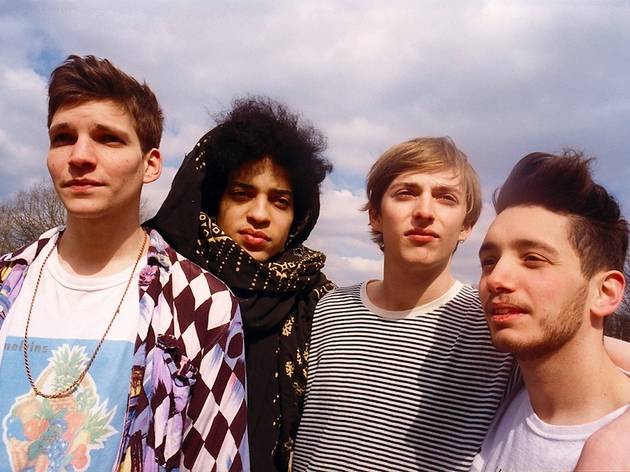 What do we have here then, another trendy bedroom producer?
No, an indie band. But it's funny you should say 'bedroom' – Childhood formed when Ben Romans-Hopcraft and Leo Dobson, now in their early 20s, started writing songs in Dobson's dorm room at the University of Nottingham. Then they picked up Daniel Salamons on bass and cycled through a few different drummers while putting some scratchy demos together.
Any cop?
They were all right, but there was nothing to suggest that a couple of years down the line they'd be writing something like 'Solemn Skies'. That's their new single, which they're launching with a show at Corsica Studios on Monday June 10, and it's a bold, shimmering future classic, all soaring shoegaze guitars and tambourine breakdowns.
It sounds pretty '90s.
It is. There's a lot of Ride in there, a bit of early Verve, a smidgen of Blur and trace amounts of The House Of Love. Maybe that's why they're called Childhood: after all, this kind of stuff was big when they were still in nappies.
Who needs another bunch of revivalist guitar-wielders?
You mean on top of Savages, Palma Violets, Temples and Toy? Well, you do, as long as Childhood can maintain the surging, uplifting energy of 'Solemn Skies'. And hey – they've got a great collection of floral shirts too.
The Bottom Line: If only the '90s had sounded this good the first time around.
See Childhood live in London
Childhood friends Rodrigo Sanchez and Gabriela Quintero used to be in a thrash metal band before they moved to the seaside to hone their slinky, enjoyable, AOR-tinged take on flamenco. They're now international stars with four albums under their belts, including material with a full band accompanying the pair.
Read more
See all Childhood events
Sponsored listing
The Blues Kitchen Shoreditch
This Curtain Road venue is close in style and sentiment to its big sister, The Blues Kitchen over in Camden. Expect, then, a restaurant, bar and music venue with a hefty Stateside influence - from its bourbon and its barbecues all the way to its blues.  Music does have a big part to play here. There's live artists pretty much every night of the week, with everything from rock 'n' roll to swing, motown, roots and even gospel complementing all that smokey blues. Keep an eye out for nights where food and music combine in happy harmony - think bargain ribs gnawed to a soundtrack of soul.  An in-house barbecue, with meats smoked over fruit woods in their own fire pit, is kept busy - orders of beef brisket, smoked chicken, short beef ribs and burnt ends glazed with a beer and hickory barbecue sauce prove popular. Chilli,gumbo and a catfish jambalaya also feature. 
Venue says: "'Free wing Fridays' between 5-7pm at the Blues Kitchen Shoreditch. Come down and get your wing on!"