What's the deal with… Dream Wife?
Everything you need to know about the all-gal pop-punk trio from Brighton
Cool name. Who are they?
Dream Wife are three ladies – Rakel Mjöll (singer), Alice Go (guitarist) and Bella Podpadec (bassist) – who met while at uni in Brighton. They initially formed for a performance art project, but things stuck and here they are now, playfully commenting on the objectification of women with their moniker and carving out their place as one of the most exciting young bands in the country.
So they're all about girl power?
If by that you mean female solidarity and disrupting the male gaze, then sure. They've even got their own fan club on the go to help their followers create that kind of supportive community. It's called Bad Bitches – a name taken from a line in their furious punk anthem 'FUU', which, funnily enough, also lifts some lyrics from the Spice Girls' 'Wannabe'.
What else can I expect from their music?
It's not all as noisy as 'FUU'. They're more than capable of writing shiny pop songs too. Take 'Fire': the verses put Alice's wiry guitar lines front and centre, but come the chorus the track takes a pretty, polished turn. 'Somebody', meanwhile, finds Rakel calmly asserting 'I am not my body/I am somebody', while 'Hey Heartbreaker' could comfortably sit alongside Le Tigre's best tracks.
I bet they're fun live...
Duh. When they headlined at Birthdays last year, they invited Icelandic hip hop collective Reykjavíkurdætur to join them on stage for a cover of Peaches' 'Fuck the Pain Away' while encouraging the crowd to rip tinfoil palm trees to shreds. That doesn't happen at every show, of course, but Dream Wife gigs are always very energetic and unpredictable.
How can I get involved?
Stay tuned until their recently announced debut album 'Dream Wife' drops in January 2018.
The best music of 2017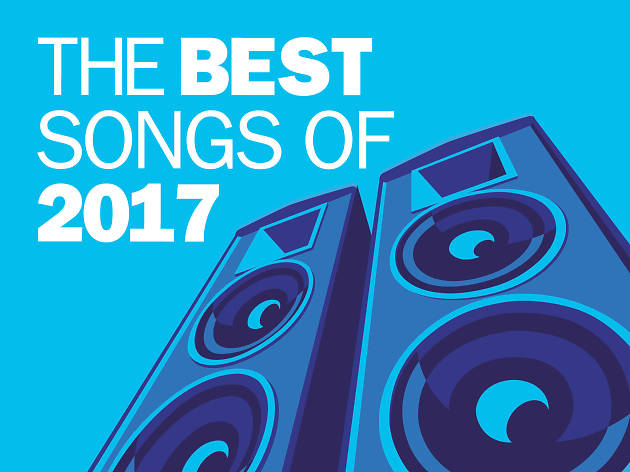 Now that our feet are firmly in the new year, we take a look back at 2017's greatest songs.