What's the deal with… Youngblood Hawke?
Here's everything you need to know about the cola-soundtracking Californians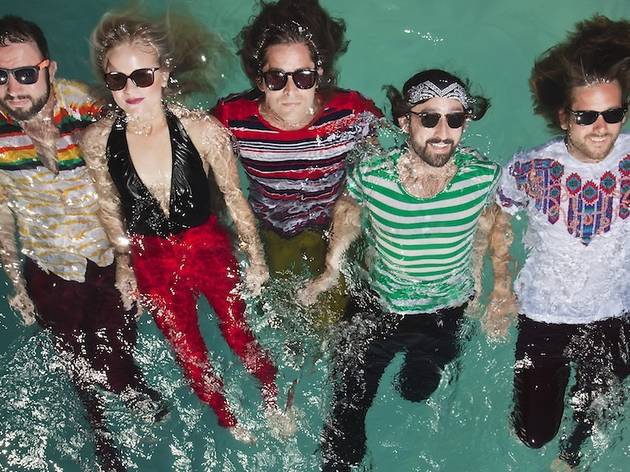 The long hair, the sun-kissed skin... where are they from, Hull?
No, dude, they're the sound of modern California – electronic, heartfelt, yet ever so slightly vapid.

That's a bit harsh.
Well they're a definite improvement on their previous incarnation. Two members (Simon Katz and Sam Martin) used to be in bro-ish jock-pop act Iglu & Hartly. Martin still has the '&' tattooed on his arm.

Ha! That's worse than Katy Perry and Russell Brand's mutual tattoos.
Don't laugh too hard. While Iglu & Hartly were shambolic, Youngblood Hawke's stadium pop might make them big players this year. Consider this a heads-up ­– their LP ('Wake Up') is out this week, while single 'We Come Running' is about to achieve omnipresence on a soft drink advert.

Which soft drink?
Who cares? The important thing is that, like the drink, 'We Come Running' is more-ish, cloying and full of fizz.

So, in short: the perfect pop song?
Exactly, dude.

The Bottom Line: Good, but hold off on the tattoos.
Sponsored listing
The Blues Kitchen Camden
This lively, contemporary bar-diner on the main Camden drag celebrates American musical heritage in song (live shows, DJs, free harmonica lessons), spirits and sustenance. The food is all-American in spirit and substance, with barbecue and burgers featuring prominently. Though you can, if you insist, order a 'superfood salad.'  There are around 50 bourbons in a variety of categories, some used as bases for cocktails. Rarer types (Blanton's Gold, Sazerac 18-Year-Old Rye, Woodford Reserve 1838 Sweet Mash) go for a tenner or more, but otherwise you'll be paying £3.50 to £6. 'America's native spirit' is how Kentucky bourbon is described, with Ancient Age and Evan Williams typical examples; Tennessee, 'the first cousin of Kentucky', is honoured with a full suit of Jack Daniel's labels.   
Venue says: "Free birthday bubbly for parties booking in for drinks at Blues Kitchen Camden on Friday nights. Get in touch for more details."
Camden Town
Online booking