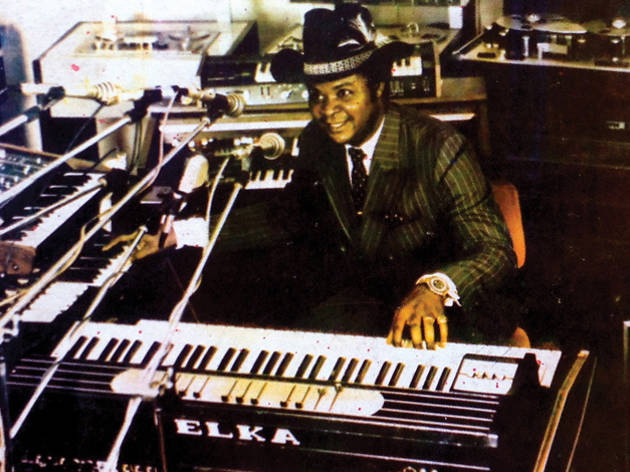 Who is William Onyeabor?
Why the music world is in thrall to a mysterious African synth producer
Last year, a compilation LP was released that set tongues wagging across the music scene, from crate-digging nerds to rock royalty. As its title implies, 'Who is William Onyeabor?', the 5th release in New York label Luaka Bop's World Psychedelic Classics collection, asked more questions than it answered.
Who was this JD Salinger of Nigerian synth-funk? How had music so idiosyncratic and exciting managed to stay hidden for so long? How were the records made? Who financed them? Who played on them? And how the hell do you pronounce 'Onyeabor' anyway?
'Classical and experimental, hypnotic and melodic, and quite spectacularly funky'
What was never in doubt was the quality of the music. From giddy, disco-friendly workouts like 'Fantastic Man' to funk-pop smashes like 'Atomic Bomb', from burbling, faux-naïf Atari epics like 'When the Going is Smooth and Good' to thunderous avant-tribal weirdness like 'Jungle Gods', this was music unlike anything anyone had heard before, aside from a small cadre of hardened record-shop chisellers. Seeming to draw on sources as diverse and random as Kraftwerk, Fela Kuti, Funkadelic and the musicals of Rodgers and Hammerstein, this was world music in the most literal sense: at once classical and experimental, hypnotic and melodic, and quite spectacularly funky.
As yet, most of those questions remain unanswered. Documentarian Jake Sumner, whose 30-minute film 'Fantastic Man' is available to watch online, did manage to track the man down, pitching up at a gated sanctuary on the outskirts of the small Nigerian town of Enugu only to find that the now born-again Onyeabor refused to appear on camera (a short audio message was all the evidence Sumner managed to come away with).
'Was Onyeabor a dangerous gangster? Was he funded by the Soviets?'
Speaking with local musicians – including many who'd played on the records – only led to more head scratching: the interviewees were cagey in the extreme, seeming to fear the wrath of a man they hadn't seen in years. Was Onyeabor dangerous – a local gangster, perhaps, as some seem to imply? And did the rumours that he'd spent time in Moscow, and might even have been funded by Soviet sources, have any truth to them?
We may never know. To tell the truth, we're still not even sure how to pronounce his name. The consensus seems to have settled on 'on-YAY-bor', but the man himself seems to prefer 'on-yee-ah-bor'. Attempts by Luaka Bop to persuade Onyeabor into live performance have fallen on deaf ears: now a tribal chief dedicated to his Christian faith, the singer has turned his back on the past and doesn't really seem to understand what all these hipsters are making such a fuss about.
Which has led to 'Atomic Bomb', a live event in which fans and followers including Damon Albarn, Alexis Taylor from Hot Chip, Bloc Party's Kele Okereke, LCD Soundsytem drummer Pat Mahoney and former Beastie Boys keyboard dude Money Mark will attempt to recreate that signature sound. Will the mystery man surprise us all and turn up? It seems about as likely as the Second Coming, but with an enigma like William Onyeabor you just never know…