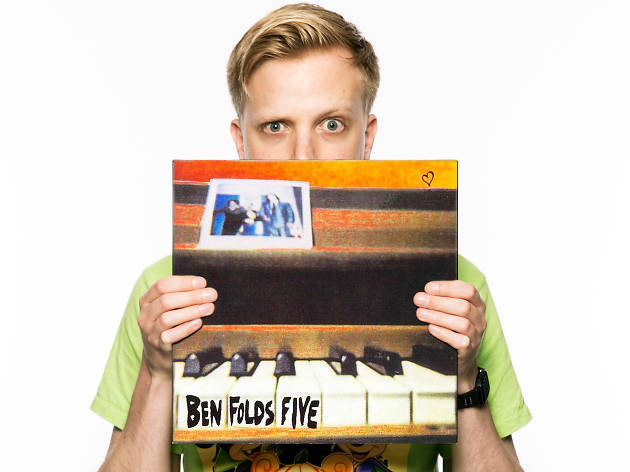 Why I love Ben Folds
The witty lyrics of piano man Ben Folds add up to a teenage epiphany for Ben Williams
As a teenager, I never really listened to lyrics in songs. I heard them, but they didn't sink in – I was usually concentrating too much on the drums (usually in some terrible ska-punk band) and playing along on my knees. Then I heard 'Kate' by Ben Folds Five: a song about a man who's so in love with a girl he actually wants to be her, which starts, 'She plays "Wipeout" on the drums/The squirrels and the birds come/Gather around to sing the guitar.' 'Drums', you say? I'm listening…
My music taste at that point was basically whatever my older sister had been listening to two years before. At 13, when she was forcing us to listen to the Ben Folds Five album 'Whatever and Ever Amen' in the car, I thought: Who's this whiny-voice dweeb playing the piano? Two years later I was hooked: this whiny-voiced dweeb can really play the piano! And it was those lyrics that drew me in.
The songs weren't about generic romances or feelings, they were about specific people: Uncle Walter, Alice Childress and 'Sara spelled without an "H".' They were stories, with beginnings, middles and ends. But, most of all, they were funny. Tales of being dumped, thinking of joining the army and trying to hide redneck roots were packed with witty lyrics, and I found them hilarious. Even his covers were a laugh: Dr Dre's 'Bitches Ain't Shit' sounds a whole lot more ridiculous when it's played as a ballad.
It's no wonder, then, that when Ben Folds Five reformed in 2012 I spotted swarms of comedians in the crowd at their Brixton Academy gig. Like the best stand-ups, Folds isn't afraid to laugh at his own insecurities or embarrassing mishaps. He isn't cool: he's a nerd who plays the piano and sings about being terrible at talking to girls. And, even though I'm now technically an adult, I can still relate to that.
Previously: Why I love Arthur Russell