Wild Beasts interview: 'Grow a backbone!'
What annoys the Northern indie quartet? Timid white boys, Bruce Willis and (eek) aspects of London, apparently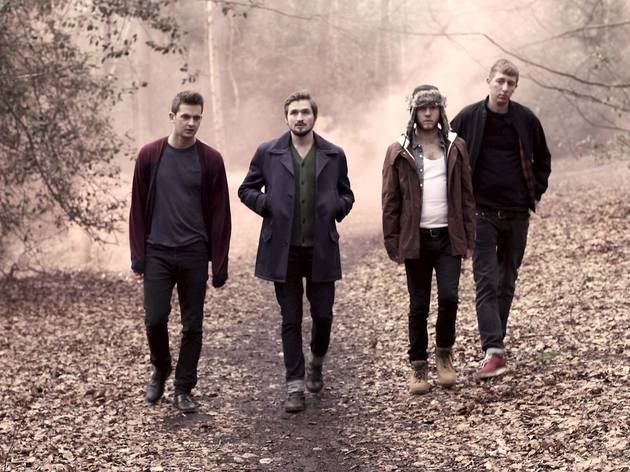 Wild Beasts are the nicest bunch of weirdos you'll ever meet. Invite these four childhood friends to your party, and they might casually suggest the idea of an orgy in between
hors d'oeuvres
, or offer postulations on the balletic beauty of a pub scrap. The band – one of Britain's best – have carved a niche as chroniclers of the UK's oddest bits, on three LPs of scintillating and spooky indie.
Up to this point they've dealt mainly with the rituals of country and suburban life. However, new LP 'Present Tense' dives into the smarmy and pretentious heart of the city. Appropriate, then, that I meet joint frontmen Hayden Thorpe and Tom Fleming in a Shoreditch pub…
You made 'Present Tense' in London, but you're from Kendal in the Lake District originally.Tom
'Yes, and there is a sense of "outsiderdom" that comes from growing up far from anywhere. As well as anger and dissatisfaction at what you see around that. England is a colossally unfair place. I think we've always drawn together against the outside world a bit – as a good band should.'
Have you drawn together against London? Tom
'This is gonna sound like a rant, but there are a lot of people in very good jobs paying good mortgages living in the so-called artistic districts of London when artists can't afford to even buy a drink there. We're actually
making
things.'
Hayden
'We're kind of craftsmen, in the older sense. That doesn't mean it has to be an old-fashioned song – a song on a banjo or an acoustic guitar – it can be made on a computer.'

Are you talking about a particular banjo-lovin' band?Hayden
'Of course I am! But I don't want to get dragged into that…'
How about love? 'Present Tense' is a lot more romantic than your previous records. Hayden
'I think we've got the balls now to do a proper love song. There's a sense of cheesiness that you have to be able to live with. But the more you put yourself up to be ripped apart, the more there is to be defended and to be endearing.'
Tom
'That is a big problem with a lot of music, especially British music – this fucking white-boy timidity. If you mean something then say it, and if someone takes you down for it then so be it, but at least you've said it. Grow a backbone!'
One of your favourite themes is masculinity. What does it mean to be a bloke these days? Hayden
'It's hard not to be too grandiose and sweeping about it, but I do think there is a crisis of masculinity in a lot of ways. There is a disconnect between what is expected and what is emotionally human. That idea is broken and quite damaging really.'
Tom
'It's like "Die Hard", where you've got Bruce Willis against the effete European, you know – the thinker, the plotter. Bruce Willis just comes in like: "Bang, smash, fuck your education!" I'm stronger than you. What year is this? We should do something about it.'
'Present Tense' by Wild Beasts is out now – order it here.