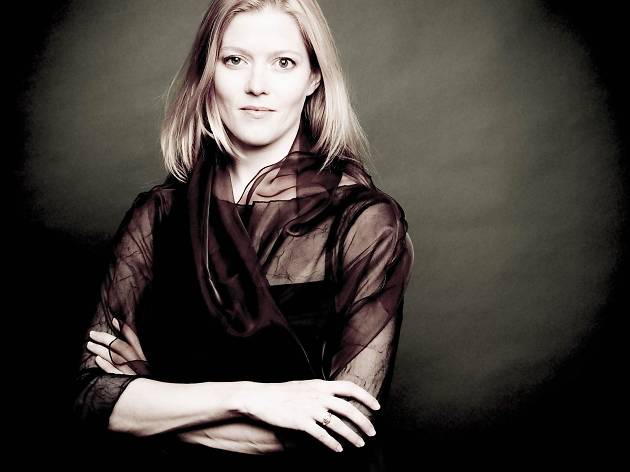 Barbara Hannigan interview
Soprano Barbara Hannigan tells Time Out about loving modern music
There are singers who push themselves to the limit and then there is Barbara Hannigan. The Canadian soprano has not only stormed the world of modern classical music by breezing through extremely difficult scores, but she also acts and conducts… sometimes at the same time. Check out on YouTube her performance as the dominatrix police chief in Ligeti's 'Mysteries of the Macabre' – it's an extraordinary piece of multitasking, which she modestly shrugs off. 'I thought I would start off with something simple,' she giggles.
The conducting has been a recent advance and, never doing things by halves, last month she conducted Sir Simon Rattle as he narrated William Walton's 'Façade' with players from the Berlin Philharmonic. 'That was pretty fun,' she says. 'It was his idea. What I loved was that for him the big risk was to do the speaking. He was really nervous, but did a fantastic job. For me, the risk was: "I can't believe you asked me to conduct players from the Berlin Phil while standing beside you."'
A champion of contemporary music, she has had nearly a hundred works written for her – notably by Irish composer Gerald Barry, in whose wacky opera 'The Importance of Being Earnest' she appeared last year, and George Benjamin's 'Written on Skin', in which she stars at the Royal Opera House in March. So if she had to pick between old and new music, the answer is never in doubt. 'If I had to choose just one century, I would choose the twentieth century,' she says, 'because I understand it and I think there aren't so many people that love it as passionately as I do.'
It is, therefore, no surprise that she has been invited to sing at the Southbank's 'The Rest is Noise' festival, a year-long celebration of twentieth-century classical, set in the context of historical events, as an homage to the similarly titled book by Alex Ross. Her three appearances will see her first singing songs by Second Viennese School composers (Schoenberg, Berg and Alma Mahler), before conducting Stravinsky's comic chamber opera 'Renard', and finally returning in April to join the London Philharmonic for Berg's 'Lulu Suite'. It is a role in which she recently starred in Brussels, giving what critics have described as a definitive performance. Dominating the stage in just her underwear, for much of the time she moved on pointe like a fetishised ballerina. 'I took more than a year to learn the part,' she explains, 'but when it was over I felt that I had been preparing my whole life – not only as a musician, but as a human being.'
Hannigan was clearly born to perform such modern music. The lithe, attractive soprano, born in 1971 in 'a really small village' in Nova Scotia, has been ambitious right from the get-go. She even commissioned a song cycle for her high school graduation recital, making her professional premiere at 19 years old after attending a 'Fame'-style academy and then music college in Toronto. She is now booked until 2016.
Her appearances at the Southbank begin on Thursday when she sings one of the most significant works of the twentieth century, Arnold Schoenberg's Second String Quartet (1908). Halfway through the piece, with tonality stretched to breaking point, Schoenberg steps out into space – the music ceases to be in any particular key. 'I feel air from other planets,' sings the soprano. The Western classical tradition of tonality is turned on its head. 'It is one of the most emotional pieces of the early twentieth century,' says Hannigan. 'The text is about departing from this world, as if going to another planet and departing from harmony. Considering he wrote this in one of the most intense, trying times of his life – his wife had left him for the painter Richard Gerstl. He could barely see a reason to live. He finished the quartet in just two weeks and then she returned to him and he dedicated the quartet to her. The painter killed himself and life goes on. And that string quartet for me is the text – that is the emotional drive of the piece.'
Does she feel that her vocal entry in the quartet is the arrival of modernism? 'Yes. It is like an arrival and a departure,' she says. 'It is saying the new world has arrived and we are departing from harmony now. I really feel like my feet are leaving the ground, and you can see them dangling as the gravity changes.'