Richard Egarr interview
Why is the harpsichordist so excited about the Vermeer exhibition at the National Gallery? We find out...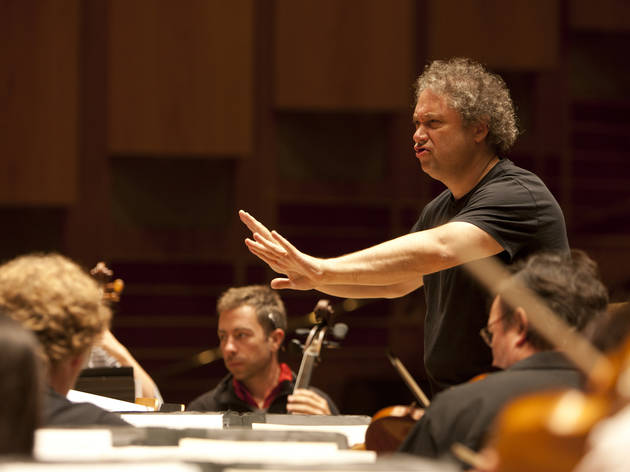 Vermeer and Music: The Art of Love and Leisure
' not only presents atmospheric masterpieces by the Dutch baroque artist Johannes Vermeer (1632-75) of domestic music-making – alongside a display of the period instruments depicted – but, three days a week for the duration of the show,
musicians from the Academy of Ancient Music will be playing pieces from the period in the gallery
itself, on the hour, every hour.
Rarely will an exhibition be so evocative in creating the mood of its paintings, with AAM players performing works by Dutch baroque composers such as Jan Pieterzoon Sweelinck, Willem de Fesch and Johannes Florentius a Kempis, along with music that would have been familiar to painters working at that time, such as by Italy's Arcangelo Corelli.
The music has been programmed by Richard Egarr, the English harpsichordist and director of AAM since 2006. He is eminently qualified for the job: not only is he an acclaimed harpsichordist and baroque expert, but he also lives in Amsterdam. That's dedication!
Are you a fan of Johannes Vermeer?

'I love his paintings. This quality they have of being able to express a moment and to suggest naughtiness. I think that appeals to musicians in a big way.'
What is the music like from the time in which he lived?
'It is one of my favourite periods of music. The first half of the seventeenth century was an incredibly exciting time. Whereas the music of the sixteenth century was very dense, rather worthy, incredibly highly controlled polyphony – lots of voices moving at the same time and you can't make head nor tail of most of what is going on – at the beginning of the seventeenth century, the music changed radically to monody, with a solo voice singing an interesting text. It saw the birth of opera and created incredible room for freedom and improvisation.'

What defines Baroque music of the Netherlands?
'It was a melting pot of music styles, particularly from Italy. There were some Dutch composers, but, with the exception of Sweelinck, no decent ones.'

Do you think music was more important to people back then?
'Well, it was a way to meet people, especially in these rich Dutch upper-middle-class households. It was a good way of socially interacting – especially if you wanted your daughter to marry well.'

The paintings are full of symbolism, but is the music simple?
'It wasn't straightforward and much of the music allows for intimate interaction. A lot of it is designed for two players, as shown in the paintings – a solo melody instrument (a violin or flute) with an accompanying instrument (a lute or keyboard). The paintings invite you to wonder what is happening in the room while the music going on. Music making is a very intimate pastime – always was and will be.'

So, the girls in the paintings are all respectable young women…
'Maybe, but if you look at the grin on the face of the young lady playing the guitar [in the painting 'Woman with a Guitar'] how respectable do you think she has been in the last few hours. And that is part of the whole thing about the atmosphere of this time with music – it was very much a place where you could make friends and flirt with people, basically.'
Will the Academy of Ancient Music players be wearing period costume in the gallery?
'No, it is not necessary. The whole costume thing smacks of Morris dancing and that kind of thing.'

What is the difference between a spinet, a virginal and a harpsichord?

'A spinet is a general all-purpose name for a keyboard instrument; even a harpsichord can be one. Virginal is more specific, it is a long suitcase-shaped thing with a keyboard just to right or left of centre. Virginals are what you see mostly in Vermeer paintings. A lot were made by the great makers of the period, such as Ruckers of Antwerp, for domestic use. Harpsichords, which are shaped like a wing, were bigger and louder instruments made for professional players.'
You have said that 'harpsichord is the most unmusical instrument'?
'It is the most unmusical instrument I know. It needs all the help it can get – it is just the "Monty Python" machine that goes ping. It doesn't matter how hard you hit the key, it just plucks. The only things you can change are how long you hold the note and when you play the note. You have to make it musical.'
Was baroque music eclipsed by later musical eras?
'No. A definite no. When baroque music is played properly, it's every bit as romantic, expressive and passionate as Tchaikovsky, albeit in a different style.'
Read more classical interviews
The British-Norwegian composer talks to us about his requiem, a response to the 2011 atrocity on Utøya
Read more
The influential composer tells us about the American style making classical music popular again
Read more
What exactly does composing entail? The award-winning composer reveals all
Read more
As the conductor picks up the BBC baton, we ask Oramo to define his electrifying approach to orchestral performance
Read more
Roth is set to conduct Stravinsky's 'The Rite of Spring' at the BBC Proms. He tells us why his recreation of the 1913 premiere will shock us all
Read more
Show more
Read more classical and opera features
Sponsored listing
The Blues Kitchen Shoreditch
This Curtain Road venue is close in style and sentiment to its big sister, The Blues Kitchen over in Camden. Expect, then, a restaurant, bar and music venue with a hefty Stateside influence - from its bourbon and its barbecues all the way to its blues.  Music does have a big part to play here. There's live artists pretty much every night of the week, with everything from rock 'n' roll to swing, motown, roots and even gospel complementing all that smokey blues. Keep an eye out for nights where food and music combine in happy harmony - think bargain ribs gnawed to a soundtrack of soul.  An in-house barbecue, with meats smoked over fruit woods in their own fire pit, is kept busy - orders of beef brisket, smoked chicken, short beef ribs and burnt ends glazed with a beer and hickory barbecue sauce prove popular. Chilli,gumbo and a catfish jambalaya also feature. 
Venue says: "'Free wing Fridays' between 5-7pm at the Blues Kitchen Shoreditch. Come down and get your wing on!"
You might also like