Sarah Connolly interview
One bad mother: singer Sarah Connolly tells Time Out about playing a monstrous infanticidal sorceress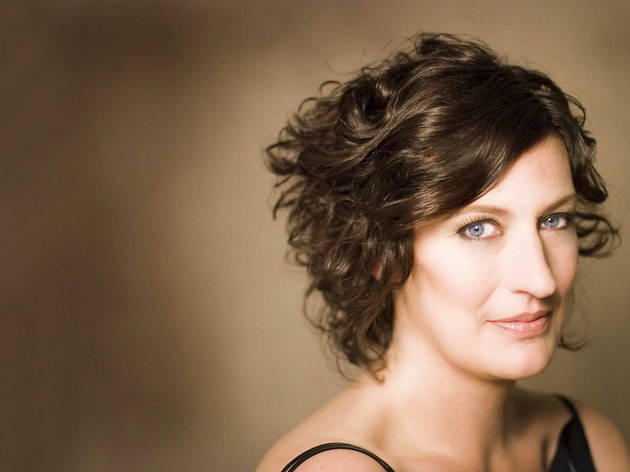 Medea
' is a shocker about a woman who, betrayed by her lover, murders their two children. 'I was thinking last night as to which film would inspire this level of injustice and revenge,' says Sarah Connolly, the superb actress and mezzo-soprano who is playing the title role at English National Opera. 'And the answer is Quentin Tarantino's "Kill Bill"– there is definitely an element of Uma Thurman in this role.'
The story, based on Greek mythology, involves a half-woman half-goddess, a sorceress who goes demented when she discovers that her lover Jason (of the Argonauts) is to marry another. As Connolly figures, Medea knows that she and her sons would be killed anyway by the regime that sought to undermine her. 'She is a proper split personality,' reflects the singer. 'One side is aware of what the other is doing. Charpentier gave her a fantastic repertoire of emotions – insecurity and disbelief in a world where everyone is playing a game that goes against her.' It is a challenging role, especially as Connolly has a nine-year-old daughter, the same age as the children in the opera. 'Lily is not coming to this, that's for sure,' she declares. 'I have two stage sons in the show. They are so little and I was a bit worried because I wield a kitchen knife for much of it.' The British singer is relaxing after the final rehearsals at ENO's London Coliseum before catching the train home to Stroud in Gloucester. 'I am only just out of character, so tread carefully', she warns light-heartedly. Sporting bright-red nail varnish, she is demurely dressed, and with her long hair brushed away from her face she is clearly channelling the 1940s – the period in which this opera has been vaguely set. It is directed by David McVicar, with whom Connolly has collaborated in a dozen operas and considers a genius. 'I totally trust what he says,' she enthuses. 'He hates sentimentality and I love that, because Charpentier has drawn real characters.' (It is clearly a mutual admiration, as McVicar requested Connolly as his luxury item on BBC Radio 4's 'Desert Island Discs'.)
The slimmed-down orchestra for this production includes 25 string players using modern instruments with metal strings. In Charpentier's time there would have been 50, but playing quieter instruments. And is Baroque music capable of conveying this desperate mental breakdown than the more complex soundworlds of later periods? 'More, I would say,' says Connolly. 'We don't have the romanticism, neither in the original nor the translation. It is very direct and active; there is not much reflection like the later Baroque period; this is more like the Renaissance period.
Charpentier was a man ahead of his time. He was writing at a time when composers were still experimenting with chromatic harmony and unlike anyone else, he incorporated the dances into the plot, rather than presenting them as separate divertissements. But what gives his music its power? She thinks. 'The changes of rhythm and harmony – you never hear the same harmonies again and again. You don't get clichés; it is very chiaroscuro – it moves from dark to light very quickly. And David has set it in a fantastic show.'
After its original premiere, the opera was taken off after just nine performances. Was it too shocking? Connolly thinks there is a more intriguing explanation. 'In Charpentier's time, it was a problem because sorcery was an issue associated with King Louis XIV. He was accused of having a mistress who was a sorceress, so he never came to the show.'
On the subject of the supernatural, at the end of the opera the stage directions require that Medea flies off on a dragon. And here? 'There is no dragon, but I do fly off at the end, and not with any visible strings,' Connolly reveals coyly. 'It is wonderful, I really fly; it's a real coup de théâtre.'
Read more classical and opera features
The British-Norwegian composer talks to us about his requiem, a response to the 2011 atrocity on Utøya
Read more
The influential composer tells us about the American style making classical music popular again
Read more
What exactly does composing entail? The award-winning composer reveals all
Read more
As the conductor picks up the BBC baton, we ask Oramo to define his electrifying approach to orchestral performance
Read more
Roth is set to conduct Stravinsky's 'The Rite of Spring' at the BBC Proms. He tells us why his recreation of the 1913 premiere will shock us all
Read more
Show more
Sponsored listing
The Piano Works
Situated in a listed Victorian warehouse in Farringdon is The Piano Works, a unique live music venue. What sets this place apart from London's other evening hang-outs is their pair of pianists, accompanied by a rotating cast of musicians, who play, well, whatever you want. That's right, while you're sipping on an almond and hazlenut sour, or tackling a Tomahawk ribe steak, you can make requests to the live band and they'll play your choice of music.
Venue says: "Bottomless brunch every Saturday, noon-4pm. Live music non-stop with all the songs that you request!"