Scanner interview
The electronic artist tells Time Out why he's reinterpreting Tudor music by John Dowland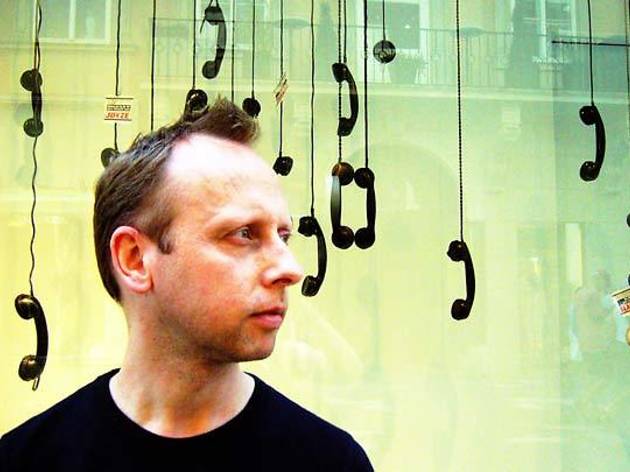 Scanner's moniker was established in the 1990s when he used the electronic device to sweep the airwaves and broadcast live random phone conversations over his music. However, he stopped doing it after 9/11 for what he calls 'paranoia reasons'. 'I figured that I would be arrested,' he says. 'It was bad enough trying to explain what a Theremin is at Frankfurt airport.' It was also a moment of realisation. 'I asked myself: do I really want to be known as the man whose career was listening to other people?' It is perhaps no surprise, then, that other curious pseudonyms inform his latest project, 'Flow Forms' – interpretations of Tudor composer John Dowland's 'Lacrimae, or Flow My Tears'. Next Saturday, as a Spitalfields Festival associate artist, Scanner performs his 'Dowland Remix' to accompany a film by Chris Turner. It is a concert that also features The Haxan Cloak (aka Bobby Krlic) and an installation from the Computer Junk Orchestra. Meanwhile, Gazelle Twin (aka Elizabeth Walling) has curated four other responses to Dowland, from herself, cellist Laura Moody, Juice vocal trio and electro-acoustic composer Anna Meredith – which they will perform in four secret underground Spitalfields venues.

In his tidy Bethnal Green studio, he plays me the remix on his computer. The music begins faithfully before morphing through various styles, including techno, lush cinematic soundtrack and percussive rock workout, yet it is still recognisable as Dowland's tune. 'It is a fantastic progression,' he says. 'It never resolves itself; it unravels, but the thread never ends.'

But why did such a technology-savvy artist choose a lugubrious lute song from the seventeenth century? 'Dowland has intrigued me since I was a teenager,' he says. 'When I was a student, I was listening to all kinds of eclectic pop music, rock, industrial and experimental, but I used to go home on a Friday afternoon and listen to "Choral Evensong" on the radio.' It has obviously made a lasting impression. 'The older you get, the more you realise that melancholia and pathos are very English, in a way,' he says. 'There is a lyricism in the folk music of Ireland and Scotland, whereas English music is about sadness – not in a negative way, just much slower and more elegiac.'

Judging by the remix, it is a sentiment that he has retained and yet brought excitingly up to date.
Read more classical and opera features
The British-Norwegian composer talks to us about his requiem, a response to the 2011 atrocity on Utøya
Read more
The influential composer tells us about the American style making classical music popular again
Read more
What exactly does composing entail? The award-winning composer reveals all
Read more
As the conductor picks up the BBC baton, we ask Oramo to define his electrifying approach to orchestral performance
Read more
Roth is set to conduct Stravinsky's 'The Rite of Spring' at the BBC Proms. He tells us why his recreation of the 1913 premiere will shock us all
Read more
Show more
Read more classical and opera features
Sponsored listing
The Piano Works
Situated in a listed Victorian warehouse in Farringdon is The Piano Works, a unique live music venue. What sets this place apart from London's other evening hang-outs is their pair of pianists, accompanied by a rotating cast of musicians, who play, well, whatever you want. That's right, while you're sipping on an almond and hazlenut sour, or tackling a Tomahawk ribe steak, you can make requests to the live band and they'll play your choice of music.
Venue says: "Brace yourself for the bank holiday in the House of Song! Tickets: http://bit.ly/2v47HJg"
You might also like