Tine Thing Helseth interview
The trumpeter chats to us ahead of her two appearances at this year's BBC Proms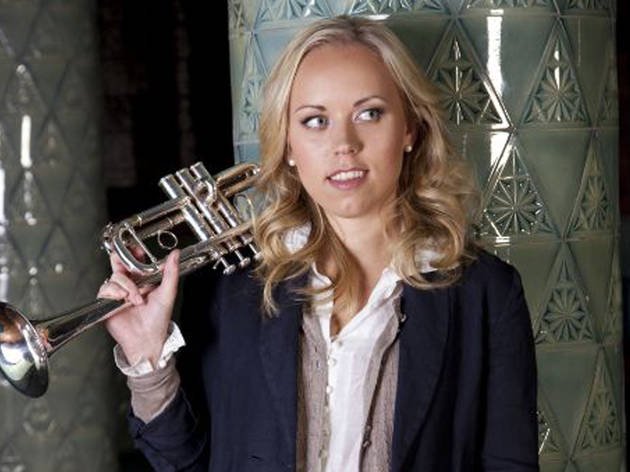 The incident, it should be explained, took place in a hotel breakfast room during the Bergen Festival at which she was performing. That was a few years ago and since then Helseth has been making quite a name for herself through her musicianship, pure silvery trumpet tone and sheer hard work. When we chat, she is wandering around her hometown of Oslo, recovering from the inaugural tine@munch festival, which she hosted at the city's Munch Museum in July. The cheerful and talented trumpeter (whose first names are pronounced 'Tina Ting') is coming to the BBC Proms for two concerts. The first is a lunchtime chamber Prom at Cadogan Hall, where she will play with her all-female,
Norwegian brass ensemble, tenThing
. She then returns on August 18, the day of her twenty-sixth birthday, to play at the Royal Albert Hall in Matthias Pincher's Double trumpet concerto, '
Chute d'etoiles
'.
But brass players – aren't they the burly men in bowtie and tails downing pints during concert intervals? 'I just happen to be a girl and don't drink very much,' she says. 'I just love playing the trumpet. When I started, it wasn't weird at all for a girl to play one; it is only when I started travelling abroad that I realised that it wasn't very common elsewhere. So I hope to inspire youngsters to play it. Maybe people remember me better because I am a girl, but when it comes to it, I have to play well, otherwise, they will remember me for the wrong reasons.' Although she is the only professional musician in her family, Helseth grew up in a musical household. Inspired by her mother, she took up the trumpet at the age of seven; her father, meanwhile, played French horn and her younger sister, the cello. Wasn't that a bit noisy? Helseth laughs. 'We lived in an apartment, so the neighbours weren't too happy all the time. But it was fine – they just had to get used to it.' Then, while still a youngster, she joined a traditional Norwegian brass and wind band.
Helseth is now a sought-after recording and performing star, who plays as a soloist, with her quintet and with tenThing. 'We don't' care about the glamour factor of it all,' she explains about her ten-piece female ensemble. 'We are all friends; some of us studied together. The fact that we are all girls is just a gimmick – we were originally four trumpet girls and there were so many great girl brass players in Norway, so we thought – why not just ask girls?'
As for her repertoire, she plays pretty much everything. 'It is music that drives me,' she says, 'not any particular style or genre.' For Helseth this can be anything from the obvious Handel, Hummel and Haydn trumpet concertos as a concert soloist, Grieg arrangements and Piazzolla tango with tenThing, to prog rock, Dave Brubeck jazz and even traditional Irish music with her quintet. 'I don't come from a classical home,' she explains. 'We had everything in the CD player, so I also play different styles, even though my career is classical. I have a rule for myself – I play the music that I like no matter what it is.'
Sponsored listing
The Victoria
Here's what happens when Dreambagsjaguarshoes grows up, packs its bags and moves to Dalston. The Victoria is now owned by the same people as the perennially cool and grungy Shoreditch hangout, and probably represents a mellowing out with age – it's a pub, it's more relaxed, it stages live music, and it's on a backstreet off Dalston Lane instead of the illuminated strip down the road. As a pub, it's decent – an artily thrown-together look, a few local beers (although not many), and a 'residency' from peripatetic grillers Psychic Burger. It's a misleading name – I sat thinking about what I wanted to eat for half an hour before having to go up and order at the bar in the old-fashioned way. But as US diner food in plastic trays goes, it's a fine example of its type. Through the back of the pub is the stage, where assorted bands assemble to perform. The Victoria has been a scuzzily democratic live music venue for decades, so it's great that the new owners kept that going and didn't turn the room into a dining room/yoga space/Tesco Metro. 
You might also like