Will Todd talks 'Alice's Adventures in Wonderland'
Jazz-influenced composer Will Todd has transformed 'Alice's Adventures in Wonderland' into a child-friendly opera. He tells us exactly what's in the mix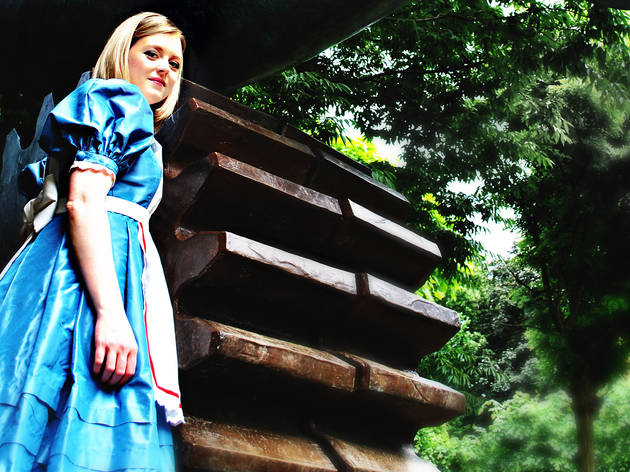 Alice's Adventures in Wonderland
', Will Todd has already faced the severest critics: his daughter Petra (aged nine) and son Rowan (seven). And the verdict? 'We did a workshop on the opera, which my two youngest children came to. And, you know how kids sit on adult-sized chairs and swing their legs? As it began, I could see their legs flying back and forth, and I thought: What are they going to be like at the end? But miraculously, as it progressed, their legs slowed down as they became engrossed – and by the end, they were still.'
The family opera (suitable for ages five and above) is based on Lewis Carroll's two 'Alice' books and has been commissioned by Opera Holland Park. It kicks off on Saturday afternoon on the park's Yucca Lawn and, unlike the folly of many operas aimed at children, Todd is not treating them as adults and making them sit through two long stints, but rather cleverly has broken the drama into seven scenes, which rotate around four performing areas. 'We move between these spaces,' he explains, 'because it keeps the kids in the audience focused; and they literally get to run around between scenes – following a vocal chorus or an accordion player, pied piper-like, for 100 yards then settling again before the next scene starts.'
Working on his eleventh stage production, the 43-year-old composer was determined that he and librettist Maggie Gottlieb not get bogged down in faithful adherence to Carroll's formal Victorian milieu. So their version begins with a modern family on a day out. Taking shelter from the rain, they go into a pet shop in which a rabbit starts talking, but only Alice can hear it. From there they go into Wonderland where they have many adventures, including a chase scene in which Alice rescues children enslaved by the Queen of Hearts into endlessly making tea.
'The thing about "Alice" I have always felt,' says Todd, who was read the stories as a child, 'is that you have to bend it to create some kind of a story because the books lack drama in a narrative sense; it is so episodic with the same thing happening over and over again. And that is what we have managed to do.'
The laidback composer grew up in Durham but now lives in Guildford with jazz-singer wife Bethany and their three children. His early music-making was in brass bands and choirs, before he discovered jazz. At Bristol University he found that his jazz compositions weren't taken seriously by his tutors, which only made him more determined to incorporate that idiom in his classical compositions. So although he has reached a large audience with more traditional works – his choral piece 'The Call of Wisdom' was performed in St Paul's for the Queen's Diamond Jubilee in 2012, and an arrangement of 'Amazing Grace' was played at President Obama's 2013 inauguration – Todd is still best known for 'Mass in Blue', a 2003 work that perhaps defines him. It is a setting of the Latin Mass which mixes up classical form in a jazz arrangement.
And what does his new opera sound like? 'It is somewhere between opera and musical theatre,' he explains. 'There are operatic voices, but it is certainly not a difficult musical language. At this point in my life I have simply stopped worrying about where the ingredients of ideas come from. But I certainly wasn't fighting shy of jazz – in the 12-piece band, there are parts for double bass sax, trumpet and trombone.'
Would he say jazz is a lot more fun than classical? 'I think it is great,' he enthuses. 'It worries me when it gets very serious. I think there should be a joy to improvising music because it is about abandoning yourself to the moment.' Though it is not without its worries. 'I have a recurring nightmare in which I have a musical and it comes to the day of the performance and I haven't written any of it,' he confesses. 'And in the dream I am desperately trying to explain to the performers how we are going to improvise our way through the entire piece.'
But one assumes the cast won't be improvising in 'Alice'? 'Well, they might be,' he chuckles. 'It depends on whether they forget stuff.'
Sponsored listing
The Garage
The Garage in Islington has been a mainstay of London's music scene since 1993, hosting bands such as Oasis, Red Hot Chilli Peppers, Radiohead and more. Following a recent change of ownership to the DHP Family (the guys behind Oslo in Hackney), the whole venue has been revamped with a view to maintaining its title as one of the city's landmark music venues. The Garage itself has a capacity of 600 and has been restored to its former glory with a state-of-the-art soundsystem and a fully refurbished bar area. There's some decent food offerings on site as well with the newly kitted out General Store and even a cheeky night club tucked upstairs, renamed Thousand Island, decked out with mirrorballs galore.