The best new movies on Netflix in October 2014
For those lazy weekends in and those "what-should-we-watch" kind of nights, here's the best new stuff on Netflix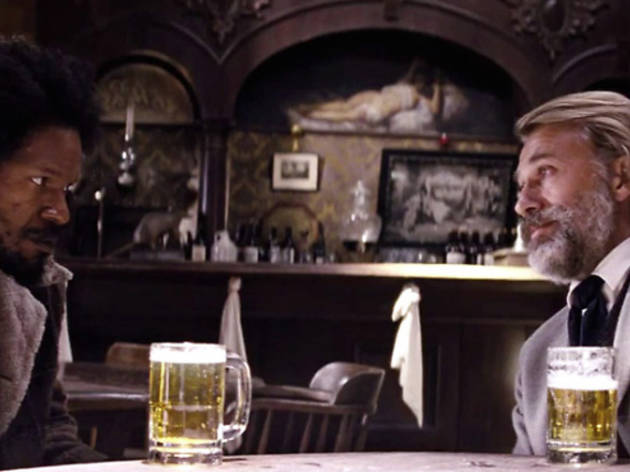 The warm weather may be lingering, but a temperature shift is surely on the horizon. As you prepare to be driven indoors to your warm blankets and hot mugs of tea, why not familiarize yourself with one of the finest (virtual) comforts of all—the latest Netflix titles. The streaming service has just announced what movies and TV shows will be newly available come October. Time Out New York's Film team recommends the following:
Django Unchained (2012) Rescued slave Jamie Foxx goes on a roaring rampage of revenge in Quentin Tarantino's epic Western, which also gives a plumly evil supporting role to Leonardo DiCaprio as the meanest plantation owner you ever saw.
Paths of Glory (1957) Stanley Kubrick's anti-war masterpiece stars Kirk Douglas as a WWI colonel caught in the moral crossfire of a botched battle, after which a vicious example is made of three of his men.
Annie (1982) The little orphaned redhead came to the bigscreen in this colorful musical adaptation directed by John Huston. Carol Burnett is an absolute delight as the villainous Ms. Hannigan.
Romeo + Juliet (1996) Swoon all over again with Baz Luhrmann's stylized, MTV-like adaptation of William Shakespeare's famed romance, the film that made stars of Leonardo DiCaprio and Claire Danes.
Tombstone (1993) The great Kurt Russell is lawman Wyatt Earp in this action-packed retelling of the gunfight at the OK Corral. Val Kilmer nearly steals the show as Earp's tubercular sidekick Doc Holliday.
And here's the full list of what's coming to Netflix streaming in October, by date:
Available October 1
Annie
Annie: A Royal Adventure
Bad Johnson
Charlie's Angels: Full Throttle
Chicken Run
Domestic Disturbance
Ernest Saves Christmas
Finding Forrester
Galaxy Quest
Gilmore Girls: The Complete Series
Hit!
Jimmy Neutron: Boy Genius
Kramer vs. Kramer
My Father the Hero
Paths of Glory
Please Subscribe: A Documentary About YouTubers
Rescue Dawn
Romeo + Juliet
Shadow of the Vampire
Shane
Sleepless in Seattle
Shivers
The Phantom of the Opera
Team America: World Police
Three Fugitives
Tombstone
The Wedding Planner
Available October 2
Carrie
Reign: Season 1
Under the Electric Sky: EDC 2013
The Vampire Diaries: Season 5
Available October 3
The Originals: Season 1

Available October 4
The Boxcar Children
Available October 6
Little Man
Available October 7
Hart of Dixie: Season 3
In a World…
Raising Hope: Season 4
Supernatural: Season 9
The Following: Season 2

Available October 8
Arrow: Season 2
Jay Mohr: Funny For a Girl
Available October 9
A Long Way Down
The Tomorrow People: Season 1
Available October 10
Chelsea Handler: Uganda Be Kidding Me
Available October 11
Breathe In
Heatstroke
Swelter
Why Stop Now
Available October 14
Witching & Bitching
Available October 15
Stay
Tim Minchin And The Heritage Orchestra Live
Available October 16
Cowgirls n'Angels
Available October 18
Last Man Standing: Season 3
Liberal Arts
Available October 21
Wyatt Cenac: Brooklyn
Available October 22
E-Team
The 100: Season 1
The Hunger Games: Catching Fire
Available October 23
Freakshow: Season 2
Available 10/25
The Carrie Diaries: Season 2
Django Unchained
Sons of Anarchy: Season 6
Available October 28
Bound by Flesh
Available October 31
Before I Go to Sleep
Rain Man