Heads up! We're working hard to be accurate – but these are unusual times, so please always check before heading out.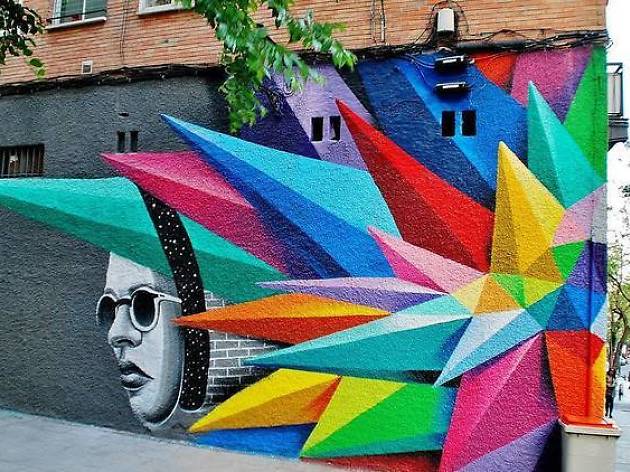 Street art and graffiti in Madrid
Madrid is awash with vibrant urban art. Get out and discover it with our guide to the city's most captivating murals
They're waiting, there on the street, anxious to be found. They seek to impact, distract or invite reflection. They lend life to forgotten nooks and crannies, transforming once-undesirable urban spaces into invaluable components of a provocative cityscape. They're works of art you could find in a museum; however they're not signed by Picasso and Velázquez but by artists with names such as Suso 33, Muelle, Borondo, Spy, Okuda and Jonipunto – giants of Madrid street art whose work is on par with urban artists the world over. When you're out exploring Madrid, be sure to keep your eyes open to spot our favourite works of graffiti and street art, or make a day of it and visit them all with the map below. And bonus: you won't have to pay a cent to admire them.
Artists and their works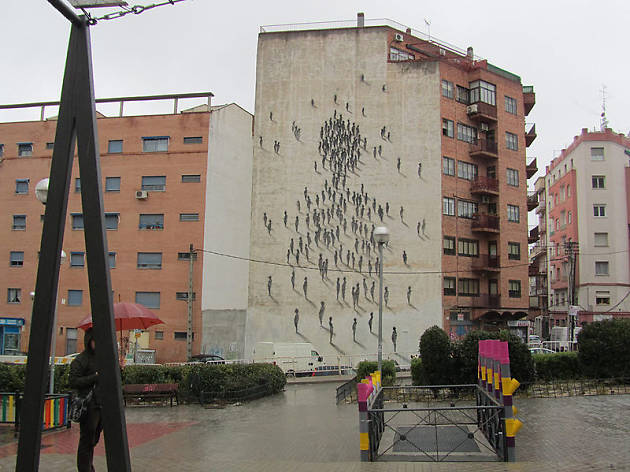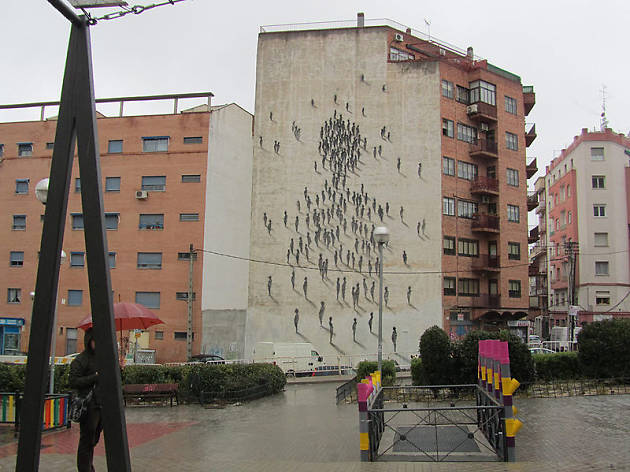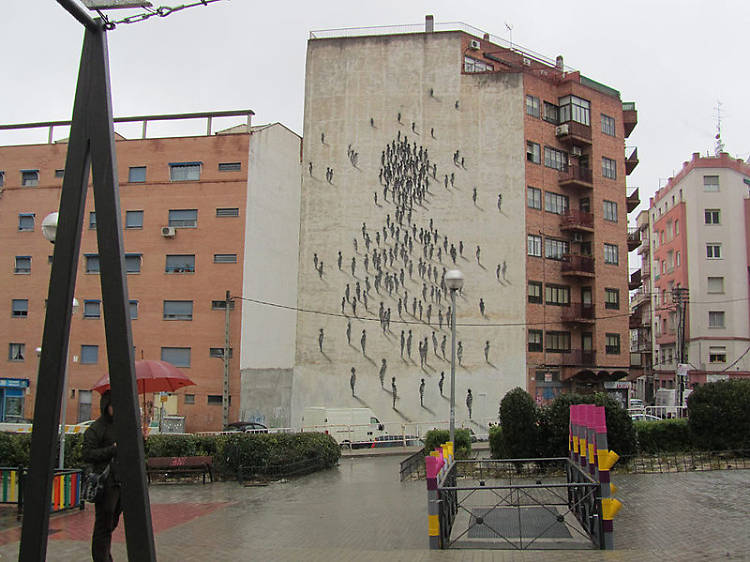 © Marta Nimeva Nimeviene
Suso 33, from the streets to the museums
To talk about Suso 33 is talk about the cream of the crop in urban art. He's one of the giants of Spanish street art, so much so that his work isn't present just on the streets, but also in important museums. A Madrid native, he has left a huge imprint on the Spanish capital over the years. Perhaps his most famous work looms over Plaza del Poeta Leopoldo de Luis, and features a multitude of human figures that together form a silhouette of a much larger person. Recently, this trailblazer of iconic graffiti created a mural in homage to Miguel de Cervantes, with peculiar portrayals of Don Quixote and Sancho Panza cast across the building that marks the entrance to Av. Reyes Católicos de Alcalá de Henares. He's done a mural of Cervantes on the Antigua Fábrica de Harinas.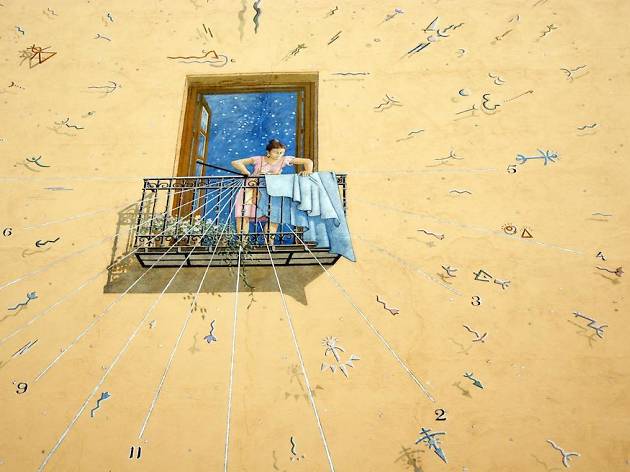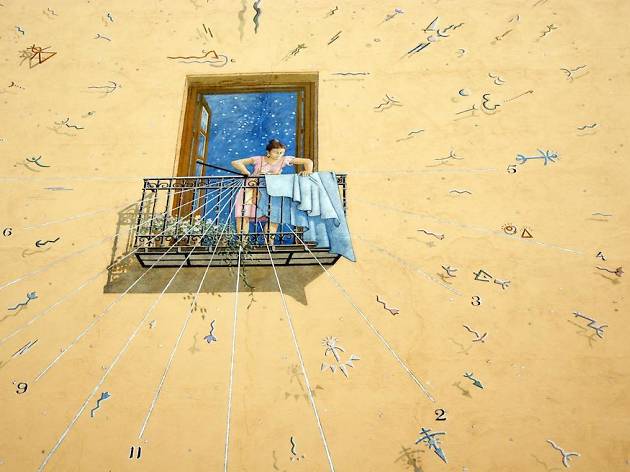 ©A.M.L.
It's perhaps one of the most beautiful and least known murals in Madrid – an image of a woman hanging out clothes on her balcony, surrounded by an abstract but functional sundial. You'll find the piece on the façade of the so-called Casa de la Vela, at C/Sombrerete, 26. The artist Ángel Aragonés painted the mural in 1985 in the centre of Lavapiés, dedicating it to all the residents of the multicultural neighbourhood. The sundial gives the time from 5am to 5pm. In addition to the woman at the centre of the mural, you'll also easily spot the pigeon flying above her, at noon on the sundial.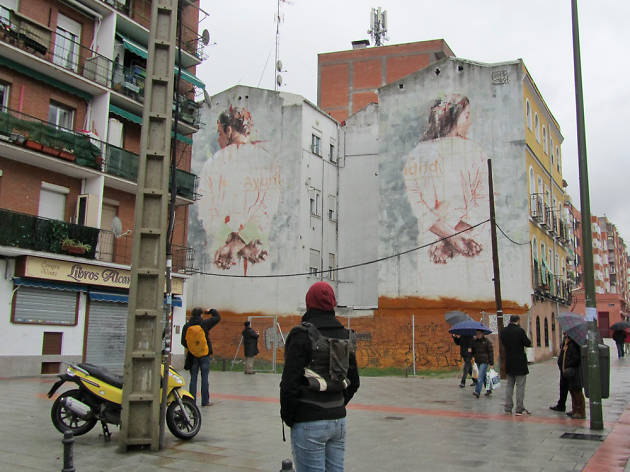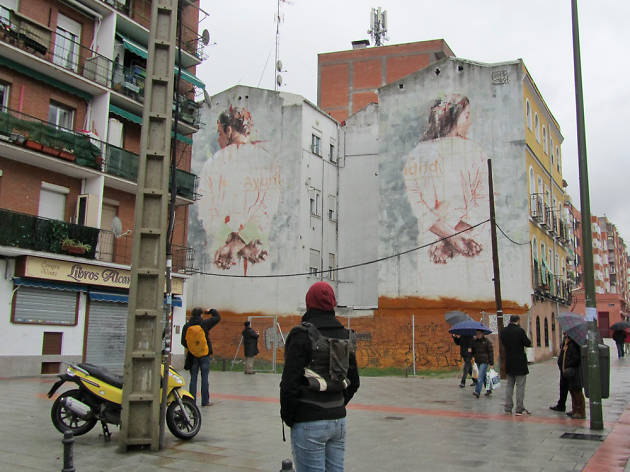 ©Marta Nimeva Nimeviene
C/ Marqués de Viana, in the Tetuán district, has become an icon of Madrid street art. Works there are signed by urban artists the likes of San, E1000 and Borondo, with that of the Borondo being probably the most representative and well-known of the bunch. At No. 52 you can see two enormous figures, a man and a woman, with their hands behind their backs, bound together by some invisible force. Both have resigned expressions. The work is meant to condemn police brutality and the suppression of the burgeoning 15-M anti-austerity movement.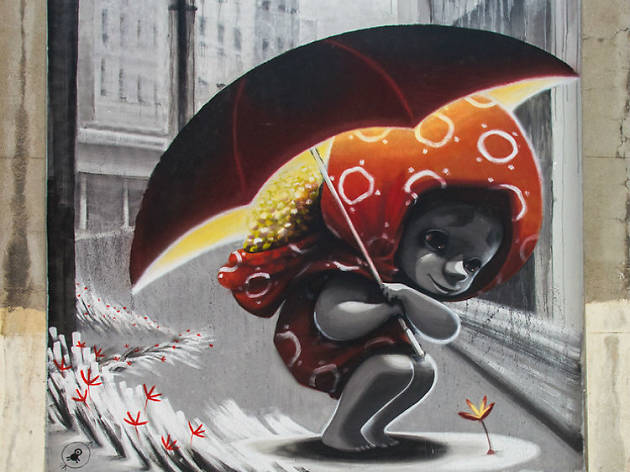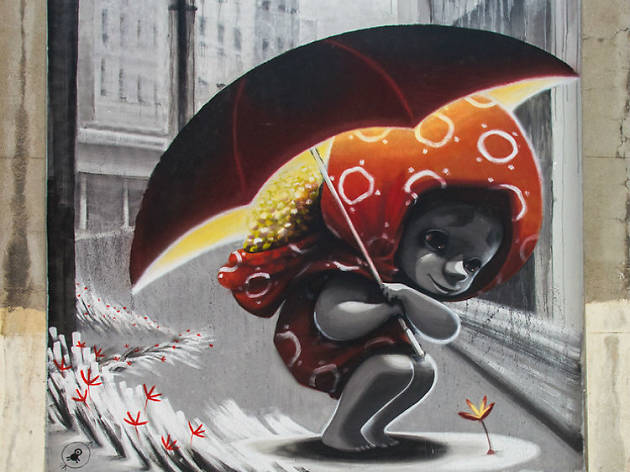 The Fábrica de Tabacos murals
Since 2014, the walls of Madrid's old Fábrica de Tabacos have been transforming into an open-air art museum. That year, the Madrid Street Art Project put into motion the 'Muros' ('Walls') project – an initiative designed to fill the dreary cement walls of the Glorieta de Embajadores square and the streets Miguel Servet and Mesón de Paredes with colour. In two editions of 'Muros', a total of 57 graffiti artists, including Borondo and Suso 33, have contributed to changing the walls of the buildings into an ephemeral public art gallery.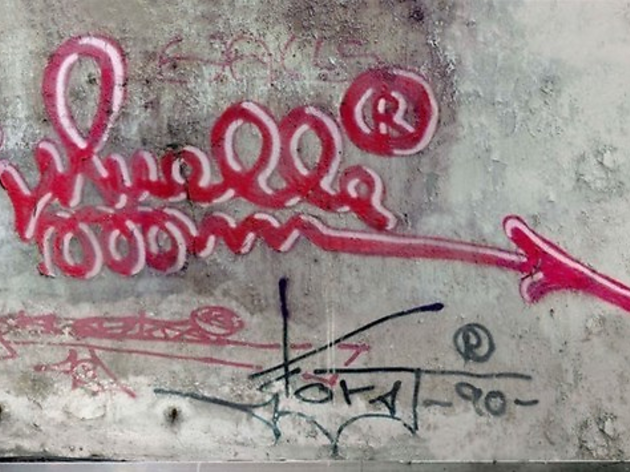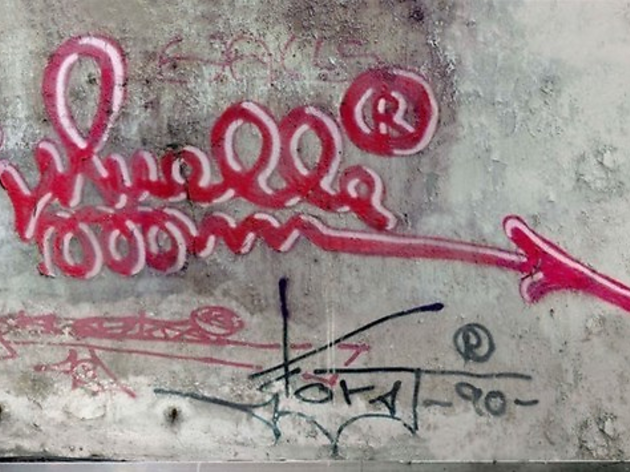 Graffiti artists might not know who Juan Carlos Argüello Garzo is, but mention the name Meulle in their presence, and you can bet you'll hear a stream of non-stop praise. During the post-Franco Movida Madrileña counter-culture movement, an alias tag began to appear all over the city: loopy letters coiled like a spring, punctuated with an arrow and an enclosed 'R'. The signature, which read 'Muelle', would influence thousands of young urban artists across Spain. Though Muelle passed away in 1995, such was his legacy that a street in Madrid's Campamento neighbourhood was named after him. Many have also fought to preserve his last piece as well, which is located in the central C/Montera. It's gone through a successful restoration process to be preserved in a new home: the Imprenta Municipal. There it will be part of the 'Letras liberadas' exhibition and integrated into the institution's archives.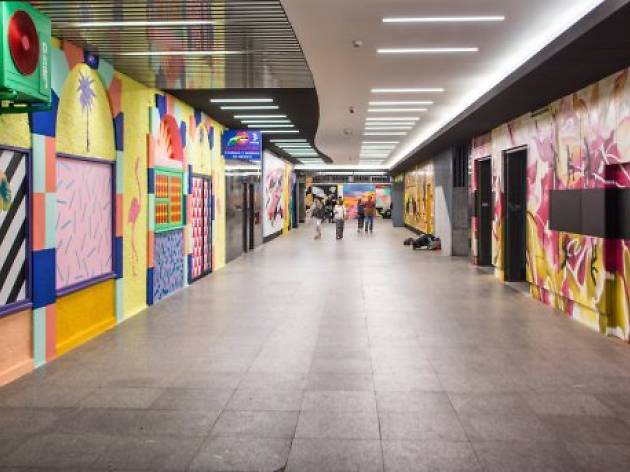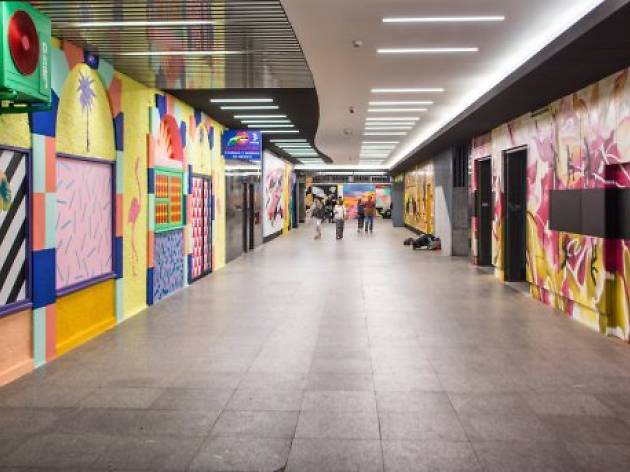 ©Madrid Street Art Project
It has cinemas and a historical German restaurant, but the legendary passage of the Plaza de los Cubos, which connects C/Princesa and C/ Martín de los Heros, has since 2010 principally been an essential component of Madrid's urban art scene. The rehabilitation of this once-gloomy transit hub and popular meeting point for local youth has been overseen by a dozen artists, each of whom has left their mark on the project. Elbi Elem, Rosh333, Antonyo Marest, Son3k, Digo Diego, Susie Hammer, JMYES, Concreto, Julieta XLF and Sabek have brought this project, called Arte al Cubo, to fruition and by extension proven that it is possible to change the face of a place for the better.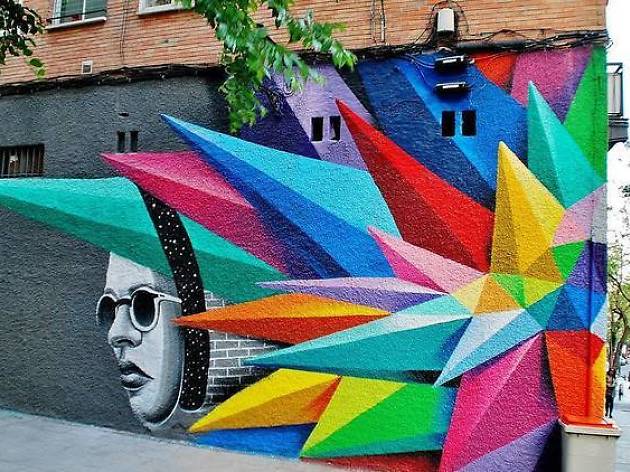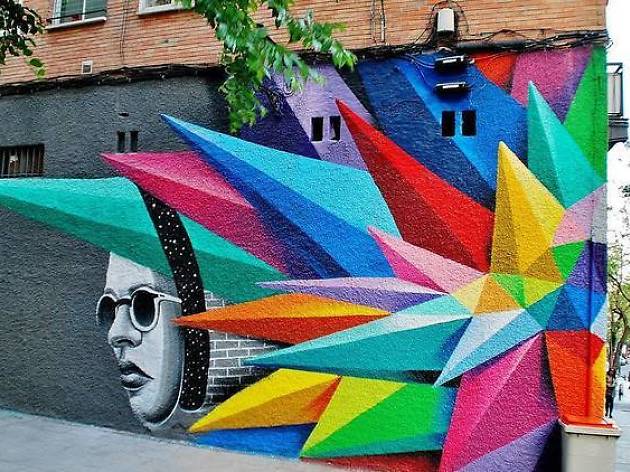 Okuda San Miguel must be proud to have spread his work throughout the world. Madrid is home to a variety of pieces by the Santander artist, whose work makes generous use of bright, loud colours and have placed him within the surrealist pop movement. His most well-known Madrid piece is the Kaos Star, a drawing representative of much of his work that can be found on the corner of C/ de Embajadores and Travesía de Cabestreros.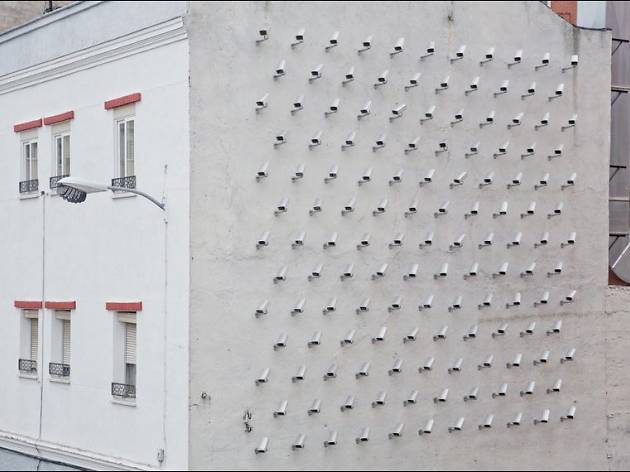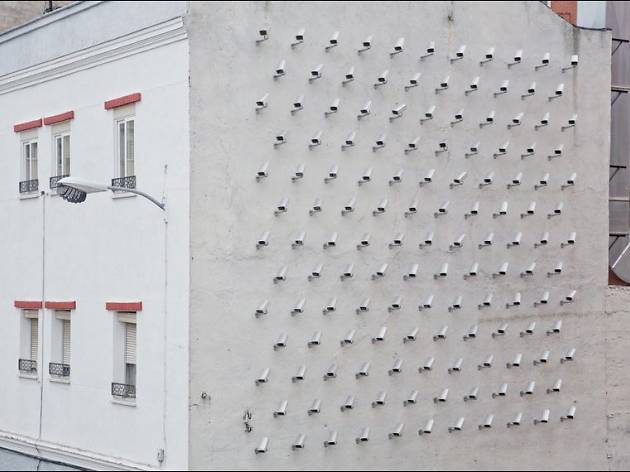 Walking down the street, you stop suddenly, and notice that a seemingly endless number of CCTV cameras are tracking your every step. You relax, though, upon the realization that what you thought were prying cameras are actually the creation of street artist Spy, whose 150 painted cameras dot the façade of a building on C/ de las Almortas (in the Valdeacederas neighbourhood) and serve as a denunciation of Big Brother, or the over-regulation of society. A skilled provocateur, Spy seeks to create street art that challenges viewers' assumptions about the way things should be. Another example is the artificial turf installed in Plaza Mayor in October 2017.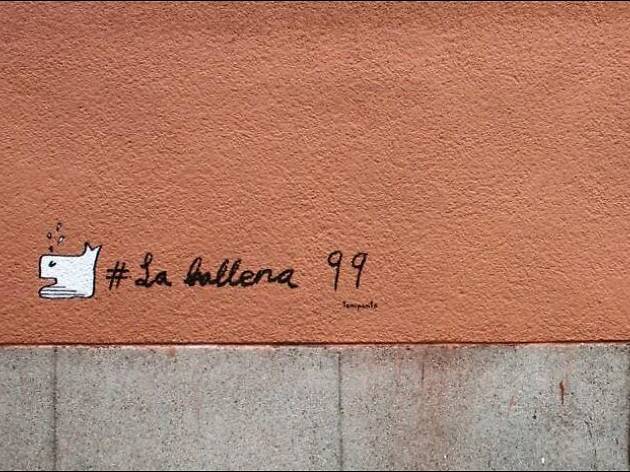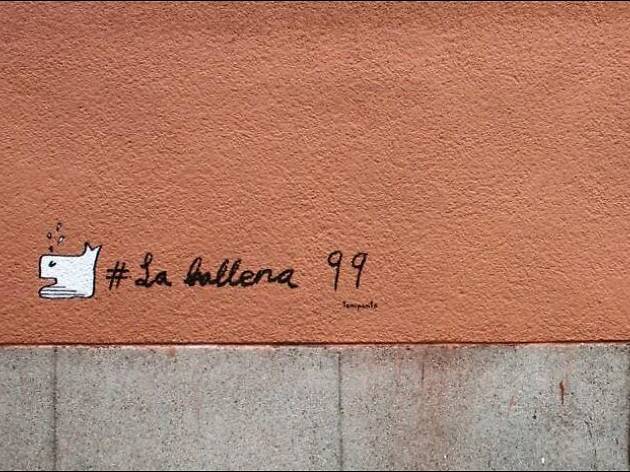 Jonipunto is a rare bird within the world of urban art. In an artistic discipline that usually makes use of large, obvious spaces, this Madrid artist chooses to display his work in small, out-of-the-way places – to such an extent that it can be difficult to find. That artistic decision is at the heart of his originality and places him among the street art greats. His work is adaptive, making the most of what his chosen space has to offer and encouraging the passer-by to reflect. You can find examples of his work at Buenavista, 18; Jesús y María, 15; Abades, 1; Carnero, 9; and Conde, 4. If you find yourself walking through the city, keep an eye out for the small whales (there are 100 scattered about, meant to raise awareness about certain species' endangered status) and some orange round-headed figures known as 'carabolas', which are difficult to identify because they often don't bear his signature.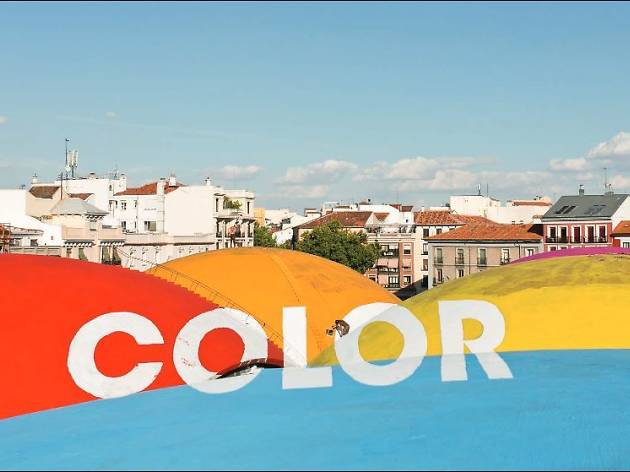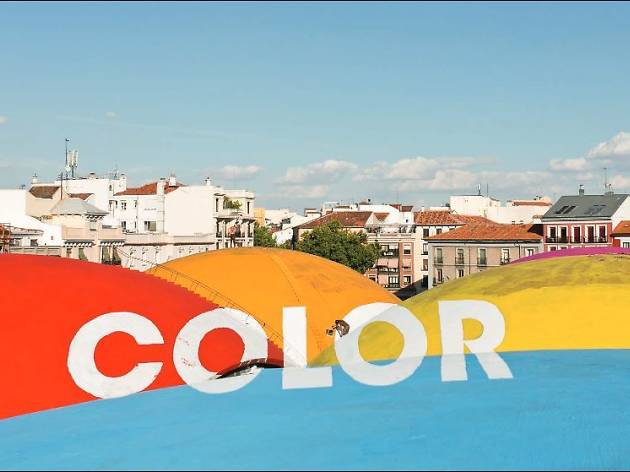 ©Boamistura
In 2013, the team of artists known as Boa Mistura filled the façade of the Mercado de la Cebada with colour, symbols and drawings, making it one of the largest urban art murals in Spain. Boa Mistura are famous for their projects in cities worldwide, and there are many streets in Madrid that feature the group's work: 'Ama lo que haces', on C/Huertas; 'Firmeza', on the corner of San Dimas and Quiñones; and 'Aceptando el mundo comienzas a cambiarlo', on C/Hortaleza, are just some examples. Their initiative that brought poetry to pedestrian crossings in important intersections throughout Madrid also made quite the impact. The capital's streets played host to several temporary poems as part of the proposal, called 'Madrid, te comería a versos'. Among the mini poems were 'Sleep less and dream more', 'You take my breath away' and 'We'll fly without moving at all'.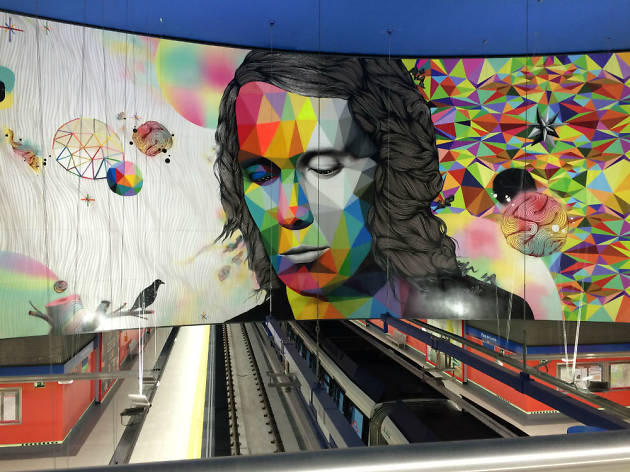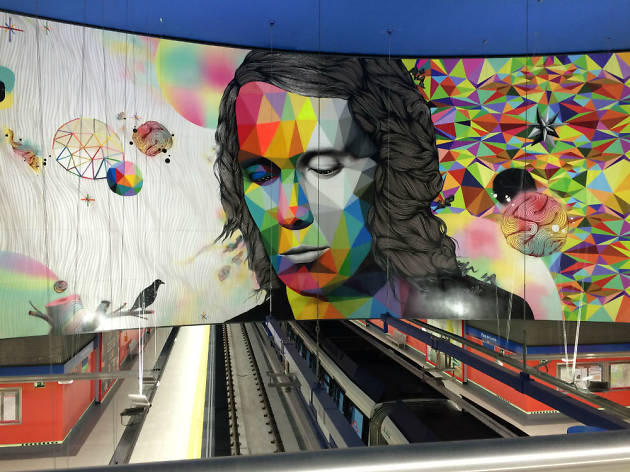 Sometimes to enjoy urban art you only have to ride the metro. In collaboration with the architect Antonyo Marest and under the supervision of Madrid Street Art Project, artists Okuda and Rosh333 were in charge of making the Paco de Lucía station the first in Spain to be decorated with graffiti – specifically a 300-square-metre portrait of the Cádiz-born musician for whom the station is named. The station was opened in 2015, as an extension of L9 in the Mirasierra neighbourhood, where Paco de Lucía lived.