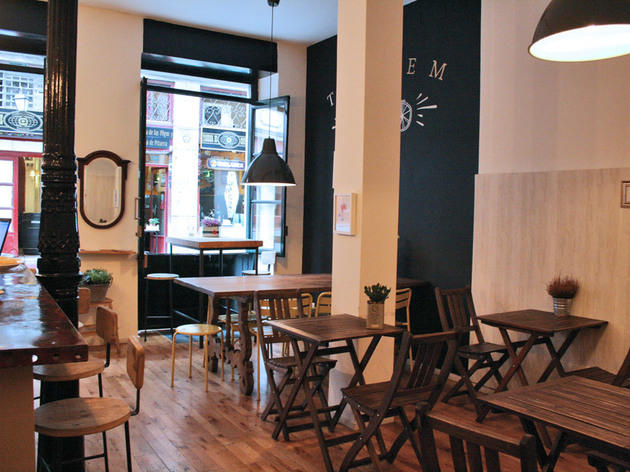 Time Out says
In the space of the now-defunct Motha, where you went to feel a bit happier (and which a few still miss), the little brother of TriCiclo now stands tall as one of the most successful restaurant openings of 2014 in Madrid. The new space shares a few winks and nudges with TriCiclo, such as its name – in tandem with the mothership and its location on the same street, just 100 metres away. In some cases the relationship is obvious. At first there was 'our Ferran's cannelloni' on the menu, and the same steak tartare. But now they've grown their own wings, they've got new goals, and Tándem is more casual, has a less orthodox timetable, and features a lighter menu.

Although there is a bit of a trendy air about the place and it's managed to become a meeting point for a very mixed clientele whose ages range between 30 and 50, we could debate some interior décor decisions (as well as the comfort of the chairs and tables). But that's not much (after all, it's not intended to be a spot for lingering meals), which shows that the emphasis this time around is on the food, which does still have a bit of maturing to do (details such as the wine, which arrived far from its ideal serving temperature), but which opens up the already promising field of work for its three chef-proprietors.

And now for the main attraction: the food. The seasoned oyster is a starter that sets the tone for the meal to come. First off, you get to choose between a touch of Thai or Peruvian for the seasoning. They're out to find something new, and a way to put their personal stamp on their cuisine. The same can be said about their Chinese sandwich (reminiscent of StreetXo or Nakeima) or their cheesecake with a tease of blue cheese in the recipe. Second, they start with a remarkable product, whether it's the burrata cheese or salt-cured meats. Third, they take great care with the presentation. The oyster comes on a bed of coarse salt and a plate with a complementary design. The same quality goes for the 'tiradito de corvina' (similar to a carpaccio of sea bass in a spicy Peruvian sauce) and the marinated salmon (both are accompanied by butter and peanut-and-raisin toast). Note: Definitely ask about the dishes that are not on the menu, as there are usually about four of them, and they're well worth it.

Fourth, the oyster was a dish that surprised us without managing to really win us over. There was a lot of wide-eyed anticipation that didn't turn out to bring tears to our eyes when we let our taste buds in on it, but that's not to say our mouths weren't watering. It's just that our eyes weren't. There was no falling to our knees in moments of glory. Note 2: Nearly all of the dishes are available in full and half orders, and be aware that there's an innate pro and con to that.

You can try a considerable amount of dishes if you share small plates (and order more of what you liked best after that), but this constant dance of flavours, ranging from lime to pesto to huitlacoche – in the order they're served if you get the 'choose your own adventure' tasting menu – runs the risk of weakening the strength or the character of the dishes that come toward the end. So it's better to go back another day than to try to make a feast of everything on the menu in one night.

At first they didn't take reservations. But now, as proof that the business has grown in popularity, things have changed and booking a table in advance is highly recommended – even if you go on a Wednesday. Dining at Tándem once is dining there twice, and at €20-€25 a meal, you can afford it.
Details
Address:
Santa María, 39
Madrid
28014

Transport:
Antón Martín (M: L1)
Contact:
Opening hours:
Tue-Sun 10.30am-midnight
Best selling Time Out Offers