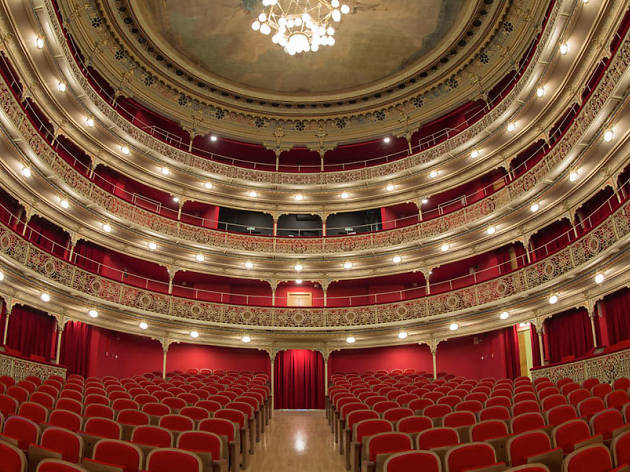 Time Out says
Located in what could be called Madrid's theatre district, the Teatro de la Comedia was built in 1874 in C/ del Príncipe. The theatre was constructed with three storeys, a horseshoe-shaped seating plan (in the Italian style), an entrance for spectators on C/ del Príncipe and a loading zone in C/ Núñez de Arce.

The Comedia was inaugurated on September 18, 1875. In April 1915, a fire destroyed the interior of the theatre, and caused the collapse of the part of the roof. The theatre was reopened in December of that same year, and went on to feature some of the era's best shows, including those by Galdós, Dicenta, the Álvarez Quiteros and Moratín. Actor María Guerrero was a regular with the theatre from 1885 to 1894, a period that saw the performance of other prominent companies such has those of Santacana, Luisa Esteso, Alberto Closas, Aldolfo Marsillach-Amparo Soler Leal, Conchita Montes and Lola Membrives.

For a century, the theatre belonged to the Escudero family – from 1899, when Tirso Escudero became the owner of the Comedia until 1998 when his heirs sold it to the State. The National Institute of Performing Arts and Music (INAEM), which is responsible for the theatre's maintenance, closed La Comedia in March 2002 for the sake of a comprehensive restoration project. The theatre's events were moved to the Teatro Pavón, which hosted shows for 13 seasons.

After a lengthy hiatus, the 2015-16 season opened a new chapter in the history of the theatre. The Compañía Nacional de Teatro Clásico returned to the Comedia, with the premiere of one of Calderón's most popular plays, 'El alcalde de Zalamea'.
Details
Best selling Time Out Offers